Cliff Cushman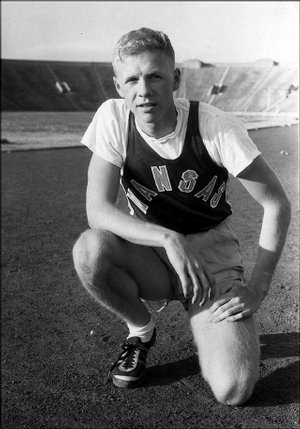 Image from kusports.com
In his talk "Our Goal Is Perfection," Elder Bennett goes on to share this inspiring quote from Olympic athlete Cliff Cushman, who in 1960 won a silver medal in the 400-meter hurdles but was eliminated from the 1964 Olympic trials after tripping over a hurdle:
"Over 15 years ago, I saw a star—first place in the Olympic Games. I literally started to run after it. In 1960 I came within three yards of grabbing it; this year I stumbled, fell and watched it recede four more years away. …
"In a split second all the many years of training, pain, sweat, blisters and agony of running were simply and irrevocably wiped out.
"But I tried! I would much rather fail knowing I had put forth an honest effort than never to have tried at all. …
"Certainly I was very disappointed in falling flat on my face. However, there is nothing I can do about it now but get up, pick the cinders from my wounds, and take one more step followed by one more and one more, until the steps turn into miles and miles into success.
"I know I may never make it. The odds are against me, but I have something in my favor—desire and faith. … At least I am going to try. How about you? … Unless your reach exceeds your grasp, how can you be sure what you can attain? …
"Let me tell you something about yourselves. … You are spending more money, enjoying more freedom, and driving more cars than ever before, yet many of you are very unhappy. Some of you have never known the satisfaction of doing your best in sports, the joy of excelling in class, the wonderful feeling of completing a job, any job, and looking back on it knowing that you have done your best. …
"'I dare you to look up at the stars, not down at the mud, and set your sights on them that, up to now, you thought were unattainable. There is plenty of room at the top, but no room for anyone to sit down.
"Who knows? You may be surprised at what you can achieve with sincere effort. So get up, pick the cinders out of your wounds, and take one more step.
"I dare you!"