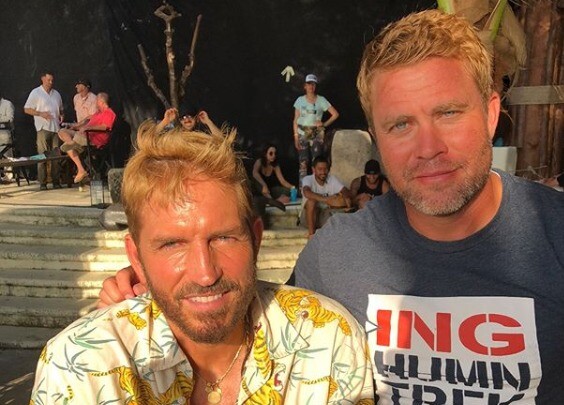 A Hollywood actor is calling his role as a Latter-day Saint in an upcoming movie one of the most important in his career, second only to playing Jesus Christ.
Actor Jim Caviezel (Count of Monte Cristo, Frequency ) calls his new movie The Sound of Freedom the "second most important film" he's done since playing Jesus Christ in The Passion of the Christ, according to the Deseret News. He will play Tim Ballard, founder of Operation Underground Railroad, in the upcoming film set to release in 2019.
Operation Underground Railroad
Operation Underground Railroad was founded when former CIA agent and Latter-day Saint Tim Ballard left his government job after receiving a prompting that he "was to do something more" in his field of work. He found his answer in the temple when he had a distinct impression to move his family from California to Utah and "find the lost children."
► You'll also like: Rescuing Children from Sex Slavery—One Mormon's Inspired Mission
Ballard now runs a successful nonprofit where he and his team save children from sex traffickers around the world. He calls himself a modern-day "abolitionist" and wants people to be aware and active about this massive problem. So when Hollywood director Monteverde expressed that he wanted his next movie to be about Operation Underground Railroad, Ballard agreed to tell his story.
How Jim Caviezel Got Involved
Ballard has looked up to Jim Caviezel since watching him in The Count of Monte Cristo. He was impressed with the light Caviezel brought to the big screen, and it was important to Ballard that "whoever played this role had to be someone that willfully did it with God." After working together on this project, Ballard is confident Caviezel is the right choice.
He told the Deseret News, "If you can imagine taking one of your very favorite actors that you've watched all his films, you feel like you know this person . . . and then to watch that person walk into a room having dyed his hair to look like you, to play you. That's a surreal experience alone."
View this post on Instagram On the set of Sound of Freedom. These children actors touched my heart. Most of them thanked @ourrescue for their work; and I thanked them for being brave enough to play such difficult parts, and assured them that their work would result in additional rescues. #SonidodelaLibertad A post shared by Tim Ballard (@timballard89) on Aug 11, 2018 at 6:21pm PDT
Caviezel had never heard of Operation Underground Railroad, but after reading the movie script, training with Ballard, and learning about the rescue missions, he has a great appreciation for the work these brave people are doing and is passionate about getting the message into the world.
Caviezel shared in an interview how the script touched him because of his own kids. He and his wife adopted children with major health problems requiring surgery and chemotherapy. He said, "People would ask me in my industry, 'What about unwanted children?' I said I have three of them and I want them. So I read this script and here are these unwanted children, and it broke my heart." A role of this importance comes with great responsibility, but Caviezel knows he can do it with God's help. He states, "My job right now is to be great, and with God's help I'll be phenomenal."
Telling the Stories and Raising Awareness
It's clear that Ballard and Caviezel are passionate not only about the film but about the operation itself. They both understand that it's not an easy subject for people to talk about, but their goal is to invite people into the movement to play their own roles in taking down sex trafficking and slavery. Ballard wants to tell the story and "[provide] the solution . . . a light in the darkness."
Caviezel puts the magnitude of this problem into perspective by comparing it to the National Football League. He mentions how the NFL is a normal topic of conversation and made $13 billion last year alone. "Imagine that the NFL is not even a JV team compared to sexual trafficking. Imagine it being on the freshman team because sexual trafficking makes three times more money . . . it's three times more powerful than the NFL," he says. But nobody talks about it, and Caviezel says he can't live his life staying silent about it.
View this post on Instagram Jim Caviezel is in town to immerse himself in the culture of @ourrescue to prepare for the filming of the new feature film about our story. A post shared by Tim Ballard (@timballard89) on May 24, 2018 at 5:09am PDT
Because of Ballard's willingness and courage to follow his spiritual promptings, thousands of children are being rescued from human trafficking and are being given the tools they need to heal and re-enter society. The Sound of Freedom is more of a movement than a movie, and Ballard, Caviezel, and the entire crew hope to raise awareness of human trafficking and abolish "modern-day slavery."
Lead image from Instagram
---
Don't miss Tim Ballard's new book, Slave Stealers, now available at Deseret Book!
In the 1800s American South, Harriet Jacobs is enslaved and tormented by a cruel master. He relentlessly attempts to force her into a sexual union, and, when rebuffed, he separates her from her children and spends a lifetime trying to coerce her and then recapture her when she escapes to freedom. Jacobs outwits her tormentor and eventually reunites with her children, works in the cause of abolition and reform, and helps newly freed slaves with education and aftercare.
In 2012, Timothy Ballard encounters a grieving father in Haiti whose three-year-old son has been kidnapped and sold into slavery, along with thousands of children who were orphaned after an earthquake devastated the country. Inspired by Harriet Jacobs, Tim pledges to track down the missing child and leaves his job at the Department of Homeland Security to establish Operation Underground Railroad. This foundation infiltrates black markets in human trafficking, liberates victims, and provides a comprehensive aftercare process involving justice and rehabilitation for survivors.
Slave Stealers alternates these two riveting stories, weaving them together to expose the persistent evil of trafficking and sexual exploitation that has existed for centuries—and inspiring us to find a way to end it. Filled with heartbreaks and triumphs, miracles and disappointments, hair-raising escapes and daring rescues, this gripping book provides insight into this terrible evil and the good that can be done when caring people step up and stand in the light.