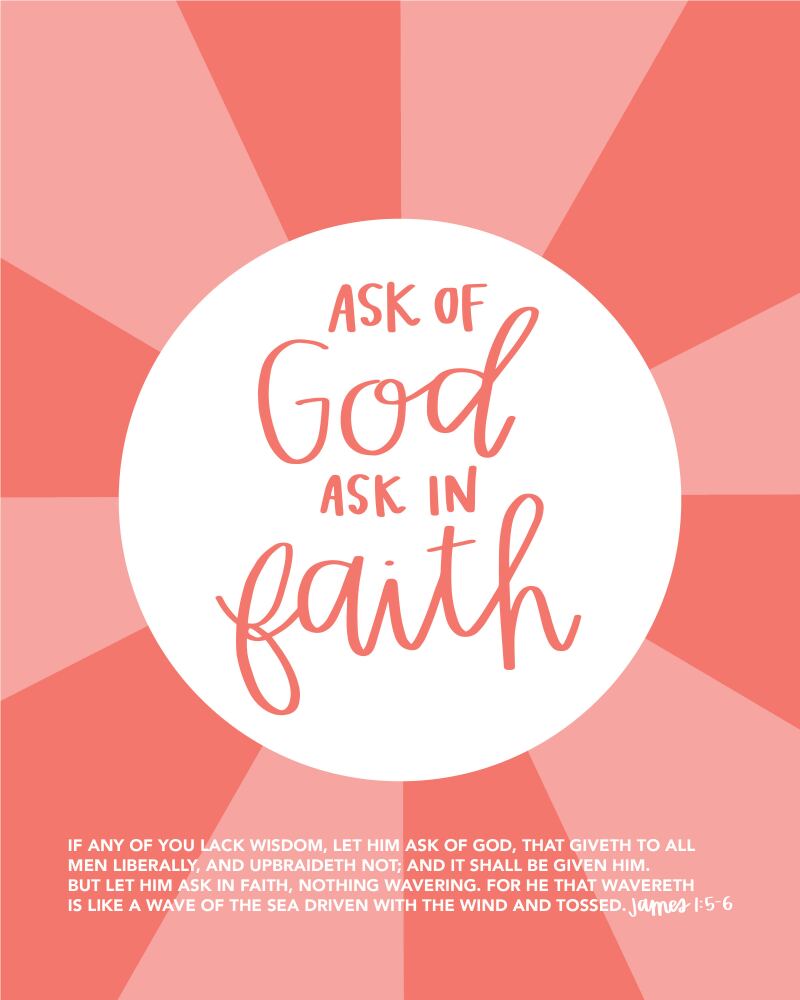 The 2017 Mutual theme is "If any of you lack wisdom, let him ask of God, that giveth to all men liberally, and upbraideth not; and it shall be given him. But let him ask in faith, nothing wavering. For he that wavereth is like a wave of the sea driven with the wind and tossed" (James 1:5–6).
According to a letter sent to local leaders: "The purpose of the yearly theme is to provide opportunities for youth worldwide to learn about, study, internalize, and apply the principles taught in the scripture. Youth are encouraged to memorize the scripture, study its doctrine, and act on the principles learned throughout the year."
Below you'll find resources to help teens find gospel answers to their questions at this pivotal time of their lives. You'll also find some things to help them remember the theme all year long.
In this high-tech era, we are overflowing with information—and sadly, some misinformation. More information means more questions! In this engaging presentation based on James 1:5-6, John Bytheway evaluates three types of questions: "Gotcha," "Google," and "Golden." Golden questions are the most important in life, involving gospel truths and our place in the plan of salvation. "The problem," Brother Bytheway states, "is when we expect Google-speed answers to Golden Questions." Using scriptural stories, quotations from Church leaders, and a good dose of humor, Brother Bytheway encourages listeners to "Ask in Faith." As they do, they'll learn to find their own answers to difficult questions—and the first step in this vital process is to "Ask of God."
Do your teens have questions? Most do! In Q&A they'll find the meaningful, relatable answers for many of their pressing questions, all in one book! Drawing from the most popular questions of Why?, How? and The Big Picture—and adding some timely new questions about current issues—John Hilton III and Anthony Sweat help youth understand the doctrinal "whys" that reinforce the teachings found in For the Strength of Youth. Then they share the "hows" and "whats" to help youth live the gospel in today's world. With an eye-catching graphic style, this new paperback format is fun and engaging for today's teens.
Brad Wilcox's The Continuous Atonement is a landmark work that helps to clarify what the Atonement is—and what it isn't. It corrects misperceptions and offers hope to those who struggle again and again.
This teen adaptation will help teenagers better understand and apply the Atonement in their lives and help them teach the nuances of the Atonement to others, whether on a mission, at home, or with friends. As they better understand and apply the Atonement, its transforming power will have a lasting effect on their lives.
Each chapter opens with a teen-appropriate question and includes subheadings to clarify content, new stories relevant to teens, and a Prepare to Teach section to help readers internalize and share what they're learning. This shorter edition is printed in paperback, perfect for teens to carry with them through their busy days.
It's spiritual gut-check time! Now more than ever, young people are asking themselves important questions:
• How do I know if I really have a testimony?
• Am I ready to serve a mission?
• What does the Spirit feel like?
John Bytheway suggests that we "F.E.E.L." the truthfulness of the gospel through our feelings, our experiences, the many evidences we encounter, and our logical conclusions about how a loving God interacts with His children on the earth. Like gradually turning up a dimmer switch, understanding all the ways we F.E.E.L. our testimony will help it grow brighter.
As you read, you may discover that your testimony is stronger than you thought, and you'll also become more excited and motivated to let your light shine!
This journal not only gives teens a place to record the things they're learning this year but serves as a reminder of the 2017 Mutual theme to "Ask of God. Ask in Faith."
Any young woman will love wearing this stamped bar necklace that features the 2017 Mutual theme. Perfect for layering, this subtle piece of jewelry has a lot of meaning.
This key ring or zipper pull serves as a reminder of the 2017 Mutual theme with the message, "Ask in faith, never wavering." This thick brush antique silver bar is hammered around the edges, giving it a unique finish. This key chain makes a perfect gift for young men and young women to attach to keys, purses, backpacks, scripture cases, and more.