On November 2, bright orange flowers and colorful ofrendas decorate homes as people celebrate Día de los Muertos, or Day of the Dead. This Mexican holiday has gained popularity through the media, but many people may not realize the gospel truths involved within the vibrant holiday.
For Shiegrid Hernandez, Day of the Dead is a spiritually significant time. Not only does she honor her ancestors and connect with her heritage, but she also reflects on how beautifully this cultural tradition and the gospel complement each other.
Originally from Guadalajara, Mexico, Shiegrid Hernandez was baptized at 19 years old. While taking lessons from the missionaries, her testimony grew quickly, in part thanks to cultural traditions and teachings she knew and loved as a child.
"Everything that I've seen and known about my culture, it all connects to the Book of Mormon. … There was no way that I could deny that there was a Savior and that the Book of Mormon is true because I felt it in my heart. It is through my culture that I feel I have a big testimony of the gospel of Jesus Christ," Hernandez says.
Part of that testimony comes from what Hernandez learned celebrating Día de los Muertos, a holiday meant to celebrate life and reflect on mortality—to turn our thoughts to the reality of families in the next life.
"I know it's true that one day we're going to be united with our family. Having that knowledge makes my testimony a lot stronger. I hope … you're able to see Día de los Muertos a little bit differently, [and to see its] connection with the gospel," Hernandez says.
Here is a simple and fun way you can celebrate Día de los Muertos and strengthen your testimony of eternal families and life after death along the way.
Anyone can celebrate the Day of the Dead, Hernandez assured us, since we all have loved ones who have passed away. Those who wish to remember and honor their loved ones can do so by building an ofrenda, or altar for them. This is not an altar of worship but one of remembrance.
The altar can be set up on a table and usually has three levels, which represent the earth, heaven, and spirit world. On each level, set up pictures of family members who have passed away, as well as their favorite foods or other items that were important to them (such as a favorite book or perhaps items of clothing they used to wear). You can also include decorations such as painted skulls, candles, and flowers. Collect items and decorations with your family and talk about the significance of each item.
You can place your ofrenda inside or outside the home. When people come to visit, it is traditional to invite them to share a warm drink with you and to discuss the dead person you are honoring. Once you reflect together in front of an ofrenda, you are considered family.
"[Día de los Muertos] is a holiday that anybody can celebrate, regardless of your cultural heritage," Hernandez says. "If you are not Mexican, and you want to make an ofrenda in your house to honor your ancestors, you can do that. Because I can guarantee that you are doing it already in some sort of way."
In addition to ofrendas, Día de los Muertos involves a vast number of traditions, decorations, and symbols. Here are just a few of those symbols, their meanings, and how you can work them into your family's celebration.
Skeletons and skulls, or esqueletos and calaveras, are a common theme in the Day of the Dead décor and traditions. But the skeletons themselves are not the point—it is what they are doing.
Generally, they are dancing, laughing, eating, playing music, and doing other things that show that even though they may be dead, their spirits live on joyfully.
"It is the semblance of life that we celebrate," Hernandez says.
Another tradition is to paint a skull on one's face and then dance or otherwise perform. This is seen as a way to honor those who have died and no longer have a body with which to dance. "It is our way of dancing for them," Hernandez explains. "Even though our ancestors … are gone, we can remember them by doing something they used to do, which is this dance."
Similarly, we remember our ancestors through family history work and perform work in the temple on their behalf. Both ideas revolve around helping the spirits of those who have passed away do what they now cannot do on their own.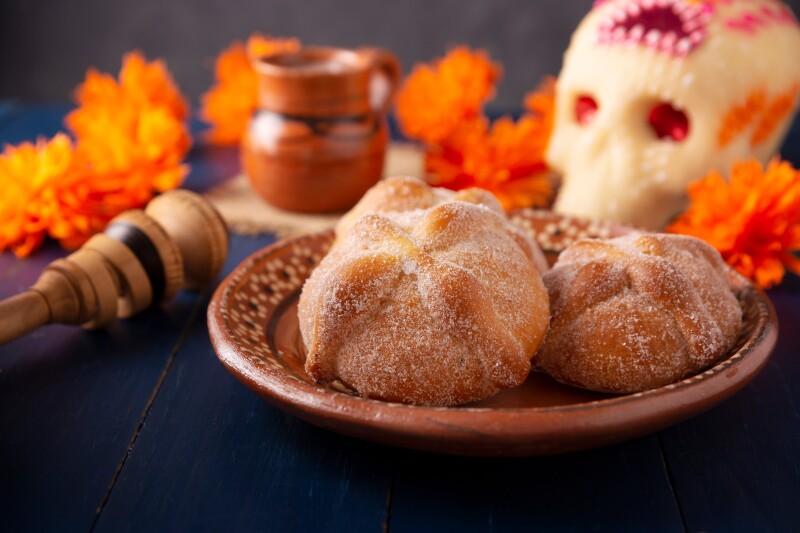 Pan de Muerto or Bread of the Dead is a circular sweet bun. The circular form of the bread symbolizes the cycle of life and death. The four bumps on top of the bread represent the shape of bones and the cranium is in the center. The four lines of these bones are in the shape of a cross which represents the four cardinal points of the universe. In a sense, it is a compass to help guide your loved ones home.
Calaveras or Calaquitas de Azucar are sugar skulls. These can be made of sugar, chocolate, or amaranto. They can be bought to be eaten or put on an ofrenda. They are used primarily for children to show them that death is a beautiful thing, which is why they are so bright and colorful.
Mariposa Monarca, or the Monarch butterfly, migrates home to Mexico right around the time of the Day of the Dead. The butterflies represent the souls of the dead who come back to us.
The Papel Picado de Colores are elaborately cut paper flags, seen in the colorful banners hanging on the Day of the Dead. They represent the union between life and death. The different colors signify the different seasons of life, some are blue or purple like some days are sad or hard, but some are red and orange, like some days are bursting with joy. The delicate tissue paper also signifies the fragility of life. The colors combined bring joy and represent the union between life and death.
If you are interested in learning more about Día de los Muertos watch the webinar below.
Shiegrid Hernandez is originally from Guadalajara, Mexico. She has worked for Deseret Employment for the last 7 years and now works at BYU. She has two daughters who keep her in her feet and loves spending time with them.
Día de los Muertos Webinar