Editor's note: This story was originally published in July 2021.
Ginny Burton has lived two very different lives in her 48 years, and the world can't stop talking about it.
It's easy to see why. News articles like The Washington Times and Today compare Burton's past to her present in telling pictures—on the left is a haunting mug shot showing a shell of a person, eyes unfocused and cheeks sunken. A shock of dyed red-violet hair swoops down diagonally across her forehead, and a tattoo on the right side of her neck is just barely visible beneath her ducked chin.
The photo on the right is markedly different, showing a woman in a cap and gown, smiling, arms folded proudly, an unmistakable light shining in her eyes. One might doubt this could possibly be the same person as the woman pictured beside her in an orange jumpsuit, but her tattoo gives her away. It's astounding, but obvious, that the new college grad from the University of Washington really was a former a heroin addict with 17 felony convictions.
But today, Burton has been clean for eight years and counting. She is personable, open, and a skilled conversationalist as we speak over the phone. Currently living in Rochester, Washington, she tells her story to me on a hot summer day in July, only getting distracted every now and then as she worries over her watermelon plants in the yard. She and her husband are maintaining his elderly grandparents' property and are building a small living space on the other side of a barn so they can look after things for them. Burton says, simply, that after both her and her husband's incarcerations and drug addictions, they want to give back to the world.
In the grander scheme of things, Burton plans on giving back in other ways. In 2020, she was named a Truman Scholar, a prestigious and highly competitive scholarship of $30,000, and plans on eventually getting a master's degree in public policy or law. And in 2019, she also received a Martin Honor Scholarship from UW for $36,000, which helped set her on the path she's on today.
The dramatic turnaround of Burton's life makes her journey remarkable, and there are many choices that have brought her to this point. But of all her successes, there is one decision that Burton says has been priceless in her life—and that was when she became a member of The Church of Jesus Christ of Latter-day Saints.
Burton didn't really stand a chance in avoiding drug addiction. Born in 1972, she was 7 years old when her mother, who was a drug addict, introduced her to marijuana. Not long afterward she also started using meth and as a teen began smoking crack.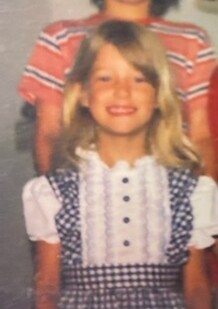 As a child, Burton says she could feel it on the inside when she was told to do something that was wrong. But her environment and a desire for love and acceptance made choosing right from wrong difficult to navigate, so she did things that were contrary to what her spirit wanted.
Unfortunately, her childhood was just the beginning of a series of horrific events in her life that included rape, multiple suicide attempts, becoming a heroin addict, robbing drug dealers, homelessness, abusive relationships, and losing custody of her children. But she believes today that the unfairness of her life experiences were for a reason.
"I thought it was a sick, cruel joke that I was on this earth, and I had no idea why a child would be subjected to a lot of the things I was subjected to. It just didn't make any sense to me, but today, . . . I believe that every bit of my life experience has happened so that I can help someone else. . . .
"And so, all the times that I woke up in intensive care because of a gunshot wound or an overdose that I was unsuccessful in . . . and I still lived even though I didn't want to, I recognize today that I was kept alive because I was supposed to be used [to help someone]," she says. "Without the Savior, I don't think that I would've been saved. But I also had to be the one that was willing to save myself."
Finding the Gospel and the Church
In the early 1990s, things had been spiraling out of control for Burton as her incarcerations became more and more frequent. But it was during a four-month long sentence that she felt a desire to reach out beyond herself, so she turned to the scriptures.
"I read the entire Bible and I had a really unique experience. A lot of the behavioral things that I sort of wished would go away started to take care of themselves. . . . And I felt like it was because I was reading the word," she says.
In 2009, Burton was incarcerated again. Tired of her life, she remembered her first experience with the Bible and started reading it once more.
"I dove in and read the Bible from front to back again, and I started to investigate a number of the faiths . . . [while in] prison and had some pretty tremendous spiritual experiences [and] I couldn't really reason my way out of them. They were pretty profound, and there were things that just really stuck with me. And even when I continued after that to deny God at certain times, I was always gently reminded of those experiences that it wasn't about anybody else. It was between me and God, and they had happened, and I couldn't deny them."
Burton had read the Bible a total of three times and was out of prison when she started looking for a religion that would support the principles she had read about in scripture. But when her son, who had been investigating The Church of Jesus Christ of Latter-day Saints in Tacoma, Washington, invited her to go to with him to services, she wasn't interested. However, when it was clear that her and her husband's battle with drugs wasn't over, she knew something had to change.
"I felt spiritually that there was no way we were going to survive what we experienced if we did not have Christ as the cornerstone of our lives, and so collectively we made the decision to commit to a relationship with Christ. And I was really seeking a body of believers that were aligned with Bible principles, and I believed that something had to be out there," she says.
While living in Seattle, Burton recalls deciding to attend a sacrament meeting on her own and the experience ended up being influential in her faith journey.
"I said this little prayer during sacrament meeting, and I said 'Okay, God, if this is where you want me to be, you better make somebody talk to me because if nobody talks to me, I'm not coming back.' And . . . a woman talked to me, and [she] and I ended up becoming friends," she says, stating that she was moved by this woman's authentic testimony, which she shared at a family home evening that Burton attended.
Burton later happened upon the documentary Meet the Mormons "even though there was no real reason why something like that should have been on my suggested playlist," she says. In watching the movie, she was "blown away at the difference in countries but the similarity in lifestyles" that the members were living.
She then requested a King James Version of the Bible from what is now ChurchofJesusChrist.org to compare it to her own. After that, it wasn't long before some missionaries reached out to Burton and connected her to missionaries in Seattle. Their testimonies also inspired Burton, and collectively these people's faith helped her realize that she couldn't have one foot in and one foot out of the gospel.
"I knew that if I did not take that leap of faith to jump in with both feet, I was never going to have the actual experience of being a member of the Church," she says. "I definitely had questions, but I knew that I wouldn't have the actual experience if I did not join. And so I joined. I was baptized in February 2017, and it's definitely one of the best decisions I've ever made in my life."
Burton has now been clean for more than eight years, although her journey has still had plenty of ups and downs. Despite this, she believes God teaches her lessons in ways that speak to her personally and that help her along her path. One of the ways God communicates with her, she says, is through her passion of hiking and climbing. Recalling the first time she went on a climbing excursion with friends (which was planned by a member in her ward), she says one man was injured on their route and they were stuck on a mountain for 24 hours trying to get him out.
Although she had previously not planned on going on the hike, Burton says she felt prompted to do so and the lessons she learned from it have been unforgettable.
"I spent a period of time in the Church feeling very alien, feeling very different. I have scars and tattoos all over my body, on my hands, on my neck, and on my forearms, and I always felt really different than the people inside the Church. And I also felt insecure about where I'd come from and the things that I had done, and I look at all these people that are very successful in their careers and [in] their families. . . . [But] when we were all on that mountain, we weren't any different. It didn't matter what we did for a living, it didn't matter . . . how we grew up, how much money we made—none of that mattered. What mattered was that we worked together as a team, and on that mountain we were all the same."
Experiences like discovering Meet the Mormons and being invited on that hike, she continues, have been "some of the most monumental experiences that I've had that have propelled me to where I'm at today." And they have taught her that she can do anything.
"What I learned about myself on that mountain was that I have no idea what I'm capable of, that I am able to go so far beyond the limits that I've created in my own mind, and that at that point I had no more excuses to quit," she says.
Burton also knows no limits when it comes to her education, evident by the Martin Honor Scholarship that she received in 2019. But while she had heard of Truman Scholars—a prestigious title awarded to applicants nationwide who are to be the next generation of public service leaders—she didn't initially apply. At the encouragement of her academic advisor, however, Burton began the rigorous process to be considered for the scholarship. And it paid off. After working and reworking seven essays before submitting to the foundation, she was eventually selected as a finalist for an in-person interview, but she wasn't without her doubts.
"In that process, I felt unskilled. I felt like they had the wrong person. I felt like I wasn't as good as. . . the other [students] that had been chosen, because of my background. I was having imposter syndrome and feeling like they could see who I was and the things that I had done, and that I just wasn't worthy," she says.
So, when she was selected as one of 62 students from 55 institutions, Burton couldn't believe it. Although her qualifications were extensive—the scholarship foundation's website notes that she voluntarily mentors prisoners who were recently released, is a hiking support guide to people in recovery, and sponsors recovering women in a 12-step program—she still felt like she wasn't the right choice.
"I said, 'I'm pretty sure you guys chose the wrong person, because you don't know who I am.' [But] what they said to me was, 'I'm pretty sure we know exactly who you are, which is why we chose you.' And that touched my heart. So it's an honor to be a Truman scholar, and I feel kind of special that I get to attach that label to my name."
In the future, Burton plans to help recreate the US prison system so that rehabilitation is mandatory and accessible for offenders, who often end up in prison repeatedly or for their entire lives. And while her master's degree is on the horizon, she has chosen to first explore other opportunities that have arisen for her and deferred her scholarship until next year when she can give education all her attention.
During the day to day, there are times when Burton's past still haunts her, but she relies on gospel truths to keep her going.
"I have this [really] deep understanding . . . that Heavenly Father loves me and that I have been forgiven," she says. "The problem [isn't] that Heavenly Father didn't have forgiveness for me, the problem was that I didn't have forgiveness for myself. And so that is what I work on on a daily basis."
Burton and her husband, Chris, are active members in their ward. One of her favorite callings was being a Primary teacher to kids ages 6–7, where she felt like she could focus on the fundamentals of the gospel and learn the Primary songs. She and her husband also read scriptures and pray together daily, and if Burton is on a mountain, she makes sure to read at least one verse on her phone. Her membership in the Church has also been life changing as she has reconnected with her three children and found lifelong friends.
"I'm really grateful for the Church. I have learned how to be a better parent. My foundation is being stabilized because of my relationship with such a loving, giving, and supportive community," she says. "One of the huge benefits from my relationship with the Church is that all of my friends are clean and sober, and I have some of the closest and best friendships that I've ever had in my life with members of the Church."