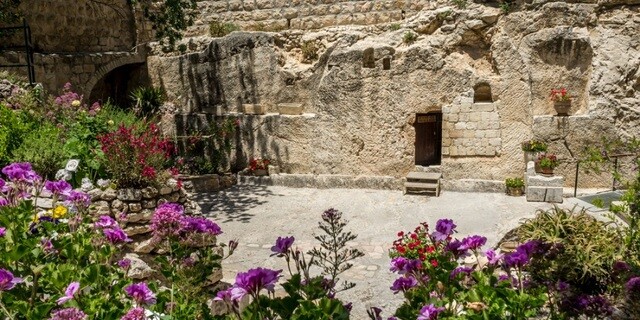 John's description of the first Easter morning provides the most insight into the experience of Mary Magdalene, who is mentioned by name in every Gospel account as being at the tomb that morning. Mary Magdalene came early on "the first day of the week . . . , when it was yet dark, unto the sepulchre and seeth the stone taken away." She ran to Peter and John to tell them the devastating news: "They have taken away the Lord out of the sepulchre, and we know not where they have laid him" (John 20:1–2).1
Note Mary's assumption: the only explanation for Christ not being in the tomb is that somebody had taken him away. I don't blame her. Without a knowledge of the Resurrection, it would have been the only thing that made sense to me as well. Both disciples ran to the tomb; all they saw were "the linen clothes" and the "napkin, that was about his head, not lying with the linen clothes, but wrapped together in a place by itself" (John 20:6–7).
Peter and John returned home, but Mary stayed at the empty tomb, weeping. Upon looking into the sepulcher again, she saw "two angels in white sitting, the one at the head, and the other at the feet, where the body of Jesus had lain." When they asked her why she was weeping, she responded, "Because they have taken away my Lord, and I know not where they have laid him" (John 20:12–13).
The angels did not reply. Mary turned around and saw a man she assumed was the gardener. He spoke to her, saying, "Woman, why weepest thou? whom seekest thou?" (John 20:15). As New Testament scholar Gail R. O'Day notes, "These questions are the first words spoken by the risen Jesus. His question, 'Whom are you looking for?' mirrors the first words he spoke in his ministry. When the followers of John the Baptist approached Jesus, he asked them, 'What are you looking for?' ([John]1:38). This question is an invitation that introduces one of the marks of discipleship . . . : to look for Jesus."2 Who are we looking for?
Mary pleaded with the man to tell her where Christ's body had been laid. Then he spoke one word that changed everything: "Mary" (John 20:16). She realized she was speaking with her Savior. Stop for a moment and ask yourself, What would this experience have felt like for Mary? For Jesus? The love and devotion between Savior and disciple made this reunion a truly joyous one. In this interaction we see a fulfillment of Christ's words: he is the good shepherd who "calleth his own sheep by name." And Mary? She is one of the sheep who "know his voice" (John 10:3–4).
Mary may have tried to embrace the Savior, who said to her, "Hold me not; for I am not yet ascended to my Father: but go to my brethren, and say unto them, I ascend unto my Father, and your Father; and to my God, and your God" (JST, John 20:17). Although the Savior's words to Mary may sound harsh, O'Day suggests a possible interpretation that resonates with me:
Jesus' command, "Do not hold on to me," is the first post-resurrection teaching. When he speaks these words, Jesus teaches Mary that he cannot and will not be held and controlled. One cannot hold Jesus to preconceived standards and expectations of who he should be, because to do so is to interfere with Jesus' work and thereby limit what Jesus has to offer. . . . Jesus' prohibition to Mary thus actually contains the good news of Easter: Do not hold on to me, but let me be free so that I can give you the fullness of what I have to offer.3
I love the idea that we "cannot hold Jesus to preconceived standards and expectations." We will often have unmet expectations—we might hope to be healed but remain sick. We might expect to have a loyal spouse but instead live alone. We may assume our children will receive temple ordinances, but they choose not to do so. All of us will have times when we want to hold onto what we think Christ should do for us, but he has a different plan. We can let go of our preconceived expectations and instead trust in him.
► You may also like: The ultimate victory: How the death of Jesus Christ was a triumph, according to one BYU professor
Because the Savior invited Mary Magdalene to tell the Apostles of his Resurrection, she is sometimes called an apostle to the Apostles. Perhaps we don't reflect often enough on the fact that Jesus did not appear first to Peter or John—but to Mary. Earlier in her life, she had been possessed by seven devils (see Luke 8:2). We cannot know for sure what that means, but it was not good. Mary went from an extremely low state to becoming the first witness of the resurrected Lord! One lesson we learn from Mary's life is that even those of us struggling today may soon have momentous spiritual experiences.
Although there are small differences among the four Gospel accounts, the core messages are the same—the tomb was empty, women were the first witnesses of the Resurrection, and the good news of the Savior should be shared. The similarities, as well as the differences in these accounts, are in some respects proof that the Gospel authors were not creating a fictional event.4
Moreover, if the Gospel authors had invented the Resurrection story, they likely would not have made their principal witnesses women; at that time a woman's testimony was not considered as valid as a man's in a court of law.5 Even the Apostles thought the words of the women were "idle tales" and "believed them not" (Luke 24:11). Why would Luke add this detail, portraying the Apostles in a negative light, if he were making up the story? But Luke and the other Gospel authors were not making up a story—Jesus Christ had in fact been raised from the dead, and those who knew about his Resurrection were commissioned to share it with others.
Lead image: Shutterstock
---
Through scriptures, quotes, and stories, Considering the Cross shows that prophets, both ancient and modern, have taught that the Savior's Crucifixion is a central part of our redemption from sin. What the cross means for Christians in general and Latter-day Saints in particular has sometimes varied, but one meaning is constant—Christ was crucified for the sins of the world because of His love for us. Jesus is both the living Christ and, as manifested through His death, the loving Christ. Available now at DeseretBook.com and in Deseret Book stores.
---
Mary's word "we" indicates that others were with her (as in the other Gospel accounts); however, other women at the tomb are not named in John's account.
Gail R. O'Day, "John," in Women's Bible Commentary, 301. O'Day also points out that "the repetition of that question in chapter 20 establishes continuity between Mary and the first disciples of Jesus" (301).
O'Day, "John," 301-2.
After all, don't people tend to recall the same event with different details? Even the same person may remember an event differently across time. A modern example of this phenomenon is the different First Vision accounts given by the Prophet Joseph Smith. Although some detractors argue that an account (of the Resurrection or First Vision) can't be true because there are discrepancies in the details, if the stories were identical, critics would likely argue that this indicated a fictionalized, rehearsed story.
See Ilan Fuchs, "Women's Testimony in Jewish Law: A Historical Survey," Hebrew Union College Annual 82 (2012): 119-59.