The history of Latter-day Saints and Hollywood is more exciting and far-reaching than most people realize. Check out these 40 ways Church members have left their mark in television and on the silver screen.
Editor's Note: Some of the movies and television shows mentioned in this article contain strong language and adult content. LDS Living is merely reporting on the connections to these works and is not suggesting that readers should view the productions on this list. This article originally ran on LDS Living in 2018.
1. Former NFL star Steve Young turned down the role of Cameron Diaz's boyfriend in the 1998 film There's Something About Mary.
Photo by Jed Wells for LDS Living
"As a professional athlete in the spotlight, I told myself I would always try to be a good role model for kids," Young told LDS Living. "As funny as the script was, I thought if the movie was rated R and Latter-day Saint kids would be sneaking in to see the movie, that wouldn't be okay with me."
► You'll also like: The Surprising Reason Steve Young Didn't Serve a Mission (and It Has Nothing to Do with Football)
BONUS FACT:
Steve Young also turned down $1 million to star in a Coca-Cola commercial. "I asked if it could be Caffeine Free Coke, but they said no," he told LDS Living. "But because Coke has so much caffeine in it, I turned down the offer. I didn't want to endorse something that had addictive properties."
2. The bearded lady in The Greatest Showman (2017) was raised as a Latter-day Saint.
Image from imdb.com
Keala Settle, the actress who wowed audiences as the bearded lady in The Greatest Showman (2017), was raised in the Church by her mother, a Maori from New Zealand, and her British father, David Settle, who works at BYU as associate dean of International Student Services. Keala was born in Hawaii and is the oldest of five children.
BONUS FACT:
At one point, Keala Settle sang backup for Gladys Knight in Las Vegas.


3. Two Latter-day Saint men were involved in the epic film The Ten Commandments (1956).
Image from imdb.com
Producer and director Cecil B. DeMille hired Latter-day Saint artist Arnold Friberg after Swedish publisher Herman Stolpe showed him Friberg's paintings. DeMille was so impressed with The Finger of the Lord (Friberg's depiction of the Brother of Jared in amazement of the finger of God) that it became the inspiration for Moses's costume in the burning bush scene. Friberg received an Academy Award nomination for Best Costume Design, Color for his work on the film.
Jesse Delos Jewkes, a Latter-day Saint known for his amazing bass voice, was chosen to perform the uncredited voice of God in the film. Jewkes sang in the Tabernacle Choir in the 1920s and was a soloist with the choir. He performed in radio, operas, vaudeville, and other theater productions, eventually making his way to Hollywood just as the film industry was beginning to incorporate sound into movies. He appeared in several short films and steadily built a career that landed him in major films alongside legends like Bing Crosby, Betty Grable, and Red Skelton.
4. Latter-day Saint composer Leigh Harline co-wrote the famous Disney song "When You Wish Upon a Star."
Image from imdb.com
The song was written for Disney's animated film Pinocchio (1940). Harline won two Academy Awards for the song: Best Original Music Score and Best Original Song. It was the first Disney song to win an Oscar. After being hired by Walt Disney, Harline scored more than 50 songs and worked on favorites such as "Whistle While You Work," "Heigh Ho," and "Someday My Prince Will Come."
► You'll also like: 8+ Iconic Disney Characters You Didn't Know Were Drawn by a Latter-day Saint


5. The Osmond brothers had their own cartoon show in 1972.
Image from Wikipedia
Alan, Merrill, Wayne, Jay, Donny, and Jimmy starred in 17 episodes of ABC's The Osmonds cartoon series in 1972. The cartoons included fictional adventures of the famous brothers as they traveled around the world to promote good will for the United States in places like France, China, India, Spain, Bavaria, Italy, Australia, England, Denmark, and Transylvannia. Along the way, the brothers competed in a ping pong tournament against China and attended a vampire's party, Donny became a bullfighter to impress a girl and traveled back in time to meet a princess, and Jimmy met a mermaid and made friends with a genie.
But the Osmonds weren't the only musical brothers with their own cartoon show at the time. In fact, there was a period when The Osmonds aired back-to-back with The Jackson 5ive cartoon—a family with whom the Osmonds reportedly had a good friendship.
Check out the opening credits of The Osmonds below, and don't miss the brothers' very funky airplane!
The Osmonds (1972) - OPENING
6. Gladys Knight was nominated for a Golden Globe in 1977.
Image from imdb.com
The "Empress of Soul" made her film debut with the lead role in Pipe Dreams (1976). For her performance, Knight received a Golden Globe nomination for Best Acting Debut in a Motion Picture.
In 2003, Knight had a small role in the hit movie Hollywood Homicide, starring Harrison Ford. She was also featured in Tyler Perry's film I Can Do Bad All By Myself (2009).
In addition to film roles, Knight guest-starred on several television series, including The Jeffersons, A Different World, Benson, Living Single, The Jamie Foxx Show, and New York Undercover. She also made a number of television cameo appearances on shows such as 30 Rock and Las Vegas.
► You'll also like: How Gladys Knight Became a Latter-day Saint


7. Latter-day Saint actress A.J. Cook has had a starring role in the CBS drama Criminal Minds since 2005.
Image from tvguide.com
Andrea Joy Cook was born in Oshawa, Ontario, Canada. Her first acting job was in a McDonald's commercial in 1997. Cook has played the character Jennifer "J.J." Jareau on Criminal Minds since 2005. In 2010, it was announced that Cook's contract would not be renewed because of budget cuts, but due to outcry from viewers, she was reinstated.
BONUS FACT:
The boys who play Cook's sons on Criminal Minds are her real-life sons Mekhai Andersen and Phoenix Andersen.
8. Latter-day Saint actor Keene Curtis appeared in more than 40 television shows.
Image from Wikipedia
Keene Holbrook Curtis was born in Salt Lake City, Utah, in 1923. He was discovered by Orson Welles when Welles directed a college production of Macbeth. Welles then cast him in the role of Lennox in his 1948 motion picture adaptation.
Curtis went on to star in movies such as Heaven Can Wait (1978) and I.Q. (1994), as well as several popular television shows including M*A*S*H*, Cheers, E.R., Star Trek: Voyager, and Touched by an Angel. He also starred in several Broadway productions and was best known for his role as Daddy Warbucks in Annie. He died in 2002 at age 79.


9. Dean Jagger, who depicted the title character in the 1940 film Brigham Young, joined the Church later in life.
Image from imdb.com
Until Jagger starred in Brigham Young, he was a little-known actor. He went on to star in White Christmas (1954) and Twelve O'Clock High (1949), for which he won an Academy Award for Best Supporting Actor. Jagger joined the Church in his late 60s after marrying Etta Mae Norton, who was a Latter-day Saint.
BONUS FACT:
For the making of Brigham Young, Twentieth Century Fox consulted with Church historians and leaders, including President Heber J. Grant.
10. Daniel Eugene "Rudy" Ruettiger, whose inspirational story was told in the 1993 Hollywood movie Rudy, joined the Church in 2017.
Images from Facebook and imdb.com
The movie captures Ruettiger's tenacious battle to become a football player for Notre Dame's Fighting Irish. At 5'6" and 165 pounds, the possibility of Ruettiger becoming a Fighting Irish football player was minuscule, but that never deterred Ruettiger, who worked many long, grueling hours to make it onto the Notre Dame scout team.
In what would be his last chance to play at a home game, Ruettiger's coach, Dan Devine, had him dress and play in one of the last plays of the game as a defensive end. With just 27 seconds left on the clock, Ruettiger sacked Georgia Tech's quarterback in one of the most memorable underdog stories in football history. After the game, Ruettiger's teammates carried him off the field, making him one of the only players in Notre Dame history to be carried off the football field.
Several years ago, BYU Coach Bronco Mendenhall invited Ruettiger, now in his 60s, to attend a fireside the night before Ruettiger's Fighting Irish took on the BYU Cougars. Despite growing up attending Catholic schools and rooting for a Catholic college team, Ruettiger was impressed by the testimony of the football players from this Latter-day Saint school, and he began asking questions, wanting to know more. "The Spirit touched his heart, and he knew where he needed to be," a Facebook post by United Latter-day Saints shares.
That initial curiosity soon grew within Ruettiger as he continued to investigate the Church, and on January 21, 2017, Rudy Ruettiger was baptized a member of The Church of Jesus Christ of Latter-day Saints.


11. Executive producer of The Blair Witch Project (1999), Kevin J. Foxe, joined the Church in 2002.
Image from imdb.com
Most well known as the executive producer for the independent film The Blair Witch Project (1999), Kevin Foxe was taught the discussions and joined the Church in 2002. The announcement of his decision was originally posted by Matt Anderson, an alumnus of the Germany Berlin Mission, on the alumni website. It was later confirmed by Foxe himself in an email to famousmormons.net.
12. Latter-day Saint actor John Gilbert was once the highest paid actor in Hollywood.
Image from imdb.com
John Gilbert was born in 1899 in Logan, Utah. The son of an actress and a comic, he made his first stage appearance as baby and was cast as an extra in films during his teens. He signed a contract with Fox Films in 1921 and got increasingly larger roles. In 1925 he starred in The Big Parade—the most successful film until Gone with the Wind (1939). By 1928 he was the highest paid actor in Hollywood and was as popular as Rudolph Valentino. He made nearly 100 films before he died of a heart attack in 1936 at age 38.
BONUS FACT:
John Gilbert was once engaged to legendary actress Greta Garbo, but she got cold feet and left him at the altar.


13. Latter-day Saint actor Wilford Brimley originally joined the film industry as a cowboy stunt man.
Image from imdb.com
At the urging of his good friend, actor Robert Duvall, Wilford Brimley joined the film industry in the 1960s as a stunt man and riding extra in several Westerns. In 1974, Brimley was cast in the popular television show The Waltons. He went on to star in films like The Thing (1982), The Natural (1984), Cocoon (1985), and The Firm (1993). He was the Quaker Oats spokesperson during the '80s and '90s and later was the spokesperson for Liberty Medical Diabetic Supplies.
BONUS FACT:
Wilford Brimley was once the body guard of billionaire businessman Howard Hughes.
14. Marie Osmond turned down the role of Sandy in the hit 1978 movie musical Grease, which was made famous by Olivia Newton-John.
Image from imdb.com
In 2009 Osmond told Fox News, "Initially when the script came to me, it was much edgier than what Olivia [Newton-Jon] came up with. But I was at a place in my life where I wanted to have children, and I didn't like the fact that the girl had to turn bad to get the guy."
She continued, "I think women's hearts—that divine feminine within us—God gave us that to know what's right and wrong, to perceive the needs of a child. We know, and so I learned to respect that or not dismiss it."
BONUS FACT:
Producer Alan Carr envisioned Donny Osmond, Marie's brother, for the role of the teen angel that sings "Beauty School Dropout" in the film. Elvis was also considered but died during the summer the movie was shot. The role was famously portrayed by Frankie Avalon.


15. The voice of the Magic Mirror in Disney's Snow White and the Seven Dwarfs (1937) belongs to Church member Moroni Olsen.
Image from imdb.com
Moroni Olsen was an Ogden-born Latter-day Saint who, after working in Broadway, made his debut screen appearance in a 1935 adaptation of The Three Musketeers. He later returned to that story as a different character in a 1939 comedy version. His biggest claim to fame, however, is his baritone voice, which audiences heard coming from the Magic Mirror in Snow White and the Seven Dwarfs (1937).
16. The music of the Tabernacle Choir has been featured in at least 9 feature-length films.
Photo from mormontabernaclechoir.org
Did you know that the Tabernacle Choir has sung in some of your favorite Hollywood movies? Here is a list of some movies music from the Tabernacle Choir has been featured in:
A Christmas Story (1983), "Silent Night"
UHV (1989), "Battle Hymn of the Republic"
Nixon (1995), "Shenandoah"
Evan Almighty (2003), "This Land Is Your Land"
The Stepford Wives (2004), "The Star-Spangled Banner"
Madagascar (2005), "Born Free"
Deck the Halls (2006), "Joy to the World"
The Santa Clause 3: The Escape Clause (2006), "Halleluja Chorus"
Singing with Angels (2016), various
BONUS FACT:
The choir also made a television appearance in an episode of Touched by an Angel. Watch them in the video below.
The Mormon Tabernacle Choir on Touched By An Angel Battle Hymn of the Republic In HD YouTube


17. Captain Phillips (2013) portrays Latter-day Saint Merchant Marine Mike Perry.
Church member Mike Perry spent 45 years on the seas, becoming a Merchant Marine in 1995 after retiring from the Navy as a lieutenant commander. He was a crewmember on the merchant ship Maersk Alabama when it was attacked off the coast of Somalia in 2009. The harrowing story was portrayed on the big screen in the movie Captain Phillips (2013), starring Tom Hanks. Actor David Warshofsky plays Perry in the film.
Perry risked his life by subduing one of the pirates and helping disarm him. That pirate was eventually used as a bargaining chip by the ship's captain, Richard Phillips, who was captured along with another crewmember in the first minutes of the attack. Perry told the press, "I didn't pattern myself after Chuck Norris or Jackie Chan," referring to his actions on the ship. "The only thing that got me ready for this was the gospel of Jesus Christ."
18. Three-foot nine-inch actor and Church member Billy Barty, most famous for his role in Willow (1988), appeared in over 200 films in his 70-year career.
Image from imdb.com
If you ever feel intimidated because of physical or mental limitations, just look to the inspiring life of Church member Billy Barty. Barty, who died in 2000, is famously quoted as saying, "My parents never told me I was small, so I never knew any better."
Barty began acting at age 3 and made his mark in the film business, appearing in films and television shows from 1927 to 2001. Over the course of his 70-year career, Billy appeared in over 200 films including vaudeville, television, commercials, stage roles, and nightclub appearances. He was perhaps the most recognizable of all little people and was awarded a star on the Hollywood Walk of Fame in July 1981.


19. Church member Don Bluth animated or produced several well-known movies, including The Rescuers (1977) and Pete's Dragon (1977).
Image from imdb.com
Don Bluth is perhaps the biggest name in feature-length animation since Walt Disney. He got his start at Walt Disney studios, where he worked on The Rescuers (1977), Pete's Dragon (1977), Robin Hood (1973),and The Many Adventures of Winnie the Pooh (1977). He eventually left Disney to start his own company, where he created The Secret of NIMH (1982) and animated a sequence for Xanadu (1980). Some of his other successes include An American Tail (1986), The Land Before Time (1988), All Dogs Go to Heaven (1989), Anastasia (1997), and Titan A.E (2000).
20. Fire in the Sky (1993) is based on Latter-day Saint Travis Walton's alleged alien abduction.
Image from imdb.com
Travis Walton was working as a logger near Snowflake, Arizona, when he says he and his co-workers encountered a UFO on November 5, 1975. According to Walton, he approached the craft and was struck by a beam of light. Fearing for their lives and presuming Walton was dead, the other loggers fled the scene. When one of them returned for Walton, he was nowhere to be found. The loggers were suspected of murder—despite passing polygraph tests. Walton was found wandering five days later, dehydrated and incoherent. He soon experienced flashbacks of his abduction.
Walton is portrayed in the movie by actor D.B. Sweeney. Walton also makes a cameo appearance in the film.


21. Latter-day Saint former NFL player Merlin Olsen starred in several television shows in the '70s and '80s.
Image from CBS News
Merlin Olsen was a standout defensive tackle with a highly successful 15-year career with the Los Angeles Rams. He is a member of both the College Football Hall of Fame (he was an All-American at Utah State) and the Pro Football Hall of Fame. After his retirement, he became a well-known sportscaster who called four Super Bowls.
Olsen also enjoyed a successful acting career. He was perhaps best known for his iconic roles in television series like Little House on the Prairie, Father Murphy, Fathers and Sons, and Aaron's Way. He also made appearances in the films The Undefeated (1969), Something Big (1971), and Mitchell (1975). Olsen died in 2010 at age 69.
22. Jane Seymour's character in Somewhere in Time (1980) is based on Latter-day Saint actress Maude Adams.
Image from imdb.com
Jane Seymour's character, Elisa McKenna, is based off of the real-life career of Latter-day Saint actress Maude Adams, the most popular actress of the American theater during the early 1900s.
Maude Ewing Adams Kiskadden (November 1, 1872–July 17, 1953), known professionally as Maude Adams, was an American actress who achieved her greatest success as the character Peter Pan, first playing the role in the 1905 Broadway production of Peter Pan. Adams's personality appealed to a large audience and helped her become the most successful and highest-paid performer of her day, with a yearly income of more than one million dollars during her peak.
Often described as shy, Adams was referred to by Ethel Barrymore as the "original 'I want to be alone' woman." She was known at times to supplement the salaries of fellow performers out of her own pay. Once while touring, a theater owner doubled the price of tickets knowing Adams's name meant a sold-out performance. Adams made the owner refund the difference before she appeared on the stage that night.
Maude Adams (1901)
Photo from Wikipedia


23. Battlestar Galactica, a television series that aired in 1978 and 1979, was created by Church member Glen A. Larson and includes several references to Church doctrine.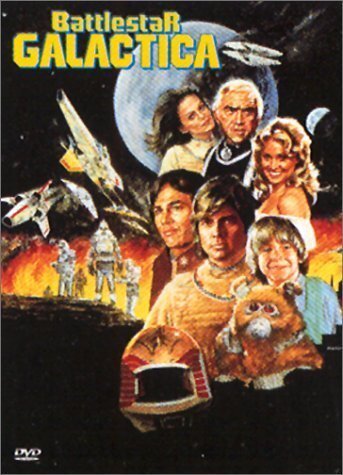 Image from imdb.com
For example, in the show, the colonies originated from the planet Kobol (thought to be an anagram of Kolob) and were governed by a "council" or "quorum" of twelve. And in the episode War of the Gods, Part 2, angels (or advanced beings) explain, "As you are now, we once were; as we are now, we may become." Sound familiar? Compare it to Lorenzo Snow's famous couplet, "As man is now, God once was; as God is now, man may become." Even marriages were referred to as sealings that lasted "not only for now, but for all eternity."
Larson also worked on other popular television shows such as The Six Million Dollar Man, The Fall Guy, Magnum P.I., and Knight Rider.
BONUS FACT:
Larson got his start in the entertainment industry in 1956 in music rather than television. He was a member of the vocal group The Four Preps, releasing three gold records with Capitol Records. He wrote and produced several songs for the group and later used his musical talents to write the theme songs for The Fall Guy, Battlestar Galactica, and B. J. and the Bear.
24. Laraine Day was the first Latter-day Saint actress to earn a star on the Hollywood Walk of Fame.
Image from bio.com
Laraine Day got her start when her family moved from her birthplace in Roosevelt, Utah, to California. There she made her first small film appearance in 1937, though her most famous role was Nurse Lamont in the Dr. Kildare series. Day also appeared on a number of other television shows, including Alfred Hitchcock Presents, Wagon Train, Let Freedom Ring, FBI, Sixth Sense, Murder, She Wrote, Fantasy Island, Love Boat, and Lou Grant. For her contributions to the motion picture industry, Day was given a star on the Hollywood Walk of Fame in 1960. She died in 2007 at age 87.


25. Wetzel "Judge" Orson Whitaker, who is credited with pioneering Latter-day Saint film, worked as an animator for Walt Disney Studios in the '30s and '40s.
Image from BYU Special Collections
Whitaker worked as an animator on several well-known Disney films, including Cinderella (1950), Alice in Wonderland (1951), and Peter Pan (1953). In fact, he based the look of the two mean stepsisters in Cinderella on himself and his brother in an effort to make them look less feminine and less attractive.
Whitaker went on to help the Church establish its own motion picture studio at Brigham Young University.
26. Jon Heder, most famous for starring in the movie Napoleon Dynamite (2004), can be heard in the animated films Monster House (2006) and Surf's Up (2007).
Image courtesy of Jon Heder
Born on October 26, 1977, Jonathan Joseph "Jon" Heder had his big debut in the hit comedy Napoleon Dynamite (2004) as the title character. Since then, he has gone on to star in movies such as The Benchwarmers (2006), Blades of Glory (2007), and When in Rome (2010). But his first film still holds a special place in his heart.
"Napoleon Dynamite has still been my favorite role and movie to be in," he told LDS Living. "It was my first film, an absolute labor of love made with a lot of my college buddies who weren't making it by Hollywood standards, and the world we created was and still is just so funny and endearing to me. I love those characters so much, and they are so similar to the environment I was raised in."
Heder's voice is also heard playing the character of Reginald "Skull" Skulinsky in the animated film Monster House (2006) and Chicken Joe in Surf's Up (2007).
Images from behindthevoice.com
BONUS FACT:
In 2012, Heder and the rest of the original cast starred in six episodes of a cartoon based on his movie Napoleon Dynamite.
Image courtesy of Fox Network
"I'm extremely proud of it," Heder told LDS Living. If you missed it on television, you can buy the complete series on amazon.com.


27. Gordon Jump converted to the Church after performing at a small theater in Glendale, Utah, early in his acting career.
Image from imdb.com
Gordon Alexander Jump got his start with Nathan Hale and Ruth Hale, a California couple who owned a small theater in Glendale, Utah. It was through the Hale family that Gordon became acquainted with the Latter-day Saints and joined the Church, remaining a devout member throughout his career. Gordon's most popular roles include the clueless radio station manager Arthur "Big Guy" Carlson in the TV series WKRP, the incompetent Chief of Police Tinkler in the sitcom Soap, and as the lonely Maytag Repairman in commercials for Maytag brand appliances.
28. Some spiritual aspects of the Star Wars franchise were influenced by Latter-day Saint film producer Gary Kurtz.
Image from imdb.com
A Los Angeles native, film producer Gary Kurtz was born on July 27, 1940. His collaboration with George Lucas and Lucasfilm began in 1973 with the film American Graffiti (1973), which was a huge box office hit. He then went on to influence many of the spiritual aspects of Star Wars and its sequel, The Empire Strikes Back (1980), as the producer. He also produced The Dark Crystal (1982) and Return to Oz (1985).


29. Latter-day Saint Producer Gerald Molen received an Academy Award for his work on Schindler's List (1993).
Image from imdb.com
Starting his career as the transportation coordinator of Republic Studios in 1957, Gerald Molen slowly worked his way up the ranks. By 1985 he was the unit production manager for The Color Purple, working with Steven Spielberg. His first role as producer came with the 1987 movie Batteries Not Included, and a year later he acted as co-producer in Academy Award-winning Rain Man (1988), in which he also made a cameo as Raymond Babbit's guardian, Dr. Bruner. His production of Schindler's List in 1993 won him his first Academy Award as head producer.
30. Two Latter-day Saints have voiced characters in Disney's Winnie the Pooh: Ken Sansom and Brady Bluhm.
Image from people.com
Though Frank Kenneth "Ken" Sansom was an actor in about 20 movies, he is most remembered for his voice. His career started with a KSL radio program called Sansom and Then Some in the 1960s, but Ken's best known work is as the voice of "Rabbit" in the Winnie the Pooh cartoons.
Christopher Robin was also sometimes voiced by Church member Brady Bluhm, who served a mission in Concepcion, Chile, and also appeared in shows like Star Trek Voyager, Murphy Brown, CSI, and others throughout his career.


31. Toward the end of his time on the hit TV show NYPD Blue, actor Ricky Schroder joined the Church.
Photo from Wikipedia
Richard Bartlett "Ricky" Schroder, Jr. debuted at age 9 in the hit film The Champ (1979). Ricky stayed in the limelight for many years, starring in the sitcom Silver Spoons as a youth. Later as an adult, he changed his name credit to "Rick" and appeared in main roles in the Lonesome Dove mini-series (1989) and the popular NYPD Blue television show before turning his main focus to directing. He joined the Church in 2000 and was baptized by his father-in-law.
32. Latter-day Saint soap opera star Ellen Wheeler won two Daytime Emmy Awards.
Most famous for her work in soap operas, Ellen Wheeler was born in Hollywood but grew up in Cedar City, Utah. She was raised Latter-day Saint and held on to her religious faith throughout her career. Her roles as Marley and Vicky Love on Another World earned her a Daytime Award Emmy for Outstanding Ingénue in a Drama Series. Later, in 1986, her work in All My Children as Cindy Parker Chandler, one of the first characters on daytime television with AIDS, earned her another Daytime Emmy for Outstanding Supporting Actress in a Drama Series. She moved on to the role of director in the 1990s and was the executive producer of Guiding Light from 2004 until the show's cancellation in 2009.


33. The Twilight movies grossed more than $2.5 billion in box office sales worldwide.
Image from imdb.com
After writing the bestselling Twilight series, author Stephenie Meyer (who grew up a Latter-day Saint) moved her talents to screenwriting, assisting with the scripts for six movies adapted from her own novels and also collaborating on other film ventures like the hilarious Austenland (2013).
One estimate by Forbes magazine puts the total global box office earnings for the Twilight saga at $2.5 billion, which doesn't include DVD sales, TV airings, and merchandise sold after the movie releases.
34. Latter-day Saint storyboard artist David Derrick was instrumental to the success of Disney's hit animated movie Moana (2016).
Image from imdb.com
Derrick, who is of Samoan decent, spent nearly three years working on the animated film about a Polynesian princess. According to KSL, Derrick did thousands of drawings for the song "How Far I'll Go."
Auli'i Cravalho - How Far I'll Go (from Moana/Official Video)
For inspiration, he also visited the ghost town of Iosepa, Utah—which was founded by Polynesians in the late 1800s to establish an agricultural community and where the cemetery still remains in tact. Derrick told Fox 13, "I went there and I found the marker of Simeafua, one of my ancestors, and I made a rubbing. I put that rubbing above my desk every single day to remind me why I was making a movie. It was very personal."


35. The film Austenland (2013) is based on the novel by Latter-day Saint author Shannon Hale and was written and produced by Latter-day Saint women.
Image courtesy of Shannon Hale
Austenland is the story of a 30-something woman's experience during her stay at a Jane Austen-themed getaway. In fact, Twilight author Stephenie Meyer produced the film, with Latter-day Saint women Shannon Hale and Jerusha Hess (who co-wrote the screenplays for Napoleon Dynamite (2004) and Nacho Libre (2006) with her husband) as the screenwriters. The cast includes Keri Russell, Jane Seymour, and Jennifer Coolidge.
36. Kieth Merrill won an Academy Award for best documentary.
Image courtesy of Kieth Merrill
Keith Merrill, faithful Latter-day Saint and film director, writer, and producer, won the Academy Award in 1973 for his documentary feature titled The Great American Cowboy. He was nominated again in 1997 for his documentary short Amazon. Merrill is a voting member of the Academy of Motion Picture Arts and Sciences.
► ► You'll also like: LDS Academy Award Winner Talks Faith, Hollywood, and What Makes a Good Story


37. Church member Ben Hansen was the host of the Syfy Channel's Fact or Faked: Paranormal Files.
Image courtesy of Ben Hansen
As the host of Syfy's Fact or Faked: Paranormal Files, Hansen explored some of the world's darkest secrets. He and a team of researchers investigated UFOs, hauntings, and other paranormal phenomena. "I might find myself on location in places such as Iceland looking for a lake monster, or in Australia looking for mermaids," Hansen told LDS Living. "I think I'm pretty lucky to be getting paid for having so much fun."
Whether fortunately or unfortunately, most of the cases Hansen investigates have a simple, mundane explanation. Perhaps the wind blew through cracks in a room in just the right way and it was mistaken for a ghost whispering. Still, it's not always so clear cut. "There's about 5%-25% of them that I haven't been able to resolve both on or off the TV show," he said.
"[People] wonder if I've ever seen or experienced things that make me question my faith. I tell them, 'absolutely not," Hansen told LDS Living. "Yes, while it's true that I've seen many things most people would find hard to believe, there's nothing I've experienced that makes me doubt the gospel. It all fits in somehow. The universe is filled with mysteries, and I'm okay waiting a bit for the answers."
38. Latter-day Saint screenwriting partners Cinco Paul and Ken Daurio have written several hit movies, including The Santa Clause (2002), Horton Hears a Who! (2008), The Lorax (2012), and the Despicable Me series.
Image from imdb.com
The two men met when Daurio had a lead in a musical that Paul wrote for his Latter-day Saint stake's celebration of the sesquicentennial of the pioneers' arrival in Utah. They soon teamed up and sold several scripts.
The screenwriters told the Deseret News that their faith has played a significant role in their careers. "Our beliefs have definitely had an impact on our careers, most obviously in the types of projects we've chosen to work on. We want to write movies that are uplifting, optimistic, and for everybody."


39. Edwina Booth, granddaughter of President Wilford Woodruff, was a movie actress in the 1930s.
Image from Wikimedia Commons
Edwina Booth, whose real name is Constance Woodruff, is the great granddaughter of President Wilford Woodruff. Her first big break came when she landed the lead in MGM's Trader Horn (1931). Unfortunately, while filming on location in East Africa, Booth contracted malaria, from which it took her six years to recover. Booth sued MGM for one million dollars but eventually settled for $35,000. After a few minor roles in lesser-known movies, she never worked in Hollywood again.
40. Former NFL Star Scott Mitchell Appears in Ace Ventura: Pet Detective (1994).
Image courtesy of Scott Mitchell
Mitchell appears with other then-team members of the Miami Dolphins, including Dan Marino. In the movie, Ace Ventura (played by Jim Carrey) is hired to find the NFL team's kidnapped mascot.
Mitchell went on to compete on NBC's The Biggest Loser: Glory Days in 2014. He lost 120 pounds in the weight loss competition but was eliminated in the episode before the finale. Though Mitchell wanted to compete to the end, he accomplished his ultimate goal—he reclaimed his life and his self-worth.
"I left it all on the table and gave it everything I had," he told LDS Living. "I'm very proud of my accomplishments."