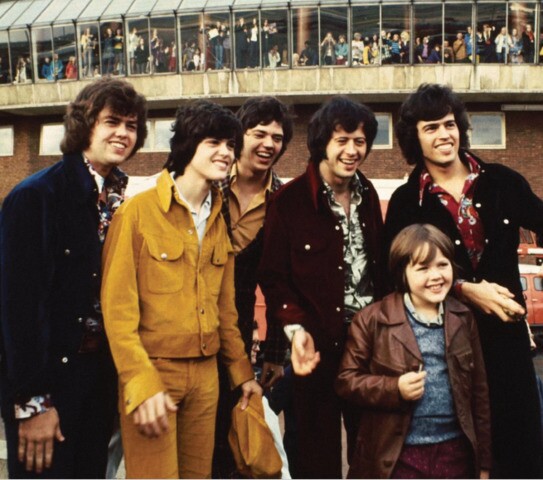 In the 1970s, the Osmond family thrilled throngs of screaming fans with performances throughout the United Kingdom. Because of their shining example both on and off the stage, these musical missionaries would play a key role in sharing the gospel and growing the Church in that corner of the world.
Osmondmania struck London when the Osmond boy band from Utah arrived in mid-January 1973. Their father, George Osmond, told a correspondent for the Sunday Times Magazine, "We're just a plain, simple family. We're all members of the Mormon faith, and it is that more than anything else that has held us together. I can tell you the boys love the Lord even more than show business." Nearby were screaming teenyboppers and exuberant fans. The reporter noted, "Most of them are aged between 12 and 14, howling for a sight of the idols and shrieking at the Heavies. . . . The girls scream and sob on the brink of hysteria." Later that same year, it was also reported that 10,000 shrieking fans met the Osmonds at London's Heathrow Airport, causing a balcony to collapse because of too much weight from these crazed devotees.
By the spring of 1975, both Heathrow and Gatwick Airports were closed to the Osmonds' chartered aircraft due to widely publicized incidents, which cost thousands of pounds to repair due to "hundreds of stampeding girls, and several policemen [who] were injured." Two years later, hotels were also closed to the group, which necessitated a temporary house rental. Such was the Osmond craze that struck the United Kingdom in the early 1970s.
Though their musical talent and charisma drew immense attention, there was more beneath the Osmond family's sound and how they acted both on and off the stage that caused reverberations among British citizens, especially with those who investigated their beliefs. One, Denise Sim, a convert from Hertfordshire who joined the Church in the 1970s, recalls, "If it hadn't been for the Osmond family, I would not have known about the 'Mormon Church' and its teachings." She adds, "The Osmonds have had a great influence and have been missionaries in their own rights. Through their example . . . and through their music, they have brought numerous people to the understanding that we are children of God."
►You'll Also Like: Woman's Incredible Near-Death Experience Leads to Her Conversion, Questions for Donny Osmond
One staff member assisting the Osmonds was Carol Oldroyd, who had observed their exemplary behavior in all seasons. She remembers, "From the minute we stepped off that airplane . . . the Osmonds were the kindest people to the fans of England. They cared about them; they talked with them; they gave them all the time they needed to tell them their problems. The Osmond brothers were very kind to the people of England, and I think that's the reason why they loved them so much."
Even after they returned to the States, Mother Osmond (Olive) continued to write advice columns via her Spotlight articles, which aimed to give motherly counsel for young UK girls in need. Referring to the other popular "teenybopper magazines," Olive said, "They have no substance! We need to give the girls some substance." Marie Osmond recalls that her mom "would write . . . about faith and family and self-worth and hard work." Marie also shares with a smile, "I remember one day I went in there and I [said], 'You love the fans more than you love me!' And she looked at me and she goes, 'You know I love you, but I love them, too, so get over it!'"
The Osmonds were not only nice people but they also had a high standard of virtue. Journalist Lee Benson wrote in a 2019 Deseret News article, "In almost every way imaginable in the entertainment world, the Osmonds were different—a clean-living, clean-talking, clean-performing bunch who didn't drink, do drugs, curse or complain, all while singing rock and roll and praising the Lord." Ron Clark, who was the Osmonds' publicist and road manager for 14 years, was a witness to their tremendous influence, particularly with the example they set for their young female fans. He recalls:
There was nothing that any parent ever needed to worry about with their child, this precious daughter, having a fixation on any one of the Osmonds because they were nonthreatening. All they did was be an example for goodness, and as a result of that, these girls start reading the Book of Mormon. They start reading the pamphlets that the missionaries would bring to the home. We had referral cards inside each Book of Mormon that was given away at the concert sites.
Not only did they influence their fans by performing a high caliber of wholesome music but they also caught the attention of famous rock groups who were performing in Britain during this same era. For example, Donny Osmond recalls Paul McCartney coming to the Osmond lodgings one day in France with his young daughter Mary, requesting an autograph for her. Donny shares:
[He said], "Could I get your autograph please for my daughter?" and he hands me a picture of me. He said, "Put it to Mary, please," so I put "To Mary, love, Donny Osmond." He gave it to Mary. She was so excited, and he said, "Thank you very much." I said, "You're welcome," and the door closes. I'm thinking, "Hold on! That was Paul McCartney!" So years later, I'm in London at this television studio, editing one of my music videos, and Paul was in the adjacent studio, and I thought, "I've got to verify this story. Maybe I dreamt it, or maybe I made it up or something." So I walk in. I said, "Hey Paul." He said, "Hey Donny, how are you?" and we started talking a little while. I said, "Paul, I've got to verify something." So I related the story . . . and I said, "Did that happen, or did I dream it?" He said, "Donny, not only did it happen, but your autograph is one of the few autographs I've ever asked for in my entire life."
Another person of unrivaled prominence the Osmonds met was Queen Elizabeth II. Donny explained this unusual encounter, which occurred in the spring of 1972. For him, it included both a humorous moment as well as a spiritual memory when his mother courageously took the opportunity to present a copy of the Book of Mormon to Her Majesty:
One of the first memories I have of going over to England was to perform for Her Majesty the Queen at Royal Albert Hall. After the show, it was quite funny because everybody was so nervous [to meet her]. You have to stand there. You can't raise your hand to shake Her Majesty's hand unless she raises her hand to shake yours. I mean, the protocol was just out of this world. . . . My brother Merrill . . . had cottonmouth— he was just so nervous. And just as Her Majesty walked up to Merrill, he licked his lips. Somebody took a picture of it, and that was the cover of the paper the next morning—my brother Merrill sticking his tongue at the Queen of England! . . . I remember shaking Her Majesty's hand, and it was such a cool moment, but what I took out of that experience was the fact that my mother gave the Queen a Book of Mormon. . . . Years later, I [learned that] . . . the Queen still has that Book of Mormon in the palace.
►Did you know? All of the Osmond family was thrilled about this rare meeting with the Queen, with the exception of Marie, who, with a wry smile and chuckle, recalls, "Everyone was so excited to meet the Queen. I was so excited. In their excitement, they left me in the room, and I never got to meet her!"
►You'll Also Like: The Woman Who Gave Elvis Presley and the Queen a Book of Mormon
Although the Osmonds met with distinguished and well-known British citizens on occasion, they were always conscious of their everyday fans and looked for ways that they could encourage them to ascend to higher ground. Jay Osmond explains:
One of the things we've always wanted people to know is that we got into show business not because we wanted to be famous or make a lot of money. . . . We got into this business because we felt we can maybe help families, lift families. And it was always a mission first. I think that's what's kept us grounded through all this up and down roller coaster of show business.
Oldroyd likewise observes, "The Osmonds always tried to go to firesides or to church whenever they could, and so they set an example to the people of England."
Donny recalls:
I remember doing firesides over in the UK, and in hindsight, I realize and appreciate what my parents were actually doing. We weren't trying to shove the gospel down anyone's throats—we were just living our religion. We were not being hypocrites, because that's what our lifestyle was back at home. We'd go to church on Sunday. But it was a great example for others who were saying, "What keeps this family together? They're going to church on Sunday and they worked really hard Saturday night in a show. Let's check it out."
One British young woman who decided to "check out" the Osmonds was Lorraine Wheeler. She wrote:
I was curious about the backstory to the Osmonds ever since they burst onto the British music scene in the early '70s when I was just 13 years old. What was behind those white jumpsuits and impeccable dance move synchronizations . . . let alone the amazing harmonies and their genuine personalities that just drew you in? That is what I was most curious about. There had to be something behind all of that. I never thought the answer lay in a religion!
Wheeler's father was not pleased that she was interested in "the Mormons," and he did not want her to even consider having anything to do with The Church of Jesus Christ of Latter-day Saints until she was 20 years old, which she agreed to. But Wheeler also committed to herself that if she were ever proposed to, she would first seriously investigate the Church before moving forward. Shortly after her 20th birthday, Wheeler was proposed to and began to take another look at the Church. She ended up going to a fireside in Westminster in late January 1979. There she heard every single Osmond family member talk about the Church. "There I sat with thousands of others, and the only way I can describe the feelings I felt was as if magic dust was being sprinkled over me," she recalls. "Little did I know that those feelings were the whisperings of the Holy Ghost witnessing to me that the things I was hearing were good." Two months later, Wheeler was baptized, and 40 years later, she is employed as the executive assistant for Marie Osmond and has been a friend of the Osmond family for many years.
Such firesides provided the British Saints an opportunity to not only receive strength but also a venue to bring their friends and introduce them to their faith. These settings sparked interest on many occasions, which yielded much fruit and thousands of baptisms.
Merrill Osmond says that after the Osmond album titled The Plan came out in 1973, which gave a glimpse into the Latter-day Saint view of the purpose of life, people were really affected by it. At firesides, the Osmonds permitted the audience to ask questions about the plan of salvation, and Merrill was amazed by the questions asked. He shares, "I remember one fireside where the Spirit was so strong that literally people who were not [Latter-day Saints] would stand up in the middle of our fireside and start bearing their testimonies of what they were hearing. I mean, we're talking hundreds and hundreds of people would get up over time and just want to bear that testimony."
A member of one British family influenced by the Osmonds in the '70s went to a Donny and Marie performance decades later in Las Vegas. Donny tells what happened after the performance:
This really tall, burly man came up to me and I thought, "He is a rock and roller, and he is forced to be here because his wife dragged him here." But he said, "I have a story to tell you. I am a member of the Church, and I want to thank you for it. . . . My mom was a fan over in England, and she joined the Church because of you." What a compliment! That is better than a gold record!


The Osmonds' international influence came to the attention of Church president Spencer W. Kimball, who requested that they come to a dinner in their honor. Clark describes this unique occasion:
It was 1977, and we were invited to Salt Lake City for a dinner by none other than Spencer W. Kimball and his wife, Camilla. . . . [He said], "Well George and Olive, . . . I have some news that I would like to share with you. It's come to my attention that this past year, through the missionary department referral system, your remarkable Osmond family is responsible for over 28,000 convert baptisms this year alone." And he said, "Brother and Sister Osmond, I would like to extend an invitation to you and your children tonight in this very special setting to be missionaries of The Church of Jesus Christ of Latter-day Saints worldwide. And it will be my pleasure and my honor to set you apart individually in that calling." And before the night was over, they had been set apart as full-time missionaries in the Lord's service.
Yet this was not their first encounter with a Latter-day Saint prophet. In 1972, several years before their special meeting with President Kimball, the Osmond family was given counsel by President Harold B. Lee. Jay recalls when the prophet provided this inspired counsel to his family. "[He said], 'Whether it's the places you go, the things you do, the friends you keep, always choose that decision, [that] option that will bring you closer to God.'"
These words sank deep into Jay's heart. He notes, "I'll never forget that. When we walked out of that boardroom, down the stairs, our family changed. I felt a big change. I was just a brand-new teenager, and I felt a heavy weight on our shoulders."
Did you know? Alan Osmond, who kindly reviewed this article, added, "The prophet knew we were being bombarded with press and media, so he authorized us to receive a little more help with missionary work by having us all ordained as Seventies.
His younger sister, Marie, likewise cherished this memorable experience and said that it took place just after she received her testimony of the truthfulness of the Book of Mormon. Marie also recalls another time when she and her family were invited to a private meeting with the Quorum of the Twelve Apostles of The Church of Jesus Christ of Latter-day Saints:
President Lee said, "You are going out into the world. I'm going to give you a little advice. In any decision there are two choices—you either do it or you don't. Always make the choice that will take you closer to the celestial kingdom of God, and it will always be an easy choice for you." That has always stayed with me my whole life because maybe it's not the easiest choice, but you know it's the choice to make. And I've walked away from many things—parties where cocaine was dumped on the table from record companies, you know, to say "Thank you for your fabulous records and albums." I'm probably not the greatest celebrity because I don't party. But I'm still here after five decades.
The Osmonds did not take their spiritual charge casually but tried to make good decisions and bring light into every performance. In fact, each of the Osmonds would tell you that one of the keys to their success was that they never performed before an audience without having prayer together. This tradition continues to the present day. For example, looking back over the Donny & Marie shows the past decade, Donny notes, "Still we pray before every show, even in Las Vegas. We'll have a little circle of prayer—our dancers, Marie, and myself, . . . and we let the dancers pray. It's beautiful, and it brings such a wonderful spirit to what we're going to do for the next 90 minutes on that stage."
►You'll Also Like: When Marie Osmond Was Offered Was Offered 5 Million to Be in Playboy and Donny Was Asked to Fake a Drug Bust to Help Their Careers
Although the original band that performed in the UK during the '70s no longer performs as an entire group on a regular basis, there are special occasions when they all perform together, and some of the Osmond brothers still continue to perform in the UK. In fact, Jay and Merrill Osmond gave concerts in 2019, and their younger brother Jimmy has performed in the United Kingdom on a regular basis. Further, in interviews with Donny and Marie—whose show in Las Vegas has been ranked no. 1 for the past three years—they both mention with delight how the British fans continue to come to their shows on the Strip. Donny shares:
The UK has always had a soft spot in my heart because of the fans. You cannot be in show business, even for a short period of time, unless you have a fan base. But what was interesting, and this just happened a couple years ago, [is that] I did an arena tour over in the UK, and it sold out like crazy. I mean, the screaming was reminiscent of the '70s, although we were a lot older. The screams were coming from middle-aged women rather than little teenagers, but it was phenomenal. Other people told me that not a lot of people enjoy this type of loyalty from a fan base, so the UK has always had such a very, very soft spot in my heart, and a very good place for my career, because it really was the UK that launched us into stardom.
Merrill Osmond also mentions that from his UK travels he has learned that "the Welsh love to sing. . . . In these little gatherings. . . the Welsh want to sing us a song." He adds that one influential Welsh ancestor of the Osmonds, John Parry, was asked by Brigham Young to form the Tabernacle Choir. And Merrill notes, "So I think the whole ancestors of the Osmonds—that singing stuff—I think really affected the Osmonds."
The "singing stuff" is not slowing down anytime soon, and the Osmond legacy continues into the 21st century. In fact, Jay Osmond indicated that he would be producing a musical about the story of the Osmond family titled He's My Brother, which is scheduled to open in London's West End in late 2020. Jay notes that he wants "to tell the true, unvarnished story of how it really was growing up, the obstacles we faced, and how we stayed together through the journey of our show business life."
This mutual interest and warm relationship between the Brits and the Osmonds has now extended back half a century. Their substantial influence is probably best summarized by Donny:
Throughout the years, a lot of people have thanked the Osmonds for changing the face of the Church in the UK. . . . I am ever grateful to have been in that position that the Lord would trust us that much—to be the face of the Church over in the UK in the early '70s. The Church of Jesus Christ of Latter-day Saints is such a wonderful organization that brings families together, and that is the message the Osmond family brought to the British Isles.
---
This is a chapter sample of an upcoming book and companion documentary film, both titled The Look of Mormon: The Latter-day Saint Image in the British Mind. The documentary film aired on BYU-tv November 21, 2021.
Lead image and all other images courtesy of Donny Osmond.