Thank you to everyone who sent in their wedding photos. Happy wedding season!
Jared & Maryn Hunter from Utah
Salt Lake Temple, 2011
George and Katrina Rose
Married in Leura Chapel in the Blue Mountains, New South Wales, Australia in 1984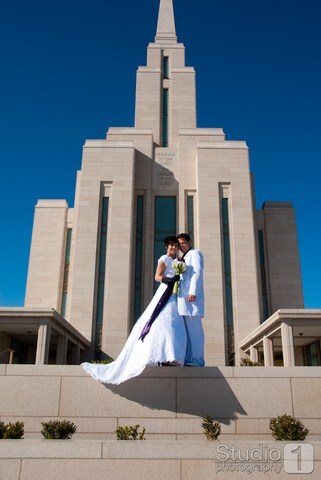 Josh and Kimberlee Rodeback
Oquirrh Mountain Temple, October 29, 2009
Kirk & Dottie Lima from Colorado
Salt Lake Temple, November 17, 1998
Danielle and Kansas Hutchinson from Utah
Salt Lake City Temple, 2010
Keith and Laurel Brooks from Melbourne, Victoria, Australia
Married at the Church of Jesus Christ of Latter-day Saint, Fairfield, Victoria, Australia on 10th March 1962
Sealed in the New Zealand Temple on March 13, 1962
Jana Noel and James Arthur Walbruch
Phillip and Gwen Dieckmann
St. Louis Missouri Temple, September 22, 2007
Frank Owosu and Felicia Aboagyewaa from Asamankese, Eastern Reg. Ghana
Accra, Ghana Temple, May 2011
Tiffany and Jonathon Davis from Salt Lake City, Utah
Salt Lake Temple, December 11, 2010
Stephen and Jessica Black from California
Sacramento Temple, 2010
Marcelino Lim and Cathy Carmode Lim from California
Oakland, California, 1993
Ryan and Brooke Chapman
Mesa, Arizona Temple, July 31, 2010
I am the only member in my family and I always imagined my wedding day to be a terrible one because my family couldn't come into the temple, but the Lord blessed me more than I could have ever imagined. The whole day was absolutely perfect!
Paul & Mary Crowther from Washington State
Cardston Alberta Temple, 1976
Daniel and Jennie Martinez from Washington
San Diego California Temple, 1994
Orson and Lisa Anderson from Texas
Nauvoo Temple, Sept 17, 2005
Shannon & Tim Dickman from Colorado
San Diego Temple, 2000
Norma & Jack Burks from Ohio
Columbus, Ohio Temple, 2004
Gregg and Joanne Sainsbury from Utah
Salt Lake City, January 4, 1974
Jason and Sydney Maughan
Married by bishop Larry Eastland on April 16, 2011 at the Los Angeles country club in California
Brent William and Amanda Marie Taylor
Boston, MA Temple, June 4, 2011