Editor's note: This article was originally published on LDSLiving.com in May 2022.
In 1991 Mount Pinatubo erupted in the Philippines, sending fireballs of molten debris into the sky and depositing a three-foot thick layer of ash in every direction. Though destructive, the eruption also had a beneficial result: the ejected ash served to fertilize the islands' soil, enhancing its ability to bring forth a multitude of tropical fruits and crops.
Likewise, the Lord created opportunities for fertile spiritual soil to be deposited in the Philippines, a uniquely Christian nation in Asia, and lead his servants to plant the seeds of the gospel therein. An unexpected source of help for establishing missionary work in the Philippines was Ping Batchelor, a woman who was not even a member, yet who experienced miracles in helping the Church meet government requirements to allow missionaries into the nation.
On August 21, 1955, President David O. McKay authorized Apostle Joseph Fielding Smith to dedicate the Philippines for missionary work. Still, before any missionaries could be assigned, the Church still needed to apply for official recognition and obtain visas from the Philippines government.
Elder Gordon B. Hinckley was assigned to help seek official recognition. In 1960 and 1961, he visit the Philippines government offices many times to try to move the process forward but could never seem to make progress, partly because the government tended to oppose any non-Catholic religions. Paperwork was filed to receive permission to send missionaries into the country, but the forms always seemed to get postponed by government red tape. For months Elder Hinckley was constantly met with the "discomforts of a sultry air and a sultry treatment from indifferent bureaucrats."1 After a year of gates being shut on all fronts, the Church's hopes of recognition were waning.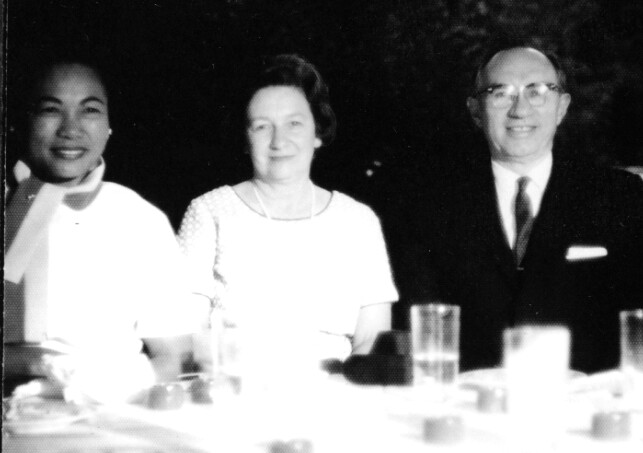 Filipinas Batchelor, better known as "Ping," was born in Sogod, Leyte, in the Philippines. From a young age she had many connections to the country's government: Her father was a friend to the Philippines' President Carlos P. Garcia, and her mother was a midwife for the wife and children of former President Jose P. Laurel. In college, Ping was classmates with nieces and nephews of the president.2 When Ping's father died, many of her father's government connections helped care for the bereaved family.
On February 14, 1960, Ping was waiting in a reception office, reading from the books and magazines available. Out of nowhere, an unknown voice spoke from behind her, saying, "Go pick up that book on the coffee table."
She later recalled, "I heard that voice, but I just ignored it. When I ignored the voice, it again asked me to go and pick up that book and read it. … I didn't know what book it was. I didn't know what it was about." Ping picked up the book and saw that it was a Book of Mormon.
"With one finger and my thumb I opened it, and it was Moroni 10, chapter 10, verses 3–5. When I had opened it, I heard the voice say, 'Read it. Finish it,'" Ping recalled. "While I was reading, I had a strange feeling that I really cannot forget, and even now I cannot describe that feeling I had. So, I started reading the book."3
Ping asked around the office to find the owner of the book. It belonged to a man named Joe, the serviceman in charge of the office. She asked Joe where the book had come from and if she could borrow it. He declined to let her borrow the book, but he told her more about the Church and where she could get her own copy.
Ping then contacted the local branch president, George Snell, and told him about her experience while reading Moroni's promise. They arranged for a meeting in which she asked all her questions about the Church and the Book of Mormon. Soon Ping was attending church meetings and even received a calling. However, she could'nt be baptized because the Church had not yet been officially established in the country.
After many months of meeting with the Latter-day Saints, Ping fell in love with an American Church member, Stan Batchelor, who was a military man temporarily stationed in the country. The two were married even though Stan was getting close to receiving his change of duty station and would have to leave the Philippines.4 Ping contemplated on what she would do when this change happened. Soon thereafter, she had a dream:
"This dream was asking me not to leave the country until the missionaries come. There was a man dressed in a white shirt and white pants, just white, standing in front of me. He said, 'Do not leave the country until the missionaries come.' I said, 'What was that?' He repeated it, told me twice. The third time he told me, 'Go to the Foreign Affairs Office, see your friend, and see if the application of the missionaries to come to the Philippines is there.'"5
Ping understood the dream to be referring to a friend of hers who was a minister of foreign affairs. She immediately contacted branch president Snell and asked if it was OK for her to follow up on the missionary papers that had been filed under Elder Hinckley's direction. Snell gave her permission to go ahead.6
She went to the foreign affairs office and visited her friend, telling him that she was following up on the papers that had been filed by The Church of Jesus Christ of Latter-day Saints.
"What is that?" the minister asked, obviously confused. Ping said, "The Mormons!" The minister's attitude changed. He said, "Mormons! Those are polygamist people, Ping. Why are you following this paper?" But at Ping's pleading, her friend agreed to look into her question.
The two went searching for the papers in desks and cabinets in the office but could not find them anywhere. A secretary suggested that the papers might be in the senate or the house of representatives.
Ping immediately enlisted help from additional friends in the government and found out that the papers had indeed passed through both the house and the senate but were sent back to the foreign affairs office. By this point, it was the end of the day, and Ping was tired, upset, and disappointed.7
But that very night Ping had another dream. The same white-clothed man from her previous dream appeared and told her, "Go back to the Foreign Affairs Office. See your friend. On the right-hand side of his table there are two cabinets. In the light brown filing cabinet, in the bottom drawer, the application is there."8
The next morning, Ping went back to the foreign affairs office and asked if they could look around one more time. She requested that the secretary look in the bottom drawer previously revealed in her dream.
The secretary scoffed, "We don't need to open that bottom drawer. Those are dead letters. We are just waiting for the janitor. They are to be burned."9
But Ping prevailed and was able to looked through the drawer. On the front page of one file, she saw an inscription: "The Church of Jesus Christ of Latter-day Saints." Ping immediately recognized these as the papers she was looking for.
Unfortunately, the papers had indeed been relegated for destruction after being marked "disapproved." Ping was crushed after all the hard work and revelation she had received. Close to tears, she uttered a silent prayer.10 Then she again turned to her friend, the minister, and pleaded for him to sign a letter of reconsideration. Incredibly, he agreed to do so.11
With newfound energy, Ping personally and carefully escorted the signed documents to each government agency and secretary to get them approved at every level. At last, Ping reached the secretary of foreign affairs, who also happened to be her godfather. He would need to provide the final signature.12
When Ping entered her godfather's office and explained the situation, he scolded her, telling her that the "Mormon polygamists" were bad people.13
Despite his reservations, he promised to review the papers. But he made Ping promise that if he decided to sign the papers, she would never tell her family about The Church of Jesus Christ of Latter-day Saints or try to convert them. Ping agreed to his terms, and he told her that he would study the papers more at home before coming to a decision.14
Ping returned to her godfather's office the next morning and found the papers signed and waiting for her on his desk. Ping kept her promise, and to this day she has never told her family about the Church.15 With the official signatures, Latter-day Saint missionary work could now begin in the country. Ping sent a telegram to the mission president in neighboring Hong Kong, informing him of these glad tidings: "The visas were approved. Send missionaries to the Philippines."16
On June 5, 1961, the first four missionaries arrived in the Philippines from the Southern Far East Mission: Elders Raymond L. Goodson, Nester O. Ledesma, Kent C. Lowe, and Harry J. Murray.17
Soon thereafter, Elder Hinckley personally invited Ping to be baptized. She accepted the invitation and became the first Filipino to join the Church after missionary work was officially established. She was baptized on Sunday, June 10, 1961, by her husband.
Ping had followed the directions in her dream to remain in the country until missionaries arrived; now she felt free to leave the Philippines with her husband, having completed her personal mission. She promised herself, "I will really stick to this faith. Nobody can change me anymore. This is where I belong."18
Ping remained a faithful member of the Church until her passing, and she loved caring for missionaries in her new home in California.
Over two thousand baptisms eventually took place in a local member's swimming pool before a chapel could be erected in 1966.19 Shortly after the first chapel was finished, the Philippines mission was created on June 28, 1967. In 1973, the first stake in the Philippines, the Manila stake, was organized.
On September 25, 1984, the Saints in the Philippines received their own temple in Manila. This land has become one of the most fruitful areas of the world for Church growth, with over 833,000 members, 123 stakes, 23 missions, and 185 family history centers. There are currently two operating temples in the Philippine islands, with five more awaiting construction.20
This tremendous growth echoes the prophetic words of President Gordon B. Hinckley's dedicatory speech decades earlier: "Lord, we pray that there shall be many thousands who shall receive this message and be blessed thereby."21 The Church in the Philippines continues to be firmly rooted in fertile soil and nourished by faithful members.
---
Sheri L. Dew, Go Forward with Faith: The Biography of Gordon B. Hinckley (Provo, UT: Religious Studies Center, Brigham Young University; Salt Lake City: Deseret Book, April 2, 2001), 214; Britsch, From the East, 321.
Filipinas "Ping" Batchelor interview, 16 March 1993, interviewed by Chad M. Orton, James H. Moyle Oral History Collection, CHL, 1.
Batchelor interview, 7.
Batchelor interview, 11.
Batchelor interview, 12.
Batchelor interview, 12.
Batchelor interview, CHL, 13.
Ibid.
Batchelor interview, 14.
Ibid.
Batchelor interview, 15.
Liel Maala, interview, February 10, 2022, interviewed by Mason J. Cameron.
Batchelor Interview, 15.
Batchelor interview, 16.
Ibid.
Batchelor interview, 17.
Britsch, From the East, 321.
Batchelor interview, 18.
Maxine T. Grimm, interview, October 3, 2008.
"Statistics and Church Facts: Total Church Membership." Church of Jesus Christ of Latter-day Saints. Accessed April 7, 2022, https://newsroom.churchofjesuschrist.org/facts-and-statistics/country/philippines
Grimm, "History of Mormons in the Philippines after WWII, circa 2006," 8.