The theatre hushes. The cast is frozen, except one beating heart: Emma Smith's. Standing on the stairs leading to her husband's cell in Carthage Jail, a single spotlight prevents the darkness of the mob from touching her. With one stroke of the piano, she breaks the silence with the opening lyric for a brand new contemporary work, 1820 The Musical.
In celebration of the 200th anniversary of the First Vision, 1820will premiere this May in the De Jong Concert Hall at the Harris Fine Arts Center. This riveting saga centers around the lives of Emma and Joseph Smith and the significant roles they each played in the Restoration of the Gospel of Jesus Christ. Theatergoers can expect a bold journey through powerful song and acrobatic dance surrounding this couple's faith, love and trial forged in the religious fervor of 19th Century America.

The photo of the creative team from Top left to right: George D. Nelson, Kendra Lowe Holt, Kayliann Lowe Juarez, Doug Lowe
With readings done in Nashville and Salt Lake City, both members of the Church of Jesus Christ of Latter-day Saints and those of other faiths esteem 1820 The Musical as a must-see, thrilling account of two young, inexperienced mortals striving to follow God.
The book was written by veteran playwright George D. Nelson, head of the Playwriting program at BYU. His last musical, Single Wide, premiered Off-Broadway in 2015 and was named one of the Top 10 Broadway shows for 2015 by hypable.com. Nelson was also a fellow at the Eugene O'Neill Playwright's Conference in 2017 where he penned the first draft of 1820 (formerly titled Tale of a Lunatic? and Emma's Tale).
When asked why he undertook this project, Nelson responds, "I wrote the musical to offer a theatrically powerful perspective in response to successful Broadway shows like Angels in America and The Book of Mormon Musical that have parodied our faith. The gospel is supposed to be preached to everyone in his or her own tongue, and the language many people speak and respond to is the language of entertainment."
Music and lyrics were composed by sibling songwriters—Kendra Lowe Holt, Doug Lowe and Kayliann Lowe Juarez. Hailing from the songwriting capital of the world, Nashville, as well as Salt Lake City, this writing team draws upon decades of touring internationally, as well as commercial work across multiple media platforms. Former musical director for David Archuleta and Lexi Walker, Holt is now the musical director for the BYUTV comedy series Show Offs, and composer for numerous Face to Face events. Lowe and Juarez are award-winning songwriters, producing music and media for movies, television, and Billboard artists, including Austin French and David Archuleta.
Initially, Lowe had reservations when asked to join the songwriting team. He recalls, "We knew this musical would either be just another status-quo piece, or the most incredible opportunity and writing experience to date. Once I read George's script, I was all in. There was something spiritually intriguing about the musical concept that we couldn't turn down. The writing process emboldened my faith and resolve to be better, inspired by the characters we wrote about."
Holt adds, "Writing these songs was truly a spiritual awakening. It's a huge undertaking to write about two of the most prominent figures in the history of the Church, and we wanted to do so in a musically jaw-dropping way. We pushed the limits of expected norms and found our energy fueling song after song. We consciously moved away from dated theatrical patterns to create the music, while pulling from journals, historical publications, and other factual accounts to tell the story. With a multi-genre soundtrack of contemporary styles blending Pop, R&B, Soul, and more, 1820 rivals any current hit on Broadway."
Similar to enjoying Fiddler On the Roof without being Jewish, viewers do not need to be members of The Church of Jesus Christ to relate to 1820 The Musical. People of all beliefs and backgrounds will connect to the story's universal themes of love, loss, faith, identity, family, betrayal, defamation, resilience, standing alone for what you believe in, wrestling with impossible questions, and patience to wait on God for answers.
Juarez confides, "I recently experienced a heartbreaking stillbirth with my second daughter. It radically increased my admiration and empathy for Emma and Joseph enduring multiple losses." This unexpected moment inspired a total overhaul of the song "Sleep On, My Child," sung as Emma buries her first child. Juarez continues, "Originally, we had envisioned a peaceful lullaby, but that is not the tune that echoes in your heart when you bury your infant. I presented the new melody to visionary choreographer, Adam Dyer, which sparked stunning choreography that will chill you to your bones."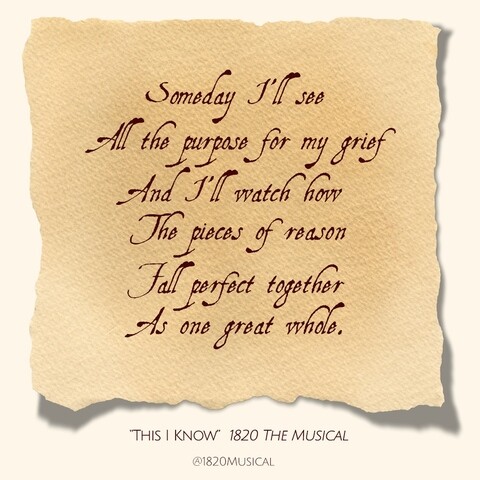 With many events celebrating the Bicentennial of the First Vision, the concept, musicality, and power of 1820 The Musical set it firmly atop the list of not-to-be-missed events. Nelson invites all, "Come see Emma and Joseph in a new light. Come appreciate their humanity. Come deepen your understanding of what the Restoration cost them, personally and collectively."
In that same spirit, Lowe appeals, "We want you to experience this drama as if you were actually there, breathing the same air as Emma and Joseph through key moments of the Restoration. You will connect to the characters in unexpected and transformative ways. In less than two hours, this musical has the power to immerse you in another world only to thrust you back into reality, with renewed purpose for life."
If you've ever loved or lost, suffered intensely, or tasted immeasurable joy, this is your musical. Simply put, if you've ever lived life,1820 is for you. Performances for this captivating drama run May 15 - June 6, 2020 at 7:30 PM in the De Jong Concert Hall. Buy stock in Kleenex, and secure your seat today! For tickets call 801.422.2981 or visit byutickets.com.