(For our Summer Reading List for Kids, click here.)

Band of Sisters by Annette Lyon; 2010 Whitney Award winner. When the war on terror calls their husbands to duty, five LDS women are left behind to fight battles of their own: Kim, newlywed and pregnant, frightened of what the future might bring. Brenda, struggling to manage three unruly boys and a crippling bout of depression. Jessie, secretly grappling with mixed feelings about her emotionally abusive husband. Marianne, wrestling with a rebellious teenage daughter. And Nora, the seasoned Army wife with perfect hair, an immaculate home—and an ill-tempered mother dying of cancer. Knowing the separation of deployment is extremely difficult, Nora gathers the wives every week to share lunches and burdens. In good company, they worry over safety in the field and stability at home and offer one another counsel and comfort. Together they must confront the painful realities of war that pull families apart and bring friends together as sisters.

The Evolution of Thomas Hall by Kieth Merrill. Thomas Hall is an artist with astonishing talent—and a vainglorious sense of self. Since his days as a child prodigy, he has reveled in recognition and believed in his inevitable destiny. He presumes his artistic brilliance deserves a lavish life of independence, fast cars, and drop-dead gorgeous women. But when "Cass," the woman from the Healing Place, walks into his life, nothing can ever be the same again. Thomas finds himself faced with a challenge he could never have imagined, suspended between the snarling beasts of his fanciful imagination that belie the existence of God and the undaunted faith of a little girls named Christina. What he discovers about the child's harrowing escape from death brings him face-to-face with the most frightening question of his life. Award-winning filmmaker Kieth Merrill writes a cinematic story of one man's journey in search of his soul filled with imagery that unspools like a movie in our minds.

Lucky Change by Susan Law Corpany. After a fluke lottery win, Karen Donaldson—the ward charity case—is determined to use her millions to pay back all the kindness she's received. But the future holds a few more surprises for Karen, her neighbors, and someone she thought was gone forever. Sweet, funny, and full of heart, this off-beat comedy is perfect for anyone who's ever dreamed of making it big.

Pieces of Paris by G.G. Vandagriff. Annalisse and Dennis seem to be living the American dream until Annalisse's secret past and the effects of post-traumatic stress disorder threaten to destroy their family. This skillfully crafted novel explores the long-term effects of personal tragedy in haunting flashbacks of Annalisse's former life, flashbacks that are interwoven with a passionate romance and reveal a person entirely different from the woman Dennis thought he married. But as each revelation increases the emotional gulf between them, Dennis's investigation of a toxic waste incident ignites the wrath of a former political ally and an industrial firm that will go to any lengths to cover up a shocking crime.

The Rogue Shop by Michael Knudsen. Promising his aunt to avoid all Mormons, Chris Kerry came to Utah to get an education—and nothing else. But with the help of some friendly neighbors and eccentric coworkers, Chris uncovers a truth that stitches together his lost heritage in a way he never imagined. This hilarious, moving novel illuminates how we recognize truth even in the most trying of circumstances.

Free Men and Dreamers Vol. 4: Oh, Say Can You See? by L.C. Lewis. Though the capital smolders, the battered Constitution and the presidency have survived. But the British left the struggling government no home. Gone are the symbols of America—the Capitol Building, the President's House, and nearly every relic of the infant nation. Britain's next target is the port city of Baltimore, but has the raid on Washington stiffened the Americans' backs? As the Willows women mourn their absent men, they await the birth of a blessed child.

Miles away, attorney Francis Scott Key embarks on a diplomatic mission that will leave an everlasting mark on America. Proving that the pen can indeed be more powerful than the sword, Key records the fears and hopes of his embattled people. His epic poem soon set to music and titled "The Star-Spangled Banner," rallies a shattered nation to rise from its knees to claim the dream of "one nation under God" during the closing hours of the War of 1812.

Trespass by Sandra Grey; 2010 Whitney Award Winner. Lieutenant Viktor Rostov warned them not to cross him. If Hans Brenner had listened, Natalie Allred might not have disappeared—and Hans might not be lying mortally wounded, his life forfeit to the Soviet MGB. All Hans wanted was to marry his sweetheart in America. But that was before an agreement between Hans and U.S. intelligence went horribly wrong.
Lieutenant Rostov has no choice; with his daughter, Lucya, sentenced to a Siberian death camp, he must deliver Hans or risk losing Lucya forever. To preserve Lucya's life, Hans must help the Soviets build a bomb, and Natalie must swear allegiance to the motherland and to Rostov himself. Escape seems impossible within the iron grip of the secret police. And when the MGB begins to suspect betrayal, Hans and Natalie's survival will hinge on two people. One must trespass against the laws of a nation that gave him a second chance, and the other must make a heart-wrenching choice: trespass against his country or against his heart.

Cross My Heart by Julie Wright. Jillian is caught between three men and two cities. First is Geoffrey in Boston, Jillian's hometown. She would have married this brilliant ad exec if he hadn't stolen some of her best work (and gotten her promotion as a result). Second is Jack in Los Angeles, who signs Jillian up for a love study at a local university hoping to find out if she still loves Geoffrey—and splits as soon as her brain neurons fire an emphatic yes. As Jillian goes back to Boston to investigate the underhanded dealings of a competing agency, she meets guy number three, Nathan, the dentist who hates the advertising industry because his ex-girlfriend, Nicole, recently dumped him for some hotshot ad exec. When Nicole's fiancé turns out to be Geoffrey, this love triangle becomes a full-blown love quadrangle with savvy players, snappy dialogue, and a plot that won't stop twisting.

The Legend of Shannonderry by Carol Warburton. Gwyneth Beddows, a young woman of nineteenth-century England, has often felt lonely and unloved by her father, who believes the rumors that his pretty daughter might not actually be his child. Gwyneth finds consolation in the saddle of her spirited stallion, a promising racehorse who has drawn the attention of Irish horse master Cormac D'Arcy. The handsome young man also brings a life-changing message from Gwyneth's grandmother—a frail yet feisty Irish woman Gwyneth has never met. Events orchestrated by her father force Gwyneth to flee England, and with the help of D'Arcy, she arrives at Shannonderry, her maternal family's ancestral home, where Gwyneth learns of a legend that will have a profound impact on her life and the lives of those around her. Touched by the promise of destiny, Gwyneth seeks to save the family estate from certain ruin. But with fierce rivals on the scene and her embittered father in the periphery, Gwyneth must call on the strength of her heart if the historic legend of Shannonderry will ever be fulfilled.

Heart of a Hero by Marie Higgins. When Summer Bennett returns to Richfield after a five-year stint at her aunt's finishing school, she discovers a lot has changed. Her father has suffered a crippling injury, and Summer is desperate to get the money to pay for surgery that could allow him to walk again. When she hears of a reward offered for capturing a cunning gang of bank robbers, her years of etiquette training fall by the dusty roadside. But unexpected competition from her family's longtime friend, Jesse Slade, is thwarting Summer's plans. Wanting nothing more than to use Jesse's head for a slingshot target, soon Summer finds her aim shifting from his head to his heart. Engaged to Summer's sister Violet, Jesse also feels a new irritation with Summer, the former burr under his saddle, now always on his mind. Summer's father expects him to marry Violet, and Jesse won't let him down. But why does Jesse find himself encouraging Summer's attentions, and why do sparks fly every time they are together?

Meg's Melody by Kaylee Baldwin. It's only after her husband leaves that Meg finds out she's pregnant. Now facing the prospect of single parenthood, she'll have to rely on the family she pushed away, the church she abandoned, and a friendship she wasn't expecting to see her through. This touching story combines romance with real conflicts to remind you it's never too late to find love—if you know where to look.

Bumpy Landings by Donald J. Carey. When Jordan MacDonald goes behind his mother's back to get his pilot's license, he soon finds out that a life full of dishonesty attracts more turbulence than he's ever faced in the air. Set against the majestic backdrop of the Hawaiian Islands, this heartwarming story of romance and self-discovery will take you to new heights with each turn of the page.

Cold as Ice by Stephanie Black; 2010 Whitney Award Winner. After five patient years, Abigail Wyatt's sisterly care is finally paying off: her younger brother, Derek, is abandoning his self-destructive lifestyle and seeking his parents' forgiveness, thus ending the painful estrangement that wounded the whole family. But just as the pieces are falling into place for the prodigal's return, a woman named Karen Brodie is murdered in a local park—and police name Derek as the prime suspect. Rather than standing firm and cementing the positive changes in his life, Derek succumbs to his cynical fears and runs from the law, leaving Abigail with her hands tied. Literally.
Derek's raw panic convinces everyone that he's the killer—except Abigail. With the help of Kyle, a charismatic new friend she might be falling for, Abigail digs deep into Karen Brodie's troubled past in hopes of clearing Derek's name. But as she uncovers a sinister plot of greed, envy, and vengeance, this loyal sister must face the painful truth that things—and people—are not always as they seem.

Murder by Design by Besty Brannon Green. After cracking Foster Scoggins's murder case, Kennedy Killingsworth figured life in Midway, Georgia, would settle back to normal (meaning desperately dull). But that thought vanishes when a black-clad man climbs in her bedroom window. Startled awake by a hand clamped across her mouth, Kennedy realizes the hand belongs to Sloan, the gorgeous and somewhat terrifying construction worker with a surprising alter ego. Since he once saved her life, Kennedy doesn't protest as Sloan stows federally classified information in her not-quite antique Tiffany lamp. Complications rise even further when the sun comes up. Amidst gossip about her ex-husband shopping for engagement rings, Kennedy heads to the cemetery for Midway's annual Decoration Day, when residents beautify the graves and then picnic among the dead. Transient artist Jarrard Dupree soon joins the dead when he's accidentally run over by a bunch of college kids. Yet when JD's terrible paintings suddenly begin drawing dazzling offers from New York art dealers, Kennedy knows at least one of her neighbors has blood on his hands. Intrigue builds in high Southern style as Kennedy's investigation reveals which townsfolk are foes, which are friends—and which may become more than a friend.
Adult Speculative

The Way of Kings by Brandon Sanderson; 2010 Whitney Award Winner. Brandon Sanderson's newest series, The Stormlight Archive, opens with The Way of Kings. This novel introduces the three protagonists who will be our windows to the strange and wondrous world of Roshar and the drama about to unfold there:

Dalinar, the assassinated king's brother and uncle of the new one, is a war-weary old soldier plagued by dreams of ancient times and legendary wars, visions that may force him into a new role he could never have imagined.
Kaladin, a highborn young man who has been brought low, indeed to the most miserable level of military slavery, and must suffer and struggle to survive and rise again.
Shallan, a naïve but brave young woman who will do anything to save her impoverished noble house from ruin.
Through all the volumes of The Stormlight Archive, Brandon Sanderson will make Roshar a realm we are eager to visit.

The Scorch Trials by James Dashner. Solving the Maze was supposed to be the end. No more puzzles and no more running. Thomas was sure that escape meant he and the Gladers would get their lives back. But no one really knew what sort of life they were going back to. Burned by sun flares and baked by a new, brutal climate, the earth is a wasteland. Government has disintegrated, and now Cranks—people covered in festering wounds and driven to murderous insanity by the infectious disease known as the Flare—roam the crumbling cities hunting for their next victim . . . and meal. Far from finished with running, the Gladers must cross the Scorch, the most burned-out section of the world, and arrive at a safe haven in two weeks. And WICKED has made sure to adjust the variables and stack the odds against them. Thomas can only wonder—does he hold the secret of freedom somewhere in his mind? Or will he forever be at the mercy of WICKED?

Pathfinder by Orson Scott Card. Only his father knew that Rigg possessed the power to see deep down the paths of people's pasts. But only after his father's death does Rigg discover that he has another special gift: the power to change the past. Unfortunately, with that knowledge, all certainty and safety began to melt away. This coming-of-age novel by renowned LDS author Orson Scott Card takes readers on a triple-speed journey through time.
Young Adult

The Healing Spell by Kimberly Griffiths Little; 2010 Whitney Award Winner. Twelve-year-old Livie is living with a secret and it's crushing her. She knows she is responsible for her mother's coma, but she can't tell anyone. It's up to her to find a way to wake her momma up. Stuck in the middle of three sisters, hiding a forbidden pet alligator, and afraid to disappoint her beloved daddy, Livie struggles to find her place within her own family as she learns about the powers of faith and redemption. Livie's powerful, emotional, and sometimes humorous story will stay with readers long after the last line is read. Set in the lush bayou of Louisiana, Kimberley Griffiths Little brings Livie's story to life with power and grace.

The Forgotten Locket by Lisa Mangum. The final book in the riveting Hourglass Door trilogy begins when Abby steps through the black door, and she doesn't dare look back. Though it means leaving Dante—wounded, bleeding, and possibly blind—she knows it is the only way to save her family and stop Zo from manipulating the river of time and throwing the future into chaos. In the end, Abby must face a final confrontation that will take her to the very origins of the hourglass door. If you haven't yet, also check out books one and two in this great series, The Hourglass Door and The Golden Spiral.

The Limit by Kristen Landon. In a world not too far removed from our own, kids are being taken away to special workhouses if their families exceed the monthly debt limit imposed by the government. 13-year-old Matt briefly wonders if he might be next, but quickly dismisses the thought. After all, his parents are financially responsible, unlike the parents of those other kids. As long as his parents remain within their limit, the government will be satisfied and leave them alone. But all it takes is one fatal visit to the store to push Matt's family over their limit—and to change his reality forever.

The Peasant Queen by Cheri Chesley. After running away from home, Krystal is transported to a faraway kingdom where an evil tyrant is bent on taking the crown—and Krystal's hand in marriage. But when she falls in love with the rightful heir to the throne, she must make an impossible choice: sacrifice her one chance at happiness or face the destruction of an entire kingdom.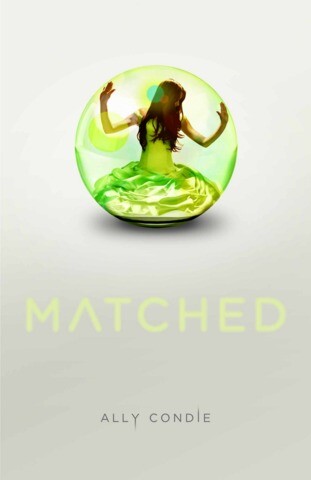 Matched by Ally Condie. Cassia has always trusted the Society to make the right choices for her: what to read, what to watch, what to believe. So when Xander's face appears on-screen at her Matching ceremony, Cassia knows with complete certainty that he is her ideal mate . . . except that Ky Markham's face also flashes for an instant before the screen fades to black. The Society tells her it's a glitch, a rare malfunction, and that she should focus on the happy life she's destined to lead with Xander. But Cassia can't stop thinking about Ky, and as they slowly fall in love, Cassia begins to doubt the Society's infallibility and must choose between Xander and Ky—between the only life she's known and a path that no one else has dared to follow.