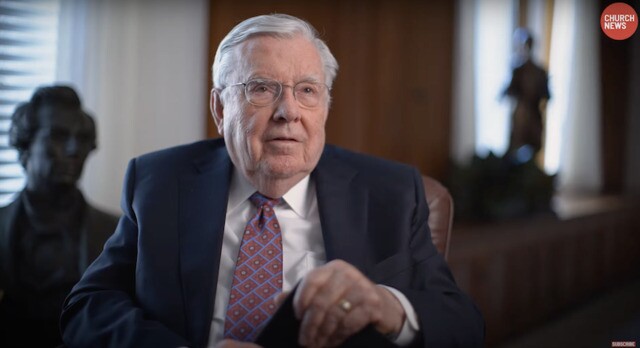 A Church News video released on March 31 looks back at the past year of the pandemic with words of assurance from President M. Russell Ballard, Acting President of the Quorum of the Twelve Apostles.
"I'm 92 years old, and I've been through, in a lifetime, so many circumstances where some thought the world was coming to an end. I've lived through the World War II and the Korean War, and the Vietnam War, and pandemics of this and that," he reflected.
President Ballard continued by stating that the pandemic would pass, and he testified of the blessings that come from relying on the gospel.
"We're going through a phase and this is going to pass, and this isn't the last pandemic. But the gospel and doctrine of the Lord Jesus Christ is [the] same yesterday, today, and forever. And so if we're anchored to Jesus Christ, we will be happy, we will be secure, and we will be helpful," he said.
Eternal Perspective | President M. Russell Ballard
Members of the Quorum of the Twelve Apostles have often provided counsel during the pandemic. Since the Apostles were unable to travel on assignment when the coronavirus hit, in March 2020 Church News began publishing a series of articles from the Apostles with counsel and encouragement.
In an article that was part of that series, President Ballard spoke of how he was 13 years old when he learned that Pearl Harbor had been bombed. At the time, there was great panic and fear, but "the people of the free world rallied and freedom prevailed and things restored themselves," he recalled.
Similarly, President Ballard promised then that the world would win the "war on the coronavirus" and that everything would be just fine as people turned their hearts to Heavenly Father and Jesus Christ. Now, a year later, he repeated that promise.
"This is a gospel of salvation . . . every human soul is a son or daughter of God and He loves His children," he said.
Watch the video at Church News.
Featured image: YouTube screenshot