Editor's note: This story originally ran on LDS Living in 2017 and has been updated to include more recent guests.
In its over 170 years of performing, the Tabernacle Choir at Temple Square has toured the world, sung at presidential inaugurations, and inspired millions through their weekly broadcast, Music and the Spoken Word—the world's longest continuously running weekly network broadcast. On top of that, the Choir has also hosted dozens of celebrities as part of its annual Christmas concert over the years, from actors and singers to journalists and even the Muppets® from Sesame Street®.
In October the 2022 Christmas concert guest artist was announced as Disney Legend and Broadway star Lea Salonga. Here are some of the biggest names to perform with the Choir during the holidays over the past 20 years and what some of these famous guests had to say about their experience performing with The Tabernacle Choir and Orchestra at Temple Square.
1. Kristin Chenoweth (2018)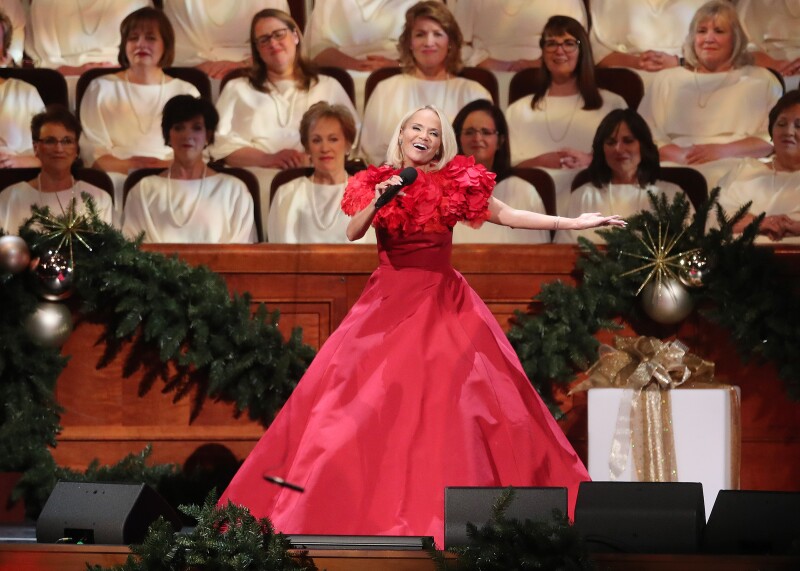 Kristin Chenoweth, best known for her roles in Wicked and You're a Good Man, Charlie Brown, called performing with the Choir "a bucket list item," at a press conference last year. As a kid, she watched three shows growing up: The Tabernacle Choir Christmas special, the Miss America pageant and the Tony Awards.
► You may also like: 'A gift to the Master': 20 years of Tabernacle Choir Christmas magic
"That says everything you need to know about this girl right here," Chenoweth said at the press conference.
Learn more about Chenoweth's experience performing with the Tabernacle Choir through her interview on the All In podcast.
The Tabernacle Choir and Orchestra at Temple Square join with superstar singer Kristin Chenoweth for a Christmas performance before a combined audience of 60,000. This show sparkles with excitement as Kristin's renditions of Christmas classics breathe new life into old favorites. Her stage presence and world-class vocal ability shine in perfect complement to the 360-member choir and full orchestra backing her up. With holiday songs, choruses, dancing, bell-ringing, and seasonal orchestral favorites, this inspiring concert is a celebration of the season unlike any other.
---
Legendary musician Gladys Knight, also known as the "Empress of Soul," made her Tabernacle Choir debut at their 2000 Christmas concert. Knight, who started out in a group with her brother and cousins called the Pips, won her first Grammy in 1973.
After her son and daughter were baptized members of the Church, Knight began attending Relief Society and eventually joined the Church in 1997. She told LDS Living, "When the missionaries came to my house, we had the most beautiful prayer. I loved the fact that when they came in they did not try to sell me on the Church—they just told me about the gospel."
► Fun fact: Gladys Knight's gold and diamond CTR ring was custom-designed specifically for her.
In 2002, Knight's desire to add "a little something" to Church music eventually inspired her to create the Saints Unified Voices—an all-volunteer, multicultural Latter-day Saint choir that would bring a new level of energy and cultural awareness to traditional hymns. Their first album, One Voice, won a 2005 Grammy Award for Best Gospel Choir or Chorus Album.
► You may also like: How Gladys Knight became a Latter-day Saint
Knight, who has her own star on the Hollywood Walk of Fame, told the Deseret News about her first time hearing the Tabernacle Choir in her high school music class. "[My teacher] said, 'Now this is harmony, this is pitch, this is the epitome of what a choir should sound like,' and he played the Mormon Tabernacle Choir." She continued, "I just fell in love with them. To this day, I am a lover of harmony. That started it for me." After performing with the choir in 2000, she recalled, "When I stood in front of them to sing, that blew my mind. It took me back all the way to high school. I just love their music."
For more famous artists who have performed with the choir, check out
Mormon Tabernacle Choir & Friends.
For this album, the Choir has assembled an unprecedented collection of recordings taken from standout performances over the past 15 years. Most of these performances were recorded live at the 20,000+ seat Conference Center in Salt Lake City. In addition, some real gems were uncovered or created specifically for this album, including a performance recorded live before millions of viewers at the start of the 2002 Winter Olympics (Sting & Yo-Yo Ma performing "Fragile") and new recordings such as Amy Grant's "Thy Word," The King's Singers' "I'm Running On," and Santino Fontana's "He Lives in You."
---
3. Angela Lansbury (2001)
Beloved actress Angela Lansbury, famously known as the voice of Mrs. Potts from Disney's animated Beauty and the Beast and for her 12-year role as Jessica Fletcher in the television series Murder, She Wrote, was made a Dame by Queen Elizabeth in 2014 for her charitable work.
Lansbury has received an honorary Oscar, five Tony Awards, six Golden Globes, an Olivier, one Grammy Award, three Academy Award nominations for Best Supporting Actress, and 18 Emmy nominations. She has also hosted more Tony Awards ceremonies than any other person. When she appeared with the Tabernacle Choir in their 2001 Christmas concert, she read the Nativity story and, of course, sang her classic version of "Beauty and the Beast." Of that experience, she said, "I think the choir has a quality, an essence, which is so staggering and beautiful. It just fills your heart to hear them sing." Lansbury passed away in October 2020 at age 96.
► You may also like: Watch: Angela Lansbury sings 'Beauty and the Beast' with Tabernacle Choir
As part of their annual Christmas music tradition, the Tabernacle Choir and Orchestra at Temple Square perform a series of Christmas concerts. Now the spirit of Christmas embodied in these annual concerts is captured in Christmas at Temple Square in
The Wonder of Christmas
. Featuring special guests such as Angela Lansbury and Frederica von Stade, this selection of live performances will become a part of your Christmas tradition.
---
4. Walter Cronkite (2002)
Broadcast journalist Walter Cronkite, once dubbed the "most trusted man in America," not only appeared with the Tabernacle Choir in 2002 but was given the opportunity to conduct the group. During his 19 years working as an anchorman for the CBS Evening News, he reported on everything from President Kennedy's assassination and Martin Luther King Jr. to Watergate and the US space program. He was awarded the Presidential Medal of Freedom in 1981, received four Peabody Awards, and became the first non-astronaut to receive NASA's Ambassador of Exploration Award.
When referring to his appearance with the Tabernacle Choir, he recalled in an interview, "It was one of the greatest experiences of my life (and I think I can claim a lot of experiences at this advanced age)." He continued, "I think that this choir undoubtedly has an importance greater than entertaining or even momentarily uplifting an audience present for the broadcast of the concert itself in this magnificent hall in which it appears. It has a lasting influence on America. It maintains and upholds the standard of ecclesiastical music and other music as well in a way that is needed today." Cronkite passed away in 2009 at age 92.
► You may also like: What 16 celebrities have said about the Tabernacle Choir
---
5. Edward Herrmann (2008)
Here Come the Munsters. Gilmore Girls. Grey's Anatomy. Annie. Christmas Oranges. Actor Edward Herrmann dipped his fingers in a variety of acting genres, winning both an Emmy and a Tony Award. And before he passed away in 2014 due to brain cancer, he also took the stage with singer Brian Stokes Mitchell and The Tabernacle Choir in December 2008. In that concert, Herrmann shared the moving story behind Henry Wadsworth Longfellow's "I Heard the Bells on Christmas Day" and read the Christmas story in Luke. He shared of his experience:
"There's a powerful spirit here. And people are devoted not because they have a beautiful Temple Square or this beautiful building but because they want to be changed, and they want to bring light into the world. And it was a great, great gift to be here, to take part in that." Hermann passed away in 2014 at age 71.
► Fun fact: Edward Herrmann was one of a handful of celebrities to post a video welcoming The Tabernacle Choir to YouTube in 2012.
The Tabernacle Choir presents
Ring Christmas Bells,
the next musical masterpiece in a series of highly acclaimed and commercially successful holiday albums.
Ring Christmas Bells
features Tony award-winning solosit Brian Stokes Mitchell, "Broadway's last leading man," so dubbed the
The New York Times,
and narrator Edward K. Herrmann
(Gilmore Girls, Eleanor and Franklin)
. conducted by Mack Wilber, this live concert is a holiday extravaganza every family will want to experience again and again.
---
When R&B artist Natalie Cole, daughter of the legendary Nat King Cole, appeared with the Tabernacle Choir in 2009 with co-guest David McCullough, she already had nine Grammy Awards and 21 Grammy nominations.
Cole was inspired by the choir and shared, "There's nothing that happens in my life that I believe that [God] hasn't had something to do with. I will be taking some wonderful memories of this weekend. It really has been great." She added, "The wonderful arrangements, working with Mack [Wilberg], this wonderful orchestra, the choir and their dedication—I mean, it's really every singer's dream to be able to come to an environment like this and to work this way." Cole passed away in 2015 at age 65.
In 2009's
The Most Wonderful Time of the Year
, the Choir was joined by none other than multiple Grammy-award winner Natalie Cole. Ms. Cole's trademark vocal style paired with the Choir's legendary sound makes for a stunning collection destined to become a new Christmas classic.
---
With two Golden Globe Awards, an Emmy, and a star on the Hollywood Walk of Fame, Jane Seymour is a world-class actress. Best known for her roles in film and television shows such as Somewhere in Time, Live and Let Die, Austenland, and Dr. Quinn Medicine Woman, Seymour has also written several books and supports a variety of charities.
She appeared with singer Nathan Gunn in the Tabernacle Choir's 2011 Christmas concert. "I'd heard how wonderful the Choir was, and I knew their reputation," Seymour shared with LDS Living. "I've listened to the Choir, and they are exceptional. .... I love the Good King Wenceslas story [which Seymour read during the concert]. It has a beautiful message of spreading joy by giving more of ourselves. And I loved the fact that the concert included dance as well."
► Fun fact: Jane Seymour's character in Somewhere in Time was based on the real-life career of Latter-day Saint actress Maude Adams, the most popular actress of the American theater during the early 1900s.
Seymour said she was also motivated for more personal reasons. "I felt it would be something very special for my children and grandchildren. It's now a treasured Christmas memory for them—a memory they'll have forever."
So was her time with the choir everything she hoped it would be? "Everything and more," she said. "It was a fantastic experience. I felt like I was part of a big family. There was such joy and enthusiasm and talent that I just got carried away with it. I loved it."
Once again, The Tabernacle Choir and Orchestra at Temple Square bring a Christmas experience of magnificent proportion. Teaming up with Emmy award-winning actress Jane Seymour and powerful operatic baritone Nathan Gunn,
Once Upon a Christmas
is a majestic performance filled with the magic of the holidays. Join an audience of over 80,000 in the Conference Center at Temple Square in Salt Lake City and bring home this stunning storytelling and musical performance today!
---
In 2012, Tom Brokaw performed with The Tabernacle Choir along with Alfie Boe and special guest Gail Halverson, otherwise known as the "Candy Bomber." Widely known for his 22 years as a news anchor on NBC Nightly News, Brokaw is also an author of several books and has received every major award in broadcast journalism, from the Peabody Award to several Emmy Awards. He has been inducted into the Television Hall of Fame and received the Presidential Medal of Freedom in 2014.
Of his time with the Tabernacle Choir, Brokaw shared the following in a special behind-the-scenes interview: "The idea of standing in front of the Choir and Orchestra with Mack [Wilberg] at the podium and his baton in hand is just one of those great privileges. I've often said that, as a journalist, I've been able to fulfill my childhood dreams of wanting to be in the front row of history where it's being made. And the Mormon Tabernacle Choir and Orchestra is certainly part of that for the American culture. It is a fixed part of who we are." He added, "The Mormon Tabernacle Choir, especially in the Midwest, was always an integral part of Christmas. You'd listen to it on the radio in the morning or play your long play records in those days. I worked at a radio station while I was in high school, and I was always grateful for the Choir and Orchestra because I could just put on the long play Christmas album and then sit back and everybody would be absolutely entertained and moved by what they were hearing."
► You'll also like: Berlin 'Candy Bomber' shares life lessons from 2 sticks of gum
As seen and heard by more than 80,000 people in the LDS Conference Center,
Home for the Holidays
is the live recording of The Tabernacle Choir's 2012 Christmas concert. This year's release features internationally acclaimed TV personality Tom Brokaw and Tony Award–winning Les Miserables tenor Alfie Boe. The Choir also welcomed surprise-guest Gail "Hal" Halvorsen, the renowned Candy Bomber of World War II. Together with the Tabernacle Choir and Orchestra at Temple Square, these three special guests delivered an unprecedented excitement to the stage that brought all in attendance to their feet more than once during the night.
---
9. John Rhys-Davies (2013)
In 2013, the actor who played Gimli, the famous dwarf from The Lord of the Rings trilogy, thrilled audiences when he joined The Tabernacle Choir for an unforgettable performance. Gracious and kind, John Rhys-Davies donned a colorful robe and played the role of the Ghost of Christmas Present in a dramatic representation of A Christmas Carol. In the cinematic world, Rhys-Davies has also had notable roles in the Indiana Jones series and has voiced several characters for Disney. In addition, the actor was nominated for an Emmy in 1981.
► Fun fact: John Rhys-Davies also starred in a one-hour BYUtv production called Winter Thaw.
In a behind-the-scenes interview with the Choir, he shared, "Anyone who knows about choral music has to know that The Tabernacle Choir has for years been a wonderful choir. The music is magnificent, and I cannot tell you—the presentation, the professionalism, the quality—what an experience. What an experience! Oh, dear me." Rhys-Davies, who recently had another experience with the LDS community when he starred in a one-hour BYUtv production called Winter Thaw, shared his thoughts about Latter-day Saintswith LDS Living, saying, "You're a strange community to us on the outside, but I find you very warm and very welcoming and very friendly—a considerate people." He continued, "I like you. And you make it very clear you are willing to put up with me despite the fact that I am far less godly than you guys are. . . . I'm not just blowing smoke at you—it's true. You are an odd lot, but you make me welcome and I like you."
In
Let the Season In,
The Tabernacle Choir and world-renowned vocalist Deborah Voigt and charismatic voice actor John Rhys-Davies, usher in the holiday season with music that celebrates the work of Charles Dickens, the story behind
A Christmas Carol,
and many other classic Christmas tales.
---
10. The Muppets® from Sesame Street® (2014)
Of all the guests at The Tabernacle Choir's Christmas concert, the Muppets® from Sesame Street® were perhaps among the most whimsical—and the most unexpected. Elmo, Big Bird, Grover, and crew have been entertaining millions of children around the country for several decades.
Among the Christmas concert highlights with the Muppets® from Sesame Street®, the Count performed a delightful rendition of "The Twelve Days of Christmas" with organist Richard Elliott, and at one point Big Bird even conducted the Choir. Here's what some of the puppeteers had to say about their experience:"Conducting the orchestra and the Choir as Big Bird is a thrill every night," Big Bird puppeteer Matt Vogel said. "I can't believe that they would let just me come up in a Big Bird suit and conduct this grand orchestra and this remarkable choir."
Abby Cadabby puppeteer Leslie Carrara-Rudolph recalled the feeling that performing with the choir produced for her. "What surprised me about being in the experience was the way I felt inside, hearing the voices and feeling them in my heart." She continued, "Every once in a while, I get [overwhelmed] when I hear the strings come alive and the music come alive and everybody blending together. I wasn't really prepared for that type of feeling or emotion, that magic."
Sesame Street® executive producer Carol-Lynn Parente shared on behalf of the cast, "At Sesame, we always are proud of sort of this high bar we have toward excellence, and to work with another organization that has an even higher bar than we do has been a joy and a privilege."
---
In
Keep Christmas with You
, The Tabernacle Choir and Orchestra at Temple Square join the Muppets® from Sesame Street® and guest vocalist Santino Fontana (the voice of Prince Hans in the popular Disney movie Frozen) in a celebration of the spirit of Christmas. Fontana makes his entrance on this beautifully produced show in a hot air balloon surrounded by large toy airplanes that drop from the ceiling as the Choir opens with the number "The Candyman/Pocketful of Miracles."
Other standout moments are a duet with the Count and the Choir's organist, Richard Elliott, to the tune of "The Twelve Days of Christmas," a medley of songs from Sesame Street® as well as the popular "Keep Christmas With You," and hilarious hijinks and banter from the Muppets® from Sesame Street® throughout the show. This show is a world-class performance perfect for all ages as you celebrate the Christmas holiday.