Everyone loves a good wedding photo, especially when it's backdropped by a beautiful temple. Check out these 10 wedding photos from famous Mormons:
Image retrieved from Pinterest.
Following three and a half years of dating, Donny Osmond married his wife, Debra, in 1978 in the Salt Lake Temple. With fans gathered outside, Donny told reporters what the moment meant to him, and how he appreciated the support of his fans.
"They realize how much this means to me. It's something that I've always wanted in my life—and that is a temple marriage—because I know that after this life, Debbie will be with me, not only in this life."
Watch an adorable news clip of the famous newlyweds outside the Salt Lake Temple:
You can also hear more from Donny Osmond on his CD, The Soundtrack of My Life, available at Deseret Book.
Olympic gold medalist Valerie Adams married Gabriel Price in the Hamilton New Zealand Temple on April 3, 2016. The shot put champion told Woman's Day, "The temple is beautiful and the ceremony inside where we sealed the deal was wonderful."
The couple, who have known each other since they were children, attended the same ward when they were children, and Gabriel's father was the bishop.
"This is even more amazing than winning an Olympic gold medal," Valerie told Woman's Day. "That's outstanding in its own special way, but it doesn't compare to how I feel now."
Read more about Valerie and other Mormon Olympians that competed in Rio here.
On March 14, 2000, football legend Steve Young and his wife, Barbara, were the first couple sealed in the newly dedicated Kona Hawaii Temple.
A decade before they started dating, a mutual friend tried to convince Barb to go on a blind date with his friend, Steve Young. Opposed to dating professional athletes, she turned him down. However, after a decade passed, they finally went on that blind date and were married soon after.
Read more about how Steve Young and Barb fell in love in thisexcerpt from his autobiography, QB: My Life Behind the Spiral.
Image retrieved from People.
Professional dancer Lindsay Arnold married her high school sweetheart, Samuel Cusick, on June 18, 2015, in the Salt Lake Temple. Arnold competes on the TV show Dancing with the Stars as a pro dancer.
"I'm so excited to dance through life with Sam," she told People. "I could never have imagined that when I was 16 years old I would have met the man I would marry and who would be my partner—yesterday, today, and tomorrow!"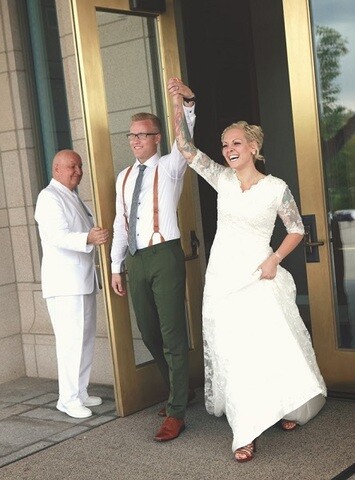 Image retrieved from Pinterest.
On August 22, 2013, the popular LDS blogger Al Fox married Benjamin Carraway in the Oquirrh Mountain Utah Temple. Known as the "Tattooed Mormon," Al Fox blogged about her experience on her personal blog.
However, her journey to the temple was preceded by her incredible journey to join the Church, which you can read about here, or in her book, More than the Tattooed Mormon.
6. Whitney Call & Stephen Meek from Studio C
Image retrieved from Pinterest.
On May 24, 2013, Stephen Meek and Whitney Call were sealed in the Oquirrh Mountain Utah Temple. Best known for their work in the sketch comedy group Studio C, Stephen and Whitney even have their proposal documented on video:
To learn more about Studio C and what married life has been like for these two, read The Ultimate Guide to Studio C: Everything You Wanted to Know About the Cast and the Show.
Images retrieved from People.
On February 18, 2012, Elizabeth Smart married Matthew Gilmour in the Laie Hawaii Temple. Gilmour, who is from Scotland, told People, "I've known for a long time I was in love with her."
Following her abduction, Smart visited Oahu with her family in 2003. "Oahu is a very special place for me," Smart told People. "Very different than what I was used to."
Describing her love for Gilmour, Smart said, "It's like he's always been there. I knew it was meant to be." She continued, "I couldn't be happier. It has been the greatest day I could ever have imagined."
To read more of her inspiring story, read LDS Living's interview with Elizabeth Smart, or read her book, My Story: Elizabeth Smart.
Neon Trees' drummer, Elaine Bradley married Sebastian Bradley in the Mt. Timpanogos Utah Temple in January 2010. They now have a baby boy named Bryce.
Elaine told Deseret News, "It's an interesting thing to be a mom, a Mormon mom, and to be on the road. But what's really wonderful about my situation is that my husband and I are on the exact same page."
Prior to her temple wedding, she lost her faith for a time, until a non-Mormon helped her to reconnect with the gospel. Read more about it here.
First married in 1982, Marie Osmond married former basketball player Steve Craig in the Salt Lake Temple. After a painful divorce in 1985, they married again in 2011—this time in the Las Vegas Nevada Temple.
"As far as Steve is concerned, I have never found anyone I respect more, who I love more," she told ABC News before her remarriage. And although she was surprised to fall back in love with her ex-husband, she told Daily Mail, "You don't plan those things. But we celebrate it all the time."
Hear more from Marie in her CD, Music is Medicine, available at Deseret Book.
On March 21, 1969, Mitt Romney married his wife, Ann, in her hometown of Bloomfield Hills, Michigan. As high school sweethearts, Mitt and Ann had known each other since they were children. They fell in love in high school (which you can read about here), and Ann waited for Mitt to return home from his mission in France.
After their wedding ceremony in Michigan, which was attended by family and friends, Mitt and Ann flew to Salt Lake City to be sealed in the Salt Lake Temple on March 22, 1969.
To read about more Romney family stories, read LDS Living's interview with Ann, or pick up The Romney Family Table: Sharing Home-Cooked Recipes and Favorite Traditions, available at Deseret Book.