"One of the reasons that food is so interesting to me intellectually is [that] you see people prioritizing their values when you see the way people prepare food and the way they eat," says Kate Holbrook, managing historian of women's history in the Church History Department and researcher of Latter-day Saint food traditions.
In studying how Latter-day Saint food has evolved over the years, Holbrook notes that our food traditions are more complex than we often give them credit for and involve mental, theological, scientific, and historical work. Everything from the Word of Wisdom to food storage to self-reliance and a desire to minister shapes how we prepare and experience food.
For example, while Jell-O and funeral potatoes have been given plenty of attention through the media, Holbrook says that what truly adds to the flavor and diversity of Latter-day Saint cuisine is worldwide missionaries bringing home and sharing new food traditions. "I think that influence is something that is really beautiful about the way foodways have worked in our culture," Holbrook says.
Those food traditions have also allowed a few Latter-day Saints to stand out in the culinary world over the years. Learn more about these culinary masters who are currently making a difference with their talent.
From the time a young Tara Bench shared her first culinary creation—biscuits cooked in an Easy-Bake Oven—she knew she wanted to continue cooking. Following her parents' advice to pursue something she loved, Bench graduated from culinary school before landing an internship and then a job at Martha Stewart Living magazine in New York as a food editor. She later worked as the Food and Entertaining Director of Ladies' Home Journal magazine and continued to style food and create recipes for publishing.
Bench says of her time at the magazines, "I loved reaching millions of people every month through those magazine pages and sharing recipes they could really cook and enjoy with their family and friends."
Along with her extensive experience in food publishing, Bench humorously states that she was "thrown into food TV" when she was approached by the producers of Everyday Food about being a guest on the new Martha Stewart program. Bench has also appeared on The Today Show, KSL's Studio 5, and other local shows and has been both a contestant and a judge on The Food Network. She now shares her recipes on her blog, Tara Teaspoon, which focuses on bringing people together in the kitchen.
"My faith is such a part of me and my everyday life and how I live," Bench says. "There have been countless times when I have talked about my beliefs, and it's often because I don't drink and [I] try to keep Sundays work-free. Things like that are visible ways of how I live my faith in my career."
Find more from Bench at tarateaspoon.com, or check out her upcoming cookbook, Live Life Deliciously, on preorder atdeseretbook.com.
Though her great-grandparents owned a diner, Kelsey Nixon says, "Honestly, my love for cooking is rooted in the home kitchen that I grew up in and my mom just enjoying being in that kitchen."
While attending Brigham Young University, Nixon landed an internship with Martha Stewart Living, and she took those skills back to Utah to start a college cooking show on BYUtv called Kelsey's Kitchen. She eventually landed a spot on season four of Food Network Star, which ultimately launched her career and led to her own Cooking Channel show, Kelsey's Essentials, which premiered in 2010. The show, which ran for five seasons, received a Daytime Emmy nomination for Outstanding Culinary Host in 2013, an achievement Nixon describes as "a pinch-myself moment." Nixon also hosted another Cooking Channel show in 2015 called Kelsey's Homemade and is the author of Kitchen Confidence, which helps readers learn the most essential recipes, techniques, and tools in the kitchen.
Nixon has made appearances on Iron Chef America, Chopped, Beat Bobby Flay, Guy's Grocery Games, Unique Sweets, The Today Show, and Rachael Ray. Currently, she hosts BYUtv's Dinner Takes All and loves dancing in the kitchen with her children to Disney-themed playlists.
Nixon credits both her family and faith for teaching her to work hard, love others, and be kind in an industry where it's easy to let fame go to your head.
Follow Nixon at kelseynixon.com.
Photo by Justin Hackworth; courtesy of BYUtv.
Using an aluminum mess kit, an 11-year-old Todd Leonard made his parents scrambled eggs for his Boy Scouts of America cooking merit badge. In that moment, Leonard discovered his passion for cooking.
After graduating from culinary school, Leonard ran the Joseph Smith Building Garden Restaurant and opened the Nauvoo Café before becoming an instructor and chef at Utah Valley University. In 2018, Leonard captured the American Culinary Federation National Chef of the Year title, an accomplishment he calls the "capstone of his career."
Before the competition, Leonard offered many prayers and received a blessing from his father that promised he would succeed as he executed his vision. "I just had that trust in that blessing and had faith in our abilities," Leonard says about his team. His Cajun dish took the grand prize.
"Cooking is what I love. It's what I do, it's awesome," Leonard says, adding that cooking is also a service. Whether through planning and preparing 3,000 meals for his stake trek or mentoring students who have claimed Student Chef of the Year titles, Leonard uses his talents to serve. He also credits much of his success as a chef to his mission in Ohio, where he developed an invaluable "singularity of focus" and a work ethic that has served him well in his career.
A scientist at heart, it was while at culinary school that Christy Spackman heard about a discipline that changed the trajectory of her career and combined her two passions: food science. Now an assistant professor at Arizona State University, Spackman straddles the divide between the arts and the sciences as she studies the industrialization of food and researches things like how to manipulate the sensory experiences of smelling and tasting. But she doesn't just combine food and science. She also combines food and faith.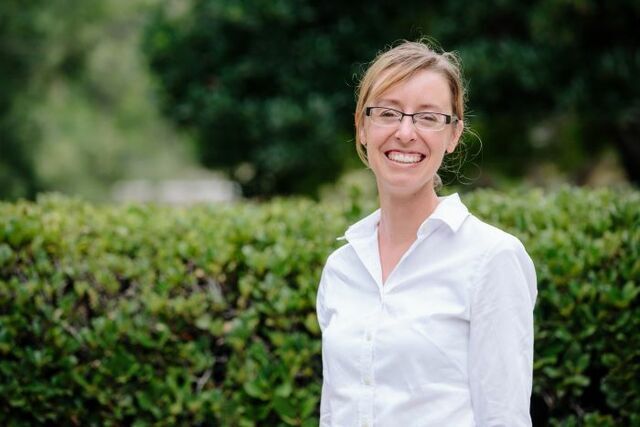 In 2012, an article Spackman wrote about Latter-day Saints and Jell-O was published on Slate and received international attention. More recently, Spackman was quoted by the New York Times in an article addressing food storage and shortages related to the COVID-19 pandemic. Additionally, Spackman spoke at the Mormon Theology Seminar in 2018, looking at "how food itself shapes our relationships with each other, our relationships with our religious practices, and more importantly our relationships with God."
"I think cooking is a lot like [the gospel], where you have these materials, and they have this potential to become this thing you imagine—let's say a pie—and then something goes wrong and something doesn't work quite right, and you have to innovate and you have to learn," Spackman says. "But you also just have to put some trust in the process that something good can come out of it in the end."
Follow Spackman at christyspackman.com or on Twitter @christyspackman.
At a time when food blogs seemed to be a dying fad, Susie and Todd Bulloch quit their salaried jobs to pursue a barbecue blog: Hey Grill, Hey.
But this gamble didn't come without serious reflection and even revelation. "We relied on prayer and long conversations with each other, as well as a lot of pondering in our hearts to decide on our next step," Susie says. "That doesn't mean the path has been easy or we didn't question the decisions we were impressed to make, but we have always felt guided along this crazy journey."
"This crazy journey" has included building a million-dollar brand and being featured on The Food Network on multiple occasions. In fact, Susie made it to the finale on The Food Network's BBQ Brawl: Flay v. Symon in 2019. Among her cooking experiences on the show were the times when Susie stood for her standards, expressing that "family is one of the biggest driving forces for my business." She continues, "I think that barbecue is so tied to our culture religiously because we like to bring people together, and we like to break bread, and we like to spend quality time, and I have found that barbecue is one of the best ways to do it."
Follow the Bullochs on heygrillhey.com.
Photo courtesy of The Food Network.
When Utah native Carmell Childs found a flier in her bag of groceries, she had no way of knowing it would launch a new chapter in her life. The advertisement touted a recipe round-up, and Childs decided to enter the competition. That first year, she won a pack of sausages instead of the grand prize, but Childs notes that the contest "ignited a fire inside of me." She participated in various other contests over the next year, ultimately qualifying to compete at the Utah State Fair, where she took home the grand prize.
In 2012, Childs attended the World Food Championships in Las Vegas, Nevada. "I was hoping to come home with just $1,000 for making it to the top 10 in my category," Childs says. Despite the fancy gadgets and attire of the other chefs, Childs was named the World Recipe Champion and received $10,000—a turn of events she describes as "quite shocking and exhilarating."
Because Childs won in her category, she had the opportunity to compete for $50,000 in the World Food Championships final. However, the final was on a Sunday, and Childs already knew her response. "I'm a firm believer that when we live the commandments, we are blessed for our efforts," she says. When others asked her how she could walk away from such a big opportunity, it gave her the chance to share her testimony with others. "My faith influences everything that I do, and I believe we are given talents to bless and edify those around us," she says. "I love sharing my culinary experiments with my ministering sisters and the young women in my ward—multiple taste testers and honest opinions are definitely one of the secrets to my success in the culinary arena."
As a little girl randomly flipping through her mom's cookbook, Rachael Hutchings decided to make petits fours, not knowing it was one of the hardest dessert recipes in the book. What resulted was "gritty, sludgy, Pepto-Bismol-pink frosting," Hutchings recalls with a laugh. But her mom raved about the dessert, helping Hutchings realize how much she loved creating in the kitchen.
Though Hutchings had a Juris Doctorate from the University of Memphis School of Law, she did freelance writing and food photography as a creative outlet, starting La Fuji Mama in 2007 after the birth of her first child. But it wasn't until she was put on bedrest while pregnant with her second daughter that her hobby became her job.
Having lived in Paris, Tokyo, Yokohama, Memphis, and Los Angeles, Hutchings's recipes often include fusions of diverse food styles. In 2012, Hutchings was featured in the New York Times in an article talking about "Mormon cuisine." Hutchings recalls that during the interview, the photographer asked if he could see her food storage. "It was just such a weird moment to take this New York Times photographer into my garage . . . and he was like, 'I want to get a picture of you in front of your food storage,'" Hutchings recalls, while adding that it gave her a chance to talk about the Church's focus on preparedness and self-reliance.
Hutchings's faith continues to play a visible part in her business. "It's struck me multiple times how in the food world, there is always something more to be learned," Hutchings says. "I think it's the same with the gospel. There's so much to learn. . . . There is always something to be discovered."
Follow Hutchings on lafujimama.com.
After putting his advertising degree to good use at L'Oréal and Microsoft in New York City, Peter Tidwell took a surprising career step by moving to Provo, Utah. Quitting his full-time job to open a bakery, Tidwell won Food Network's Cake Wars not once but twice.
Tidwell's culinary passion began as his stress relief after work and gradually evolved into a side business before it became a bakery of his own. After opening the Mighty Baker, Tidwell decided to apply to Cake Wars at the urging of his wife, which he went on to win in 2016 with a Halo-themed cake and then again in 2017 with a Power Rangers ketchup cake. Most recently, in 2019, the baker and father of three shared his talents on the Food Network show Halloween Baking Championship, where he advanced to the finale.
Throughout his multiple appearances on the Food Network, Tidwell has shared his beliefs through the way he lives his faith. In fact, while competing on Halloween Baking Championship, Tidwell was able to generate conversations about his faith when he attended a local sacrament meeting. "Everybody was getting together to go do something, and I declined and said I was heading to church," Tidwell says.
"The one thing that I really, really love about baking is the process," Tidwell continues, noting that baking requires specific ingredients, steps, and procedures that combine to produce a beautiful outcome. "I also love that about the gospel of Jesus Christ."
Tidwell's newest endeavor, which he opened in Provo, Utah, in 2019, is the Mighty Baker Cake Creation Studio, where people can decorate their own cakes and cupcakes or take cake decorating classes.
Follow Tidwell on mightybaker.com.
As the owner and founder of Jen's Cakes in San Jose, California, Jen Kwapinski had an opportunity to stand for her faith on national television when she competed on TLC's Next Great Baker in 2013.
Throughout the show, Kwapinski stayed positive and relied on her values, which helped her take third place. "I became so close to my Heavenly Father during the show," Kwapinski told the Deseret News. "To get through this show, it took a lot of prayer and scripture study."
During the round where Kwapinski had to create a cocktail-inspired cupcake, she decided not to taste the filling, which included Kahlúa—rum and coffee-flavored liqueur—because the alcohol was not baked. As a result, the judges told her the Kahlua flavor was too strong, causing Kwapinski to reveal that she had not sampled her own filling due to "religious reasons."
Follow Kwapinski at jenscakes.com.
While Carrian and Cade Cheney were dating in college, they signed up for a cooking class. Working together to create something delectable and new sparked something for the couple, and cooking together became an important part of their relationship.
But cooking became more than a hobby when Cade lost his job. At the time, the Cheneys were running a small blog for their neighbors, family, and friends, but as their funds became sparse and they were living on their food storage, Cade received a revelatory thought that led to the creation of Oh, Sweet Basil. And while the brand helped Cade and Carrian make ends meet until Cade found a new job, Carrian explains that "It went from paying the bills to, 'I think this is part of our calling in life.'"
As the Cheneys have felt prompted to not only share their recipes but also their family traditions, struggles, and faith, they have found others sharing theirs in return. "When you are cooking in the kitchen and both of you have your hands in something, you have no choice but to be committed together," Carrian says. "As we've been doing that as a family, we have found ourselves committed more in our gospel goals. . . . The more we stand side by side and talk about things, the more we find ourselves side by side in faith-centered things."
Follow the Cheneys on ohsweetbasil.com or find their cookbook, Our Sweet Basil Kitchen, on deseretbook.com.
Nostalgia and memories connected to cooking have inspired Kate Jones and Sara Wells of Our Best Bites to help other families make those memories for themselves. "What I learned from years of family dinners is [that] the kitchen is where people connect," Wells said in a 2011 interview with LDS Living.
Now the authors of multiple cookbooks as well as a popular food blog, Jones and Wells have had many opportunities to share their beliefs throughout their careers. One of those moments came when Jones and Wells decided to put the subtitle "Mormon Moms in the Kitchen" on one of their books in 2011.
"We thought it was a good opportunity to shed light on what a modern [Latter-day Saint] woman really represents," Wells said. "Our beliefs play a huge role in who we are as women and what we try to communicate through blogging. There are so many misconceptions in the media, and we wanted to show the world . . . it's not all about Jell-O and casseroles!"
Follow Jones and Wells at ourbestbites.com or find their cookbooks on deseretbook.com.
When Nancy Judd appeared on Food Network's Chopped on the "Grandma vs. Grandma" episode in 2014, she explained that her drive to be on the show came from her desire to raise money to serve with her husband as a missionary for The Church of Jesus Christ of Latter-day Saints.
For Judd, a mother of 8 and a grandmother of 38, nothing means more to her than her faith and family. While Judd didn't take home the grand prize of Chopped, she has earned her share of cash prizes through baking competitions. In 2013, Judd received $10,000 during the World Food Championship by winning the title of World Dessert Champion. And while she, like Childs, had the opportunity to advance into the final round of the championship and claim $50,000, she turned the opportunity down since the competition would be on a Sunday. "I don't regret it a bit because the gospel's my life, not my cooking," she said in a 2013 interview with Deseret News.
Judd also made it into the top 10 of The Great American Baking Show in 2016.
Image of Judd (second from the left) from the Chopped Facebook page
"Some of my earliest memories are of sitting [at] the kitchen counter watching my mom work her magic," Megan Faulkner Brown says. "She found joy in the process, and that joy she radiated spoke to my soul at a young age."
After nearly a decade of working in Washington, D.C., Brown's career took an unexpected turn when the US Representative she was working for lost a campaign for reelection. While Brown had hung on to her childhood memories of the kitchen by catering events and selling baked goods as "a creative outlet," her hobby quickly became a way for her to supplement her growing family's income. "We had no idea what we were doing when we signed our first lease for our first Sweet Tooth Fairy Bake Shop," Brown says. But a decade later, Brown has been deemed one of the country's most accomplished bakers by Food Network's Cupcake Wars, where she has competed multiple times and took home the grand prize in 2012. She has also franchised her bakery business and designed a food crafting line that is sold by retailers internationally. Currently, she moonlights as a product designer.
With both baking and her faith, Brown has found that consistency is key. "There are a lot of 'ingredients' that go into building my testimony. With consistent faith, kindness, prayer, love, repentance, service, etc., my testimony will become stronger and stronger each day." Likewise, she says, "When we 'botch' recipes, when we take the wrong roads, when we feel less than our divine nature dictates and consequently go in shady directions, we can humble ourselves, repent, turn to the Ultimate Healer and start over," she says. "We've been given an incredible gift—the Atonement of our Savior, Jesus Christ—that allows us to start our 'recipe' over and over again."
Follow Brown on thesweettoothfairy.com or at @meganfaulknerbrown and sweettoothfairy
Find favorite recipes from each of these chefs at ldsliving.com/favoriterecipes.
*Author's note: While we have included many Latter-day Saints who are sharing their culinary talents in the world, this is not a comprehensive list.
All images courtesy of the bakers or chefs except where noted.