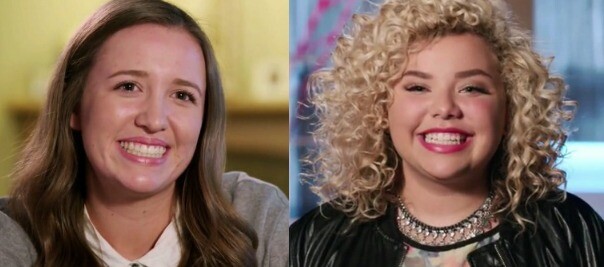 LDS teens Lauryn Judd and Aaliyah Rose made quite the impression on The Voice this week as they both got snatched up on teams to continue in the show.
LDS 16-year-old Lauryn Judd from Draper, Utah, got a three-chair turn surprise from the judges while singing for NBC's The Voice Tuesday after performing her blind audition "Girls Just Wanna Have Fun" by Cyndi Lauper.
Thinking there might have been two separate voices when Judd began to sing, Alicia Keys felt amazed by her voice and singing talent. After having a tough choice among the three stars—Blake Shelton, Alicia Keys, and Gwen Stefani, all who turned their chairs wanting her on their team— Judd chose to join Team Alicia.
"Lauryn has an amazing voice. She's only 16 so there's a ton of stuff we can build and bring out, and I'm very, very excited about her," Keys says.
Singing has always been a part of Judd's life and all her friends know her as a singer.
"I've been singing ever since I could talk," Judd says.
Judd has spent time practicing and learning in school choirs. When she was 11 years old, she also joined and performed with a musical theater company for youth called Utah Copa.
Judd's family has been very supportive in all of her musical efforts. Her mom drives her to lessons and her dad sings in church choirs and looks out for more songs for her to sing.
"My family means the world to me . . . They've supported me through everything and The Voice is validation that their support was worth it," Judd says.
Lead image screenshot from NBC's The Voice.
LDS 14-year-old Aaliyah Rose from Provo, Utah, made it to NBC's The Voice Monday and landed a spot with Gwen Stefani's team after singing "Rise Up" by Andra Day for her blind audition.
It seemed as if it were meant to be, as Rose and Stefani both wore matching sparkly outfits that night. Stefani shares how much she wanted a "young, little pop girl" that she could work with on the show.
"Aaliyah Rose, that's who I wanted to get today and I got her. She has an incredible voice and she's 14 years old," Stefani says.
OMG Aaliyah!! You are so cute, I could die! I can't wait to work with you, you little ray of sunshine! ☀️ gx #VoiceBlinds

— Gwen Stefani (@gwenstefani) March 7, 2017
Rose was ecstatic after joining Team Gwen because Stefani has been one of her artist idols.
"I've made it on Team Gwen and she's one of my biggest inspirations so I'm really excited to work with her," Rose says.
Growing up, Rose loved singing around the house with the fake microphone she got for Christmas. At 10 years old, she decided she wanted to share her musical talent with the world, so her parents set her up on her very own YouTube channel.
"Ever since I started singing, I just knew I wanted to sing for the rest of my life," Rose says.
Rose's first video instantly went viral reaching hundreds of thousands of views. Since realizing people loved to listen to her music, she continued to make many videos of covers of her favorite artists.
Lips Are Movin - Meghan Trainor - (cover) 12 year old Aaliyah Rose
Her highest viewed music video, reaching close to 5 million views, is a cover she did of Meghan Trainor's "Lips Are Movin" which Trainor herself posted on Twitter. Rose says she and Trainor have communicated back and forth since—and Trainor even sent a surprise video to wish Rose "good luck" on The Voice before her performance.
"Be yourself, and go get your dreams girl!" Trainor says in the video.
Rose says she decided to sing "Rise Up" because of the message she has for her family.
"This song is a way for me to tell my family that things are going to get better and that there's always hope," Rose says.
Lead image screenshot from NBC's The Voice.