Editor's note: This article is adapted from a devotional given to LDS Business College, October 8, 2013 and originally ran on LDS Living in September 2020.
President Spencer W. Kimball taught that "the time will come when only those who believe deeply and actively in the family will be able to preserve their families in the midst of the gathering evil around us."1 "The Family: A Proclamation to the World" was published on September 23, 1995. Reflecting back on the past 25 years since it's publication, the family proclamation remains a relevant and inspiring document to me personally and to my work in the School of Family Life at Brigham Young University.
While our own families are our most important responsibility, every family on the earth is in need of the vital blessings that come from living true principles. I believe, therefore, that a deep and active belief in the principles articulated in "The Family: A Proclamation to the World" should motivate us not only to apply true principles to bless and protect our own families; in addition, that belief should move us to share these principles with others. A statement by the Prophet Joseph Smith applies here—that when we gain a witness of the truth, we will not be "content with blessing [our] family alone, but [range] through the whole world, anxious to bless the whole human race."2
In the Doctrine and Covenants we are taught: "And the voice of warning shall be unto all people, by the mouth of my disciples, whom I have chosen in these last days" (D&C 1:4). And we are told to "let your preaching be the warning voice, every man to his neighbor, in mildness and in meekness" (D&C 38:41). As we share the principles of the family proclamation with others, we can fulfill that directive to preach and to warn our neighbors, helping them strengthen their families.
For years I taught a foundational class at Brigham Young University that explores the family proclamation in depth. I told students that the proclamation is for the whole world but that we, as Latter-day Saints, are the messengers that take its truths to our friends, associates, and family members; we are that mild and meek warning voice to our neighbors near and far. One thing I did to accomplish this objective was encourage students throughout the semester to initiate "share-and-defend" experiences with friends, family members, colleagues, and casual acquaintances both near and far. At the end of the semester they shared their experiences with me in a brief report.3
One of the most common topics that my students brought up when they were sharing and defending proclamation principles is living together before marriage—what family scholars call cohabitation. In class we talked about how common cohabitation is these days. Currently, about two-thirds of married couples cohabit before marrying, and yet cohabitation is associated with a modest decrease in marital quality and an increased risk of divorce—about 20 percent on average—if the couple eventually marries.4 My students almost seemed relieved to learn this. Their faith has taught them right and wrong, but the culture they grew up in has bought in the worldly logic that cohabitation helps couples get more valuable information to make the right decision about marriage. While it may provide more information, couples tend to slide through the decision of marriage rather than make a firm commitment to it.
One student—I'll call him "Richard"—reached out to a high school friend and initiated a conversation about this. Richard had recently joined Facebook. Within a few hours, a good friend from high school he had lost contact with sent him a message and they started talking. Richard discovered that his friend, Tom, had just decided to move in with his girlfriend. Tom said he and his girlfriend were hoping to get married someday in the distant future, but there were no formal plans. Richard realized this was an ideal share-and-defend experience for my class assignment if he could muster the courage. Richard said he knew that Tom was a young man of good character, cared deeply about his girlfriend, and he knew that he wouldn't want to do anything that would hurt her. So, Richard shared some concerns about Tom's decision to live with his girlfriend without a commitment to marriage by telling him about the research on cohabitation he had just learned in class. He said he didn't want to offend him, but as a friend, he wanted to share his concerns. He was anxious anticipating Tom's reply. Tom did reply and sincerely thanked Richard for his concern. Tom said he knew that living together was not the best thing. Despite this, unfortunately, Tom said he was going to do it anyway. Nevertheless, Richard had planted a good seed and had been obedient to the commandment to give warning in mildness and meekness.
Several of my students, however, had more success, so to speak, with this issue. One student also bravely dived in when her best friend back home called to tell her the exciting news about deciding to move in with her new boyfriend. Again, in a series of long and sometimes difficult phone conversations, "Natalie" shared with her friend the research on the risks of cohabitation. She also shared her own feelings and faith about marriage as the proper guardian of human sexuality, expressing her belief that "marriage between a man and woman is ordained of God," and that "God has commanded that the sacred powers of procreation are to be employed only between man and woman lawfully wedded as husband and wife." Natalie said that at first she received resistance from her friend, who questioned the research before confessing that she felt some pressure to move in with her boyfriend and really was unsure. Eventually, Natalie's friend expressed appreciation for her concern and support and told Natalie that she had decided against living with her boyfriend. I don't know the end of this story, but I have confidence that a life was blessed by a brave young woman who helped a friend follow the Light of Christ within her.
Valuable experiences sharing the proclamation are not limited to friends and associates who do not share our faith. Some of the most inspiring stories my students have shared have been reaching out to friends who are members of the Church and even to their own family members.
One young freshman student, "Cindy," was listening to prophetic statements about the sanctity of human life in class one day. However, Cindy learned that statistics show there are currently more than 70 million abortions worldwide (and more than 800,000 in the United States), with a declining number of adoptions. Her thoughts went out to a close friend from her ward in the town in which she grew up. Cindy knew that her friend had become pregnant by her boyfriend and her friend struggled to know what to do. She received pressure from different directions: abort the child; keep and rear the child herself; give the child up for adoption. Eventually, after pleading in prayer, Cindy's friend gave the child life and then gave her to an overjoyed Latter-day Saint couple. Thinking about this, after class Cindy called her friend, who had just weeks before given this unselfish gift to this couple. Cindy shared her feelings about the sanctity of life and how proud she was of her friend. Her friend echoed Cindy's sentiments, and also said how happy she was that the Lord could make something so beautiful out of this difficult situation.
This was a powerful, confirming experience for Cindy of her faith in sacred truths in the family proclamation, which states that "we affirm the sanctity of life and of its importance in God's eternal plan," and that "children are entitled to birth within the bonds of matrimony and to be reared by a father and a mother who honor marital vows with complete fidelity."
One of the most memorable share-and-defend experiences I have heard came from a student I will call "Rachel." Rachel had lost track of her best friend growing up when she went off to college. But out of the blue one day, Rachel's friend, who had somehow found her friend's new cell phone number, called her up and confessed that she was pregnant by her boyfriend. The unborn child was six months along when Rachel's friend discovered that the baby had tested positive for Down's Syndrome. Rachel's friend decided that she was going to get an abortion. Rachel summoned her courage to express her feelings about the sacredness of life and she related to her friend a story shared by a classmate just a day earlier. This classmate, during a discussion of the sacredness of human life, said that she had tested positive for Down's Syndrome prenatally but her parents decided to give her life, a rare occurrence these days when most children diagnosed prenatally with this syndrome are aborted. The test was a false positive and she was born perfectly normal. Perhaps as a result of hearing this story, Rachel's friend decided to give her unborn child life rather than abort. In raising a warning voice in mildness and meekness, Rachel helped to preserve a sacred life.
Most of the stories that my students tell me about sharing principles from the family proclamation are not as dramatic as these last few. They are on the more prosaic elements of family life, like compassion and forgiveness. But students have related to me powerful experiences when they have conversed about these topics with family members.
For instance, "Mary" told me of a share-and-defend experience that ended up being more than a class assignment. She was talking for two hours to her younger sister back home who was complaining about their mother and how she felt like she was being overbearing, overprotective, and hypocritical. Finally, Mary jumped in. She related to her sister some statistics about how more than half of mothers feel unappreciated for the nurturing work they do and 20 percent say they feel less valued by society since becoming a mother. Despite this, most mothers (not just Latter-day Saint mothers) still believe that the most important work they do is within the walls of their own homes.5 This holds true even when they work outside the home, as Mary's mother did part time to help support their family.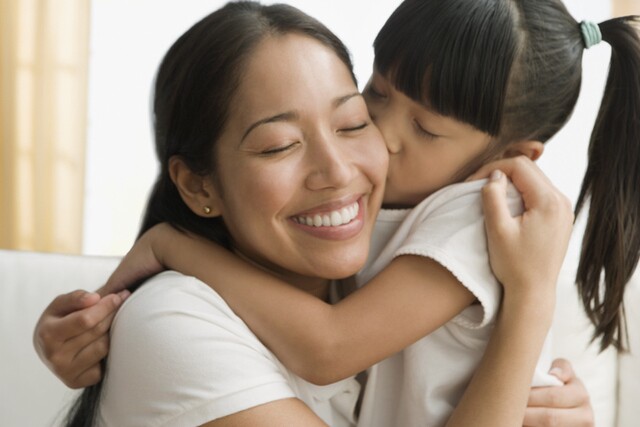 Mary talked to her sister about how mothers sacrifice so much for their families and quoted this phrase in the family proclamation: "Mothers are primarily responsible for the nurture of their children." She also pointed out that many mothers may seem overbearing at times because they care so deeply for the happiness of their children and take seriously their God-given responsibility, as is stated in the family proclamation, to "rear their children in love and righteousness." Mary urged her sister to cut their mother a little slack. After a few moments of silence, Mary heard muffled sniffles coming from the other end of the line. Her sister choked a few words out and said she would try harder. They finished their call, but a few minutes later Mary's phone rang and it was her mother on the other end. "Mary, what did you say to your sister?" she asked. Mary recounted to her mother just a few of the things she had said. Her mother simply responded: "Mary, thank you. It made a huge impact on your sister." Sometimes a mild, meek, and sensitive voice of warning is needed within family circles too.
Hearing these students' stories has been a personal privilege. The family proclamation is an inspired document—President Boyd K. Packer called it "revelatory" and "scripturelike in its power"6 —and it contains timeless truths that will bless not only our lives but the lives of those around us as we reach out near and far to share it. I hope these stories have planted in you a desire to have share-and-defend experiences of your own. I believe that as you seek, you will find them. And, like my former students, when these opportunities present themselves, I pray you will have the courage to act.
Alan J. Hawkins is the director of the School of Family Life at Brigham Young University.

Lead image: Shutterstock
All other images from Getty Images
---
Kimball, S. W. (1980, November). Families can be eternal. Ensign, 10, 4-5.
Smith, J. (1976). History of the Church of Jesus Christ of Latter-day Saints, Vol. 4. Salt Lake City: Deseret Book.
I asked and received the students' permission to share their experiences in venues like this, but I have changed the names and some minor details to preserve anonymity.
Jose, K., O'Leary, D., & Moyer, A. (2010). Does premarital cohabitation predict subsequent marital stability and marital quality? A meta-analysis. Journal of Marriage and Family, 72, 105-116; Rhoades, G. K., Stanley, S. M., & Markman, H. J. (2009). Working with cohabitation in relationship education and therapy. Journal of Couple & Relationship Therapy, 8, 95-112.
Erickson, M. F., & Aird, E. G. (2005). The Motherhood Study: Fresh insights on mothers' attitudes and concerns. New York: Institute for American Values.
Packer, B. K. (2008, February 9). The proclamation on the family (pp. 4-9). Worldwide leadership training meeting: Building up a righteous posterity. Salt Lake City, UT: The Church of Jesus Christ of Latter-day Saints.