One researcher has discovered that baby books are rich in history, but many parents see them as a source of stress. If you've got a half-finished baby book on your shelf, here are some high- and low-tech solutions to help with the job.
Baby Millie Earhart, born in 1897, was as serene a youngster as they come, at least according to the baby memory book kept by her mother. Millie rarely gave her parents any trouble; in fact, she would sometimes just silently examine her hands for long stretches. This sedate nature probably served her well decades later, when she grew up to be the solo long-distance pilot better known as Amelia Earhart.
"She was the most placid baby I ever read about," says Dr. Janet Golden, a retired Rutgers history professor who studied Earhart's baby book, along with countless others, in her research of youngsters' place in modern America. "I thought, 'Well, gee, if you're going to sit in an airplane cockpit for 36 hours and do nothing, maybe she had that right temperament all along.'"
Like baby Millie Earhart's mother, parents for over a century have recorded milestones and memories in preprinted baby books, scrapbooks, and albums to be passed along to posterity. They relish the idea of one day dusting off a baby book and finding clues inside that they never knew were hints of what baby was to become.
But keeping baby books is also hard work, and it can become a source of guilt for parents who worry they're not fastidious enough in their recordkeeping.
For example, many parents have felt pangs of remorse because they dutifully kept a baby book for their first child but not for subsequent ones. But there's good company for these folks: Earhart's mother didn't even buy a new book for Amelia's younger sister, Grace. Instead, she simply added notes about Grace into Amelia's book. "She just had a little scribbling along the bottom of the pages" that recorded notes about the younger sister, says Golden.
In fact, it's fairly rare to find baby books for non-firstborn children, says Golden. In her research, birth order "was the biggest bias of all. It wasn't gender, it wasn't race. … The first time around it's a little more exciting." After the first, she says, "you're a little exhausted."
Mercifully for exhausted parents everywhere, keeping baby books has become much simpler thanks to new high-tech solutions. Phones, cameras, apps, and software can ease the recordkeeping burden and relieve stress and guilt.
But if you choose a digital solution for keeping a baby book, it's a good idea to make sure there's a way to translate that digital record to a physical product, like printing an on-demand photo book. Dr. Golden says, "As a historian, I want everything on paper and print. I don't want the ephemeral. We're going to lose a lot of our history unless people download them and print them and save them."
Here are some low- and high-tech solutions that will help you capture memories in an enduring, tangible format.
Print an On-Demand Photo Book
An article on the FamilySearch blog points out several options for general online photo book services, including Blurb, Shutterfly, Mixbook, and Snapfish. Many photo storage services, like Google Photos and Photos for macOS also offer printing services.
If you want an option geared specifically toward baby books, your phone's app store is a great source of baby journaling tools—both free and paid—including Qeepsake, Tinybeans, Peekaboo Moments, and Moment Garden. Each app has different features, so look for the one that works best for you.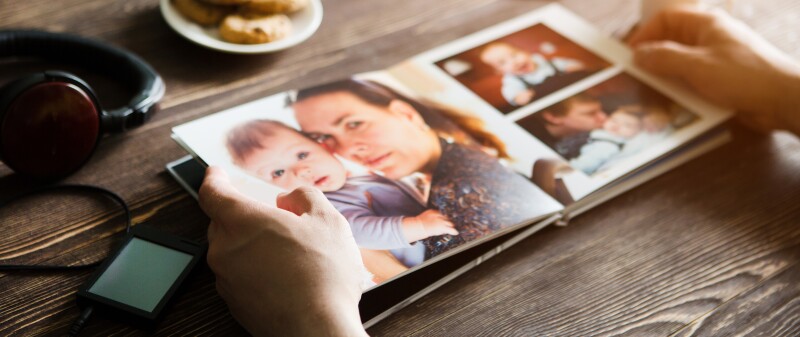 The Short Years Baby Book app was created by Tracey Fouche, an adoption attorney from Idaho and a mom who was overwhelmed by the baby-book task. According to the Star Tribune, the idea for the app came to her at 2:00 a.m. as she pondered how behind she was on her middle child's book.
Fouche hopes the app will help other parents find the peace of mind that she now has. "As a mom, I know that when I look back on my children's baby books, I want a book that is going to transport me back in time and make me say 'Aha! I remember 6-month-old you,'" Fouche told the Star Tribune.
In an interview with FamilySearch, Janet Brooks of Florida said that Instagram and Facebook help her keep up with the inundation of memories created by her grandkids. "I went from zero to eight grandkids in less than seven years, so ease is essential," Brooks says.
She uses Chatbooks, a service that connects to a social media account and automatically pulls photos into 60-page photobooks. "Each grandchild has an Instagram hashtag, and I link my account with the parents' accounts. Every 60 pictures, we get a book. I do get to review each book before it's published and can add or subtract photos." A similar service is offered by My Social Book.
According to FamilySearch, Jessica Stacey George of Ohio sets her Instagram videos to automatically download to her phone's memory. "I can caption the videos for grandparents to see now, and at the same time collect hundreds of captioned videos for my kid to scroll through when he is older. I do photo books as well but have found I really love the way video captures the moment more fully."
For physical items and memories of baby, grab any sturdy container and start filling it with photo prints, extra-meaningful clothing items, and more. Alyssia Daley of Ohio tells FamilySearch that she keeps a box for her son, whom she placed for adoption. "There is a video [CD] that has all the pictures from the day he was born and the day I placed him up for adoption," Alyssia explains. "I've been putting [in] plane tickets for when we go visit him and there are a couple of toys from his dad."
When it's time to seek a longer-term storage solution for memory-box items, FamilySearch recommends using archival storage techniques and materials to protect fabric, paper, storage devices, and other memorabilia.
Use a Traditional "Fill-in-the Blank" Book
"I think when people hear 'baby book' [they fear] you have to create it all yourself, and people feel like they have to write a long narrative," says Dr. Golden. So she says that the traditional preprinted baby book is still useful today. The advantage of these books is that parents need only fill in the blanks provided—things like first words or milestone dates. These books have "plenty to fill in," she says.
These preprinted books feature fun themes like wild animals, boat anchors, and even pink owls. They also allow parents to slip in loose pieces of paper, like doctor's growth charts or toddlers' artwork.
Even with the latest tech, keeping records of baby still takes some effort. "It's like any other task," says Dr. Golden. "It is a task." She compares the task to unloading the dishwasher, which is always "a bigger job in your head than it actually takes. … You have to approach a baby book the same way [and say,] 'I'll sit down for just three minutes and fill out what I can.'"
With that little bit of effort, a baby book can become a rich source of family history that spans generations.
Golden says, "My fellow historians, they're deep in family history—there's a growing field of childhood studies—but they ignore babies. They say, 'Oh, they don't talk, they don't do anything.'" But Golden has found that babies can "keep families rooted in family traditions, in religious traditions. … It's just beautiful to see the family stories go through the baby books."
She's seen these records become personal treasures when people rediscover their own baby books. "They never thought of them as having their family history in them. … So to actually sit down and read about their own religious ceremony, or their own first doctor visit, or their own first day of school. … They're not going to remember, but the record is there. And that's a really powerful thing."