As a broke student auditioning for graduate school and living in New York, Quentin Oliver Lee never expected his side job of singing in the subway would ever generate anything more than a little grocery money. Little did he know that experience would propel him into a career on Broadway and stages across the world.
But whether his journey led to exciting career opportunities or finding a new faith, Lee recognizes, "God led my path the entire way."
While he was attending high school in Rancho, California, Quentin Lee became good friends with a group of Mormons in his band class. With a pastor as a grandfather, Lee was born and raised as a Christian and shared many values with his LDS classmates, but he still remembers the influence of these early friends and the subtle differences that set them apart.
Lee experienced these differences firsthand later in life when he moved in with a friend from college who also happened to be a Latter-day Saint. "I always remember [his home] feeling like a different place—more comfortable, more peaceful," Lee remembers. "I didn't really have words for it."
These encounters prepared Lee for the first time he attended LDS Church at the invitation of a friend. "I visited and I [thought,] 'This is definitely the church of Jesus Christ. This is a good church,' and it all kind of came from there. I read the Book of Mormon and thought, 'Well, this is the word of God.'"
As Lee began intently studying and pursuing this new faith, however, he began coming across negative comments about the LDS Church, such as that Mormons didn't like or accept black members and they believed in a different Christ. Questions began to plague Lee's mind.
"I was concerned that maybe this wasn't the same Jesus Christ of Nazareth. I wasn't sure. I had heard about blacks not getting the priesthood," Lee says. "I remember praying about that and feeling very clearly instructed, 'Why don't you write down all of your questions . . . and just pray with it. Walk and pray and think and pray.' It took maybe three or four hours and I got a very clear impression, 'I'll answer those when the time is ready, but for now, just move forward.'"
Lee followed that prompting, forging ahead with faith and getting baptized on October 13, 2010. But even as a member of the Church, Lee didn't receive the answers to his question immediately or all at once. Over the next few years, answers and understanding came gradually, and with it a firm knowledge that "this is the church of God led by Christ, His ordained church," Lee says. "There are still people who are imperfect who preside. Although the Church is perfect and although Jesus Christ is perfect, man isn't perfect, but I think Christ and God do the very best with what [they have.]"
When Lee called up his mother to tell her about his new faith, he softened the blow with humor. "I called her and I said, 'Listen, Mom. I just got my girlfriend pregnant, I contracted a rare disease, and I have also robbed the bank, and I am going to die in the next 24 hours. Oh, and I joined the Mormon Church. All of that is false, except for the last one.'"
Despite his mother's shock, she handled the news well. "My mother, after I gave that silly story, she basically said, 'Hey, you know I trust your thoughts spiritually and your actions.' . . . And my dad just said, 'Take your time, really study it out, and whatever you feel is right, go for it.'"
Since that time, Lee has approached his parents' faith not with the intent of pointing out the differences between his and their religions but with finding common ground in worshiping Christ, serving others, and loving family.
From Middle School Band to Broadway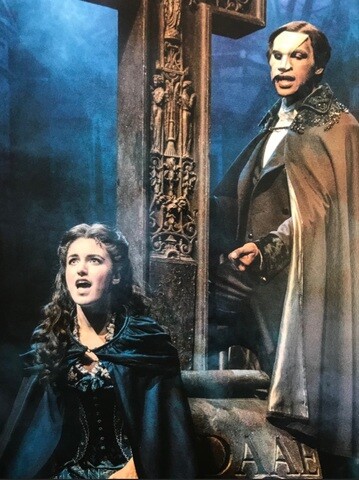 Quentin Lee didn't consider performance as a viable career until after he performed on Broadway and began touring the country as the lead in Phantom of the Opera. Much of his journey came as a result of what most people would deem coincidence but what Lee sees as divine direction.
Lee's first exposure to music came in middle school when an offhand comment prompted him to pursue music—a choice that would shape his entire life. "I remember why I joined band. My mom said, 'I always wanted a kid in band.' It was an offhand comment, and I was like, 'Hey, I am not doing anything better. Why don't I try that?'"
In high school, Lee branched out into choir when the school's director asked him to audition because they needed more male singers. That next year, Lee ventured to New York with his high school choir, and that's where he saw a Broadway show for the first time. "I was blown away," he recalls, but even at that time, Lee never pictured himself on a Broadway stage.
Lee continued to pursue music in college because, as he modestly explains it, "I got a scholarship in college because I was okay at [music]." Obtaining a bachelor's degree soon turned into pursuing a master's degree in New York. It was there a casting agent for the first national tour of The Gershwins' Porgy and Bess happened to hear him singing in the subway and encourage him to try out for the production. After auditioning, Lee landed a role, and his theatrical credits continue to grow as he's performed on Broadway in Prince of Broadway as well as the Festival of The Lion King in Hong Kong, Encores! The Golden Apple, La Bohème, Carmen, and Gianni Schicchi.
Currently, Lee is playing the title role of Phantom in the national tour of Andrew Lloyd Webber's The Phantom of the Opera. Despite the initial thrill of performing alongside Broadway stars and on famous stages across the country, Lee says, "It is an interesting thing because Broadway is just like any other stage, so for me, at least, it was similar to singing in the subway. . . . For me, the experience of being on a Broadway stage wasn't different as much as the acknowledgment that we are all the same as performers, as people, as children of God, as priesthood holders. No calling is higher than another."
About his success, Lee quickly gives credit to his Heavenly Father.
"Faith plays a pretty big role in [my career]," Lee attests. "The more performing you do, the more you realize it is not about you as a performer, it is really about you being a vessel, and you have to have faith in God or faith in the process, whatever you want to call it. For me, it is faith in God, that He will do what needs to be done. I have already put in as much work as I can put in, and I will continue to put in as much work, energy, and effort as I can, but performing is so subjective. You can only do your best and then pray, essentially. . . . It is not me on that stage as much as it is I get to be a vessel for God."
Lee strives to allow God to work through him not only through his performance but through daily habits and living. Tapping into the personal power of prayer—especially before performances—daily scripture study, and partaking of the sacrament as often as he can helps keep Lee grounded. But one of the greatest blessings in his life is the fact that his wife, Angie, has been able to accompany Lee around the world.
Shortly after Lee finished his tour of Porgy and Bess, he came home to hear a sacrament talk familiar to many in YSA wards. "I went back to New York and was attending the Harlem YSA good ol' singles ward, and I saw this cute girl," Lee says. "It's funny, actually, the bishop had just given one of those infamous date talks, 'You guys are here to get married, to date,' and it just hit home for me." After discovering Angie was an actress, Lee asked her out for lunch to talk about the business and life as a performer. By the end of the lengthy lunch, it was clear the two had more in common than acting and music. "After that, we knew there was something there, and we just kept talking and talking. A couple of days led to weeks, and then a year later I asked her to marry me," Lee says. The two were married in St. George, Utah, in 2015 and sealed a year later in the Provo City Center Temple.
Whether it is in Hong Kong, New York, or Utah, Quentin and Angie Lee strive to live their faith in any way they can. While performing in the Festival of the Lion King in Hong Kong, the Lees began working together with another LDS couple and ordained minister to host Bible devotionals during the year they lived there. "Sometimes we had the missionaries over to talk, and we would talk about various things and strengthen each other as a Christian community," Lee says.
While his job may be filled with glamor and spotlights, Lee always strives to share the message that everyone's calling in life matters. "I think that it is important for everybody to know that whatever it is that you do, whether it is performing or being a stay-at-home mom or working at a construction company, that what you do is important—even if it doesn't necessarily seem important or big or fancy or anything, it is important," he says. "As it says, 'When you are in the service of your fellow men, you are only in the service of your god.' . . . Even though I am a Broadway performer coming to Salt Lake performing as Phantom, I am still a guy just trying to do his best and serve God in whatever way he can."
Phantom of the Opera photos by Mathew Murphy, all images courtesy of Quentin Lee