When we long for blessings that seem to come easily to others, we can find peace by better understanding exactly what the Lord has promised.
It will certainly be the case that we will look back upon this life and realize that the treasures of the earth do not compare, even remotely, to the treasures of heaven. This is not what the world teaches, but it is what God is trying to help us understand.
Many years ago, I attended a neighboring ward for the day. It proved to be an interesting priesthood lesson. The instructor began with this statement: "Anyone who is faithful in the Church should be making a six-figure income or more, without exception." I almost blew a gasket! Normally when visiting another ward, I would be more hesitant to jump into the fray, but I raised my hand and shared that I disagreed and made what I considered to be obvious points. The teacher, however, was adamant in his stance and insisted he was correct.
Yes, we prosper and are blessed when we keep the commandments, and that may include material success. But we must be careful about the expectation that "prospering" primarily means material riches. Elder Quentin L. Cook clarifies, "Along with having the Spirit, sacred teachings of the Church establish having sufficient for our needs as the best measure of temporal prosperity. Lucifer's paradigm shift here is to elevate the seeking of great wealth and the acquisition of highly visible luxury products. Some seem absolutely driven to achieve the lifestyle of the rich and famous. Excess wealth is not promised to faithful members, nor does it usually bring happiness."1
Wealth is clearly not a good barometer for righteousness, and righteousness is not a guarantee for wealth. The Lord asks, "What is property unto me?"2 God's view is eternal, and His promise is everlasting: "If ye seek the riches which it is the will of the Father to give unto you, ye shall be the richest of all people, for ye shall have the riches of eternity."3 What are the riches of eternity? "Eye hath not seen, nor ear heard, neither have entered into the heart of man, the things which God hath prepared for them that love him."4 In other words, we cannot even imagine how wondrous the blessings to come will be. While the world may define prosperity in terms of material success, the Lord's view is much broader and prioritizes spiritual blessings.
When we apply this divine pattern and keep His commandments, we have the absolute assurance from God that we shall "prosper" in the land. In fact, this is one of the most repeated promises in the Book of Mormon: "And he hath said that: Inasmuch as ye shall keep my commandments ye shall prosper in the land; but inasmuch as ye will not keep my commandments ye shall be cut off from my presence."5 Of course, the Brethren have clarified for a worldwide Church that "land" means whatever land you may live in; if you keep the commandments, you shall prosper in the land of your residence.6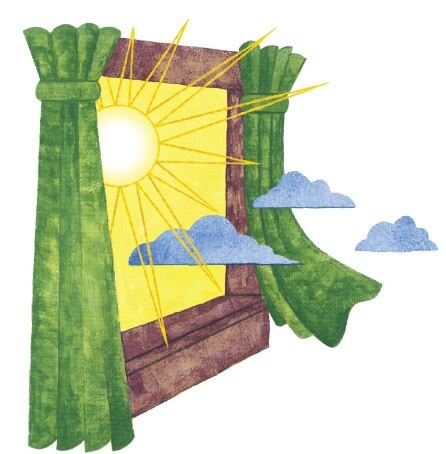 While it is true that in a few cases in the Book of Mormon the word prosper is being used in conjunction with material blessings or monetary wealth, it is most often used in reference to blessings that are not material—blessings granted to the Church and its members, including living in peace and safety, protection from enemies, a growing posterity, and all manner of spiritual blessings. Elder Quentin L. Cook affirms, "Prospering and being wealthy are not necessarily synonymous. A much better gospel definition of prospering in the land is having sufficient for our needs while having the abundant blessing of the Spirit in our lives. When we provide for our families and love and serve the Savior, we will enjoy the reward of having the Spirit and prospering in the land."7
Our daughter Katie experienced this blessing in a rather dramatic way. Katie is one of those children whose deepest desire is to keep God's commandments. She and her husband, Ben, prioritize living as the Lord would have them live, doing the best they can to follow Him. Katie has always looked forward to having her own family. In fact, she wanted nothing more in life. However, she and Ben experienced infertility for five years after they were married. The implications of their inability to have children weighed heavily on them. Fervent prayers, earnest fasting, and priesthood blessings were all part of the process that had not yet yielded any fruit. The most invasive IVF treatments failed, leaving them with less than a five percent chance of ever getting pregnant. IVF involved shots, mood swings, multiple medications with side effects, and a fair amount of discomfort. Repeated priesthood blessings reinforced the promise of children, as did Katie's patriarchal blessing, but none brought the results they sought.
The doctors' counsel eventually called for them to move on and explore adoption.
Adoption was hard for Katie to hear, as it was another hurdle with many unknowns. In addition, she felt she had been as diligent and faithful as possible. Like the prodigal son's brother, she reflected on her love of God: "These many years do I serve thee, neither transgressed I at any time thy commandment."8 Yet, the promise and hope of children remained unanswered. She wondered, "Many of my friends are having families—why not me?" Natural questions when promised blessings seem to go unanswered.
Putting these feelings aside, Katie and Ben did decide to pursue adoption. They made sure all the T's were crossed and I's dotted—preparing their home, filling out the intensive applications, and qualifying for approval. They were anxious to begin their family and hopeful that an expectant mom would find them and be willing to place her child with them.
Six nail-biting months later, they were successfully matched with an expectant mother from Katie's hometown a few states away. This was such exciting news for them and our entire family. The birth went well, and a new son was welcomed into their home. Then, out of the blue, just two and a half months later, a member of their ward knew someone who was looking for an adoptive family for their child—and they wanted Katie and Ben to be the parents!
Even though they had their hands full with a newborn, they knew this chance may never come again. Eight days later their second adopted son was born, and their little family began to grow. Then, when the boys were two months and five months old, the unthinkable happened—Katie found out she was pregnant with a little daughter. A miracle! Although it was overwhelming at times with three little ones under a year old, they were delighted with the joys of building a growing family.
If you asked Katie and Ben today, they would certainly say they have "prospered" as a family. The blessing they most wanted, to have children, was granted in wonderful and miraculous ways. And in their waiting, they gained spiritual knowledge and experience that has strengthened them—all of which were blessings that, for them, far outweighed financial wealth and material gain.
While it doesn't happen this way for everyone in this situation, it is what the Lord had planned for them. Everyone can be assured that God is hearing their pleas and prayers and is anxious to grant them, if those desires are in accordance with His plan to bless their lives.9
▶ You may also like: What escalating mayhem in his boardroom taught Steve Young about love
You Shall Prosper in the Land
Sometimes you see others prospering when you are not. That can be frustrating, particularly when you are doing the best you can to live the gospel. Such apparent inequities can naturally cause one to want answers from God:
Why don't the promised blessings of prosperity always come the way I would expect?
Why do other people seem to prosper when I don't?
Why were Katie and Ben's prayers answered when mine never are?
The answers are not the same for everyone—we each have different paths, different tests, and different plans that God has intended for us. However, some of these important questions can be answered by better understanding exactly what the Lord has promised.
It's likely that most of us enjoy the blessings of prosperity in greater abundance than we think we do; we just need to better understand how the Lord intends to prosper us. Again, Elder Quentin Cook teaches, "Let me assure you that prospering in the land is not defined by the size of your bank account. It has a much fuller meaning than that. . . . Accordingly, having the Spirit in our lives is the primary ingredient in prospering in the land."10
Elder L. Whitney Clayton's summarizing statement seems appropriate: "God's prosperity is the power to press forward despite the problems of life."11
It will certainly be the case that we will look back upon this life and realize that the treasures of the earth do not compare, even remotely, to the treasures of heaven. This is not what the world teaches, but it is what God is trying to help us understand.
---
We all desire to obtain the marvelous blessings promised by a loving God to His faithful children. In that quest, it is essential to understand what has been taught in the scriptures and by Church leaders about God's patterns and promises regarding the blessings of heaven.

What of those who feel the promised blessings are out of reach; that God has somehow let them down? Or those who feel that life is not unfolding in the way they had hoped or thought they had been promised; that God's plan for them is not working? What are they to understand about what God has yet in store for them? In Divine Patterns, best-selling author Roger Connors seeks to reinforce, restore, and revitalize our faith in God's promises by helping us better understand the gospel principles underpinning our efforts to seek His blessings.

As we increase our understanding of God's divine patterns, we will better know what we can do to enjoy every blessing our Father in Heaven has waiting for us. We will also be strengthened with patience and hope as we look forward to the day that seemingly withheld blessings are eventually granted, trusting that the Lord can and will fulfill all of His promises.
---
Notes
1. Quentin L. Cook, "A Banquet of Consequences: The Cumulative Result of All Choices," BYU devotional, February 7, 2017.
2. Doctrine and Covenants 117:4.
3. Doctrine and Covenants 38:39.
4. 1 Corinthians 2:9.
5. 2 Nephi 1:20; see also 26:3–6.
6. For example, see L. Whitney Clayton, "The Promised Land," BYU Commencement address, August 12, 2010.
7. Quentin L. Cook, "Reaping the Rewards of Righteousness," Ensign, July 2015.
8. Luke 15:29.
9. Jeffrey R. Holland said: "Remember that God is on your side. He is not an angry, vicious God trying to trip you. He is for you—not against you. He is your Father. He is anxious to do everything possible to bless you. He hears your prayers and desires to make your life all that it can be." ("Holding on to Hope," May 22, 2021.)
10. Quentin L. Cook, "Reaping the Rewards of Righteousness," Ensign, July 2015.
11. L. Whitney Clayton, "The Finest Homes," Ensign, May 2020.