For more incredible artwork from apostles, check out Photo Gallery: Art of the Apostles.
Image from Mormon Newsroom.
About 50 years ago, Elder Richard G. Scott went with his wife, Jeanene, to visit a friend and commercial artist.
"It was fascinating to me," Elder Scott told the Church News. "I decided I wanted to try that. I did, and I was not very successful. Then I heard of an art teacher who was coming to town. I took four lessons from him, which equipped me with greatly improved skills and understanding about art."
As the years went on, he appreciated the creative process of painting more and more. "I've found that when you're doing something like painting, a creative part of your brain opens; you gain insight and perspective about many things. For me, painting clears my mind. I think we discover we're capable of things we've never dreamed of," he said.
See for yourself what Elder Scott has accomplished through his endeavors to learn watercolor:
The model for Little Daisy Girl is the daughter of Elder John B. Dickson of the Seventy and his wife, Delores J. Dickson. Photo from LDS Church News.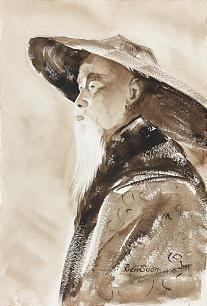 Chinese Man was painted for President Gordon B. Hinckley because of his love for Asian people. Photo from LDS Church News.
African Plain conveys the presence of beauty even in desolation. Photo from LDS Church News.
Bolivian Boy at the Fence is based on a boy Elder and Sister Scott met while traveling in Bolivia. The boy had a severe skin disease with sores all over his face; his eyes were painfully closed. Elder Scott gave the boy his sunglasses to help ease the pain. Photo from LDS Church News.
This painting titled Barns, captures a setting in rural Maryland. Photo from LDS Church News.
Campfire at Sunset conveys peace and comfort through obedience to the teachings of the Savior. Photo from LDS Church News.
Jeanene in Pioneer Dress shows Elder Scott's beloved wife celebrating her pioneer heritage out in a garden. Photo from Deseret News.
Huntington Parkway is the scene of the street in Bethesda, Maryland, that Elder Scott saw on his way home from work; his home was just around the corner. Photo from Deseret News.
Surfer conveys the need to be aware of circumstances around us. The gigantic wave represents trials and temptations. "We may be placidly moving through life unaware of overpowering challenges that will come upon us unless we consistently seek guidance from the Holy Ghost," Elder Scott said. Photo from Deseret News.