Oftentimes within the restored Church of Jesus Christ, missionary work can have a negative connotation attached to it, being perceived as an overwhelming obligation rather than a blessing or an opportunity.
Perhaps it's because we don't know where to start. We may not know how to share the gospel with those around us and, therefore, never seem to get around to it. Maybe we've been turned down too many times or have already tried to share it with everyone we know. Lastly, it's possible that we, through our mortal lenses, think to ourselves that we can't make a difference, that we can't be good missionaries, or that our efforts will go unnoticed.
Although it may be hard at times to have perspective in the eternal scheme of things, it's important to remember that the Lord "is able to do [His] own work" (2 Nephi 27:20).
Brother Razzaq Gill, the first missionary of the Church and one of the first converts from Pakistan, is both a recipient and a proponent of this declaration made by the Lord. Brother Gill has strived to be a member missionary his entire life, ever since learning about the restored gospel.
Brother Gill was born and raised in Sialkot, Pakistan, where he grew up with six brothers and one sister. His family was very devout in the Catholic faith. As Gill grew older, he decided to study to become a priest in Catholicism. While studying at Saint Mary's Seminary, he met a man named Steven Anjum. These two became great friends for the next several years as they spent time together in youth programs and studying the Catholic faith.
Brother Gill with Mother Teresa.
Gill's education, however, was not what he was expecting. It wasn't the quality that he had hoped for, so he dropped out after four years in the program and became a chef at a 5-star hotel. One day after attending a Christian conference together, both Gill and Anjum decided to grab some food. Anjum didn't know that Gill was a chef at a fancy hotel at the time, so Gill decided to take his dear friend to the hotel where he worked. After much convincing on the part of Gill that they would be able to afford to eat there that day, they sat down at a table and Gill ordered waters, left his friend so he could change into his chef attire, made them both a meal, and surprised Anjum with his new occupational role as they ate together.
After the meal, Anjum also had a surprise for his friend, which would end up changing his life forever.
"He (Steven Anjum) said, 'Okay, you gave me one treat, one surprise. I [will] give you one surprise.' I said, 'Okay, what will you do?' He opened his bag and he gave me a Book of Mormon," recalls Gill. "I was reading and I asked [Steven] if he knew anyone in [Pakistan] to talk about it. And after a few months later we found one address, Brother Bob Simmons. His family was living in Islamabad and was working at the American Embassy. We went there together and saw them for the first time. They were surprised and started teaching me the gospel of Jesus Christ."
Little did Gill know, however, about the story behind the Book of Mormon that was gifted to him.
A Book of Mormon's Journey
A few years prior, halfway across the globe in Provo, Utah, a man by the name of Sean Dixon was a senior at Timpview High School in 1988. During missionary week, the seminary program at Timpview asked the youth to purchase a paperback copy of the Book of Mormon and to write their testimony within the front page with their return address. The books were then sent to Church Headquarters in Salt Lake City to be sent out to missionaries who were serving throughout the globe to share them with those they were teaching.
Somehow, someway, Dixon's copy of the Book of Mormon ended up in the hands of a Christian ministry in England. Shortly after the book arrived, a man from Pakistan, who was studying to become a pastor, attended a training at this ministry in England and came in contact with Dixon's Book of Mormon for the first time. Some of the training that this Pakistani man was given was to "warn the world about the evils of [the Book of Mormon]."
Following the training, the man took Dixon's copy of the Book of Mormon with him back to Faisalabad, Pakistan, and started his own church, the Philadelphia Church. This is where Steven Anjum came into the picture. In Anjum's own words, he shares how he first came into contact with the Book of Mormon:
"[The] pastor's younger brother was my best friend in those days, and one day he shared with me that his eldest pastor brother has brought a disgusting Bible which is from a bad church. One evening, I was with my friend in the pastor's church when the pastor spoke about the Mormon Church and even showed the people the book's cover. After their church meeting, I asked the Pastor, 'Have you read this book?' and how he [knew] that [the Book of Mormon] is a bad book. Later, I asked my friend if I can borrow the book for study. The next day my friend hand over the book to me. When I saw the book and its title 'Another Testament of Jesus Christ,' I heard the whisper of the Holy Ghost in my heart telling me that this [is a] very special book and inviting me to read this book. For the next two months, I was trying to find the purpose of this book, who wrote this book and what is the purpose of this book. I had many questions in my mind, but there was no one who could answer my questions except the Holy Ghost. I started research with prayer and one day, I was praying at and at once I understood the purpose of the book, and it was revealed to me that this book was a true book. I found that it is a powerful witness of Jesus Christ. . . . After a couple months, I met the pastor and asked him where Mormon lives and I talked with him about the revelation of Jesus Christ and told [him] this book talk[s] about Jesus Christ. The pastor did not like my interest in that book and asked me to return his book. Before returning the book, I noted down the postal address and name of the person written on the backside of the book. The name was Sean Dixon, and I hurriedly noted it down and returned the book."
Using Dixon's return address, Anjum then reached out to Brother Dixon in Utah in 1989 for more copies of the Book of Mormon. Dixon then sent Anjum a box full of copies of the Book of Mormon so that he could share them with his friends in Pakistan. He took full advantage of the opportunity when he met with his dear friend Gill in 1990.
When the Church's Missionary Department learned about Anjum's letter to Brother Dixon, they contacted the Area Presidency over that section of the world. The Area Presidency then sent a letter to Anjum with the Simmons' address.
Gill receiving a Book of Mormon from his dear friend was only the beginning. After meeting the Simmons family, Gill and Anjum went out and started their own missionary work, gathering their friends and family and bringing them to the Simmons' home for church meetings. Although there were restrictions against teaching Muslims due to safety concerns, they reached out to as many Christian friends as they could, helping the Church grow in Pakistan.
Gill and Anjum were able to bring 30 investigators to the Simmons' home in Islamabad throughout 199. Gill was taught for about three months before he was baptized a member of the Church. He, along with others, wanted to be baptized earlier, but Brother Simmons needed to receive permission from the Church to perform the baptisms. Elder Merlin R. Libbert, the Area President in Hong Kong at the time, gave permission for Gill to be baptized in the spring of 1991. Razzaq was one of the first 25 converts who were baptized in Pakistan, all 25 baptisms taking place in the Jhelum River.
Becoming a member of the Church wasn't always easy on the converts, however.
"Sometimes we had hard times, you know?" Gill admitted. "They say, 'You change religion.' Even my family, you know, they give me a hard time. For one year, they had no communication with me [after my baptism]. But after that, I said that we are still Christian, and they [were] okay."
Missionary Work All Over the World
After Gill was baptized, he and Robert Simmons wrote a letter to then-President Ezra Taft Benson to have the area of Pakistan opened for missionary work. The proposal was initially declined due to the complication of openly proselytizing Christianity in a Muslim country. In June of 1992, multiple apostles came to dedicate the land for missionary work, including then-Elders Neal A. Maxwell and Russell M. Nelson. On their way to Pakistan, President Benson called them, notifying them that it wasn't the right time for the land to be dedicated yet. The apostles still came, meeting with the Saints and leaving a blessing.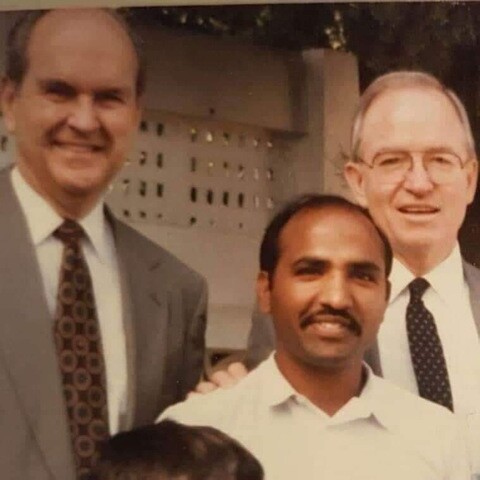 Brother Gill, then-Elder Russell M. Nelson, and Elder John K. Carmack on a visit to Pakistan.
This didn't stop Gill from sharing the gospel. He was the first missionary from Pakistan to serve outside of his native country and was the only one to serve a mission from the first 25 converts who were baptized in 1991. Gill served his mission in the England Birmingham Mission from 1993 to 1995.
Then-Elder Gill and Elder Jeffrey R. Holland when Razzaq was serving his mission in Birmingham, England.
Meanwhile, five branches were opened in Islamabad, Sialkot, Faisalabad, Lahore, and Kirachi, and groups of members met in Taxila and Gujranwala. The land was opened and dedicated for missionary by then-Elder Dallin H. Oaks in 2007, where the Church still continues to grow at a steady pace.
"The Church in Pakistan is growing very well," said Gill. "I went back in December [2018] and I go to the church there in a different ward to visit and just see. And I was so happy to see, you know? The Sialkot Branch when we [were] there we would meet in one brother's home. But now we have a big house we rent out and have a couple missionaries. The members go and bring the people and the missionaries teach [investigators] in the home."
To this day, Gill still carries a Book of Mormon with him everywhere he goes. He teaches the gospel on social media apps with missionaries all over the world in different languages, such as Urdu, Hindi, Punjabi, English, and Italian. If he doesn't speak the language of the investigator, he will point the missionaries in the direction of someone who does so that those seeking truth have the resources they need.
"I am teaching everywhere they need me," said Gill. "I am not a full-time missionary, but I am still a missionary. I teach every day every moment. . . . I love to do missionary work. I know when we teach the gospel to anyone that God blesses me and also my family. . . . This is a blessing because I have a nice wife, nice children. This is the blessing of God, you know? I have a happy family."
Razzaq Gill's family: Cinzia, Razzaq, Angelo, Samrana, and Ilaria.
Gill has served in a branch presidency, elder's quorum presidency, Sunday School presidency, as ward mission leader, and is now a stake missionary in his home stake in Friedrichsdorf, Germany, where he resides with his family in Wiesbaden. His family consists of his wife, two girls, and one boy.
One of the main takeaways from Brother Gill's life is that God can and will use us to bring about great things, even miracles. Sharing the gospel can be tiresome, nerve-racking, and difficult. However, our efforts will not go unnoticed. Simple acts (like writing your testimony in a Book of Mormon and dropping it off in a bin) can literally change thousands of lives forever. So, the next time you feel that your efforts aren't enough, remember that God is a God of miracles and will make things happen if you try.
Another lesson from Gill's story is that no matter our circumstances or where we are in the gospel, we can do what we can to share it. We can be enthusiastic about the gospel. We can reach out to others and try to help wherever we live. God is at work softening the hearts of those around us. Look at the good that came from one friend sharing the Book of Mormon in Pakistan.
Because of these simple acts of faith by Anjum, Dixon, Gill, and Simmons, along with countless other miracles brought about by other faithful members in that part of the world, more than 6,000 members of the Church now live in Pakistan in 13 branches and three districts. I hope that we can all, in our own little ways, find the time and the effort to spread the gospel so that the Lord can bring about great things through our hands.
Brother Gill attending general conference for the first time at the Conference Center in Salt Lake City, Utah.
"I think that every member must be missionary," said Gill. "If we have missionaries and members together work, it will be good. We need it everywhere, not only in Germany or Pakistan or India. Even [in Utah]. Not everybody is a member. They need to also [have] the gospel of Jesus Christ. If you work together, maybe you can do this, you know? We have opportunities."
All images courtesy of Razzaq Gill