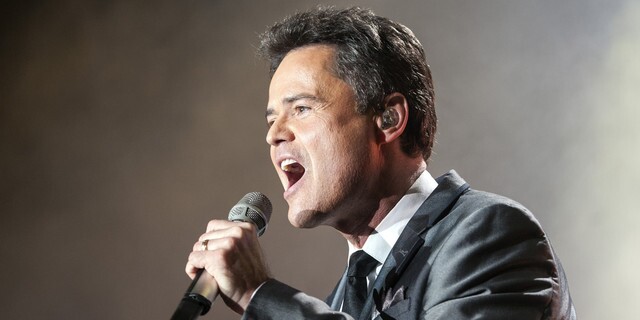 Donny Osmond has been making the rounds in Mormondom for years—and proving to the world that Mormons really do have more fun! From the Donny & Marie Show to the Hill Cumorah Pageant, Donny sure has showed that he's up for anything. (And we all know that every Mormon can be traced to Donny Osmond in fewer than 3 degrees!) Now's your chance to prove how well you know your Donny Osmond trivia!
Which of his contemporaries was Donny friends with?
a. Shaun Cassidy
b. John Travolta
c. Michael Jackson
d. David Cassidy
Lead image from Huffington Post


Answer: Michael Jackson
Including his solo albums and his albums with his siblings, albums has he recorded?
a. 15
b. 25
c. 40
d. 60+


Answer: 60+ albums! That's what happens when you're insanely talented. Buy some of his albums at deseretbook.com.
What's one of his little-known talents?
a. Sword swallower
b. Programming guru
c. Tight-rope walker
d. Expert sailor


Answer: Programming guru. He designs computer systems for his live show, and he recently released his very own app called "Donny Osmond." Get it at donny.com!
How many years did he play Joseph in the Broadway production of Joseph and the Amazing Technicolor Dreamcoat?
a. 3
b. 6
c. 8
d. 11


Answer: 6 years. Donny played the title role of Andrew Lloyd Webber's hit Broadway show, and he also played Joseph in the 1999 film version.
Which reality TV show did Donny win?
a. Fear Factor
b. Celebrity Jeopardy
c. Dancing with the Stars
d. Celebrity Mole


Answer: Dancing with the Stars! Donny won the ninth season of the show with his partner Kym Johnson. Although, he was a finalist on Fear Factor—but not the winner. (Photo from IMDB.com)
How old was Donny when he made his TV debut?
a. 3 years old
b. 5 years old
c. 9 years old
d. 12 years old


Donny's First TV Appearance
Answer: 5 years old. Donny debuted with his family on the Andy Williams Show when he was only 5 years old!
Besides Joseph in Joseph and the Amazing Technicolor Dreamcoat, what other role did he play on Broadway?
a. Gaston from Beauty and the Beast
b. Danny from Grease
c. Harold Hill from The Music Man
d. Seymour from Little Shop of Horrors


Answer: Gaston from Beauty and the Beast. In 2006, Donny played the cocky Gaston on Broadway. We're sure he was definitely a show stopper! (Photo from Spokeo.com.)
What game show did he host?
a. Hollywood Squares
b. The Newlywed Game
c. Pyramid
d. The Price Is Right


Answer: Pyramid. Donny hosted the iconic show from 2002 to 2004. (Photo from Thanksforthemusic.com)
How many children does Donny have?
a. 2 girls, 2 boys
b. 5 girls
c. 1 boy, 2 girls
d. 5 boys


Answer: 5 boys—Donny Jr., Jeremy, Brandon, Christopher, and Joshua.
What color socks is Donny famous for sporting on his feet?
a. Yellow socks
b. White socks
c. Purple socks
d. Orange socks


Answer: Purple socks!
Who did he and Marie take martial arts classes from in order to improve their dance skills?
a. Jackie Chan
b. Bruce Lee
c. Jean-Claude Van Damme
d. Chuck Norris


Answer: Chuck Norris! The Osmonds took lessons from Norris to toughen up their dance moves! (We know the video is really bad quality, but it really is Donny and Chuck, duking it out! And of course, it's got that epic 70s feel!)
How many did you get right? How big of a fan are you?
Got all 11 right: Congratulations! You are an honorary Osmond! You're a hard core fan. You've seen Joseph at least 20 times and you grew up watching the Donny & Marie Show every day. You can even name all 7 of Donny's brothers.
Got 7-10 right: You've definitely earned your purple socks. You're very familiar with Donny's career, own most of his 60 albums, and have even been to a few of his concerts.
Got 4-6 right: You're a Donny fan, but by no means a Donny-aholic. You've heard his songs, but never thought to buy his albums.
Got 1-3 right: Sorry! Looks like you need to brush up on your Donny trivia.