If you're looking for quality literature to share with your kids or to read for yourself, check out these amazing Latter-day Saint authors who have made The New York Times Best Seller list. From Brandon Mull to Richard Paul Evans and Stephenie Meyers, Latter-day Saints have definitely made their mark in the literary world over the years for anything from children's books to self-help volumes. Check them all out here and let us know if we missed any!
1. Brandon Mull
In 2006, Brandon Mull made a splash in the fantasy genre with the release of his first novel, Fablehaven. Enchanting readers with his world of magical creatures, the five-book series became a New York Times best seller, debuting at #6 on the "Children's Series" list in 2012.
Since then, Mull has written several more best sellers, including Beyonders: A World Without Heroes—which hit the #1 spot in 2011—and Wild Born, the first in a multi-platform, multi-author series
Mull collaborated on—which rose to #2 on the "Children's Middle Grade" list in September 2014. To date, Mull's stories have been translated into more than 30 languages.
While some may wonder if Mull found success as a writer in spite of his LDS faith, he says his success, in large part, is because of it. "So far, being a Mormon has only seemed to benefit my career," he says."I write family-friendly fantasy in the tradition of Harry Potter, so my publishers encourage me to keep the content clean. And my membership in the LDS Church has given me personal insights into principles that I can incorporate in my stories."
In fact, Mormon readers will recognize many spiritual themes in Mull's novels. "As conscientious characters face difficult choices, themes will naturally arise," he says. "In Fablehaven, an obvious theme is choice and consequence. In the new sequel series, Dragonwatch, I explore how people can endure hardships by rising to the occasion in challenging circumstances. I love to investigate heroism [and] explore issues surrounding trustworthiness. In book four of my Five Kingdoms series, some of the characters visit a fantasy version of the afterlife, which is different than anything I have attempted and certainly had spiritual overtones."
With his worldwide popularity and fan base, Mull is happy to share his beliefs when asked. "I have felt the Savior's help in my life and in my career in real ways and am not shy about sharing that I believe He really can help and save us."
► You'll also like: Just Asking: Interview with Best Selling Mormon Author Brandon Mull
► You'll also like: Fablehaven: Brandon Mull Reveals 5 Little-Known Facts
2. Shannon Hale
Shannon Hale's Princess Academy became a New York Times best seller almost from the moment it debuted in 2005. The second book in the series, Palace of Stone, debuted at #8 on the "Children's Chapter Books" list in 2012, and the third book, The Forgotten Sisters, was released in 2015.
A mother of four, Hale has authored or co-authored more than 20 books. "There are books I've written because I couldn't find the right book for my child to read, so I thought I'd better write it," she says. "Having kids while writing for kids is a constant and valuable reminder of what really matters—spoiler: it's not me."
Whether writing for children or adults, Hale's LDS faith is often reflected in her stories. "Everything I am, everything I think about and believe, naturally infuses itself into my writing," she says. "There is a scene in The Goose Girl that was directly inspired by the story of Ammon."
Hale's novel Austenland was made into a movie in 2013 starring Keri Russell and Jane Seymour. While filming the movie, Hale, LDS author and producer Stephenie Meyer, and LDS director and screenwriter Jerusha Hess all attended church together. Hale also had a cameo as an extra in the movie.
But Hale says her success has not come without some criticism. "I have been verbally attacked on occasion—not for what I've said or done but based on my membership in this church," she says. Hale has also received emails from upset Church members who felt something she wrote was inappropriate. "Being LDS does shine a bit of a spotlight, and people both in and out of the Church might judge me a little more closely for it," she explains. "One thing I've learned is that there is no 'typical' or 'ideal' Mormon. Judgment comes when we make that faulty assumption."
3. Jeff Benedict
Jeff Benedict is the author of more than a dozen critically acclaimed nonfiction books, including New York Times best seller The System: The Glory and Scandal of Big-Time College Football (which is also being developed into a television drama by Starz), The Mormon Way of Doing Business, My Name Used to be Muhammad: The True Story of a Muslim Who Became a Christian, and Make a Choice: When You Are at the Intersection Between Happiness and Despair.
Benedict was studying to become a lawyer in the mid 1990s when his thesis on athletes and violence against women gained national attention. "The New York Times covered my thesis. Before long, I was being interviewed by CBS Evening News, 48 Hours, and a slew of other national media outlets," he recalls. "Writing had given me a platform to talk to millions of Americans. That's when I decided to change my plans from being a lawyer to being a writer."
Benedict has written several articles for Sports Illustrated, The New York Times, and the Los Angeles Times and has made several appearances on various television shows. He has done stories on several famous Mormons, including Mitt Romney and NBA star Jabari Parker.
"There was a period for a few years where almost everything I was doing had some relationship to my own religion," he recalls. "I liked the fact I was writing about [the LDS faith] for a commercial audience. I took that responsibility very seriously—to carry a message that was accurate but also compelling." He adds, "For someone who didn't set out to be a writer, I feel really fortunate to be doing what I'm doing."
His most recent book, QB: My Life Behind the Spiral, was written with Mormon NFL legend Steve Young. It became a New York Times best seller by the end of 2016, reaching the #13 spot. Benedict is currently the director of the Institute for Writing and Mass Media at Southern Virginia University.
4. Richard Paul Evans
While working as an advertising executive, Richard Paul Evans wrote his first novel, The Christmas Box. Unable to find a publisher, he self-published the story in 1993. The book became a local best-seller, and after Evans released the book nationally, it rocketed to #2 on the New York Times Best Seller list. Since then, it has been made into a TV movie starring Richard Thomas and Maureen O'Hara and inspired The Christmas Box International, a charity that provides shelter and care for abused and neglected children.
His novels Timepiece, The Locket, and A Perfect Day have also been made into TV movies starring major actors, including James Earl Jones, Vanessa Redgrave, Rob Lowe, and Christopher Lloyd.
Author of more than 30 best sellers, Evans hit the #1 spot on the New York Times "Children's Chapter Books" list in 2011 with the first novel in his Michael Vey series. He has received numerous awards, including the Washington Times Humanitarian of the Century Award and the Volunteers of America National Empathy Award. Evans lives in Salt Lake City with his wife, Keri, and their five children.
5. Stephen R. Covey
Stephen R. Covey's The 7 Habits of Highly Effective People: Powerful Lessons in Personal Change hit #1 on the "Advice, How-To & Miscellaneous" list immediately after it was published in 1989. In 2002, Forbes called the book one of the top 10 most influential management books of all time, and today more than 25 million copies have been sold. U.S. President Bill Clinton even invited Covey to teach him how to incorporate the seven habits into his presidency.
Covey entered the University of Utah at age 16 and earned a degree in business administration. He served a mission in the British Isles and went on to earn an MBA from Harvard. In 1962, when he was just 29 years old, he was called to be the first mission president in Ireland. Afterward, he earned his doctorate from BYU in religious education and also taught as a professor of business management there. In 1983, Covey founded the Covey Leadership Center, which later merged with Franklin Quest to become FranklinCovey. He is also the author of several other books, including The Eighth Habit, Principle-Centered Leadership, and First Things First. He passed away in 2012 due to complications from a bicycle accident.
6. Mitt and Ann Romney
Both Mitt Romney and his wife, Ann, have had books on the New York Times Best Seller list. Former Republican presidential candidate Mitt Romney's book No Apology: The Case for American Greatness debuted at #1 on the New York Times Best Seller list when it was released in 2010. Founder of Bain Capital and former governor of Massachusetts, Mitt Romney also led the 2002 Salt Lake Olympics to success. He and his wife have 5 sons and 23 (and counting!) grandchildren.
Ann Romney's book The Romney Family Table spent three weeks on the New York Times "Advice, How-to & Miscellaneous" list in 2013, following its release in October of that year. In the book, she shares family recipes and family traditions and reflects on her many years as a mom, describing some of her favorite—and not-so-favorite—moments as a mother.
She was diagnosed with multiple sclerosis in 1998 and has gone on to spearhead efforts to combat MS. She is also the author of Whatever You Choose to Be and In This Together, her inspiring and heartfelt memoir.
► You'll also like: Romney Family Favorite Recipes
► You'll also like: Reflections from Ann Romney
► You'll also like: Ann Romney Shares Her Battle with MS During 2002 Winter Olympics
7. Glenn Beck
One of the most recognizable conservative talk show personalities in history, Glenn Beck is the author of An Inconvenient Book: Real Solutions to the World's Biggest Problems, The Overton Window, and The Christmas Sweater, which have all hit #1 on the New York Times Best Seller list. In fact, he is one of the few authors to have #1 best sellers in the fiction, nonfiction, self-help, and children's picture book genres.
Beck began his broadcasting career at age 13, working as a radio DJ. Today, The Glenn Beck Program is one of the highest-rated radio programs in America, and TheBlaze TV is one of the world's largest streaming video networks. In addition, Beck has been the host of his own show on CNN and on Fox News.
Beck joined the LDS Church in 1999 after years of drug abuse, alcoholism, and loneliness. "The great thing about the gospel is that we know the end of the story," he told LDS Living. "That's why I've changed. My perspective has totally changed."
8. Jason F. Wright
Jason Wright's book Christmas Jars was a surprise hit when it was first published in 2005. By 2007, it had become a New York Times best seller—the same year his novel The Wednesday Letters also became a New York Times best seller.
The author of more than a dozen novels, Wright has made several appearances on CNN, Fox News, and other local television affiliates around the country.
When asked what challenges he's faced as a writer, Wright told LDS Living, "I've had deals canceled or never quite pushed across the finish line because of my faith. I've also faced pressure to 'spice up' a couple of my novels to better fit the times and tastes of readers. But because my mother and wife are my two most important fans, I've never taken the advice seriously."
Wright travels the country speaking about faith, service, and the lost art of letter writing.
"I work hard to sprinkle a bit of my faith into every speaking engagement, particularly when speaking to Christian audiences," he says. "This often leads to some wonderful conversations about what I believe and why it drives everything I do."
9. James Dashner
James Dashner is the author of the #1 New York Times best selling series The Maze Runner. The series has sold more than 6.5 million copies worldwide, and the books are currently being made into movies. The Maze Runner debuted in theaters on September 19, 2014, and the second installment, The Scorch Trials, premiered in September 2015.
Dashner is also the author of The 13th Reality series, the Infinity Ring series, the Mortality Doctrine series, and the Jimmy Fincher Saga series.
He was born in Georgia and graduated from BYU with a master's degree in accounting. He and his wife, Lynette, have four children and live in Utah. His favorite authors include Stephen King, Tad Williams, Robert Jordan, Dean Koontz, Tom Clancy, Dan Brown, and Orson Scott Card.
10. Linda and Richard Eyre
This husband-and-wife team are the authors of several parenting books, including Teaching Your Children Values, which made it to #1 on the New York Times "Advice, How-To & Miscellaneous" list in May of 1993. As a result, the couple has made several television appearances on shows like Oprah, The Today Show, Prime Time Live, 60 Minutes, and Good Morning America. And they once did regular segments on the CBS Early Show.
"The Church frequently comes up. We love when this happens and love to share how much the support system and values of the Church help with parenting and families," they share.
The Eyres have also done countless speaking engagements in 45 countries, and they currently write a weekly column for the Deseret News.
Richard received an MBA from Harvard and became the president of his own management consulting company, which worked with national political candidates. He also served as president of the England London South Mission. His wife, Linda, is a teacher, musician, and cofounder of the international joyschools.com—a do-it-yourself co-op and program for teaching preschoolers the joys of life. They are the proud parents of nine children.
11. Ally Condie
A graduate of BYU, author Ally Condie is best known for her New York Times best-selling Matched series. The dystopian trilogy moved quickly to the #1 spot on the New York Times "Children's Series" list, where it spent 15 weeks in 2012 and 2013.
Condie's newest novel, Summerlost, was released in the spring of 2016. "[It's] about a girl and a boy falling in friendship in a town based on my hometown of Cedar City, Utah," Condie shares. "It just got nominated for an Edgar Allan Poe Award, which is an award given by the Mystery Writers of America for the best mysteries written each year. I'm a huge mystery junkie, so I was thrilled about that!"
She also recently founded a nonprofit writing camp for teens—writeoutcamp.org. "We're taking teenagers hiking and to a Shakespeare play, and they'll be able to work with published authors," she explains.
Condie, who has served in Young Women for the past three-and-a-half years, says, "I am completely blown away by the strength, integrity, and good-heartedness of our youth. It's my privilege to serve them and to write for them."
12. Stephenie Meyer
Stephenie Meyer is the author of the Twilight series—a pop culture phenomenon that became a successful movie franchise. Meyer, a mother of three boys, wrote the first book after having a very vivid dream in June 2003 featuring seemingly real characters that she couldn't get out of her head.
Her first novel, Twilight, debuted at #5 on the New York Times Best Seller list in 2005. The sequel, New Moon, was released in September 2006 and spent more than 25 weeks at #1. The third book in the series, Eclipse, was one of the most highly anticipated books of the decade, and Breaking Dawn, the final book, sold 1.3 million copies in the first 24 hours of its release.
Meyer's stand-alone science fiction romance, The Host, debuted at #1 on both the New York Times and Wall Street Journal best seller lists in 2008. Since then, she has founded her own movie production company and spent much of 2011 producing parts of Breaking Dawn and Austenland. In 2015, she announced that she will be producing a TV series based on Daniel O'Malley's book The Rook.
13. Jennifer A. Nielsen
Jennifer Nielsen fulfilled a lifelong dream when The False Prince, the first book in her Ascendance trilogy, became a New York Times best seller in 2013.
Nielsen wrote on her blog, "Since becoming published, I've kept one big goal close to my heart. . . My editor called me the other day. . . her message was something to the effect of, 'I have big news. And it's so good I don't want to leave a message. Call me back.'"
When Nielsen called her editor back, she received the news that her book had reached #14 on the "Middle Grade" list. Her new book in the Mark of the Thief series, Rise of the Wolf, was released on January 26, 2016.
Nielsen was born and raised in northern Utah, where she still lives today with her husband and three children. She loves chocolate, old books, and lazy days in the mountains.
14. Lindsey Stirling
A little over a week after hitting the shelves this January, Lindsey Stirling's autobiography, The Only Pirate at the Party, hit #10 on the New York Times Best Seller list for hardcover nonfiction.
As the highest paid female YouTuber, Stirling's rise to fame and success did not come easily. After being voted off of America's Got Talent, she went on to amass more than 10 million social media fans, record two full-length albums, release multiple hits with billions of YouTube views, and tour sold-out venues across the world. Throughout her journey, Stirling has battled depression, an eating disorder, self-doubt, public criticism, and even hatred and persecution for her faith. But standing by what she knows is true and through the help of the Atonement, Stirling has overcome her trials and hopes her story can uplift others.
► You'll also like: 9 Mormons with Millions of YouTube Followers: Lindsey Stirling
15. Christine Feehan
Author of more than 40 novels, Christine Feehan is a #1 New York Times best selling author multiple times over. Her books Dark Curse and Dark Slayer both made the New York Times Best Seller list, and all five of her book series have reached the top spot on the list as well.
Feehan grew up in California as one of 14 children and would often get in trouble for writing during class. Her first novel, Dark Prince, was published in 1999 and received three of the nine Paranormal Excellence Awards in Romantic Literature. She has appeared at numerous writers conventions and now even has her own fan convention.
An avid lover of the outdoors, she is also involved in martial arts. She holds a third-degree black belt and has instructed both Korean karate and self-defense. She and her husband, Richard Feehan, live in California and have 11 children.
16. Anne Perry
London-born Anne Perry is the author of over 50 crime novels, several of which are New York Times best sellers. Her first novel, The Cater Street Hangman, was published in 1979 and was made into a made-for-television movie in 1998. Though her topic seems unconventional for an LDS writer, she shared in a 1984 Ensign article, "I write to share what I believe. . . . We are retreating from life and our responsibility if we stay with what is comfortable and nice. We can't be like the priest and the Levite and pass on the other side of the victim. We must get down and bind up the wounded, whether in flesh or in spirit. Our Lord did."
When she was 8 years old, she was diagnosed with tuberculosis and spent several years in the Caribbean and South Africa in hopes that the warmer climate would improve her health. She later moved to the United States, where she joined the Church in 1968.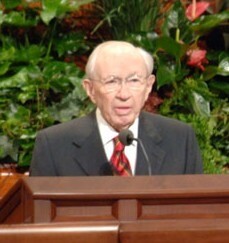 17. Gordon B. Hinckley
President Hinckley's book Stand for Something: 10 Neglected Virtues That Will Heal Our Hearts and Homes became a New York Times best seller in 2000 in the "Advice, How-to & Miscellaneous" category. It also received the 2000 Devotional Award from the Association for Mormon Letters.
President Hinckley was the 15th president of The Church of Jesus Christ of Latter-day Saints. His life was spent in the service of others and the Lord and his enthusiasm for the gospel was reflected in his writings such as Stand a Little Taller andWay to Be! 9 Ways to Be Happy and Make Something of Your Life.
► You'll also like:6 LDS Authors Whose Books Became Movies
18. Brandon Sanderson
A Nebraska native, Brandon Sanderson enjoyed reading as a child but couldn't find any books that excited him. That is until his teacher gave him Dragonsbane by Barbara Hambly. After that, he went in search of anything similar and even began writing his own fantasy adventure stories. His first attempts, he says, were awful.
Sanderson started out as a chemistry major, but while on his mission, he realized English was his true passion. While going to school, he worked nights as a hotel desk clerk because they allowed him to write while at work. During this time, he completed seven novels and became editor-in-chief of Brigham Young University's science fiction/fantasy magazine. His first published novel, Elantris, was released in 2005 and was followed by the Mistborn trilogy and The Way of Kings—the first book in his projected 10-volume series, The Stormlight Archive. In 2014, the second book in The Stormlight Archive series, Words of Radiance, hit the #1 spot on the New York Times Best Seller list.
"With the Mistborn books, I wasn't ever trying to be overtly LDS. Yet my values shape who I am and what I determine to be important. I then end up having characters who deal with these same things," he told theoryland.com.
In 2016, Sanderson landed a multimillion-dollar movie deal with DMG Entertainment for his fantasy universe. The first film, an adaptation of The Way of Kings, is already in the works.
19. Orson Scott Card
Did you know that the author of Ender's Game is a great-great-grandson of Brigham Young?
Orson Scott Card was born in Washington state in 1951 and grew up in California, Arizona, and Utah. He spent his childhood reading and performing in plays. It was his experiences in the theatre that got him interested in writing and storytelling. His most famous novel, Ender's Game, made the New York Times Best Seller list not once but twice—first in 1985, when the book was first published, and again in 2013 ahead of the release of the blockbuster adaptation starring Asa Butterfield and Harrison Ford. Ender's Game was just the first; Card expanded the Ender's Game universe with 11 more novels, including Children of the Mind and Ender in Exile. He has also ventured into other genres with his horror novels Treasure Box and Lost Boys.
Card served his mission in Brazil and attended BYU, graduating with a degree in theatre. He became become a staff editor at the Ensign and eventually married Kristine Allen in 1977. They have five children. Card teaches writing and literature at Southern Virginia University and currently lives in Greensboro, North Carolina, where his primary activities include writing and feeding birds and squirrels on the patio. His latest book, Gatefather, was released on October 20, 2015.
20. Chris Stewart and Ted Stewart
Brothers Chris and Ted Stewart have had two books make it onto the New York Times Best Seller list: Seven Miracles That Saved America and The Miracle of Freedom: 7 Tipping Points that Saved the World.
"[We] needed to write a book about some of the miraculous events in U.S. history to help people understand that God cares about our country," Chris Stewart told LDS Living.
Chris Stewart, a U.S. congressman for Utah's 2nd District, is the author of more than a dozen books, including his popularGreat and Terrible fiction series. He is a former Air Force pilot who set a record for the fastest nonstop flight around the world.
He graduated from Utah State University and served a mission in Texas. Before being elected to Congress, he was the CEO of the Shipley Group, a nationally recognized consulting company. Stewart serves as a member of the House Appropriations Committee and the House Permanent Select Committee on Intelligence. He and his wife, Evie, are the parents of six children.
Ted Stewart is a senior United States district judge sitting on the United States District Court for the District of Utah. A lawyer and veteran of the Army Judge Advocate General's Corps, he graduated with a B.S. from Utah State University before going on to receive his law degree from the University of Utah. He worked as a lawyer in Salt Lake for six years and then worked as an assistant to Senator Orrin Hatch in 1980. He also served as a commissioner on the Public Service Commission of Utah from 1985 until 1982.
He was appointed as a federal district court judge by President Clinton in 1999 and has been serving ever since. He is also the author of The Mark of a Giant: 7 People Who Changed the World.
21. Dan Wells
"I was born in 1977, on March 4th—the only day of the year that's also a sentence, so I may have been predestined to be a writer," Dan Wells shares on his website.
He grew up in Utah and began writing in elementary school with a story based on the Choose Your Own Adventure series. Since then, he has made a name for himself in the young adult genre. His Partials series made the New York Times Best Seller list in May of 2014.
His book I Am Not a Serial Killer was recently made into a movie starring Christopher Lloyd and Laura Fraser and is scheduled to be released later in 2016. He also does a weekly podcast called Writing Excuses with fellow New York Times best selling author Brandon Sanderson, Howard Tayler, and Mary Robinettee Kowal.
Wells graduated with a bachelor's degree in English from BYU and served a mission in Mexico. He and his wife have five children and live in Utah.
22. Larry Correia
Larry Correia says on his website, "I was that one kid that always had a book in my hands and was usually reading at recess instead of actually doing stuff."
He was raised on a California farm but moved to Delta, Utah, with his family halfway through his senior year of high school. He attended Utah State University, where he was introduced to the Church. He was baptized and served a mission in Alabama. After two years of what he calls, "soul-crushing" humidity, he returned to Utah and became a CPA.
He wrote his first novel while working as an accountant in Salt Lake City, Utah, and began to get articles published in gun-enthusiast magazines. He self-published Monster Hunter International and unexpectedly made it onto the Entertainment Weekly best seller list in 2008. It was re-released in 2009, and the second and third book in the series made it onto the New York Times Best Seller list. He is also the author of the Grimnoir Chronicles series and Dead Six. He lives in northern Utah with his wife and four kids.
23. Jessica Day George
It's all about the books for Jessica Day George. On her website, she says, "My criteria for choosing a purse is that it must be able to fit a paperback book inside."
Her first book, Dragon Slippers, was a 2007 Whitney Award winner in the Best Book by a New Author category, and her book Sun and Moon, Ice and Snow was nominated for a Whitney Award in 2008. Her book Princess of the Midnight Ball received a Beehive Book Award for Young Adult Fiction and was nominated for several more awards.
Wednesdays in the Tower, the second book in the Castle Glower series, also rose to the #10 spot on the New York Times "Children's Middle Grade" list in 2013. The fourth book in the Castle Glower series, Fridays with the Wizards, was scheduled to be released on February 9, 2016.
George has taken eight years of German, four of Norwegian, and even studied Old Norse at BYU. In her spare time she "knits like a maniac," and knitting is one of the central features of her Princess series. She lives in Salt Lake City, Utah, with her husband and three kids.
24. David Farland
Known as the "Wizard of Storytelling," David Farland (who also writes under the name David Wolverton) is the author and co-author of more than 50 novels and has written best sellers in both fantasy and sci-fi, including his Runelords series, which made the New York Times Best Seller list in 1998 and has sold millions of copies. His book The Courtship of Princess Leia, written under the name David Wolverton, was also New York Times best seller in both its hardcover and paperback formats in 1994.
Farland attended BYU, where he won the Gold Award in the L. Ron Hubbard Writers of the Future contest with a novel called My Way to Paradise. My Way to Paradise made it onto the Locus Science Fiction best seller list and won a Phillip K. Dick Memorial Special Award for being one of the best science fiction novels of the year.
Farland has written for major franchises such as Star Wars and The Mummy and taught at BYU for several years before devoting all his time to writing. He taught many best selling authors, including Stephenie Meyer, Brandon Mull, and Brandon Sanderson. As a convert to the Church, his faith plays a big part in his writing. "I have a belief that you can't be a great writer without being a great person," he told the Deseret News. "You can write the most beautiful prose on the planet, but if you use it for the wrong purposes then your writing ultimately serves an evil purpose. . . . I think that my faith makes me a better person, and because of that it makes me a better writer." He lives in St. George with his wife and five children.
25. Aprilynne Pike
Aprilynne Pike was born in Utah and raised in Arizona. Her first novel, Wings, reached #1 on the "Children's Best Seller" list in 2009. The second book in the series, Spells, also made the list at #7 in 2010.
In 2011, the Wings series reached #9 on the New York Times "Best-Selling Children's Series" list, right behind Harry Potter. Her other books include the Earthbound Series and the Charlotte Westing Chronicles.
Pike received her BA in Creative Writing from Lewis-Clark State College in Lewiston, Idaho. She enjoys singing, acting, reading, and working with pregnant moms as a childbirth educator and doula. She and her husband live in Arizona with their four children.
26. Kiersten White
Kiersten White says on her website that, "Reading has always been my favorite activity. And when I couldn't read, or when the stories I loved were over, I'd make up new stories in my head."
Her first novel, Paranormalcy, made it to the #7 spot on the New York Times "Children's Chapter Books" list in 2010. The sequel, Supernaturally, came in at #9 the following year.
White grew up in Utah and graduated from BYU with a degree in English. She lives with her husband and children in San Diego, California. Her latest book, And I Darken, was released on June 28, 2016.
27. Brenda Novak
Brenda Novak never thought she would be a writer, but after she caught her day-care provider drugging her children with cough syrup and Tylenol to get them to sleep all day, she decided she needed a job where she could stay at home. The rest, as they say, is history.
Novak is the author of more than 45 contemporary romance and romantic suspense novels, including her Department 6 trilogy, which made the New York Times Best Seller list. She says on her website that she, "learned how to write by reading what others have written. The best advice for any would-be author: read, read, read."
Not only is she a mom and an author, she runs an annual online auction for diabetes research every May and has raised more than $2 million. She and her husband live in Sacramento, California, and are the proud parents of five children. She enjoys traveling, watching sporting events, and riding her bike 20 miles a day!
28. Amy Harmon
Amy Harmon's contemporary romance novel A Different Blue became a New York Times best seller in 2013. Her novel The Law of Moses was the winner of a Whitney Award in the Best General Fiction category in 2014. Her other novels include Making Faces, Running Barefoot, and Infinity + One.
Harmon taught English and history to sixth and seventh graders at a Christian school in Nevada before devoting her time to her family and to writing.
She was born and raised in the small town of Levan, Utah, and grew up without television. Because of this, she had to be creative and entertain herself. She knew from an early age that writing was something she wanted to do. She has been married for 20 years and is the mother of four children. A country girl at heart, she likes horses and small-town living.
29. Heidi Schulz
Born and raised in Oregon, Heidi Schulz's high school career aptitude test suggested she would be an excellent air-traffic controller, but instead she went into accounting. After the birth of her daughter, she changed careers again to full-time mom. Her first novel, Hook's Revenge, reached the #5 spot on the "Children's Middle Grade E-Book" list in October 2015. It was also a Bank Street Best book, an OCTE Oregon Spirit Honor Book, and one of the New York Public Library's Top 100 Titles for Children in 2014. The sequel, Hook's Revenge: the Pirates Code, came out in September 2015.
Heidi has a new children's book entitled Giraffes Ruin Everything that will be coming out this spring. She lives in Salem, Oregon, with her husband, their teenage daughter, a terrible little dog, five chickens, and four hermit crabs.
30. Aaron Johnston
Aaron Johnston is an author, comics writer, and film producer. He co-wrote the novels Earth Unaware, Earth Afire, Earth Awakens, The Swarm, Invasive Procedures, and the other forthcoming Formic Wars novels with science-fiction legend Orson Scott Card. He was also an associate producer on the movie Ender's Game, wherein he makes a cameo appearance as an officer of the International Fleet.
Aaron has written several comics for Marvel, including Ender in Exile, Speaker for the Dead, Formic Wars, League War, and Mazer in Prison. He is a former member of LA's Improv Factory, Santa Clarita Improv, and the Garrens Comedy Troupe.
He grew up in the Deep South and spent his pre-teen years in rural Alabama catching crawfish and eating wild blackberries. He served a mission in Venezuela and attended BYU, where he met his wife, Lauren. They married in the Orlando Temple and currently live in Greenville, South Carolina. They are the parents of four children.
31. Tracy Hickman
Science fiction and fantasy writer Tracy Hickman is the author of the New York Times best-selling Dragon Lance Chronicles series (co-authored with Margaret Weis, with whom he has since collaborated on more than 30 novels). His solo works include the Drakis series, The Immortals, and Starcraft: Speed of Darkness. He even wrote a Batman novel for DC comics titled Wayne of Gotham.
Hickman is also a game designer, having written several adventure games with his wife, Laura. In fact, the husband-and-wife team have been publishing game designs together for over 25 years, including the popular and innovative Advanced Dungeons & Dragons Ravenloft module in 1983. They have also written several novels together, publishing their first joint novel, Mystic Warrior, in 2004. Their other works include Tales of Dragon's Bard, Volume 1: Eventide and Swept Up by the Sea: A Romantic Fairytale. Hickman served his mission in Hawaii and Indonesia. He and his wife have four children and live in South Jordan, Utah.
32. Dian Thomas
In 1974, Dian Thomas, a home economics teacher turned author, published a book titled Roughing It Easy, a guide to camping and cooking outdoors. After her appearance on The Tonight Show with Johnny Carson in June 1975, her book hit the New York Times Best Seller list that year and has sold over a million copies. Since then, she has written 18 books and made thousands of personal appearances. Thomas served as national spokesperson for divisions of Kraft Foods, Procter & Gamble, Dow Chemical, and many more companies. She has appeared on The Today Show, ABC's Home Show, Good Morning America, and many other national and local news programs.
Her latest book, Tipping the Scales in Your Favor, details her weight loss journey, dropping 125 pounds over six years. In a 2011 interview with BYU Magazine she says, "My passion is helping others put their lives together and have a healthier life."

33. Robert G. Allen
Financial guru Robert G. Allen wrote his first book, Nothing Down: How to Buy Real Estate with Little or No Money Down, after taking Stephen Covey's class at BYU. "I'll never forget my three goals: to go skydiving, to go scuba diving, [and] to write a book," he recalls.
His first two books, Nothing Down and Creating Wealth, both became #1 New York Times best sellers. Two decades later, his book Multiple Streams of Income: How to Generate a Lifetime of Unlimited Wealth! Hit #8 on the "Advice, How-To & Miscellaneous" list, and in 2002, he was the co-author of The One Minute Millionaire, which also became a New York Times best seller that year.
Allen says writing about wealth has been a surprisingly powerful missionary tool. "I have had several experiences with readers and seminar attendees who express appreciation when they learn of my spiritual values," he says. "They're often shocked that I'm so open about it because the general impression is that 'money' people [are] materialistic." He adds, "People often express that my discussion of spiritual values in conjunction with money matters is refreshing. There have been several conversion stories."
Today, Allen is a popular television and radio guest, appearing on hundreds of radio and television programs and podcasts. There are over four million copies of his books in print.
"There is a book in you," Allen encourages. "Writing it can be one of the most rewarding experiences. It may not become a #1 New York Times best seller, but organizing your thoughts and writing them into a book not only can help others now but create a valuable legacy for future generations. Put it on your goal list—one day, you'll find the time to write it."
Lead image from istock.com
All other images from the authors' websites or Wikimedia Commons
---
Find a compilation of some of these authors and other great stories like "The Write Stuff" and "Reunited After 62 Years" in the March/April 2017 issue of LDS Living.