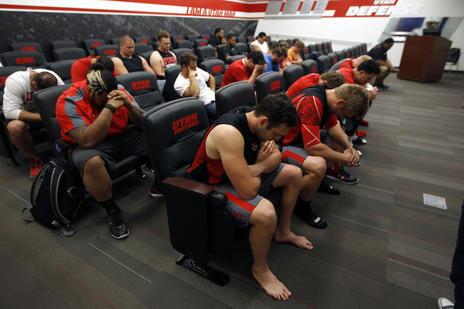 A Washington, D.C.-based organization has asked the University of Utah to stop the school's football coaches from teaching an optional LDS religion class for players.
Americans United for the Separation of Church and State sent a letter to University of Utah President David W. Pershing dated Oct. 19 requesting that football coaches stop teaching LDS Institute classes to players.
"The Establishment Clause of the First Amendment to the U.S. Constitution bars public university employees from teaching religious classes to university students," the letter reads. "We ask that you put a stop to this activity."
The classes in question are LDS Institute classes offered to players who sign up or express interest in them. The classes began a few years ago when players, whose schedules didn't allow them to take the classes offered at the LDS Institute building adjacent to campus, expressed an interest in having a less formal arrangement for such classes. Assistant coach Morgan Scalley helped arrange an instructor from the Institute to come after practice once a week to teach a lesson to any student-athletes who wanted to attend.
In May, the Deseret News attended one of those classes after practice, which was taught by graduate assistant Sione Po'uha. Po'uha is a certified instructor through LDS Church Educational Services and he taught seminary at Corner Canyon High School last year. The players interviewed for that May article told the Deseret News that the attraction to the modified classes is two-fold — the classes come to them so they're easier to fit into their busy schedules (especially during the season), and the coaches often use football analogies to teach religious principles.
Lead image from the Deseret News.