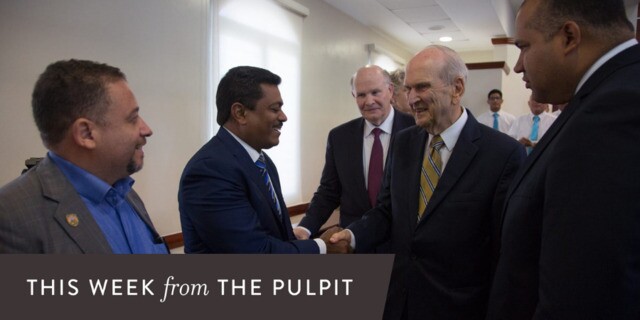 Editor's note: "This week from the pulpit" highlights recent messages from General Authorities, General Officers, and leaders of the Church.
In a video message on Friday, November 20, President Russell M. Nelson encouraged all "to turn social media into your own personal gratitude journal. . . . Working together, we can flood social media with a wave of gratitude that reaches the four corners of the earth."
General Authorities and General Officers of the Church have joined in posting on social media to create this wave of gratitude. Here's a look at what they have posted so far.
This story will be updated as more posts become available.
► You may also like: The impression that came to President Nelson in the middle of the night that inspired his video message
President Russell M. Nelson
I #GiveThanks for Jesus Christ. He can heal us from heartache, sadness, and sin. And He will bless us with peace. I assure you that Jesus Christ is our Savior and our Master Healer. Artwork by Carl Heinrich Bloch, Christ Healing the Sick at Bethesda, 1883 pic.twitter.com/A0ZztFaOxv — Russell M. Nelson (@NelsonRussellM) November 22, 2020
President Dallin H. Oaks
President Henry B. Eyring
President M. Russell Ballard
Elder Jeffrey R. Holland
Elder David A. Bednar
Elder Quentin L. Cook
Elder D. Todd Christofferson
Elder Neil L. Andersen
Elder Ronald A. Rasband
Elder Gary E. Stevenson
Elder Dale G. Renlund
Elder Gerrit W. Gong
Elder Ulisses Soares
President Jean B. Bingham
Sister Reyna I. Aburto
President Bonnie H. Cordon
Sister Michelle D. Craig
Sister Becky Craven
President Joy D. Jones
Sister Lisa L. Harkness
Sister Cristina B. Franco
Lead image: Elder Renlund's Facebook post