Jake Tesch kept having the thought that a song should be written for his niece Sarah Frei. A few months prior, Sarah had been hit by a drunk driver in a car accident on July 30, 2020, where she was paralyzed from the waist down. Both her legs had to be amputated above the knee, making her one of the few double-amputee paraplegics in the world.
Jake knew a song about Sarah would have to be special and that faith should be a core component.
"I didn't want it to be a narrative of the accident. I wanted it to be a faith-promoting song, one that would be applicable to more than just Sarah," says Jake.
So he reached out to Latter-day Saint songwriter Shawna Edwards, the composer behind inspiring songs such as "The Miracle," which has over 4.7 million views on YouTube. But when it came to writing a song for Sarah, there was a lot Shawna had to consider.
"It was really hard for me to wrap my head around what a song like this should say because … [in] most songs that are written for people who are really struggling, … someone else sings to them. They say in different ways, 'It'll be OK.' We can't say that to [Sarah], you know? Or 'I know how you feel.' … We don't have any idea. This is such a unique struggle that there's hardly anybody in the whole world who can really identify directly with it," Shawna says.
With this in mind, Shawna decided the song should be from Sarah's point of view. She also interviewed Sarah and her parents over a Zoom call and read her Instagram posts. Inspired by how Sarah often shared her faith on social media, Shawna wrote the lyrics to the song as though Sarah were talking to the Lord. But after working on the project for some time and even coming up with a song, she still felt that "it wasn't really quite right."
"And then I got the [LDS Living] magazine in the mail that had the story on Sarah in it," she says. "And I put it on my nightstand, and in the middle of the night I woke up and I could not go back to sleep and I read it. And I got about halfway through it and thought, 'The song is all wrong. It's not at all what she would say.' And so I literally rewrote it. And I rewrote almost the whole thing in the middle of the night that night."
As she was writing, the lines "There is a miracle in every breath I take / and I am living proof of your amazing grace" came to her and the song flowed after that.
"More often than not, I struggle over lines and it takes me a long time to get to the right thing," Shawna says. "But those few lines came and then the rest just kind of fell into place. And by the next day or the day after that, I had a completely different song. And the inspiration for that new song, I mean, I felt like I had some heavenly help. But also it came from [that] article. '
The song, titled "Strong," now has over 129,000 views on YouTube and had nearly 149,000 views and over 830 shares when it was first released on Facebook. Its message has also been inspiring people from all walks of life—just as it was intended.
"I hope that it gives people hope," says Shawna. "Sarah commented that this will be her song now and that she would play it often. I've already had many emails and/or comments on social media from other people who have their own struggles where they have said, 'I know you didn't write this song for me, but it expresses how I feel and it expresses how I want to feel. And I really have hope in the Lord, and I know that He's the only way that I'm able to get through this.' And that's been gratifying, and I tried to write a song that would not just be for Sarah. … I wanted it to be universal. And I hope that there are many people who can receive strength from the song."
Strong (by Shawna Edwards) ft. Vocalocity & Sarah Frei
Jake and his wife Amanda recall listening to "Strong" for the first time and how it was perfect not for only Sarah, but for anyone going through a trial.
"When Shawna played the song for us, we just thought it was beautiful. We were both crying," Jake says. "The lyrics were so applicable to Sarah's situation, but then also to me and to Amanda and to anyone who really listens to it—it's a song about Christ and how sometimes He doesn't take away the pain and the sorrow and our trials. He allows us to go through them but He's always there. He doesn't make us experience [these] things on our own. He's always there helping us along the way."
After listening to Shawna's original composition of the song on the piano, Jake asked musician and friend Brad Stephenson to arrange it for the a capella group Vocalocity. The six-member group, which Jake and Amanda are part of, then recorded the song. It was decided that Amanda, as Sarah's aunt and the sister of Sarah's mom, Amy Frei, should be the lead singer.
"It was really special to sing lead vocals on this song. I sang through it about 100 times before going into the recording studio, and as I went to record it I felt extremely nervous. ... Singing this special song felt almost like a calling, and I really didn't want to fail the song or fail Sarah," Amanda says. "Sometimes we are called to do something that we may feel inadequate to do, and this was one of those moments for me. But I'm really grateful for the opportunity and [I] knew in my heart that this song was meant for me to sing for my niece. It was a very special, spiritual experience that I will never forget."
Once they recorded the song with BYU Vocal Point director McKay Crockett, Vocalocity decided to film a music video. Focusing on Sarah, the video highlights the teenager's journey from her accident to her recovery to her return home. It also shows footage filmed in lavender fields in Mona, Utah, where Amanda recalls feeling the Spirit strongly as they sang.
"There were moments in the lavender field while filming the video that we would break down," Amanda recalls. "Everyone in the group took a turn wiping away their tears. We knew the Spirit was there and that what we were doing was going to be powerful. We knew the song was bigger than Sarah's story. It is for anyone going through an impossible difficulty—divorce, death, addiction, heartbreak, abuse, financial troubles, family struggles. It is for everyone who suffers. It is a message of hope that we are here for a reason. And that no matter the wreckage we face in our lives, He will someday make it right. But until then, He will make us strong."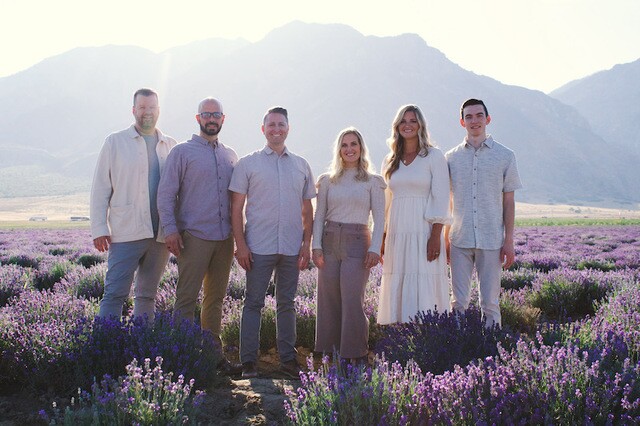 One of the very real blessings of the song, Jake and Amanda say, is that it was posted on July 30, 2021, exactly one year after the accident. This was especially meaningful for Sarah, who had been going through a difficult time thinking back about how her life had changed this past year.
At a watch party of "Strong" where Shawna, Vocalocity, and the Frei family were present, Sarah shared how she had been struggling and what it meant to her to have this song written for her. Recently, Jake reflected on the divine timing of how the song came together.
"I'd never seen her say that she's been struggling. I'm sure her family had, but that was the first time she had expressed it vocally to all of us there. And what was really cool was she just said, 'I feel like this song was meant for me today, right now, right at this moment.' She's like, 'This is what's going to help me get through today and tomorrow and the next 10, 15 years. … I feel like this is a gift from Heavenly Father.' It was really cool, and to play a small part in that was really neat for us," Jake says. "It was just a testimony to us that really Heavenly Father's hand has been in the creation of this song."
Sarah also shared her feelings on her Instagram account, honestly talking about how seeing "one year ago" memories on her social media affected her.
"As I would look at these pictures, I'd think, 'That's the last time I ever did that.' My whole life turned upside down in the blink of an eye. No, I still haven't forgiven the drunk driver who caused this. I know I will eventually but I'm not ready yet," she wrote. "There are so many mixed emotions at this time, I'm so lucky and grateful to still be alive. I'm so glad my other friends are all okay too. The way the community has come together to support us has been incredible. Though this isn't the life I had imagined I'd have, I've seen more miracles in one year than in my whole life. I have learned that feeling peace and comfort is possible in the darkest of times."
Despite the difficult feelings she had been experiencing, Sarah continued in that same post to focus on the positive. And true to the name of the song written about her, she plans to remain strong.
"I'm grateful for the amazing opportunities I've been given. I'm grateful for the wonderful memories I have made, and I can't wait to make more. I have truly felt that as I put my mind to something, it can be accomplished in one way or another. I won't ever stop fighting, I won't ever stop loving, and I will continue to live my life with joy. Thank you to everyone who has been here for me and has shown me support this whole year. I couldn't have done it without you. I love you all, thanks for everything this year."
Editor's note: This article was originally published in August 2021, and the video view counts and comment totals reflect that publication date.