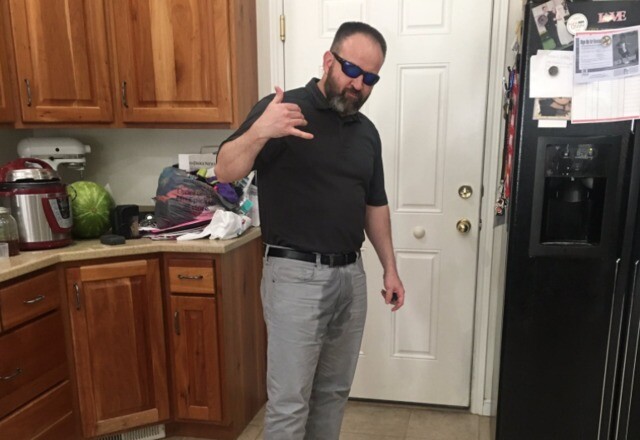 Few things are as mortifying as having an accident at school, as Ben Sowards's 6-year-old daughter had the misfortune of finding out.
Ben's wife, Connie Sowards, told him about the accident after his daughter had called home crying and asked to go home.
A father of 11 children, four of whom were adopted into the family on Monday, Ben told Buzzfeed, "My heart kind of just broke," when he found out one of his daughters was in such distress. But rather than become simply sympathetic, Ben, an LDS artist and professor at Southern Utah University, decided to pick up his daughter in a similar fashion by splashing water on himself. And Sowards's 17-year-old daughter Lucinda captured it all and posted it on Twitter.
My little sis had an accident today at kindergarten & this is how my dad left to pick her up so she wouldn't feel so sad/embarrassed 😂😂❤️ pic.twitter.com/veHMFO4QHr

— lucinnamon toast (@lucindreams) April 14, 2017
And when Ben walked into the school's office to pick Valerie up, asking for her backpack to cover the accident, her response was priceless.
"She looked at me with just the biggest incredulity," he told Buzzfeed and added that Valerie thought the gesture was hilarious and helped her feel better about her own situation.
But this story doesn't end there. Lucinda's tweet soon gathered attention from others on Twitter who found Ben's gesture both hilarious and perfect, inspiring other parents with Ben's selflessness and thoughtfulness.
---
For more than a decade, the Parable of the Bicyclehas touched hundreds of thousands of lives around the world. Parents, youth leaders, and teachers of all ages will especially love this new picture book that again shares the good news of the gospel—this is, although we can never pay the price of admission into the kingdom of God, "Christ is the answer. He knows the worth of a soul is priceless. He is our Savior."