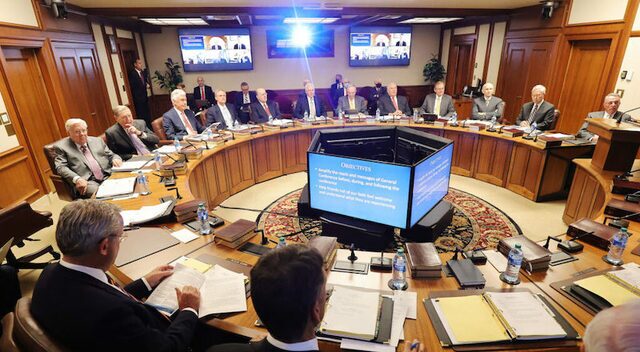 From the First Presidency and the Quorum of the Twelve Apostles to stakes, wards, and families and individuals, council systems are an important part of how the Church functions. This month, the Church News is diving into the council system on all its levels and how revelation acts as a guide within that structure.
In a recent podcast episode, Church News highlighted quotes from interviews with some of the Apostles about their experience serving in councils. During the episode, President M. Russell Ballard explained what councils look like from the first council story in the Pearl of Great Price to leadership in the Church today and a variety of other spaces.
"Interestingly, if you see the big picture, when we are in general conference, we are in council," he said. "Council is a time when people gather to try to understand and come to an agreement and set goals and objectives that will make a difference in their organization. This council system works in industry, it works in homes, it works everywhere. It's not just the Church where the council system is a reality."
Elder Dieter F. Uchtdorf shared what it is like sitting in on a council with the Quorum of the Twelve Apostles and the First Presidency.
"It is a beautiful feeling of brotherhood. It is a feeling of unity, and still cherishing the differences in personality and experiences. We don't represent countries, or nationalities or professions. We represent the Lord Jesus Christ and His work. This unique approach with different personalities helps to be united in council. Because when you are in the Quorum of the Twelve, and you started as a new member, you feel, of course, pretty humble, sitting there with other members of the Twelve who have been there for 20, 30, 40 years, right? But you learned very quickly that whenever you are part of this, you are part of it. You are on an equal level of ability and authority," he said.
Councils are also described by Apostles as a safe place where every voice is needed. Elder David A. Bednar spoke about how "the power of counseling in council is revelation," and Elder Quentin L. Cook described being guided by the Spirit in these councils.
"It is so incredible how as there is a council discussion, and as people bring things forth, then there is a focus and a spiritual power that comes into being and suddenly everything from our history to our doctrine, the needs of the Saints, our being out in the world and meeting with the Saints all the time, comes into being," Elder Cook said. "And the Holy Ghost blesses us with incredibly strong impressions. . . . And then often in prayer and other times, we have additional, very strong spiritual experiences that are just very powerful and bless the effort."
Listen to the podcast on Church News.
Featured image by Jeff Allred, Deseret News