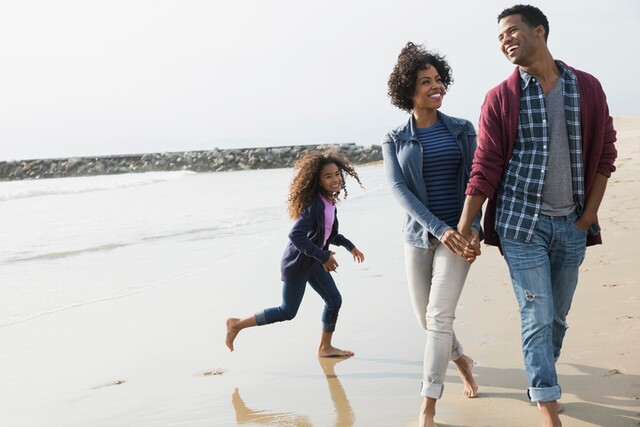 The path of marriage is God's plan to ultimately exalt us, and therefore it is expected that we will do more than just coexist or live parallel lives in our marriage. Building emotional intimacy is necessary to achieve a thriving eternal marriage.
Intimacy Is Important for Both Sexes
Culturally and historically, there is a common stigma that women need emotional intimacy more than men. However, men also need warm and intimate relationships in order to flourish in their lives. Some may not necessarily realize or even accept this, but there is research that bears this out.
The Grant study, coordinated by George Vaillant, has become the longest longitudinal study on the lives of men. For more than 75 years, it has studied Harvard men recruited from the classes of 1939– 44. Its purpose was to find what led to an "optimum life." Ten life accomplishments were identified as factors predicting a man's ability to be a well-adjusted, successful adult. One of these was having a good marriage. They also identified the importance of other emotionally intimate relationships, such as those with mothers, fathers, siblings, and close friends.
The power of these intimate relationships influenced very real aspects of the men's lives, such as income and personal happiness. Relative to income, although all of the study participants entered the workforce with an education from Harvard University, the 58 men who had the highest scores regarding warm relationships made about $150,000 more per year than did the 31 men in the study with the worst scores on relationships. Relative to personal happiness, the most successful marriage in the Grant study also produced the happiest man in the study. "In short, it was the capacity for intimate relationships that predicted flourishing in all aspects of these men's lives."
Continuing with the findings from the Grant study, it was shown that the happiest couple in their study, Mr. and Mrs. Chipp (a pseudonym), enjoyed doing a variety of activities together, such as reading, sailing, taking yearly canoeing trips, and walking together. They talked openly about life issues. They depended on each other "just by being there." They rated the quality of their marriage highly for decades, and at age 80 Mr. Chipp proudly told interviewers, "I've lived happily ever after." Vaillant concluded, "The more men became able to appreciate shared dependence as an opportunity rather than a threat, the more positive feelings they expressed about their marriages."
These opportunities are available to both men and women within the marital relationship. Happiness and joy come when we allow ourselves to be open to our spouse and truly connect in a genuine, validating, and intimate way. What follows is a discussion of some basic practices needed to foster and build emotional intimacy with our spouse.
Verbal connections are important to emotional intimacy. Talking and listening allow words and feelings to be communicated, which then helps spouses feel connected to each other. This has a great power in soothing, comforting, and lifting.
Remembering the importance of words, we must each keep in mind that there is a difference between talking to our spouse and talking with our spouse. Psalm 55:14 tells us, "We took sweet counsel together, and walked unto the house of God in company." In this verse, the footnote on company says "or fellowship." As we talk with each other, bonds of connection grow and the feelings of fellowship deepen. Nephi illustrates this principle relative to how he managed his intimate relationship with the Lord: "And it came to pass that I, Nephi, returned from speaking with the Lord" (1 Nephi 3:1; emphasis added).
Martin Seligman delineates four choices we have in responding to the communications of others:
1. Active constructive communication is to respond authentically, enthusiastically, or supportively.
2. Passive constructive communication is to offer brief, unspecific support.
3. Passive destructive communication is to ignore the stimulus rather than addressing it.
4. Active destructive communication is to point out the negative aspects of the stimulus.
Only the first of these options represents healthy, intimate discourse.
Thus, to build our relationship with our spouse, we want to seek to respond to them in an active constructive manner. For example, if your spouse says, "I got a new calling today!" we can respond with interesting and caring: "Great! What are you going to be doing? What are your new responsibilities? How do you feel about it?" This type of conversation will stimulate a conversation that creates opportunity to build intimacy and bonds of trust. If we fail to turn toward our spouse with this type of supporting interaction, we may unwisely respond with one of the other unhelpful and even destructive communications. In this example of the new calling, a passive constructive statement may be a simple "That's nice." That type of flat comment cuts the conversation to a very abrupt close. A passive destructive statement may work to change the conversation entirely: "You know, the fire alarm is beeping in the hallway again. I need you to replace the batteries." An active destructive comment may be intended to undermine and discourage your spouse as they begin a new phase of church service: "I tell you, this new calling is going to take a lot of extra house every week! And dealing with all those people is going to be nothing but drama!"
As we work to respond and communicate with our spouse in an active constructive manner—thus improving the process of our communications—we need to be aware of the quality of the content we communicate. Talk can sometimes be cheap, and we want to avoid that pitfall as well. We want to be vulnerable and communicate about things of real importance to us, even things that make us feel vulnerable. For example, Douglass Brinley and Mark Ogletree, LDS marriage and family therapists and BYU religion professors, have taught that there are three levels of communication in marriage. These include the superficial level that is informative and low risk; the personal level that shares deeper parts of ourselves, such as our goals and dreams; and the validating level in which we praise and compliment each other. For a sense of intimacy to be present in the marital relationship, husband and wife need to make sure their talking includes a balance between all three.
Unfortunately, many couples keep their communication on the superficial level. Ogletree commented: "Superficial communication can supplant deep and meaningful conversations. If couples tiptoe around deeper issues that should be discussed, they will never learn to resolve conflict or connect with each other. Couples bond as they discuss things that matter—not things that don't. I have seen many couples in my practice who have tried to preserve their relationship by keeping their communication at the superficial level. By avoiding the "weightier manners" (Mathew 23:23), they have actually destroyed their marriage.
Instead, we need to be willing to extend ourselves, opening ourselves up to communicating on the personal and validating levels as well. This requires some vulnerability on our part, and for some couples bring vulnerable may feel risky or even threatening. Yet, for true intimacy to grow within our relationship, we must share ourselves and allow our spouse access to those parts of us that perhaps others in the world do not see. Those are the types of conversations that can assist in building greater emotional intimacy or even rekindling a sense of closeness that may be lost.
Talking is only one side of the communication process that fosters an emotionally intimate relationship; we must also be responsive, compassionate listeners. If we remember that we have two ears but only one mouth, perhaps we will remember to use our ears more! Luke reminds us, "He that hath ears to hear, let him hear" (Luke 14:35).
Once social science model called the interpersonal process model of intimacy explains that intimacy reflects two primary components: self-disclosure and partner responsiveness. The intimacy is initiated when the speaker communicates personally relevant and revealing information to the listener, as discussed in the previous section. In return, the listener must respond to the specific content of the initial disclosure and offer understanding, validation, and caring for the speaker. For the interaction to feel intimate to the speaker, the speaker must be able to perceive or interpret the listener's responsiveness. One writer commented on the significance of the speaker being "heard" by their spouse: "Being heard is akin to being loved; in fact, being listened to is one of the higher forms of respect and validation. By listening, we are saying to our spouse, 'You matter to me, I love you, and what you have to say is important.'"
In order to successfully navigate the listening portion of our verbal communication, we must "be swift to hear, slow to speak" (James 1:19) and not listen with the intent to respond but with the intent to fully understand. Elder Neal A. Maxwell counseled, "Let us, therefore, define service to others as including genuine listening—a listening that is more than just being patient until it is our turn to speak; rather, a listening that includes real response, not simply nodding absorption." This requires stillness or calmness in our demeanor.
As we are patient and work to stay present with our spouse during conversation, we must additionally lessen impulsivity, nervousness, or anxiety that makes us want to get our spouse to behave as we'd like in order to get them to conform to our needs. We must allow space for our spouse to communicate fully what they need to communicate without pressuring them to hurry up for our sake. Elder Maxwell continued:
Let our service, at times, include a willingness to hold back in conversation when what we would have said has already been said—and perhaps better. To contribute…time and space, so that another can expand is to reflect quiet nobility. There are so many times when to forgo is to make way for another.
It is important that we listen and ask clarifying questions about what our spouse is communicating. To do this requires that we learn to listen with a soft heart. "How vital is a 'listening heart'! The heart hears feelings while the mind attends to words. Often, what we are feeling needs to be heard even more than what we say.
Listening with our hearts requires discernment and sensitivity to the underlying messages or issues our spouse is seeking to convey; this may require careful attention to nonverbal communication from our spouse as well. This type of listening does not happen by accident. Listening with our hearts requires humility to ask, What is my spouse really communicating? Perhaps a story about a difficulty at work is not really about work but about feeling vulnerable or incompetent. Maybe a diatribe about how hard it is to stay home with the kids is not about diapers or messy houses but a request for help or about feeling undervalued or personally stagnant. It would be excellent if our spouse could always explicitly communicate what they need from us during a particular exchange, but that is not always the case—sometimes they themselves may not know exactly what it is they need. So as we listen with our hearts, the Spirit will guide us to know the true message our spouse is seeking to convey.
As we talk about using our hearts to listen, there is another aspect we must also consider: "To day if ye will hear his voice, harden not your hearts" (Hebrews 3:15). Sometimes, what we hear is difficult to hear. It may be difficult to hear out spouse talk about what we have done that has hurt them or to have them offer us correction in some way. Yet, if we listen with a soft heart, we will not take offense. We will not become defensive and then hijack the moment and launch into a rant that turns the tables and makes them listen to us. As we have done our part to listen, in time the natural rhythm of the discussion will allow us to then share our feelings about what we have heard. So we can trust that process and not jump in too quickly in order to react, rebut, retort, or retreat.
---
In recent decades, prophets have repeatedly emphasized how a strong marriage and family is the basis of a robust society; they have counseled and warned of the many modern obstacles that can erode a healthy family life. Commitment to the Covenant: Strengthening the Me, We, and Thee of Marriage, draws on inspiring personal stories, research from sociology and psychology, and teachings of the gospel of Jesus Christ to present key principles that, when applied, will help a marriage thrive. The authors use three broad content areas—the things we each need to do personally to improve our marriage (me), the things we need to do together as a couple to strengthen our marital relationship (we), and ways we can more fully involve God in our marriage relationship (Thee). This three-part approach is both theoretical and practical and will help guide readers to a successful and happy marriage.