New temples are beginning construction or being dedicated at a rapid pace. More than 50 temples around the world are currently under construction or renovation, and the month of August saw alone saw two new temple groundbreakings, a temple rededication, the start of a temple open house, the announcement of a temple expansion project, and countless other construction projects.
► You may also like: Temples around the world: Photos of the most recent construction updates
Here are a few highlights from those special occasions.
Hamilton New Zealand Temple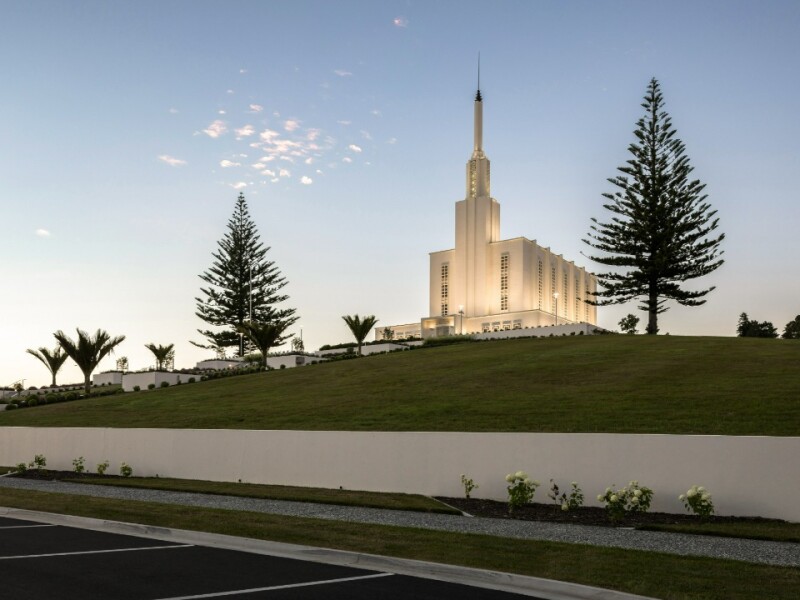 For the first time in more than 60 years, the first Latter-day Saint temple in the Southern Hemisphere—the Hamilton New Zealand Temple—will be open to the public.
Open house tours are free, but visitors are encouraged to make an appointment at HamiltonTemple.NZ.
The open house began on Friday, August 26, 2022, and will run through Saturday, September 17, 2022, every day except for Sundays. Following the public open house, the temple will be formally dedicated on Sunday, October 16. The temple has been closed for renovations since July 2018.
The temple features a new layout, reconfigured for better flow and efficiency. Parts of the temple's original design and historic murals have been restored, and design elements have been incorporated to feature the work of the original temple builders and local Māori craftwork and traditions.
Read more about the open house on Church Newsroom.
---
Lubumbashi Democratic Republic of the Congo Temple
Elder Matthew L. Carpenter, Africa Central Area President, presided at the groundbreaking ceremony for the new Lubumbashi Democratic Republic of the Congo Temple, held on Saturday, August 20, 2022.
In his dedicatory prayer, Elder Carpenter said that the people of Lubumbashi have waited "with great anticipation for a temple to grace this land."
"Many of thy children here, along with their posterity and their ancestors are anxious to receive the blessings of sacred ordinances and covenants available in the temple," he said, as reported by Church Newsroom.
The Democratic Republic of the Congo is home to nearly 90,000 Latter-day Saints in 250 congregations. The first temple in the country was built in the country's capital of Kinshasa and dedicated in 2019, and the new temple in Lubumbashi will be the second temple in the Democratic Republic of the Congo.
You can watch highlights from groundbreaking ceremony in the player above and read more about the groundbreaking on Church Newsroom.
---
The Washington D.C. Temple was formally rededicated on Sunday, August 14, 2022 by President Russell M. Nelson.
"We ask Thee to accept this house as our offering to Thee and Thy Son as a place worthy of Thy holy habitation," President Nelson prayed, according to Church Newsroom. "And we ask Thee to … make [this house] a refuge for all who enter its precincts. Please bless all who step onto these grounds, for whatever purpose, to feel Thy presence and to leave with a renewed sense of hope and an increased desire to draw close to Thee and Thy Son."
► You may also like: Read part of Pres. Nelson's beautiful dedicatory prayer for the DC Temple
The Washington D.C. Temple was originally dedicated in 1974 and was the first temple dedicated on the east coast of the United States. It was closed to the public in closed in March 2018 for a significant renovation.
"I think [this house of the Lord is] a blessing to the entire region," Alvin Jackson, president of the Washington D.C. Young Single Adult North Stake, told Newsroom. "This place will be a refuge in the last days for people who are looking for hope or looking for guidance or looking for safety. … It represents Jesus Christ. And we need so much more of Him in our lives to help heal this nation and this country and this world as a whole."
You can read more stories about the Washington D.C. Temple open house and rededication ceremony on Church Newsroom.
---
On Saturday, August 27, 2022, President Russell M. Nelson presided at the groundbreaking ceremony for the new Ephraim Utah Temple. Elder Walter F. González, a General Authority Seventy, Elder Kevin R. Duncan, and Utah Governor Spencer J. Cox—a native of Fairview, Utah, just 20 miles north of Ephraim—also attended the temple groundbreaking.
"The history of this area includes my own family," President Nelson said at the event, which was attended by invited guests. "My dear mother was born in Ephraim, not far from this very temple site. My father was born in Manti. Three of my four grandparents were born here in Ephraim. All eight of my great-grandparents lived in Ephraim."
In his dedicatory prayer, President Nelson also expressed gratitude for those ancestors.
"[Our ancestors] have laid a foundation of faith that undergirds our spiritual strength. May we learn who they are, find their qualifying information, and bless their lives with sacred rites offered vicariously in this holy house."
The Ephraim Utah Temple will be the second temple in Sanpete County. It will follow the Manti Utah Temple, which is currently under renovation and expected to be rededicated sometime in 2023.
You can read more about President Nelson's messages at the groundbreaking ceremony on Church Newsroom here.
► You may also like: Which Latter-day Saint temples are under construction around the world?
---
On Monday, August 29, the First Presidency  announced that the Kona Hawaii Temple will close in October 2023 for extensive renovation and expansion. The temple will increase in size from 9,500 square feet to approximately 12,000, and upgrades are expected to be completed by late 2025.
The Kona Hawaii Temple can be found on the Big Island of Hawaii and was originally dedicated in January 2000. The Church of Jesus Christ of Latter-day Saints dedicated its first temple outside the United States on the Hawaiian island of Oahu, about 180 miles away, in 1919. 
Find out more about the expansion and renovation project on Church Newsroom.
---
The Salt Lake Temple and other historic buildings on Temple Square are now in their third year of renovations. Most recently, construction crews have been excavating 20 feet below the temple's 170-year-old foundation using reinforced steel tubes and a process called "jack and bore."
Crews have also been hard at work on waterproofing the underground parking structures, adding stonework to the Church Office Building plaza, installing garden spaces northwest of the temple, and adding future planter boxes and crosswalk areas.
You can read more about the progress made in August on Church Newsroom here.
► You may also like: See all the Salt Lake Temple renovation updates since the project began