Editor's note: This article originally ran online LDS Living in June 2022 and was included in the January/Feburary print issue.
In our desire to show reverence for temple ordinances, do we sometimes forget to express how exciting temple worship can be, especially when we are speaking with those who are not yet endowed? Here are eight blessings of the endowment I want all my friends and family to know about.
As a Latter-day Saint in my mid-20s, I have several friends my age who have wondered whether it's the right time for them to receive their temple endowment. When the topic comes up, I always hesitate about how to respond—because my instinct is to cheer and then grab them by the shoulders and say, "What are you waiting for? Go!" But I don't want to scare anyone with a spirited outburst.
More than that, however, I sometimes hesitate to share my gut reaction excitement for the temple because there is an appropriate time for temple worship, and I wouldn't want to rush anyone who's not ready. But I also feel a sense of urgency to not be shy about my love for the temple. I received my endowment about six years ago, and in that short time I've grown to rely on the power of Jesus Christ found in the temple—and I want my friends to have the same opportunity. Sometimes I worry that unwarranted anxieties about worthiness or about what happens inside the temple hold them back.
I've also wondered if my friends' hesitation comes because no one, myself included, has sufficiently excited them about the blessings of temple worship. Out of an abundance of caution to talk about the temple with reverence, maybe our tone has lost a helpful element of excitement. Do we adequately express how joyful—thrilling, even—the temple ordinances of initiatory and endowment truly are?
So please, friends of mine, read the "Preparing to Enter the Holy Temple" pamphlet available in the Gospel Library app, study other helpful materials, and go to lessons that are offered in your ward, but don't forget to be elated amid the formalities of it all. Going to the temple to receive your endowment is definitely something to smile about—and I've compiled a list of eight reasons why. I hope these ideas help both my friends who are preparing to make covenants for the first time and those of us who are already endowed feel a thrill over what the temple offers us.
In a 2022 devotional for young adults, President Russell M. Nelson said, "God has a special love for each person who makes a covenant with Him in the waters of baptism. And that divine love deepens as additional covenants are made and faithfully kept." That first sentence has a footnote with this fascinating insight: "In the Hebrew language of the Old Testament, the word for God's covenant love is hesed."1
I'm usually not one to get excited about studying biblical languages, but the word hesed and the idea of a covenant love caught my attention—and the more I learned about it, the more beautiful it became to me. Plus, I found that the word seemed to be pretty important to President Nelson too. In addition to the young adult devotional, he talked about hesed in a footnote of his April 2022 general conference talk, and then he discussed the word at length in the October 2022 issue of the Liahona. In that article he explained,
"All those who have made a covenant with God have access to a special kind of love and mercy. In the Hebrew language, that covenantal love is called hesed (דֶסֶח).
"Hesed has no adequate English equivalent. Translators of the King James Version of the Bible must have struggled with how to render hesed in English. They often chose 'lovingkindness.' This captures much but not all the meaning of hesed. Other translations were also rendered, such as 'mercy' and 'goodness.' Hesed is a unique term describing a covenant relationship in which both parties are bound to be loyal and faithful to each other."
President Nelson continued, "Once you and I have made a covenant with God, our relationship with Him becomes much closer than before our covenant. Now we are bound together. Because of our covenant with God, He will never tire in His efforts to help us, and we will never exhaust His merciful patience with us. Each of us has a special place in God's heart. He has high hopes for us."2
All those who have made a covenant with God have access to a special kind of love and mercy.
President Russell M. Nelson
Whoa.
What that quote means to me is that receiving your temple endowment is essentially opening the door for more of God's covenantal love to flow into your life. And I can say from personal experience that His love changes how you see yourself. The spirit I feel in the temple makes me feel like a million bucks—like I'm God's favorite. Some of my peak moments of self-confidence are in the hours after a temple session. Setbacks I may have experienced in my day-to-day life fade in importance after I've spent time in the temple remembering that I am bound to God through covenants and, as President Nelson taught, God will "never tire in His efforts" to help me.
When was the last time you sat in a quiet space and did nothing but think or pray?
Our constant access to smartphones, an endless stream of movies and entertainment, and even good books can make quietly pondering a rare occurrence. Each week at church we have the precious opportunity to think and pray while the sacrament is blessed and passed to the congregation. The temple expands upon that experience of stillness by offering us a longer-lasting and even quieter setting, especially when we are in the celestial room. Everyone goes there after the endowment, and there is no formal instruction, ceremony, or even music; instead, it is a place of pondering and prayer. Anyone is welcome to ask questions or communicate in whispers, but overall this holiest of spaces is very quiet—which leads me to conclude that being quiet must be important for nourishing our testimonies and souls.
During the Washington D.C. Temple open house in 2022, Church News published a video called "The Quiet of the Temple." In the video, Sister Sharon Eubank, who was serving as First Counselor in the Relief Society General Presidency, said something beautiful about the gift of silence:
"I guess it's no accident that this temple sits right on the beltway, because everyone sees it. You're right in the middle of traffic, and radio announcers always use it as the marker for where the traffic is during the morning. But when you enter into the temple, and you see that tree of life stained glass that's behind the recommend desk, you feel the quietness of the temple. You walk across [a] hallway that goes into the temple proper, and you just feel all of that drain away. It's so calm. And for me, as someone who has worshipped in the temple for almost 40 years, I need that in my life. There are very few places that are silent, and I need the silence of the temple to be able to hear the voice of God, and I am so grateful for that gift."3
I need that silence, too, Sister Eubank. My life is too full of noise everywhere else. Friends, receiving the temple endowment gives you the gift of the celestial room: a quiet, beautiful space to hear the voice of God.
I'm going to assume that those of you who have not been endowed yet wonder about the temple garment and have maybe heard various perspectives on wearing it. For me, wearing the temple garment is a beautiful part of my life. I can remember feeling distinctly more complete when I first began wearing the garment, like it was always supposed to be this way. And my appreciation for it has only grown with time.
In a June 2022 Liahona article, a young adult convert named Natalie Giles from the East Coast shared her experience when she began wearing the garment, and what she said resonated with me:
"Going to the temple felt like returning home. Even putting on garments for the first time felt like the missing piece to a puzzle I was trying to solve. I understood that my covenant to wear the garment was an important step in my spiritual progression, and although this decision is sacred and personal, I made it happily because I knew that the knowledge I would gain about my divinity as a daughter of God was above anything the world could offer me."4
I add my voice to Natalie's: my decision to consistently wear temple garments is a joyful one that helps me center my life around the truths that matter most.
Perhaps you've felt nervous about wearing garments. I think that's totally normal. But it may be helpful for you, and all of us who have made covenants in the temple, to keep in mind this beautiful reminder about garments that another young adult, Kealohilani Wallace, articulated in the March 2019 Ensign:
"Temple covenants and the garment are not for perfect people. They are meant to help shield and protect imperfect people who are trying their best to become better. People who repent when they fall and keep going forward. People like you and me."5
4. Variety of Temple Worship
Before receiving your endowment, you can participate in baptisms and confirmations for the dead in the temple. But after receiving your endowment, you can participate in proxy baptism, initiatory, endowment, and sealing ordinances. On one visit you could do a proxy endowment session, which typically takes two hours or less, and on another you could do proxy initiatory work, which could be completed in as quickly as 30–40 minutes (unless you'd like to spend time in the celestial room afterward; endowed members are welcome to go there after doing any proxy ordinance). This flexibility can help you keep temple worship a consistent part of your life.
Introducing variety into our temple worship can also help us think about our role in the plan of salvation in new ways and help us appreciate the strength Christ offers us through covenants. In October 2021 general conference, President Nelson said:
"Everything taught in the temple, through instruction and through the Spirit, increases our understanding of Jesus Christ. His essential ordinances bind us to Him through sacred priesthood covenants. Then, as we keep our covenants, He endows us with His healing, strengthening power."6
As part of the endowment ceremony, prayers are offered for people who are in need. The names of those people are submitted by temple patrons. In the temple, tables stocked with small pieces of paper are available for you to write down the names of people you'd like temple patrons to pray for. Then you slip those names into a box. For me, the act of writing names on a slip of paper and dropping them into a box feels significant, like I'm physically sending a message to God that I care about these people and am seeking His blessings in their lives. Or, if you want to submit a name but can't get to the temple for some reason, you can also submit names online by going to your temple's landing page on ChurchofJesusChrist.org or through the "Temples" section of the Member Tools app.
6. Ease of Learning and Belief
During the Washington D.C. Temple open house, something interesting happened for the first time: cameras not owned by the Church were allowed to film inside. Elder David A. Bednar and his wife, Sister Susan Bednar, and Elder D. Todd Christofferson and his wife, Sister Kathy Christofferson, gave CBS News correspondent Ed O'Keefe—and his camera crew—a tour of the temple. As the group walked across the entry bridge to go inside the temple, O'Keefe respectfully posed an interesting question to his tour guides:
"Are we walking into another realm?" he asked.
Without missing a beat, Elder Bednar replied, "Yes—symbolically. We're leaving the world and entering a more heavenly place where we learn about God."7
You've got to give Elder Bednar points for quick thinking; he seems to turn any question into a learning experience. And I've seen for myself that what he said is true—the temple provides the ideal setting to learn and to believe in spiritual things. For myself, the reality of life after death just settles in me while I'm in the temple. When all the voices of life get too loud, the temple provides a space to go and believe.
The reality of life after death just settles in me.
7. A Way to Seek Heaven's Help
When I am seeking guidance or comfort in my life, I find that going to the temple to do an endowment session is a way to focus my nervous energies in a positive way. I'm not suggesting that by going to the temple you will immediately find answers to all of your problems, but it definitely helps you feel God's love and remember that His power is bigger than your problems. Performing baptisms for the dead brings a strong spirit into your life, but for me there is something special about listening to the teachings about the plan of salvation during the endowment that really grounds me.
In October 2021 general conference, President Nelson encouraged unmarried members to not wait to be endowed in the house of the Lord and invited those who have made covenants to seek to understand them more fully. Then he said, "Spiritual doors will open. You will learn how to part the veil between heaven and earth, how to ask for God's angels to attend you, and how better to receive direction from heaven. Your diligent efforts to do so will reinforce and strengthen your spiritual foundation."8
Before receiving my own endowment, I went down a nervous rabbit hole. I heard people use words such as weird, frightening, and confusing to describe the temple ceremonies, and I became nervous about what that might mean. Now I wish I could go back and tell my past self that there was nothing to fear. In my case, every anxiety I had about going to the temple was unfounded.
My experience receiving the endowment was beautiful. Not weird. Not frightening. Not confusing. It felt like the beginning of a journey.
I didn't clearly understand everything, and the ceremony can feel long the first time, but I sensed I was on the cusp of something. I was excited. My pre-temple anxieties could have been eased if someone had told me that for the majority of the time, I would just be sitting and listening. As a first-time temple patron, any time you need to do something, there's someone right by your side ready to help, and every action is very simple. You can't mess this up—really.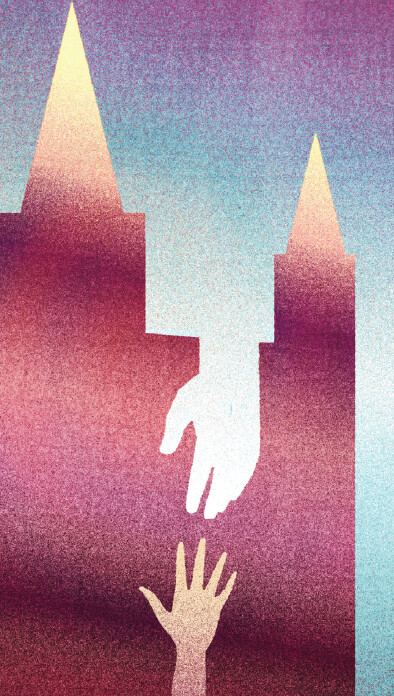 If you have anxieties about the endowment ceremony like I did, you can find comfort by going to the temple and doing baptisms for the dead. In the midst of my anxieties about receiving the temple endowment, I often went to do baptisms at the Logan Utah Temple, which is one of the pioneer-era temples. Back then, temples were built to look a bit like fortresses. The buildings are beautiful, but they have tall, imposing walls with battlements at the top; the architecture could be seen as somewhat intimidating compared with other temples.
While walking in one day, I looked up at those formidable walls and distinctly heard this sentence in my mind: "You don't ever need to be afraid to come here." A calm feeling settled over me as I was reminded of all the times I'd felt peace and God's love in the temple. I was able to make the connection that if I had been comfortable and safe doing baptisms for the dead, then I would be comfortable and safe anywhere else in the temple. And that has proven true again and again over the past six years. The blessings of temple worship are accumulated over time; they are not received only when you receive the endowment for yourself. I now know the truth of this statement from President Nelson:
"[The Savior] is the One who wants you to experience fully His sacred ordinances. He wants you to comprehend your privileges, promises, and responsibilities. He wants you to have spiritual insights and awakenings you've never had before. This He desires for all temple patrons, no matter where they live."9
I love this reminder that the Savior, more than anyone else, wants us to receive the blessings of the temple—the first time we enter and every time after that.
---
Notes
1. Russell M. Nelson, "Choices for Eternity" (worldwide devotional for young adults, May 15, 2022), ChurchofJesusChrist.org.
2. Russell M. Nelson, "The Everlasting Covenant," Liahona, Oct. 2022, 5–6.
3. Sarah Jane Weaver, "Video: Finding a sense of calm, quiet in the temple," Church News, May 7, 2022.
4. Natalie Giles, "Finding My Testimony of the Temple Garment" (digital only article), Liahona, June 2022, ChurchofJesusChrist.org.
5. Kealohilani Wallace, "Shielded by Covenants," Ensign, Mar. 2019, 45.
6. Russell M. Nelson, "The Temple and Your Spiritual Foundation," Liahona, Nov. 2021, 93–94.
7. Emily Abel, "'Are we walking into another realm?' Elder Bednar's answer to CBS News on their unique DC Temple tour," LDSLiving.com, April 18, 2022.
8. Russell M. Nelson, "The Temple and Your Spiritual Foundation," 96.
9. Russell M. Nelson, "The Temple and Your Spiritual Foundation," 95.