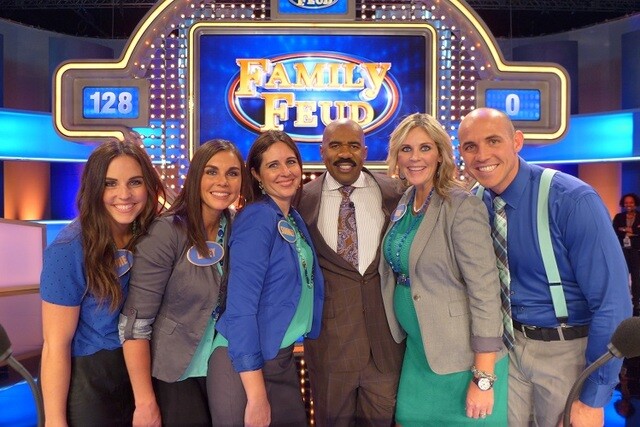 When the Sherwood siblings competed on the TV show Family Feud, they had no idea that their religious beliefs would play a part in their loss.
However, when celebrity host Steve Harvey asked what they thought of when they heard the word "grind," the number one answer stumped the five siblings.
"None of us thought of coffee," one of the Sherwood siblings, Summer Allen said. "Afterward, we were discussing and said it had not even crossed any of our minds."
While it's understandable that coffee wouldn't be on the forefront of their minds, Nathan's answer was hilariously "Mormon," and the audience responded with laughter.
While the final cut of the show didn't include Steve Harvey's full reaction, Summer shares, "He thought it was hilarious (as did the audience that was laughing at it). What they didn't air was Steve Harvey walking to the audience and making fun of 'grinding wheat—who does that?'"
Well, Steve Harvey, Mormons often do. In fact, we grind more wheat than coffee, and many Mormons can probably think of at least one family member or friend who grinds wheat to make their own bread.
"I think our mom had a wheat grinder," Summer shared. "I don't think we ever helped grind wheat. But a few of our friends have mentioned chipping in to get us a grinder so Nathan can grind some wheat."
While the Sherwoods didn't win the game show, they enjoyed their time competing on the show together as siblings.
Lead image courtesy of Summer Allen.
---
If you want to use that wheat from your food storage, find recipes, tips, and information in Wonderful Wheat: Hearty Grains for Healthy Homes, available at Deseret Book and deseretbook.com.