The Ogden family of Meridian, Idaho, knows what it means to roll forward with faith. From following a prompting to bike over a thousand miles to pushing themselves beyond their comfort zones to share their story, they have raised over $100,000 for wheelchairs around the world in just over a year.
As a quadriplegic and wheelchair user himself, Nathan Ogden knows firsthand the difference a wheelchair can make. In 2001, as a young husband and father in his mid-20s, he broke his neck in a skiing accident that paralyzed him from the waist down. After a year of adjusting to life in a wheelchair and working to increase his mobility, he had returned to full-time work and was even able to drive. It was then that he was in another accident—technicians dropped him while moving him to an x-ray table, resulting in a second neck break and further paralysis of Ogden's upper body.
"The first neck break was my fault. That was my decision, and I had to live with the consequences," Ogden says. "The second neck break a year later was someone else's fault, but I still had to live with the same consequence. . . . I'd worked so hard to get back so much movement of my body, and then to have a lot of that ripped away from me, that was hard."
Finding Healing Through Family and Faith
In spite of the pain and anguish Ogden and his family felt after the second accident, Ogden knew that nothing good comes from anger. He found healing and the ability to forgive by focusing on two important things: his family and his faith in the Savior.
Nathan Ogden and his wife, Heather, at the hospital after his paralysis
Whether he was in his room at home or in the hospital, Ogden always had a picture of the Savior where he could see it from his bed. Even when he was in excruciating pain, unable to breathe on his own, and helpless in doing anything without assistance, he would look at that picture and think to himself, "He went through more than me. I can do this."
Ogden's wife, Heather, remembers the early days after her husband's accidents as opportunities to focus on the Savior and reprioritize their lives. She says that they learned to let go of "the fancy problems" and "fluff" and sought to find joy in the moment.
"I wanted to go play volleyball with my daughter. I wanted to teach my son how to throw a football. I wanted to walk with my wife hand-in-hand on the beach," Ogden says. "That's what I signed up for, and [did] it happen that way? No. But we can still do a lot of things."
And the Ogden family certainly has done a lot of things. Since the second accident, the Ogdens have found creative ways to do what they love, including hiking, skiing, rafting, sledding, and repelling. Heather even said in a Facebook post that they "duct tape[d] Nate's legs to the skydiving instructor and watched them jump out of an airplane at 12,000 feet in the sky."
Nathan Ogden hiking with family and friends
"No one would have thought little of us to enjoy life from the comforts of our living room," Heather wrote, "but both Nate and I [know] that a true 'living room' doesn't have walls and must include nature."
In spring 2017, over 15 years after Ogden's paralysis, an inspired idea came to Heather that would send their family on yet another adventure. But this idea was different—it was a prompting to do something for someone else.
Heather proposed her idea to the rest of the family in their next family home evening. The family of six committed to bike a thousand miles—starting from the ski resort where Ogden originally broke his neck and ending in Los Angeles, California—to raise money for wheelchairs needed in third world countries. They decided to call their effort "Chair the Hope."
In July 2017, the family set out on their 1,200-mile journey, riding relay-style along the coastline through the hills of Oregon and California. Nathan Ogden also cycled legs of the race in his handcycle, which was an impressive feat considering that his second neck break had left him partially paralyzed in his triceps and in his core. When Ogden became tired, his children would take turns pushing him from behind, even though they were exhausted from their own legs of the trip.
"They had to push themselves to new limits physically, mentally, [and] spiritually," Nathan Ogden says of his children. "And when it came to that moment where they had [to decide] to go another mile or quit, they would tell us, 'I wanted to quit so bad, everything in my body said stop.'" But they didn't. When they needed to find the strength to keep going, they pictured the little kids who needed a wheelchair. They imagined other dads like theirs who needed to get back into life. And they kept pedaling.
The Ogden family on their 1,200-mile ride
When the family finally rode across their finish line at Santa Monica Pier, they were greeted by family and friends with great joy and anticipation. But for Heather, the fact that they had actually accomplished what they had set out to do didn't set in until a few hours later. They were sitting in a restaurant eating together when it hit her that they had really done it, causing tears of gratitude to stream down her face. She recalls, "I just had this overwhelming feeling come over me that said, 'Job well done.'"
Delivering Wheelchairs in Mexico
In March 2018, nearly a year after Heather's inspired idea to do their 1,200-mile ride, the Ogdens and their four children boarded a plane for Mexico. Finally able to experience the fruits of their labors, they delivered over 400 wheelchairs in three different cities.
One especially touching moment that Ogden remembers was when they were delivering chairs in Oaxaca. They went to greet a recently paralyzed man who had arrived in an ambulance, but when the doors of the ambulance were opened, all they could see was a large tire sitting in the middle of the cabin. The man's son quickly pulled the tire out of the back to reveal his father lying in a corner wrapped in dirty blankets. After a companionship of LDS missionaries lifted him from the ambulance, the Ogdens were able to present him with his wheelchair.
The Ogdens' oldest daughter, Seniya, tearfully said later, "If we lived in Mexico, that would probably be me and my brother waiting for my dad to get a wheelchair. We would be the ones carrying him around. We would be the ones having to wrap him up in dirty blankets because that's all we had."
Nathan Ogden with a man and his new wheelchair in Mexico
Though none of the Ogdens spoke Spanish, their most important connections had no language barrier but were felt with the heart. "After we went and delivered the wheelchairs to the people, I feel like I've been able to see through the Savior's eyes," Heather says. "I have felt like that's been just a tiny glimmer into possibly what Heavenly Father and Jesus Christ see in us."
After all the miracles the Ogdens experienced in creating their own non-profit, they felt inspired to take it a step further by creating a film of their journey. They had taken a film crew with them on their bike ride and to Mexico as well, but only for the purpose of preserving those memories in their own family videos.
"We never dreamt of doing something like this," Ogden says. But as their followers increased and their supporters grew, the Ogdens saw an opportunity to touch even more lives by creating a documentary of their story.

The Ogden family
Their independent movie, Chair the Hope: A Story of Faith and Love, premiered in Meridian, Idaho, with a full house and sold out again at its showing in Ogden, Utah. The family hopes to continue sharing the movie to inspire others and raise more money for wheelchairs to deliver on future trips.
After all their family has accomplished, the Ogdens continue to give Heavenly Father the credit. "It wasn't our idea; it has never been our idea," Heather says. "It was His."
All photos courtesy of the Ogden family
---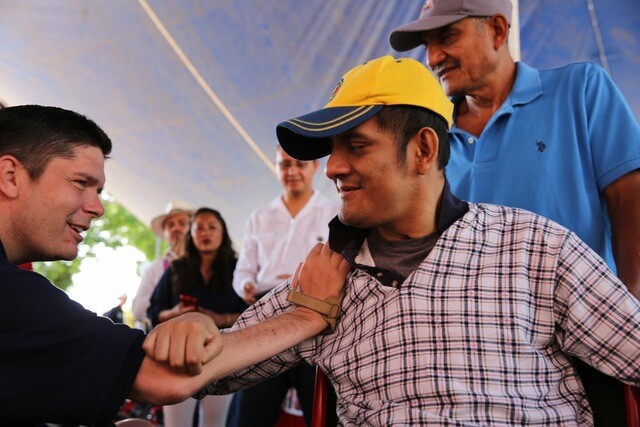 To donate to Chair the Hope or to order DVDs of the Ogdens' journey, visit chairthehope.com. You can also learn more about Nathan Ogden's story by visiting nathanogden.com.