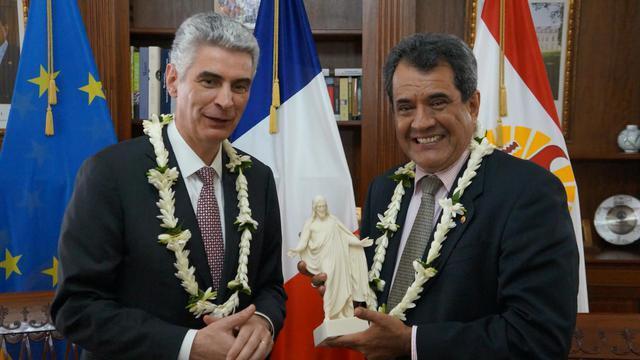 "We could feel their devotion. There were people of all ages, youth, adults and children who did everything that was necessary, collecting fallen tree branches, sweeping and cleaning. It was extraordinary," President Édouard Fritch said during a meeting with Bishop Caussé. "Their desire to serve was very strong."
Presiding bishop of The Church of Jesus Christ of Latter-day Saints, Bishop Gérald Caussé, met with French Polynesian president Édouard Fritch on Thursday 23 February in Papeete. . . .
During the visit Bishop Caussé expressed gratitude to the French Polynesian government for supporting the activities of the Church in this South Pacific territory and recognized the Church's growing role and increased visibility in the Islands.
President Fritch expressed his appreciation for the Church's assistance following recent heavy rains and damaging floods in Tahiti.
More than 400 "Mormon Helping Hands" volunteers participated in clean-up efforts in the community of Pirae after the flooding, which left a large number of people homeless.
Lead image from Mormon Newsroom