Editor's note: All subjects written about in this story are referred to by first name only to protect their privacy.
Of all the places 12-year-old Karin slept when the sun slipped beneath the horizon at night, the Oakland California Temple grounds were her favorite. It's little wonder she was drawn to the gardens—compared with the caves, creeks, and abandoned houses where she usually found shelter, the majestic temple with its golden lacelike spires must have felt like her very own palace.
Her plan was simple. All she had to do after Mutual activities on Tuesdays was pretend that her parents were coming soon to pick her up. Then she'd leave the meetinghouse adjacent to the temple, take the steps leading up to the visitors' center, walk through the gate, and ascend a stairway to the second-level gardens. There, she'd wander through the bushes and trees until 10:00 p.m., which was when a worker would come and lock the gate, never noticing the girl inside.
"I knew I was safe. Nobody else would come [up]. And I would sleep in the gardens," she says. "The concrete bench wasn't very soft, but I would just use my jacket or something, or when it was really cold or if it was rainy, I'd sleep underneath the bench. But the grounds were soft next to the flowers."
The view from atop the hill was spectacular. Karin could clearly see the San Francisco Bay and the buildings bordering the water, the windows of skyscrapers lighting up the darkness like stars. Before going to sleep, she would keep herself company.
"I would just make stories up," she says. "[Like], 'Look at my bedroom window; look at the great view I have.' And then the next morning at 6 o'clock, the workers would come and they would unlock the gate. . . and once they were gone and they'd go into the visitors' center to work, I would just sneak down the stairs and then walk out the gate. That was always a great place to sleep."
The temple grounds were a very literal place of safety for Karin when she was a girl, but it wasn't the only time she has felt heaven watching over her. From her childhood spent on the streets to an abusive marriage to being in mortal danger as an adult, she has survived many difficult seasons, but she says the miracles have remained constant. Now a professor, Karin has studied at Harvard University and obtained her doctoral degree from the University of Minnesota. She teaches at a college in San Antonio, Texas, and online at Brigham Young University–Idaho. Her story is equal parts unbelievable and far too real; her words spill out quickly as she explains that she has been praying about whether to share it.
The nuances are complicated, and for over four hours she tells how she endured her own personal winter to ultimately thrive in the light. The memories are so real it seems she can nearly taste them on the tip of her tongue. But the effect is not bitter.
It is beautiful.
Born in Hawaii to parents who were not members of The Church of Jesus Christ of Latter-day Saints, Karin recalls her childhood with a loving father and a very abusive mother who often fought. Karin and her two brothers were given lashings and beatings as children, and she says her mother would chase them out of the house and "[pull] a knife out to kill us" as they ran away.
She states matter-of-factly that at other times, her mother would disappear from home for weeks. And while she doesn't elaborate much about this time in her life, Karin expresses sympathy for her mother, saying she "never had a loving home . . . to know how to be a good mom or a loving mom" and therefore "perpetuated that same cycle."
Due to her mother's volatility and mental health issues, the family split apart. Karin and her brothers later went on a trip with their mother but were abandoned at the San Francisco airport. Together, the three siblings made their way to Oakland, California.
Karin's older brother, who was about 14 at the time, thought the big, fancy houses up in the Oakland hills looked like a nice place to go, so they headed in that direction. As they stuck together, the streets in that area became their home.
Staying alive was a game of survival: For food, the three siblings walked into stores and sneaked out with pieces of candy in their pockets. Chinatown, with its vibrant and noisy sidewalk markets, was also the perfect place to snatch a piece of fruit and stuff it inside a backpack. More than anything, Karin savored a crisp and refreshing apple—each bite a welcome break from the diet of sugar that did nothing to relieve the ache of hunger in her stomach.
Day after day, Karin slipped through the streets unnoticed. When she needed clothes, she would dart inside stores looking for something that might fit, layering on items in dressing rooms and putting clothing in her school bag for her brothers. Malnourished, as a 12-year-old she wore a girls size 6x (intended for someone half her age).
Yet despite these challenges, Karin and her siblings attended school, where she worked hard to excel. But there was a fear of failure driving her perfect A's—her older brother warned them not to draw suspicion from teachers who would insist on talking to parents if they received poor grades. So Karin took the role of student seriously; to stay with her brothers, she felt she had no choice.
"I'm sure I stunk [and] my hair was greasy as can be. The teachers had to have wondered and questioned, but nobody ever said anything because I got really good grades," she says.
More than anything, Karin savored a crisp and refreshing apple—each bite a welcome break from the diet of sugar that did nothing to relieve the ache of hunger in her stomach.
They did their best to keep clean, washing their clothes in a creek and bathing in the Oakland public library bathroom. But at night, there were times when it grew too cold for comfort and the unforgiving city provided no warmth. So Karin and her brothers would scout out which homes had hot tubs, and under the cover of darkness they climbed backyard fences before plopping down on the other side. Ducking beneath the coverings of the pool to stay hidden from view, they thawed in the heated chlorinated water.
But then, Karin's brother made a friend who was a Latter-day Saint, and the friend's family looked after her brother. The two boys attended Scouting activities together in the meetinghouse adjacent to the Oakland temple. His experience gave Karin's brother an idea: thinking the Oakland temple was called the "Norman Temple" named after "a rich guy named Norman," he brought his sister to the meetinghouse on a Tuesday night.
Only he didn't go inside.
"He took me up there . . . because that was Mutual night and [he] said, 'There [are] good people here.' And he left me," Karin says, explaining that he thought she would be safer there than on the streets with him.
Walking inside that Oakland chapel and sitting down on a cushioned pew in the back, Karin watched as opening exercises commenced. The proceedings were new to her, but before long a woman with short brown hair and a wide, easy smile approached and sat beside her, asking how old she was. Although she didn't look it, Karin was 12 at the time.
"'Oh, well, you're a Beehive,' she [said]. 'You're with me,'" Karin recalls of her Young Women's leader Sheila. "I didn't know what a Beehive was, but obviously she could tell I had to be a Beehive because there was no way I could be a Mia Maid or a Laurel."
While she didn't attend church or Young Women's activities every week, Karin eagerly went to activities like girls' camp and youth conference, since it meant guaranteed meals and shelter. Crossing paths with her siblings only occasionally—her older brother started hustling on the streets to provide for him and their younger brother—Karin lived on her own. At times, she stayed with her best friend, Mary, from church, who also had a difficult home life. This being the case, Karin often felt safer in the streets, at the creek, or on the temple grounds.
She describes the gardens as though she were there only yesterday, although she hasn't been back in decades. Once, while trying to access the gardens of the Oakland temple to sleep, she remembers accidentally walking inside the doors leading to the main entrance.
"The temple workers were all in white. I walked in and saw them and felt like the doors of heaven had opened and his angels [were] welcoming me. I froze. I thought, 'Oh, I'm not supposed to be in here,' and I just ran away," she says, crying. "I always felt so safe there because I [thought], 'There [are] angels here, just downstairs watching over me.'"
Whenever anyone would ask details about her life, Karin avoided giving a straight answer. So, although she was often at Sheila's house, where she could bathe and have a good meal, if Sheila ever inquired about her family, she avoided telling the truth.
"She would feed me and always asked about my parents, but I always would dodge it, right? Like, 'Oh, they're busy, they're working.'. . . But she also had 30 Beehives in the class, so [it] was huge and there was a lot of stuff going on. So I [would] dodge it and disappear for a while."
But while Karin might have disappeared often, Sheila did manage to snap a picture of her once. The yellowing photo is the only picture Karin has from that time of her life, showing a thin girl with long black hair, thick eyebrows, and a curious look in her eyes. Sheila recalls her interactions with Karin from that time and how she didn't comprehend the gravity of her situation.
"Karin was so good at hiding what was going on that I really didn't know the extreme," she says, adding that she would have helped Karin's brothers if she had only understood their circumstances. "[She] was often hesitant to share things. . . . I think her fear of abandonment was huge."
Sheila's husband, Mike, was in dental school at the time and was often away from home or studying. So while he remembers Karin being at his house with her friend, and that his sons loved having her over, he was also unaware of Karin's life on the streets.
"My assumption was that she was living at home, that her birth mother didn't have much to do with the kids. I was not aware that it was as troublesome as it was. I don't think Sheila was either," he says.
When Karin was 16, Sheila, Mike, and their family moved to Idaho. Although her memory is somewhat hazy as to how things unfolded, Karin remembers reaching out to her leader, who sent her a one-way ticket to their new home. Since Karin had no birth certificate or records in the foster care system, Sheila and Mike simply told others that Karin was their foster daughter. And since she naturally fit in and took on the family's last name, those weren't even the right words for how they felt about her.
"I just considered her a member of the family," Mike says. "When we moved back home to Pocatello and we decided to have her come up and stay with us, it was just kind of [like], 'Why not? She's a part of the family; why not have her come and stay?'"
Based on pictures alone, it's clear Karin truly was considered family: One photo shows the teenage girl surrounded by her brothers in color-coordinated outfits. In another, she holds the newest addition to their family with a bright smile on her face, cradling the baby boy in her arms.
During her high school years, Karin was an exchange student out of state and found a Book of Mormon at a home where she was staying. She read parts of it while she was there, and this was just one of many things that ultimately led to her conversion. But while she met with the missionaries many times, Karin intentionally asked questions that would stump them and wasn't fully on board with the Church just yet.
It wasn't until a stake conference in Idaho where she met Elder Vaughn J. Featherstone that Karin remembers her testimony of the gospel really being solidified. Sheila introduced them hoping Karin would be able to find some answers to her questions by speaking with him. Of that experience, Karin recalls the following:
"He just looked at me . . . right in my eyes, and I thought he was looking right into my soul. . . . And he held my hand and [said], 'She already knows.' And I looked at him and could feel the Spirit so strongly from him and thought, 'I know. I know I know,'" she says. "I had felt the Spirit so many times. I could always intellectualize myself out of the gospel if I wanted to. . . . But I could not deny the feeling of the Spirit that was overpowering during that time and other times of my life . . . so that, for me, has been the confirmation."
Not long afterward, Karin was baptized, at age 17, before graduating from high school. The determined new graduate then turned down a scholarship at Idaho State University to attend the University of Hawaii, hoping she would be able to connect with her brothers somehow. While there, she worked multiple jobs to pay for her tuition, selling everything from flowers, T-shirts, and suntan lotion on Waikiki beach to waiting tables at night.
"We financially could not help a lot, and she worked sometimes [several] jobs to be able to accomplish her academic goals," Sheila says.
Karin was actively involved in the Church in Hawaii, helping in the conversion process of a member of the US Navy who would later go on to serve a mission. At age 19, she was called to be Young Women's president, which is where she discovered her love of working with the youth. The members of the Church on the island also demonstrated Christlike discipleship, helping her gain a testimony of the Atonement and its healing power.
"There's something special that happens when you combine the Aloha spirit with the gospel . . . Christlike love is magnified," she says.
Although Karin never did find her brothers in Hawaii, she feverishly worked for her degree and graduated in communications in three years. She then dived into her master's degree immediately afterward at Miami University in Ohio, heading across the Pacific for the mainland once more.
But when she first arrived in Ohio, the Hawaiian was unprepared for temperatures that dipped below 70 degrees. With only flip-flops, shorts, and T-shirts in her wardrobe, Karin hurried to the Salvation Army for a coat and some mittens.
The different climate didn't stop her from achieving her dreams. Believing that education was her ticket to a better life, she again excelled academically and earned her degree in one year instead of two. At just 21 years old, Karin graduated with her master's in communications. She never walked in a ceremony; never quite feeling like she belonged to a family, she thought there was no point. Feeling directionless, she was watching TV one day when she heard that the hottest place in the US mainland was Phoenix, Arizona.
She never walked in a ceremony; never quite feeling like she belonged to a family, she thought there was no point.
"It was 104 degrees. I said, 'That's where I'm going. I gotta warm up," Karin laughs. "And I did. So I loaded all my belongings, which was basically my computer and my clothes, and drove across country to Arizona, and I stopped at a 7-Eleven . . . grabbed a newspaper, and looked at the ads. And there was an ad, and they were looking for a roommate."
Karin dialed the number and met a woman who listened to her story and took her under her wing. While working in the area, Karin attended church and institute and actively dated, but she had low self-worth and a fear of commitment. It wasn't until she was 26 that she felt ready to be married.
For the first time in her life, it seemed things were finally starting to look up.
When Karin married her first husband, she believed things were going to be picture-perfect.
"I thought that this was a wonderful family. They were pioneer stock, his aunt sang in the Tabernacle Choir—they were this idealistic [Latter-day Saint] family, and, given my broken background, you can see how I would've thought that was like hitting the jackpot . . . and I get to be a part of this."
But Karin hadn't been married for long before she learned that her husband had issues he hadn't previously disclosed. He was also physically abusive, so the newlyweds turned to the Church's Family Services program for counseling.
"We'd been married a couple years and had this new baby—on the outside [it] looked perfect, right? Very Instagrammable, although Instagram didn't exist back then. But everything was really a façade," Karin says.
Back at home in Pocatello, Mike recalls that his family sensed there were issues in Karin's marriage, although the physical distance prevented them from really understanding the severity of it.
"We knew there was a problem and were very, very frustrated . . . we were in Idaho and you just kind of pick up on things that don't seem right on the phone or whatever. I know that her brothers were ready to go and take matters into their own hands and bring her home," he says.
After a couple of therapy sessions, Karin's counselor privately gave her advice saying he believed she and her daughter were in danger and needed to leave.
"I didn't know how to take it, and he said, 'Give him an ultimatum one more time.' At this point it's Phoenix, so it's 100 degrees outside, right? And I'm wearing long sleeves to cover the bruises and the scars," she says. "It was very obvious. And he just said, 'You can give him one more shot, but you have to be ready when he does this again, because he will.'"
When her husband had another violent outburst, Karin fled Phoenix with her daughter, Taylor. With the help of the police, they arrived at the airport and boarded a plane to Salt Lake City, ultimately taking refuge in Mike and Sheila's home in Idaho. While there, Karin, who was in a cast from the waist down and weighed only 100 pounds, began recovering, which included relearning how to walk. Mike recalls that time and the early misgivings he had when Karin was first considering marrying her husband.
"It breaks your heart because nobody's ever right for your daughter. . . . I wasn't real thrilled with her marriage. And you know, it wasn't anything in particular, it was just the gut feeling that 'I don't like this guy.' Is that because he's marrying your daughter and nobody's good enough? Or was it something else? And it turns out, it was something else," he says.
After acquiring a teaching position and residency in Minnesota, Karin began a difficult divorce process. It was during this time that her husband tracked down her location and kidnapped and sexually abused Taylor, who was 2 years old. Karin felt racked with guilt that she hadn't been able to protect her daughter.
"I felt like I couldn't catch a break. Being raised in an abusive home, picking an abusive husband, being homeless—[I was] just trying to do the right thing. But everything just kept going wrong," Karin says.
One day, after learning devastating news from the police about other times her husband had abused their daughter, Karin received a blessing from her home teacher that she continues to reflect on.
"In the blessing, it said that . . . [these challenges were] not part of what I needed to learn, but they were so I could help others. It gave me a different perspective [that] I wasn't being punished because I wasn't good enough or [because] I did something wrong. These were important lessons to help me be able to open up my heart and to minister to others that may be going through the same thing later on in life."
These were important lessons to help me be able to open up my heart and to minister to others that may be going through the same thing later on in life.
Karin says church leaders who offered their support gave her the courage to leave her situation. To women in the same shoes, she gives this advice:
"You've got to remember your self-worth. You're worth more than that. And you've got to think about your children. What kind of example are you setting for them, and what kind of life do you want them to have?" she says. "You aren't alone. There are people who love and support you and will help you through [this]. Even if you feel like you are alone, and maybe your family and your friends leave you, you're never alone. Christ is with you. Heavenly Father is with you, and if you just have faith and keep your eyes open, you will see the miracles happen in your life. You will see that all these blessings are waiting for you if you just stay strong and stay faithful."
After her divorce, Karin recalls talking with Sheila, who wanted to formally adopt Karin and have her be sealed to their family. In some ways, it may not have seemed logical—as an adult, Karin's name would likely change if she married again and there was significant paperwork involved. But having her officially be a part of their family when she was legally alone in the world became important to them.
The adoption process was complicated and lengthy, to say the least. For a year, Mike and Sheila had to wait for Karin's birth mother and father to relinquish rights by posting in newspapers to see if anyone would step up as her parents.
The result after that long wait was painful for Karin.
"Nobody claimed me, which was also another hard thing to face. It's official—[I] kind of knew it, [although] maybe I didn't want to admit that nobody wanted me . . . that's a hard pill to swallow when you realize that. But then we went to court, and I was officially adopted," Karin says.
"The difference in Karin's countenance—I mean, she just changed because she was official," Mike says. "People have asked why we did what we did because we [had] . . . a big family already. But she just was a light in our lives. You know, I can't imagine not adopting her. . . . She has been a blessing."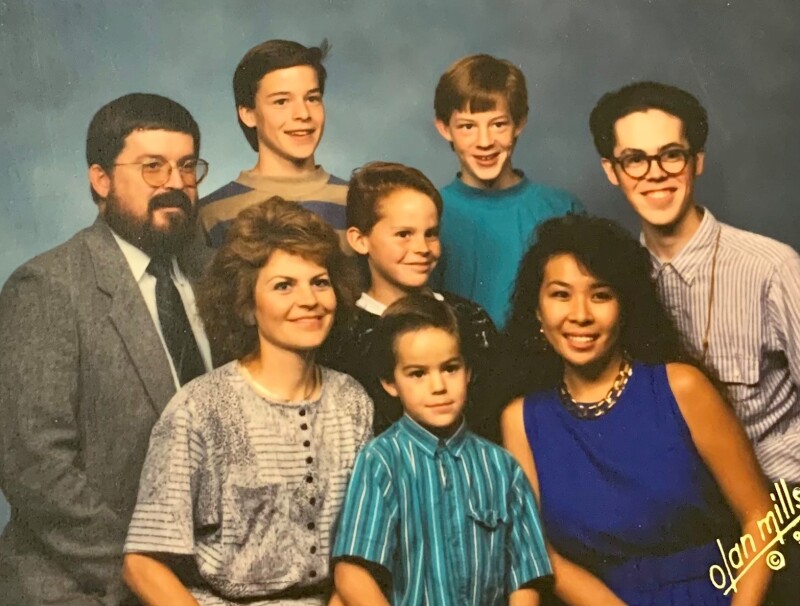 Karin fondly remembers sitting around the dinner table with her family when the adoption was being discussed. Her younger brother Tim, who was 16 at the time, was convinced that he was the one who was going to be adopted instead of her—as one of the youngest, his brothers often teased him that he wasn't related to them by birth. She laughs at the memory.
"I remember that conversation so vividly because . . . even though I always felt like they were a family, and I was . . . [this] charity case add-on, in the eyes of my brothers I was their sister and I [had] always been their sister," she says. "I felt like at that point, I was a part of the family and I had always been a part [of it]. I always belonged someplace."
And then on June 15, 1995, the family was sealed in the Salt Lake Temple.
"Ever since that sealing, I think that's when my [mindset] changed, too, that I belonged someplace. I was good enough, I had a family, and I could relax and not be so fearful that my whole life was going to be spent alone," Karin says.
I belonged someplace. I was good enough, I had a family, and I could relax and not be so fearful that my whole life was going to be spent alone.
Sheila also saw the change in her daughter, who she says was different than before.
"The fear that she had when she first came . . . she wasn't, I felt like, able to really be herself," she says. "When she was able to recognize that . . . we loved her and wanted her to be part of our family, that was a blessing to see that change. She knows she's our daughter."
After working in the corporate world and finding that helping people achieve their dreams both academically and personally was more fulfilling for her, Karin decided she wanted to pursue education as a career. Even though she never thought she was "Ivy League material," she applied to some of the top schools in the nation. With her 4.0 GPA and 97th percentile score on the GRE, she was accepted at many places. She decided to study at Harvard.
Karin stayed in an empty apartment with her daughter and a displaced former student named Ellie, who had agreed to be her "nanny." They slept on an air mattress and lived off of cereal, milk, and peanut butter and jelly sandwiches. She also began attending the ward in the area and was called to be Young Women's president. Karin recalls being one of the few female graduate students in their congregation.
"I always felt like . . . the fish out of water. I'm the minority person here, everybody's looking at me at church saying, 'Why isn't she getting married and having kids? Instead, she's continuing to go to school,'" she says she felt at that time.
But one day, Elder Paul H. Dunn spoke to Latter-day Saints in the area. She remembers having a conversation with him that gave her perspective on why she was getting an education.
"He said, 'You will be a leader in the Church. And we need women like you to have a strong education as well as [a] strong gospel foundation.' And I remember he [said], 'That's important for you to have, and that will help you strengthen your family and your community and your ward.' And I remember. . . [feeling] a little bit like I could breathe, and I don't have to feel guilty for being here. Like, I'm not taking up a space that should be taken by a man . . . my education is also valuable and will help others in my family," she says.
Due to a change in her doctoral program, Karin transferred to the University of Minnesota, which was then the number one program in the country. Taylor remembers the long road trip from Boston to Minnesota when she was 4, listening to music in the car with her mom, like church CD's, Whitney Houston, and Mariah Carey. It was in Minnesota that her mom graduated and started teaching courses on campus—but that isn't what stands out in Taylor's memory.
"We used to play hide-and-seek at our house a lot," she says. "And so she would show me really good hiding spots like the attic, the basement . . . where nobody could find me. Which I thought was fun, and [I] didn't know until I was an adult that we were hiding from a student stalker of hers."
Although Taylor was unaware at the time, the situation with the stalker was severe enough that the police were involved. One night when Karin was worried for her and her daughter's safety, she received a phone call from an acquaintance of hers named Jon. When he understood her situation, he immediately headed to her house, spoke with the police, and invited Karin and Taylor to sleep at his house, which was on a lake 15 minutes away from the city.
The police followed and parked down the street to ensure Karin's safety. But in the middle of the night, it dawned on Karin that she and Taylor could be at greater risk than before.
The police followed and parked down the street to ensure Karin's safety. But in the middle of the night, it dawned on Karin that she and Taylor could be at greater risk than before.
"I am in this strange man's house on the lake. . . . Nobody knows where I am. This is before cell phones," she says. "I have no cell phone. If I don't show up at work tomorrow and he kills me and my daughter and puts us in a dumpster, nobody will ever know."
Nervous, upset, and disoriented in a new environment, Karin became physically ill and called out to Jon. He hurried and helped her to the bathroom, but she didn't quite make it and threw up all over the counter and mirror. As her anxieties persisted that night, she threw up 12 more times—but Jon stayed with her and cleaned up after each episode.
"He got this big Tupperware plastic bowl [and] sat at the base of the bed and said, 'I'm right here if you need me,'" Karin says, emotional.
After that, Karin knew she could trust Jon.
"I knew he was different because he never was trying to make a move or take advantage of us. He just took care of us the whole time, took care of my daughter, [and] cooked for us . . . and just never even asked for one thing," she says.
Later, the student who had been stalking Karin came to campus with a gun and chased her up three flights of stairs, but she was able to sneak out with the help of a law enforcement professor. The student was then arrested after holding up a gas station across the street. Once more, Karin had to return to court, this time to identify the man—but Jon went with her. Today, Jon reflects on that time, saying that he wasn't trying to "be Superman or [anything] like that," but that he could tell that Karin and Taylor needed the support.
"I think when you see the emotions that she was going through, and you [sit] and look at a little girl like Taylor and Karin having to go through this—I mean, [they were] basically [on their] own," Jon recalls.
Jon had been investigating the Church at the time and was later baptized. Six months after his baptism, he and Karin were married and Jon adopted Taylor, who had been excitedly anticipating the marriage and already considered Jon to be her dad.
One year after Jon's baptism, the best day of the family's union came when they were sealed on October 16, 1998, in the Salt Lake City Temple. The couple would also soon have a son, Jordan. Jon reflects on how his life would have gone in a totally different direction without these important events.
"It was very special [when we were] sealed. It was very special when I adopted Taylor because it was like I'm not going to just leave her. . . . She's going to be my daughter," he says, becoming emotional. "And so I'm just very grateful that we were able to do that. . . . After so long of fighting this thing, the judge basically [looked] at Taylor and said, 'He's going to be your dad.'
Today, Karin is serving as the stake Young Women's president where she lives in Texas, and Jon is a high councilor after serving in three bishoprics for the past 14 years. Their son, Jordan, served a mission in Fortaleza, Brazil, and is studying engineering at BYU-Idaho. Taylor, now married with children, also served as the Young Women's president in her ward before her recent move to Texas.
"I've always been very impressed with how strong she is," says Taylor of her mom. "She may have not known [that] she was [strong] as a kid, but I feel like the things that she went through made her develop some very deep self-identity roots that have been the key to her success—emotional, mental, physical, and . . . spiritual. . . . She really isn't a cynical, bitter person. She's quite the opposite, and she usually is the one bringing light to others, which always surprises me when I put her life into perspective."
Karin blesses people's lives in many ways, Jon adds. From going above and beyond as a teacher by calling students individually to make sure they're on track to helping the youth she serves, she is constantly looking out for other people.
"When you're around her, people will feel the love that she has for them," he says. "At graduation . . . you see students come up to her and say, 'If it wasn't for you, I'd never be here.' And you get that a lot."
Taylor continues by saying her mom is friendly and outgoing and a great conversationalist. She adds that people who are just starting to get to know her mother usually only see "a tiny sliver of her personality and her history and her skills and abilities" since there are so many layers to her.
"Everything has its own time and purpose and season. And hard things do pass," Taylor says. "I feel really grateful that what I went through happened at the age that I was, at the time that [it] was. . . . It was really hard—I can't even imagine how hard it was for my mom. . . . But it was a season, and it passed, and we've seen blessings tenfold for our family and [have come] out on a much stronger side when the effects could have been so much worse."
Jordan says, "My mom has been one of my biggest influences in my life, whether it be in school as she tries to help me succeed to being the best Christlike example to me. She is always there with open, loving arms, even when I feel like I do not deserve it. She's been a sturdy foundation for me in the gospel when mine was not strong enough and taught me that with a strong work ethic, you can overcome anything in your path."
When she's not teaching students in Texas, Karin teaches BYU–Idaho students online. She particularly enjoys sharing gospel principles with them and texts them inspirational things to keep them motivated as they complete their assignments. One semester, she even met with a struggling student twice a week just to check in and make sure he was on top of his homework. But helping others is a priority that applies in all aspects of her life—perhaps because the memory of the little girl hiding her troubles from the world doesn't seem so very long ago, and she knows that the burdens people carry often go unnoticed.
"You can never judge. Everybody has a story, and you don't know their situation," Karin says. "I think the biggest lesson I learned is to ignore what people say, because I know, 'Oh, how are you doing?' 'Fine.' 'Do you need anything?' 'No, I'm good,' I ignore that. . . . I follow the spirit of what I think people need and I just intervene."
Jon says his wife is very special and her testimony has been a strength to their family.
"She totally understands right from wrong . . . and she's very strong in the gospel," he says. "She always held close to the gospel. There's never been a time that she's wavered or even questioned. . . . She's super rock solid. And I think that's quite honestly why she has a lot of the joy that she does. . . . I think she feels that all the time."
Wherever she is, Karin makes sure everyone feels welcome and does her best to ensure that her home has no contention. She also likes to create a space at church or other activities where people feel safe—no matter how they might be dressed.
"Because I was that kid. I feel like they need to know that they're loved, they're not being judged, they're welcome, and that they can feel like they're a part of something," she says.
I'm actually grateful now that the first part of my life was winter because it solidified my testimony and taught me the patterns of where I need to go when I [experience] other trials in my life.
Although she wouldn't want to live through her trials again and would never wish them on anyone, Karin says she wouldn't change them, as they have made her who she is.
"[I think] life is like a year with seasons. I may have been born in the middle of winter. And my winter may have lasted for 30 years. But winter never lasts forever, and spring did come and so did summer. And then fall comes, and it all comes back around again," she says. "And some people are born in summer and it's all fun and games—the first part of their life is just great with rosy and sunny days."
"But winter will hit, . . . and that's when you . . . really dig deep and find your testimony during those times. So I'm actually grateful now that the first part of my life was winter because it solidified my testimony and taught me the patterns of where I need to go when I [experience] other trials in my life. It would have been a lot harder had I been born in summer and then hit winter. I would not have been prepared for how to get through when things are tough. I know that my trials make me who I am, and I'm so grateful for what I've learned from them."