LDS Living has seen some impressive pumpkin carvings over the years. From an image of President Russell M. Nelson to temples and gospel art scenes, Latter-day Saints have no shortage of creativity when it comes to pumpkin carving.
And this Halloween season, a new take on the tradition has caught our eye. Latter-day Saint Bronwyn Haws from Orem, Utah, has carved some of the most famous works of art in the world into her annual pumpkins. These are the paintings that the most art-illiterate of us would probably still recognize—even on a pumpkin.
"I have always had a huge passion for art and art history. My first art pumpkin was inspired by Van Gogh's Starry Night. Each year I choose another piece that I love and strive to recreate it on my pumpkin. I usually carve a few each year, but I always make sure I have one that encompasses the famous artwork theme," Haws explains.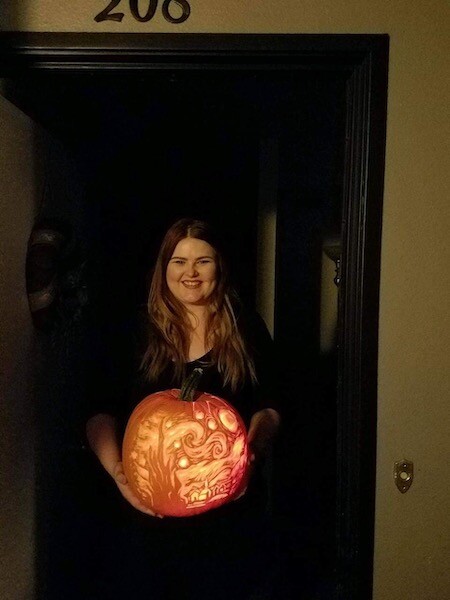 Haws has a bachelor's degree in fine arts with an emphasis in graphic design from Utah Valley University. And while "pumpkin carving" may never have been on her class list, Haws's love for art extends to many different mediums.
"I love being creative in any way. Carving is very similar to sculpting, or even printmaking. There is definitely a challenge to it, but I love pushing myself," she says. "There is a lot of creativity that goes into this holiday [and] that makes it exciting."
Sometimes Haws spends up to three hours on her pumpkins—the more realistic the artwork, the longer it takes to sculpt. And she uses a few more tools than you would get in your average pumpkin-carving kit.
"I use a lot of tools when I carve; people seem to laugh when I pull out all my supplies. Some [tools] I have gotten through pumpkin carving kits—like scoopers and serrated saws—others are intended for sculpting, crafting, and even woodworking."
But even more impressive than her tool collection might be her design process.
"I don't use templates, but instead use a washable marker or pen to sketch out the design. I start with an outline of basic shapes, similar to a coloring book style, and then sketch out areas outlining darker versus lighter shades. After I clean out my pumpkin, I start with deep carving areas that would glow the [brightest] and then work to darker, shallow areas," she explains.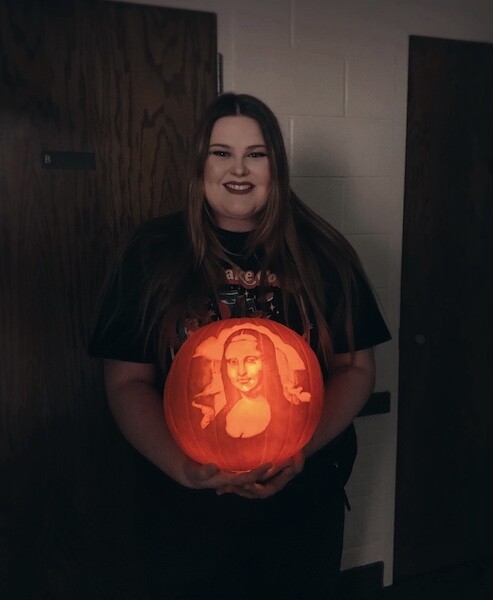 Haws would describe herself as an "expressive artist"; she puts a lot of what she thinks and feels into her work. Because she began drawing as a kid, Haws considers that medium to be one of her strengths, but she has also always loved painting, graphic design, sculpting, photography, printmaking, and ceramics.
"As a kid I always had a hard time expressing myself, and creating artwork became the key to explain my views of life," she says. "I believe that art can stir others in incredible and unique ways. As an artist, I hope to connect with the world and bring beauty to it."