Women in the General Presidencies are missionaries in many ways, from speaking in general conference to humanitarian work to serving with their husbands as mission leaders. But did you know that four of them served full-time missions as young adults? When you read about the experiences they had, it is easy to feel the love these sisters have for the Lord and the people they served. It is also inspiring to read about how their missions helped them develop a confidence in themselves as disciples of Christ—a confidence that is now blessing millions.
Reading about these mission experiences from Finland to the Dominican Republic will help you get to know your leaders on a more personal level and demonstrate how the Lord prepares His daughters for future missions in their lives.
Sister Sharon Eubank, Finland Helsinki Mission
Sister Sharon Eubank currently serves as the First Counselor in the Relief Society General Presidency. In December of 1984, she arrived in the city of Tampere, Finland, to begin serving in the Finland Helsinki Mission.
It has been said that Finnish is one of the hardest languages to learn. In an article for Church News, Sister Eubank said she told the Lord, "If you will help me learn Finnish, I will always use it to serve you." The article also reported that Sister Eubank can still speak Finnish fairly well today.
Sister Eubank had a chance to use her Finnish skills at a national women's conference held in Tampere, Finland, in September of 2019. At the conference, Sister Eubank shared how her mission changed her life.
To illustrate her point, Sister Eubank compared two photos of her that look almost identical. Church News writes that one photo was taken at her missionary farewell and the other was taken on the day she returned home. She is wearing the same dress and has a similar hairstyle, but Sister Eubank commented on the noticeable difference in confidence and attitude conveyed by the two photos.
"What happened to me in between those photos changed everything about my whole life," Sister Eubank said. "And the space between them is what has allowed me to have the career I have now. It is where I learned how to talk to people, how to find out what they really care about, and how to respond in a human way."
Read a full summary of Sister Eubank's remarks at the conference here.
► You may also like: What the 9 women in the General Presidencies had to say about their role in the priesthood
President Bonnie H. Cordon, Portugal Lisbon Mission
Young Women General President Bonnie H. Cordon served in the Lisbon Portugal Mission from 1984 to 1986. AChurch News article writes that President Cordon's sister also served in the Lisbon mission—at one point they were even mission companions—and years later President Cordon's son was called to serve there as well.
"What a special and memorable experience," President Cordon told Church News while recalling serving with her sister. "We each had the 'Sister Hillam' name badge. It confused a lot of people but it opened a lot of doors. People would ask, 'Why do you have the same name?' and then we would talk about families."
President Cordon had the special experience of returning to her mission to see the new Lisbon Portugal Temple in July of 2019 before its dedication that September. Church News writes that when she saw the temple, it took her breath away.
"I love Portugal and my circle of friendship there has broadened over the years. In my mind, everybody in Portugal is my friend," said President Cordon.
President Cordon would later use her Portuguese language skills when she served with her husband as he presided over the Brazil Curitiba Mission.
Images courtesy of Bonnie Cordon, used by permission.
Sister Michelle Craig, Dominican Republic Santo Domingo Mission
Sister Michelle D. Craig currently serves as the First Counselor in the Young Women General Presidency. She received her call to the Dominican Republic Santo Domingo Mission in 1984. Sister Craig reflected in a Facebook post on the difficulties she faced as a new missionary:
My mission in the Dominican Republic Santo Domingo mission over 30 years ago taught me many life changing lessons—one of them was the importance of gratitude and finding joy in the journey. I believe no matter where you serve a mission, there will always be adjustments. I stepped off of the airplane feeling confident in my Spanish after 8 weeks in the MTC—my confidence lasted all of about 30 seconds! I was adjusting to a new language, new food, a new schedule, and new living conditions: lizards in my cold shower and a frog who lived in our toilet! I remember laying under my mosquito net one night and silently crying. I had been there 16 days and I wondered how I would make it for 16 more months. I knew I needed to start finding gratitude and joy—and I needed to be intentional and deliberate in that effort. The next day I began a little challenge I set for myself. Each time I found myself thinking a negative thought, I would try to replace it with 3 good ones. Cold shower? No problem—cold water is good for your hair, I didn't waste unnecessary time in the shower, and it woke me up quickly! Over time I found negative thoughts entering my mind less and less. Now I know that not all of life's challenges can be overcome by a change in attitude. But I do know that when we are intentional about seeking joy and recognizing blessings and when we are striving to be disciples of the Savior and find joy in His service, our burdens can be made light. We can find joy in every journey.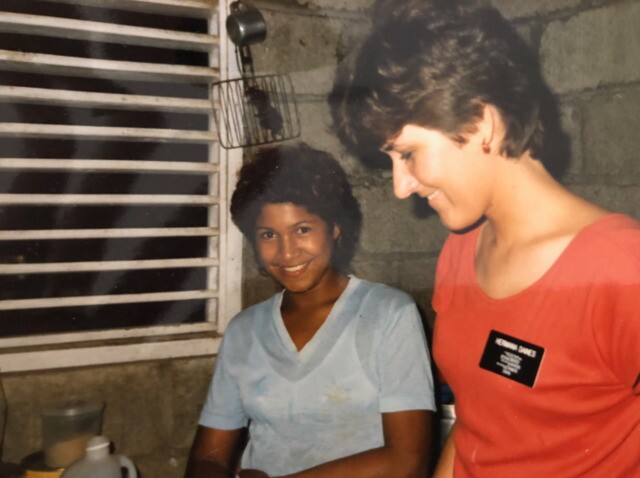 In a Church News article, Sister Craig said it was on her mission that she came to have a sure testimony of Joseph Smith.
"From a young age I knew that I was a daughter of God and that I was loved," she said. "But I remember every time I bore testimony of the Prophet Joseph Smith I would feel the Spirit. I had a beautiful confirmation that solidified my testimony. If Joseph Smith was a prophet then it's all true."
Prior to her full-time mission, Sister Craig moved with her family from Utah to Pennsylvania so her father could serve as a mission president there.
Image: Facebook screenshot.
Sister Lisa Harkness, Louisiana Baton Rouge Mission
Now serving as the First Counselor in the Primary General Presidency, Sister Lisa Harkness served a full-time mission in the Louisiana Baton Rouge Mission, where she taught in Spanish.
Church News writes that Sister Harkness spent her entire mission in one branch in New Orleans, which helped her learn how important developing trusting relationships is in sharing the gospel. Sister Harkness said her mission taught her to always look for an opportunity to bear testimony—a skill she now uses to teach her children.
"You find every opportunity to . . . teach the fundamental principles of the gospel," she said.
Image credit: Intellectual Reserve, Inc.
BONUS: Sister Reyna Isabel Aburto
Sister Reyna Isabel Aburto was called to serve in the Relief Society General Presidency in April of 2017. Sister Aburto didn't serve a full-time mission as a young woman, but she did catch the vision of missionary work when she joined the Church at age 26.
In a video series highlighting Sister Aburto's difficult life journey, she shares the special experience she had attending a Latter-day Saint church service for the first time. Sister Aburto had recently separated from her first husband and was in what she called a time of despair. When her mother was invited by the missionaries to go to church, Sister Aburto felt she had nothing to lose and agreed to go with her.
► You may also like: Latter-day Saint Psychologist: What Sister Aburto reminded me about fearing weakness
"That was the day my life changed. I didn't know what to expect, but the moment that I stepped in that building I just felt this wonderful feeling of being in a special place. I needed to find peace and solace for my sorrow. I needed to find a place where I could help my son grow and become a good man. It was the most amazing feeling," Sister Aburto saidin the video.
A few weeks after that experience, Sister Aburto was baptized. According to ChurchofJesusChrist.org, Sister Aburto says she has "never stopped marveling at the beauty of the gospel." A few years after her baptism, Sister Aburto married Carlos Aburto, whom she had first met when she was called to serve as a Gospel Principles instructor soon after her baptism.
Image: YouTube screenshot.
Lead image and all images of Sharon Eubank: Courtesy of Intellectual Reserve, Inc.