Because Latter-day Saints believe marriage is an essential step to exaltation, we strive to create marriages that strengthen and uplift us every moment, not only here but through eternity, something that's much easier said than done. As with all things worthwhile, marriage and love are hard, stressful, and take lots of work. But, they are entirely worth investing in.
Fortunately, we do not have to struggle through the journey alone. We can learn from the lives and wisdom of the wonderful leaders of the Church who have experienced and still experience many of the ups, downs, and unexpected turns of marriage.
So for this Valentine's Day, here are a few lessons about love and marriage from the lives of our beloved apostles and their wives.
Make the Tough, Small Decisions (President Monson)
Continue Dating (President Eyring)
Make Your Spouse the Person of Your Dreams (President Hinckley)
Don't Rush Romance or Timing (Elder and Sister Holland)
Get On the Good Side of Your In-Laws (President Uchtdorf)
Encourage, Don't Whine (Sister Hinckley)
Don't Let Money Distract from What Matters (Sister Oaks)
Remind Your Spouse Often You Love Them (Elder Scott)
Be Persistent and Consistent (Elder Ballard)
Focus On the Good (Sister Uchtdorf)
Make the Tough, Small Decisions
In marriages, we not only have to make life-changing decisions with our spouse, but we are also called upon to make small daily decisions about who we will be and how we will treat each other. But, as President Monson shows, sometimes sacrificing a little of our own pride goes a long way in building a life of happiness and love.
"It has been said that history turns on small hinges, and so do people's lives. Decisions determine destiny. That is why it is worthwhile to look ahead, to set a course, to be at least partly ready when the moment of decision comes. . . .
For a moment let me take you with me back to my college days. As a student at the University of Utah, I was attending a dance on campus . . . when a young lady from East High School danced by with her partner. . . . I just took one look and decided that there was a young lady I wanted to meet. But she danced away. I might never have seen her again.
About two months later I did. One day while waiting for the streetcar in Salt Lake City, I looked across the way and couldn't believe my eyes. There was the young lady I had seen dancing across the floor. She was standing with another young lady and a young man whom I remembered from grade school days. Unfortunately, I couldn't remember his name. I had a decision to make. . . . I walked up to that young man and said, 'Hello, my old friend from grade school days.'
He looked at me blankly and said, 'I can't quite remember your name.' I told him my name. He told me his name, and then he introduced me to the girl who later became my wife. That day I made a note in my student directory to call on Frances Beverly Johnson, and I did. That decision, I believe, was perhaps the most important that I have ever made" (President Thomas S. Monson, "Whom Shall I Marry?").
Little things like chocolates, notes of appreciation, and spending time together matter. Even though you are already married, be sure to keep dating and winning one another over. Elder Eyring gives us a perfect example of keeping love alive:
"After dinner we watched the movie 'Forever Young,' with Mel Gibson. The romantic ending is of young love reunited. The music at the end of the film, as it was in the beginning, was Billie Holiday singing, 'The Very Thought of You.' We, Kathleen in tennis shoes and I without shoes, danced on the basement carpet until the last note" (Henry B. Eyring, I Will Lead You Along).
-->Check out more marriage lessons from President Eyring.
---
To learn more marriage and spiritual advice from President Eyring, check out I Will Lead You Along at deseretbook.com.
In 1970, Hal received an impression to make a daily record of his activities. Years of journals form the backbone of this personal biography, a candid look at his walk through life with his beloved companion, Kathy. "The journal shows how a good-but-imperfect man works each day to win divine approval," write the authors, and this window into his past provides unforgettable insights about the man the Lord has shaped him to become.
Readers will love these richly designed pages, filled with photographs, sketches from the pen of President Eyring himself, and scores of entries straight from his journals woven into an engaging depiction of his life's journey.
---
Make Your Spouse the Person Of Your Dreams
Whether you are just married or have enjoyed many years with your spouse, strive to see and keep seeing your spouse as the person of your dreams. No couple showed a better example of this than President Gordon B. Hinckley and his wife, Marjorie.
"My children and I were at [Marjorie's] bedside as she slipped peacefully into eternity. As I held her hand and saw mortal life drain from her fingers, I confess I was overcome. Before I married her, she had been the girl of my dreams, to use the words of a song then popular. She was my dear companion for more than two-thirds of a century, my equal before the Lord, really my superior. And now in my old age, she has again become the girl of my dreams. . . . In our old age my beloved companion said to me quietly one evening, 'You have always given me wings to fly, and I have loved you for it'" (President Gordon B. Hinckley, "The Women in Our Lives").
Don't Rush Romance or Timing
Life is a series of perpetual and consistent change. Very few times, if ever, can we predict everything that will happen the next day, yet alone the next year or decade. Because of this, we should relax and try to enjoy the bumps and adventures together. Each relationship will develop in its own way and on its own timetable—and we should be happy for that.
When he was president of BYU, Elder Holland and his wife addressed the students about this need for patience with the timing of life.
"Pat: For all of the rest of you out there, women and men, we really believe romance and marriage, if they are going to come, will come a lot more naturally if you worry about them a lot less. By the same token we also know that is easy to say and hard to do. It's hard because so much of our young life in the Church is measured on a precise time sequence. We are baptized at eight. At twelve the young men are ordained deacons and the young women enter Mutual. Then we date at sixteen, graduate from high school at eighteen, and go on missions at nineteen or twenty-one.
Jeff: But then, suddenly, it is less and less structured, less and less certain. . . . I don't know whether this is our first piece of counsel or our last, but in any case, don't rush things needlessly and unnaturally. Nature has its rhythms and its harmonies. We would do well to fit ourselves as best we can with those cycles rather than frantically throwing ourselves against them. As suggested a moment ago, I know that for some of you "rushing things" is not the problem. For the group whose progress is being measured in glacial centimeters, forget this part of the message. But for the rest of you, be calm, be patient, be happy with the season you are in" (Jeffrey R. Holland & Patricia T. Holland, "Some Things We Have Learned Together").
Get On the Good Side of Your In-Laws
When we get sealed to that special someone, we also become sealed to their family and expand our ancestral roots. This is most definitely a blessing here on earth and in the eternities, but it can come with its challenges and even with some clashes. President Uchtdorf is good to remind us that happily ever afters are best achieved when we include our in-laws in the picture.
"Heavenly Father offers to you the greatest gift of all—eternal life—and the opportunity and infinite blessing of your own "happily ever after." . . .
One Sunday the missionaries brought a new family to our meetings whom I hadn't seen before. It was a mother with two beautiful daughters. I thought that these missionaries were doing a very, very good job.
I particularly took notice of the one daughter with gorgeous dark hair and large brown eyes. Her name was Harriet, and I think I fell in love with her from the first moment I saw her. . . .
When we had special activities at church, I rode my bike to Harriet's house and rang the doorbell. Harriet's mother usually answered. In fact, she opened the kitchen window of their apartment on the fourth floor and asked what I wanted. I would ask if Harriet would like a ride to church on my bicycle. Harriet's mother would say, "No, she will be coming later, but I will be happy to ride with you to church." This wasn't exactly what I had in mind, but how could I decline?
And so we rode to church. I must admit I had a very impressive road bike. Harriet's mother sat on the top tube bar just in front of me, and I tried to be the most elegant bicycle driver over roads of rough cobblestone. . . .
Was I disappointed? Yes.
Was I defeated? Absolutely not!
Actually, looking back I recognize that it doesn't hurt at all to be on good terms with the mother of the girl of your dreams" (Dieter Uchtdorf, "Your Happily Ever After").
---
To learn more about finding a "happily ever after," check out President Uchtdorf's Your Happily Ever After from deseretbook.com.
Sometimes we need a reminder that life was never all sunshine and roses for fairy-tale princesses. Before the true love's kisses and happily ever afters, there came once upon a times of poisoned apples, spindle pricks, and impossible tasks.
Speaking to the princesses of our Heavenly King, President Dieter F. Uchtdorf compares their challenges to those faced by famous fairy-tale heroines. Recounting Belle's captivity, Cinderella's servitude, and the sacrifices of the miller's daughter, President Uchtdorf emphasizes that each princess had to overcome adversity before she reached her happily ever after.
---
Even while you are busy focusing on your kids, your job, your calling, your education, your bills, and everything else, make sure you spend enough time to focus on your spouse. In addition, as Marjorie Hinckley reminds us, we should make sure the time we do spend together is delightful and not another source of stress.
"I know it is hard for you young mothers to believe that almost before you can turn around the children will be gone and you will be alone with your husband. You had better be sure you are developing the kind of love and friendship that will be delightful and enduring. Let the children learn from your attitude that he is important. Encourage him. Be kind. It is a rough world, and he, like everyone else, is fighting to survive. Be cheerful. Don't be a whiner" (Marjorie Pay Hinckley, Small and Simple Things).
Don't Let Money Distract from What Matters
Money troubles and arguments surrounding them consistently appear as one of the leading causes of divorce. There's no doubt that debt and differences in how spouses view money can cause a lot of tension and strain, yet it's silly to bicker and resent one another over something so fleeting. We can eliminate arguments over finances if we develop a gospel-centric view of money and simplify our spending. This is something Sister Kristen Oaks noticed as she served with members in the Philippines.
"The world's expectation that happiness is inextricably bound to owning lots of material goods runs directly counter to prophetic admonitions to marry and live simply. . . . During our service in the Philippines, Elder Oaks counseled young couples and their families to abandon the practice of extravagant wedding celebrations. . . . More than one couple with limited means went into the Church distribution center in Manila to purchase a simple CTR ring before they were married in the temple. They concentrated on the eternal union, not on a one-day blowout celebrations with expensive, superfluous bangles and bling. These Filipino couples will have a greater chance of happiness in marriage as they focus on each other and on their covenants rather than on trying to impress people with expensive overindulgence" (Kristen M. Oaks, A Single Voice).
---
For more of Kristen Oaks' insights, check out A Single Voice at deseretbook.com.
In a Church that is focused on family, singles can feel somewhat discounted and discouraged. Oftentimes the very resources meant to support people can inadvertently cause pain. In the book A Single Voice, Sister Kristen Oaks addresses questions such as:
What is "the single best thing you can do" as a single person in the Church? Are there ways to ease the transition from a singles ward to a home ward? What are some specific ways to make single life happier and more fulfilling? What are some tips for coping with the unique challenges of holidays? What are the key decisions that singles need to make?
Remind Your Spouse Often You Love Them
Tell them and then tell them again. Tell them not only with your words, but your actions, your looks, your gentleness, your attentiveness, and your care. And remember this counsel from Elder Scott:
"Do you tell your wife often how very much you love her? It will bring her great happiness. I've heard men tell me when I say that, "Oh, she knows." You need to tell her. A woman grows and is greatly blessed by that reassurance. Express gratitude for what your spouse does for you. Express that love and gratitude often. That will make life far richer and more pleasant and purposeful. Don't withhold those natural expressions of love. And it works a lot better if you are holding her close while you tell her" (Richard G. Scott, "The Eternal Blessings of Marriage").
Be Persistent and Consistent
In marriage, as in all relationships, we cannot put all of our effort into winning a person's love and then just quit. Love requires persistent and consistent attention and assurances. No one better understands this than Elder Ballard, who showed great tenacity in pursuing the woman of his dreams, but was sure to follow up with years of work and devotion.
"Sixty-four years ago this September. . . I attended a Hello Day dance at the University of Utah with a friend of mine. He told me about a beautiful sophomore named Barbara Bowen, whom he thought I ought to meet. He brought her over and introduced us, and we started to dance.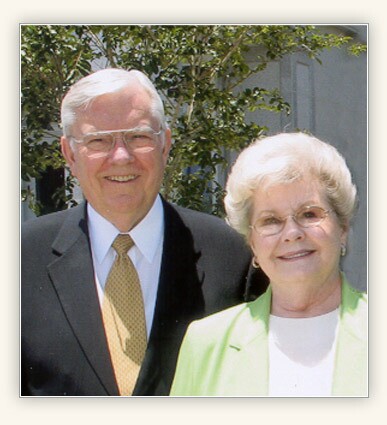 Unfortunately, this was what we used to call a "tag dance," which meant that you got to dance with the girl only until somebody else tagged you out. Barbara was vivacious and popular, so I got to dance with her for less than a minute before another young man tagged me out.
That was just not acceptable to me. Having learned the importance of follow-up on my mission, I got her telephone number and called her the very next day to ask her out, but she was busy with school and social commitments. Thankfully, my mission taught me to be persistent even in the face of discouragement, and I was eventually able to make a date. And that date led to others. . . . Now, 64 years later, there are seven children and many grandchildren and great-grandchildren who stand as evidence of the significant truth that no matter how good your message is, you may not get a chance to deliver it without consistent, persistent follow-up" (Elder M. Russell Ballard, "Following Up").
Whether your marriage is in a rough patch and it takes everything you have to hold it together or you are experiencing one of those moments of calm and blissful devotion, remember these words from Sister Harriet Uchtdorf:
"Your influence will be unending as you focus on the strengths of others rather than their weaknesses and mistakes. Our hearts and our eyes should concentrate on the positive things in life and in our fellowman. . . . As you share your kind, loving, tolerant, and positive attitude towards life, you will bless your spouses and children and grandchildren, your nieces and nephews and friends, and countless others who feel the radiance of your optimism and testimony" (Harriet Uchtdorf, The Light We Share).
---
Learn more about Harriet Uchtdorf's message to all Church memebers in The Lives We Share avaiable at deseretbook.com.
What difference does it make to have the light of the gospel in your life? To a 12-year-old girl in post-World War II Germany, it made all the difference.
In this charming book, Sister Harriet R. Uchtdorf reflects on the power of heavenly light in her own life and recalls the joy it brought to her family during a dark and difficult time. "It was like a miracle," she explains as she describes how hope came back into their lives.