Want a glimpse of sister missionary fashion throughout the decades? Watch this new LDS Living video as we explore classic sister missionary styles throughout the decades and celebrate the sacred work that could not have been done without these women of faith.
► You'll also like: 5 Famous Mormons Who Served Missions (& Where)
120 Years of Sister Missionary Fashion
Bonus: Here's a closer look at the details and props used to make our history of sister missionaries come alive.
Though it's hard to know exactly what the first sister missionaries Amanda Inez Knight and Lucy Jane Brimhall wore on a day-to-day basis as the first single proselytizing sisters, we can very closely approximate that it was dark, velvet, and several layers deep. It probably included a corset, too. (And we thought the requirement to wear stockings was restrictive!)
The dark colors might make it hard to see all the detail from far away, but a closer look reveals beautiful handmade buttons and rich textures. With no DressBarn nearby, we do know that some early sister missionaries spent a great amount of time during their missions mending and sewing.
Amanda and Jennie (as she was called) might have carried a Book of Mormon like this if it was handed down from their pioneer grandmothers and mothers. This replica of a first edition Book of Mormon was created by a talented artisan to look almost identical to other pioneer-owned first editions kept safely under glass at a museum.
The wartime silloutte was much more functional as women began to step into new roles. Sister missionaries from this era worked in many capacities beyond proselytizing, including humanitarian and medical missions. The change in their dress would have helped them to accomplish that work.
We love the detail on this blouse and necklace. In fact, we'd wear the whole outfit today if we could.
---
Check out this replica of an 1830 edition of the Book of Mormon available at deseretbook.com.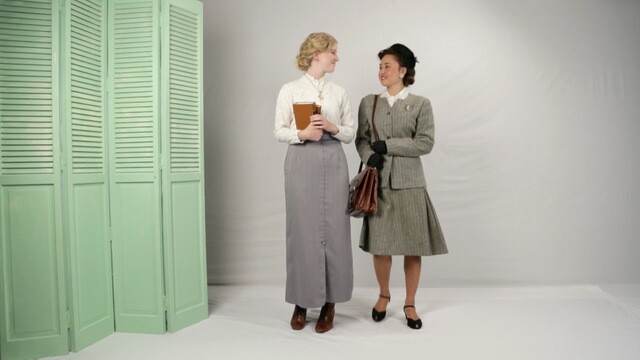 In many of the pictures of sister missionaries from this era, we noticed the attention to detail in their clothing and makeup. There was a clear sense of pride in what they wore to serve their Heavenly Father. Though nametags were not used yet, their countenances surely would have made them stand out.
This edition of the Book of Mormon matched the blue eyeshadow of our '70s model a little too perfectly. But we were hit with a wave of nostalgia since, for many of us, this was the first edition of the Book of Mormon we can remember.
We loved our blue planners! Did you have them on your mission? And of course, don't forget the Franklin Covey Day Planner. Thanks to Michelle Spiron, Suzanne Brady, and Rachael Ward for sharing their memorabilia with us for this shoot.
Doc Marten Mary Janes were a must-have mission accessory in the 90s. They were heavy to walk in, but lasted the whole 18 months. And knee highs. Don't ever forget the knee highs.
We asked Sweet Salt Clothing to share some of their favorite sister missionary outfits with us for this shoot, and they did not disappoint. A bright palette of fun colors and really comfortable styles made our models giddy after hours of wearing petticoats and polyester.
► You'll also like: Mormon Missionaries Sing Adele's "Hello" in This Hilarious Parody
The sister missionary bag has come a long way from it's beginning. And aren't we glad that the navy blue backpack of 25 years ago has been replaced with these darling, functional bags? They're even named after the first sister missionaries, Lucy and Jane (Jennie).
---
Looking for modest, fashionable clothing from this era? Check out sweetsaltclothing.com.
---
For inspiring music all sisters are sure to enjoy, check out The Sisters of Zionalbum available at deseretbook.com.