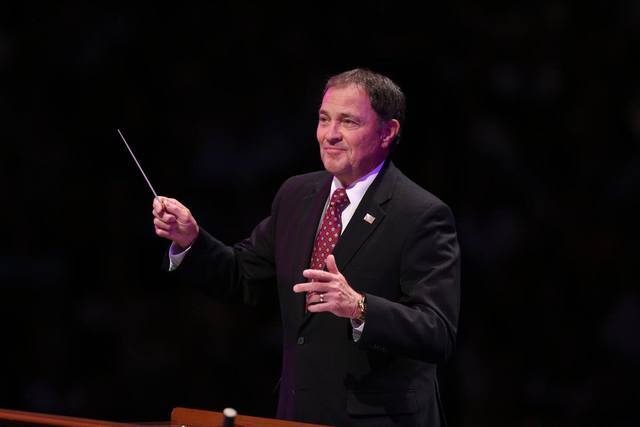 At the Pioneer Day Concert on July 15, Gov. Gary Herbert became the first governor of Utah to conduct the Mormon Tabernacle Choir during a live performance.
The Choir has a tradition as they tour around the world to invite renowned leaders on stage as guest conductors. However, no Utah governor has been given this honor until Gov. Herbert was invited on stage to conduct "This Land Is Your Land."
In a recent Facebook post, the Choir shared more about this historic event:
On July 15, 2017, during the Pioneer Day concert, Governor Gary Herbert became the first Utah governor to conduct the Mormon Tabernacle Choir.
Near the end of the concert, Lloyd Newell announced: "Most everyone here knows that the great State of Utah is celebrating the arrival of a small group of pioneers who arrived in this valley 170 years ago this coming Monday. And I'm sure you also know that the man who led them—and the thousands who followed—was soon appointed governor of the Territory of Utah.
Now, for all of Brigham Young's accomplishments and accolades, he was never invited to conduct the Mormon Tabernacle Choir, which is a long-standing tradition the Choir has as it tours around the world … inviting renowned leaders to join us on stage as guest conductors.
And, for that matter, no governor of Utah since Brother Brigham has ever been accorded that honor.
But, tonight, we're changing that, as we've invited the governor of our great state, Gary Herbert, to take over at the podium and conduct the Choir and Orchestra in one last number … for each of you."
The governor conducted the Choir and Orchestra in "This Land is Your Land."
Lead image from Facebook
---
For this album, the Choir has assembled an unprecedented collection of recordings taken from standout performances over the past 15 years. Most of these performances were recorded live at the 20,000+ seat Conference Center in Salt Lake City. In addition, some real gems were uncovered or created specifically for this album, including a performance recorded live before millions of viewers at the start of the 2002 Winter Olympics (Sting & Yo-Yo Ma performing "Fragile") and new recordings such as Amy Grant's "Thy Word," The King's Singers' "I'm Running On," and Santino Fontana's "He Lives in You."