Following are the incredible stories of Justin Bisimwa, a refugee from the Democratic Republic of Congo, and the Collins family, a family of 15 in San Diego, California, who have now teamed up to create a non-profit organization called New Neighbor Relief that helps refugees in San Diego become self-reliant.
Justin Mudekereza Bisimwa grew up in Zaire, now the Democratic Republic of the Congo (DR Congo). He was the 11th son and 24th child (out of 44) of the late Victor Bisimwa Mudahindwa, who was a chief and cultural leader in his local jurisdiction in the province of South Kivu from 1976 to 1997. "He was one of the most respected personalities in my area," Justin wrote to LDS Living about his father. "And I was his best friend."
In 1996, war broke out in Justin's home country when Rwandan and Ugandan armies invaded Zaire, overthrowing dictator Joseph Disiré Mobatu Sese-Seko who had led the country for 30 years. Citizens fled to more peaceful areas, and Justin hid with his father, awaiting a resolution to the violence. With pharmacies closed across the country, however, Victor was unable to find medicine to treat his hypertension, and he passed away in 1997.
One conflict bled into the next, and Justin watched as the African World War tore his country apart. "It made millions of people lose their lives and belongings," Justin wrote.
► You'll also like: Following God's Plan: How a Latter-day Saint Woman Ended Up in a War-Torn Country Instead of Her Planned European Vacation
Victor had taught his children that it was important to take care of those in need. "While he was still alive, my father had a habit to call all his children and wives on the first day of the year to share food, prayer, and thoughts together. During this time . . . he taught us that [any one] of us who would like to become rich should learn to love and give to others in need," Justin said. He took these lessons from his father to heart and used his inheritance money to start a non-profit organization to help widows, orphans, victims of rape, and other war victims in South Kivu.
Justin worked with many international organizations and United Nations agencies such as UNFAO, UNWFP, and UNDP for funding. It wasn't long, however, before local politicians started to see Justin's association with such powerful organizations as a threat.
Justin was captured and tortured by those who felt threatened, and the marks of the violence are still visible on his body. Justin recalled, "As they were punching me with their knives and guns, when I felt too much pain, I said one thing: 'Father in Heaven, I helped people surviving in many ways. You led me, but . . . what I can see now is death . . . please remember now.'"
Immediately after his prayer, the commanding soldier leaned down and whispered in Justin's ear. The soldier told Justin that although he had received orders to kill him, he knew of Justin's work for the needy. Justin recalled the soldier's words: "When you hear a bullet shot, you will pretend [to be] dead . . . but don't go back to the city because we will pay [for] it dearly if they know that we didn't execute you."
► You'll also like: Nigerian Refugee Survives Shooting Attack, Rescue at Sea, and Goes on a Mission
Three days later, Justin met up with his family in a nearby village and together they fled the country. They soon found themselves among thousands of refugees in a neighboring country. Justin and his wife had three children, including a six-month-old baby, nowhere to sleep, and nothing to eat.
Justin, his wife, and their five children
After another prayer, Justin and his family found lodging in a church that was under construction. They lived there for a month before someone helped them find a room to rent. "With no food to feed my children . . . I told my wife, 'I will not sleep. I will cry to my Father in Heaven until something happens," Justin wrote.
That night, Justin prayed, "Father in Heaven, while in my country I fed widows, orphans, and many others who need food, but now I am not able to feed my children and their mother—the children and the wife you gave me. I know you are with me and you see what I'm going through now. I need your help now."
The next day Justin received a phone call and was offered a job as a project manager for a Belgian company. It was the miracle they needed. After many months of hard work, Justin and his family were able to "recover the life we lived in our country."
Justin's job eventually required him to take a business trip to Los Angeles for training. While there, he received a call from his wife. She told him that it was not safe for him to return, as those who had tortured him in the DR Congo were looking for him again.
Unable to return to Africa, and unable to work in the U.S., Justin wasn't sure where to turn. "When I first came to the United States, I was in Los Angeles for some weeks. I suffered so much again. I was crying and wondering why I came to a country where many adult people sleep in streets, homeless. I moved around looking for a place to sleep, looking for something to eat but in vain." Justin went to a refugee resettlement agency in Los Angeles, but they said they couldn't help someone in his situation and recommended him to a shelter for the mentally ill. Justin stayed there for five days until someone recommended that he go to San Diego, where it might be a little cheaper than Los Angeles.
► You'll also like: President Uchtdorf's Surprising Message About Refugees (+ His Story of Becoming One--Twice)
In San Diego, Justin met a "French boy" who gave him rides to various nonprofit organizations. "Everywhere I went they told me that I was a refugee in Africa, but I was not a refugee here in the United States and that I had to start the asylum process. I passed through fire and water!"
Justin began seeking asylum. He wasn't allowed to work, so he volunteered with resettlement agencies and Unified School Districts. "I knew that through helping others Heavenly Father [would] remember me and my family again," Justin wrote. "I serve with faith and with all my capacity and all my energy." Eventually, Justin received a work permit.
In 2016, Justin, who had always believed in God and Jesus Christ, was introduced to The Church of Jesus Christ of Latter-day Saints and was baptized in May. His wife and children were baptized into the Church in Uganda in June of the same year.
Shortly after his baptism, Justin was asked to speak at a fireside. It was there that he met Dan Collins.
The story of Dan and Carrie Collins' involvement with helping refugees began many years ago in the 1980s when Carrie read an Ensign article about foster care. "I knew that one day I wanted to be in fostering," she wrote to LDS Living.
It became a life-long dream, and in 2007, when the youngest of Dan and Carrie's eight children turned four, Carrie attended the necessary classes and screenings to become a qualified foster parent.
The Collins' first foster child was Charity, "a beautiful six-month-old Sudanese baby girl, daughter of a refugee from Sudan," according to their website. Over the course of nine years, Dan and Carrie were able to adopt Charity, along with her older siblings Emmani and Pepor. They later adopted two other children.
The Collins family
In April 2016 general conference, the Church announced their "I Was a Stranger" initiative and urged members of the Church to help in the growing refugee crisis. "There are more than 60 million refugees, including forcibly displaced people, worldwide. Half of those are children," said Sister Linda K. Burton. "It is our hope that you will prayerfully determine what you can do—according to your own time and circumstance—to serve the refugees living in your neighborhoods and communities."
Shortly after these addresses, Dan and Carrie Collins were presented with an opportunity to help a refugee family from Sudan. "We were anxious to help because three of our adopted kids are children of a Sudanese refugee, and we were excited to connect with them," Dan wrote to LDS Living.
With the help of friends, Dan and Carrie collected clothing, food, and household items for the family. They collected so many items, in fact, that they decided to hold some back in case they had other opportunities to help additional refugees. They had little idea of just how many lives they would get to bless.
Catholic Charities got wind of the Collins family's generosity and asked if they would be willing to become volunteers and help additional families. The Collins family accepted, and a few weeks later they were connected to three new families. Three families turned into dozens, and Dan and Carrie found themselves starting a mentorship program to connect refugees to individuals and families all across San Diego.
"We could see the hand of the Lord in all the work we were doing, not just in humanitarian work but spiritually as well, as there were many opportunities to share the gospel of Jesus Christ with those who were seeking it," Dan wrote.
Several of the refugee families were from the DR Congo, and that's when Dan called up Justin Bisimwa after meeting him at a fireside. According to their website, "It was a match made in heaven and the two of them found themselves together virtually every day assisting Carrie as she coordinated the activities in servicing the needs of the refugees."
Starting New Neighbor Relief
After a few months, the Collins' son Brad came up with the idea of starting a small non-profit organization that focused on helping refugees in the San Diego area become self-reliant. Dan took the idea to Justin, and after lots of hard work, New Neighbor Reliefwas born.
"As volunteers for Catholic Charities, we were helping dozens of families from DR Congo and Haiti with their immediate needs, mostly food and clothing," Dan wrote. "There was a great satisfaction in rendering that help, but over time we saw that refugees needed a lot more than some immediate food and clothing to become self-reliant. As time went on we heard their cries for help to learn English and to get a job, and that's how we came up the three NNR objectives to help refugees become self-reliant: help them learn English, help them get a job, and help them get a license and car."
For his day job, Dan is a commercial painting contractor, and he personally hired six men from the DR Congo. "It wasn't easy in the beginning because of cultural differences, language and communication issues, and transportation issues," Dan wrote, but he eventually hired six additional refugees.
"It's been gratifying to see how one young man (Prince) has gone full circle with improving his English, working and saving his money to get a driver's license and buy a truck, and now driving himself to work every day. Not only is he helping with the financial support of his own family, but he is now driving other refugees to work every day and helping them prepare for their driving tests. He has gone from being a recipient of our organization to joining our team and helping other refugees become self-reliant," Dan wrote.
Prince and two of his co-workers after buying a truck for work
New Neighbor Reliefcurrently has 30 volunteers. Most of the refugees they help are originally from the DR Congo, but many have been in refugee camps in the neighboring countries of Uganda and Tanzania for 15-20 years.
The Collins kids have been very involved in the project, from helping create the business plan and website, picking up and delivering furnishings, assisting with rides, and fixing bikes, to entertaining the younger kids while their parents are involved in discussions, giving up their own clothes and toys at times, and "being flexible when mom or dad says, 'We just gotta drop off something to the refugees on the way home,'" according to Dan.
Dan and Carrie's son, Chase, with other volunteers as they collect shoes for refugees as part of Chase's Eagle Scout project
One of Many Success Stories
Justin wrote of a family he helped that probably reminded him of his own. They were a family with seven children and were resettled in San Diego from a refugee camp in Uganda. When they arrived, the resettlement agency gave them a government-funded apartment. "They spent about two months in their apartment without being visited by the agency which resettled them," Justin wrote. "The parents and children started wondering what their future [would] look like in the U.S. with no English skills and no job. Some of the family members who were mature enough were almost developing mental illnesses due to their permanent fear of hardship and the uncertainty about tomorrow."
New Neighbor Relief visited the family and started working with them. They enrolled the three younger children in school, and, within six months, secured jobs for each of the adult children and their parents. "Today, this family is self-reliant," Justin wrote. "Two of the boys bought cars to help them go to and from work and help their family members too . . . fears about tomorrow left them step by step."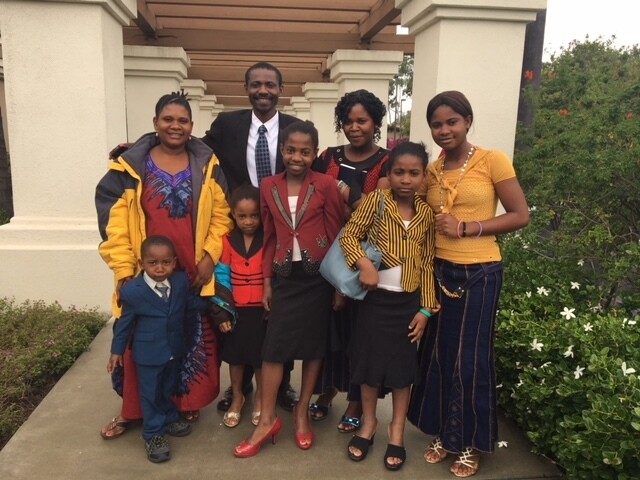 The Ekyamba family, one of many helped by New Neighbor Relief
Justin continually hopes and prays that one day he will be reunited with his family. "I have faith that my Heavenly Father hears my prayers," he wrote.
The process is not easy. Justin has been waiting three years for his asylum case to be heard by the court. Once he is granted asylum, he'll be able to bring his wife and five children to the United States to join him.
In the meantime, he continues to find purpose and satisfaction in helping other families in need.
---
Want to help refugees in your own community? Check out the Church's I Was A Stranger website.