The staff at LDS Living magazine are ending 2022 with gratitude for all those who were willing to share their voices and stories with us—and that includes the six individuals featured on the covers of our bi-monthly print magazine. These faith-filled individuals come from a variety of backgrounds: we a had former NBA star, a Disney voice actress, and a Silicon Valley tech executive, just to name a few. Each of their stories is a powerful, inspiring example of the many different ways Latter-day Saints are doing good in the world.
In case you missed any of these articles, scroll through to take a look at each one and what other LDS Living readers have to say about the story.
January/February: Thurl Bailey
Sports Illustrated dubbed NC State's miraculous 1983 NCAA championship victory the greatest college basketball moment of the 20th century. Thurl Bailey and his teammates ceremoniously cut down the nets after their unforgettable victory that night, but Thurl's understanding of what it means to be a champion has become something deeper in the years since. As a convert to the Church, a husband, a father, and a grandfather, Thurl's focus is now zeroed in on figuring out what it means to be a champion in life.
"Thanks, Thurl, for being a wonderful example and such a great ambassador for Utah, the game of basketball, and most importantly, life." —Ray Nielsen, LDS Living reader
Read the full story here: A Champion's Journey: The Ongoing Story of Thurl Bailey
March/April: Nnamdi Okonkwo
As a young man, Nnamdi Okonkwo left Nigeria to pursue what he thought was his dream. But now he stands in awe at the different path faith led him to—life as a full-time artist, using his distinct style and artistic language to share beauty with thousands from New York City to China. Tranquility, love, patience, jubilation, encirclement, repose—these are all themes Nnamdi Okonkwo has, with God's help, conveyed through clay. Nnamdi sculpts straight from the heart, and his story might change yours.
"I think Nnamdi's art shows the beauty in every soul, especially women. We love his work and can't wait to own some." —Brian Hill, LDS Living reader
Read the full story here: His sculptures are unlike any you've seen before in the Church. Here's why his journey is just as remarkable
Hamilton, Missouri, was once in serious financial trouble. But in a matter of a few years, Jenny Doan and her family transformed the sleepy town into a magical destination, drawing thousands of creatives every month. How did the Doans do it? By the power of faith—and quilts.
Jenny Doan always wanted to help change and heal hearts; she just never thought quilting would be the way she did it. But as one of her now millions of fans says, "Sew your quilt together, sew your life together."
"The article about Jenny was wonderful! I might have shed a tear or two. The story did a fantastic job capturing a person I've been blessed to meet several times. Very well done!" —Sharon Elsberry, LDS Living reader
Read the full story here: Quilting sensation Jenny Doan on faith, creativity, and accidentally building an empire
July/August: Marguerite Gong Hancock
A trip back to her ancestral village in southern China determined the course of this Silicon Valley executive's career in technology for humanity. Marguerite Gong Hancock is a techno-optimist in Silicon Valley whose family roots, faith, and passion for humanity inspire her to bring an abundant life to civilizations worldwide.
"I rejoiced reading this article! Marguerite is beautiful inside, outside, and in the ways she illuminates the world around her." —Sarah Ashworth, LDS Living reader
Read the full story here: Chinese roots to Silicon Valley branches: How this executive is sharing her faith and shaping the future of tech
September/October: Adassa
Adassa chose to step away from her dream of singing with Disney to pursue her dream of motherhood and a family centered on Christ. And yet God never forgot her childhood wish upon a star—in fact, it seems He was paving the way to Encanto all along.
After a Disney casting director happened to see a video of Adassa singing on YouTube, the musician was offered a role in the magical Madrigal family—an opportunity that would not only let her share her musical gifts, but give her the chance to be an example of her faith.
"I read this article to my family and loved it! Adassa's example of faith and overcoming trials just in the nick of time was so inspiring. I also loved her dedication and sacrifices for her faith and her family. We didn't know we could love her singing voice even more, but we do now that we know her backstory!" —Carion Cita, LDS Living reader
Read the full story here: An 'Encanto' miracle: The faithful sacrifices that brought Adassa her dream
November/December: Brandon Sanderson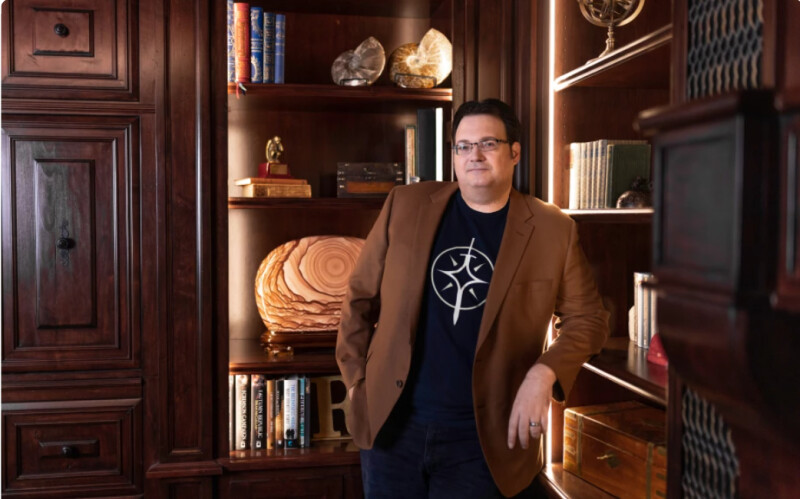 Brandon Sanderson is such a prolific fantasy writer that one could almost believe his books come about by magic. But the man behind the words has a system to his writing—and to his life. Both are well-organized universes governed by strong principles and remarkable creativity that have helped him become one of the most successful authors in the fantasy world today.
"My favorite author! He is so incredible at his craft! It's fun to see how much he's grown as a writer from his first novel to now." —Tabitha Owens Welch, LDS Living reader
Read the full story here: Brandon Sanderson, author of 'Mistborn,' talks faith, family, and his writing process
And that's a wrap for 2022! LDS Living wishes you a Merry Christmas and Happy New Year, and we look forward to sharing more stories of faith with you throughout 2023.
Click here to subscribe to our print magazine and receive uplifting messages and inspiring stories right in your mailbox.
---