Sarah Jane Wright believes childhood should be a more whimsical place—so she creates art for kids that captures the wonder of laughter, friendship, and faith.
Sarah Jane Wright and her husband, Kenneth, finally swung the door of their borrowed 12-foot trailer shut, locking in months' worth of labor. Packed inside were dozens of handcrafted quilts, pillows, and other products sewn from fabrics printed with Sarah's watercolor art. There were also components for the 10-by-10-foot dis- play booth Kenneth had built to look like a charming storefront to exhibit the products.
All of this, along with expensive lighting equipment needed to bring the display to life, was headed to a fabric trade show in Salt Lake City, where the couple would use the display to sell Sarah's fabric prints to international buyers.
Sarah was relieved to have the packing completed. The last few weeks had drained her, especially since a dear friend had just passed away. And if that wasn't hard enough, the funeral was scheduled just hours before they had to leave for the trade show. At the last minute, Kenneth felt prompted to make a packing change and put the quilts in his pickup truck. And thank goodness he did.
After the funeral, Kenneth called Sarah with a devastating message: "Sarah, we don't have a trailer." In the short time she'd been gone, the trailer—and everything in it—had been stolen. Yet, even as her husband spoke, Sarah felt an inexplicable sense of peace.
"I knew we hadn't come that far to only come that far," she says. "So I was looking for, All right, what's the miracle? How is the Lord going to come through? Because this is my livelihood."
The couple prayed to locate the trailer, and Kenneth drove the streets aimlessly hoping to stumble upon it. But time soon ran out. The Wrights had no choice but to depart for Salt Lake City with just the quilts Kenneth had placed in the truck.
"So our prayers shifted to 'Heavenly Father, help us see Thy hand in all of this,'" she says.
The only thing Sarah could do now was pray and watch for the Lord's hand—and she quickly saw it.
During the drive, Sarah posted about their plight on social media. In response, "people [came] out of the woodwork to serve and make things happen," she remembers.
Within 24 hours, the artisans who'd sewn the stolen display pillows created new ones for free. Mercifully, the quilts—the only products that would have been impossible to remake in enough time—had been spared through Kenneth's inspiration.
Other vendors at the show volunteered to help the Wrights build a new booth. "I [even] had somebody from Australia bring me Australian candy to say, 'I think you need a pick-me-up,'" she says. "So an entire trade show full of new products [materialized] in 24 hours. It was so beautiful, and it turned out so amazing."
What's more, the story of Sarah's experience spread throughout the trade show, generating extra interest in her display. "Because of that, it did better than it could have done otherwise," she says. "That [fabric] collection sold better than any of my other collections that year."
Sarah's experience at that trade show reminded her that signs of the Lord's presence can be seen in any circumstance—as long as we're looking for them. And that's just the lesson she hopes people will glean from her latest project, More Than Just a Star, a Christmas children's book she illustrated about a shepherd boy and his father who eagerly collect signs of the coming Messiah.
"It's a sweet little simple story," Sarah says of the book—but she finds deep meaning in it.
"When we think of the nativity story, [it's often] about looking back at the [first] Christmas," she says. "But what I loved about this book is that it's about looking forward, where they're actively watching and looking for the signs of Christ"—signs like an olive leaf, a stone, and a staff that point to who the Messiah will be: a prince, a rock, a protector. Sarah says that modern-day believers can take a similar active approach to finding the Savior's influence in our own lives "as we look to the things all around us that show His love for us and His guidance."
This is the first faith-based book Sarah has worked on, and she was determined to make it a priority among her many other important artistic projects. However, her thriving art business didn't always enjoy the success it does today; in fact, it started humbly in a time of need.
Sarah loved creating art from a young age and sensed that she had a God-given talent. But for most of her life, it was simply a hobby. After they started a family and Kenneth began graduate school, however, the couple had to make some decisions about their finances. "I didn't have a job at that time, and I didn't really have a network. So I thought the next best thing in order to get my name out there—and to ultimately have a career with my illustration and design work—would be to start a business," she says.
Sarah had made some whimsical paintings to decorate her children's bedrooms, so she started selling prints on a then-brand-new online platform called Etsy. "And very quickly, it grew," she recalls. Her art, mostly featuring vintage-inspired watercolors themed for children, soon won Sarah a spot among the top 10 artists on all of Etsy—a place she held for six years. But Sarah was just warming up.
About a year after starting on Etsy, Sarah ventured into the world of textiles, designing prints for children's fabrics. She also started illustrating books, the first of which was a self-help book for expectant mothers by Nancy O'Dell, coanchor of Entertainment Tonight.
Online, Sarah started offering coloring pages and printables, which became popular staples. But she was stunned when one particular set of printable Nutcracker puppets received some big-time exposure in 2013. That year, fashion retailer Ralph Lauren purchased from Sarah the rights to her puppet ballerinas, nutcrackers, and dancing mice, and then blew the art up to life-size proportions to incorporate them into the company's Christmas window displays at its flagship store in New York City—as well as in London, Chicago, Hong Kong, and 10 other stores.
"That was just like a 'pinch me' moment," she says, "when you're this mom with little kids running around at home, and then you get a phone call like that."
But Sarah's favorite project so far has been the Lola Dutch children's book series, which she coauthored with Kenneth and also illustrated. Published by Bloomsbury, the three books' lead character, Lola, is constantly inspired by grandiose ideas, which sometimes causes her animal friends to feel she's "a bit too much."
"Being able to write and illustrate those [books] with my husband, being able to tour the country and interact with so many people over it, and ultimately creating a set of characters that means a lot to a lot of people has been really fulfilling," she says.
The Lola Dutch character is inspired by the Wrights' four spunky children—but this isn't the only way the youngsters have influenced Sarah's art. After all, she says, the consistent goal for her creations is "making childhood a more whimsical place."
"My children inspire my work so much," Sarah says in a video on her website. "I have such love of motherhood and of childhood— they show me things that I forget So when I illustrate, I'm thinking about them. I'm thinking about how they see the world, and I'm thinking about what they feel when they go outside, and what they imagine and dream about at night."
Kenneth remembers one tender night when Sarah silently sketched their sleeping toddler. "She depicted with loose lines the precious beauty of that child asleep. Any parent who's stood in the doorway after a crazy day … knows the feeling," he says. "It's part relief that they're actually asleep and part overwhelming gratitude and love for this little person. She knew that moment wouldn't last forever, and she somehow captured it perfectly right down to the detail of chubby little fingers."
Sarah's illustration style is loose and playful, and she loves to infuse it with brilliant color. But in More Than Just a Star, incorporating color became a challenge, thanks to the story's setting: "One thing that can be really difficult about any book that takes place in Jerusalem is there's a lot of brown; there's a lot of tan," she says. "But for a Christmas book, you … want a rich, magical feeling."
To bring her colorful style to the book, Sarah looked to the stars—quite literally. "It's kind of this bedtime story, and the first image is [the shepherds] looking at a star," she says. "There's this jewel-blue sky. I tried to tie in a lot of these jewel colors, … that deep blue feeling of the night before the Savior's birth."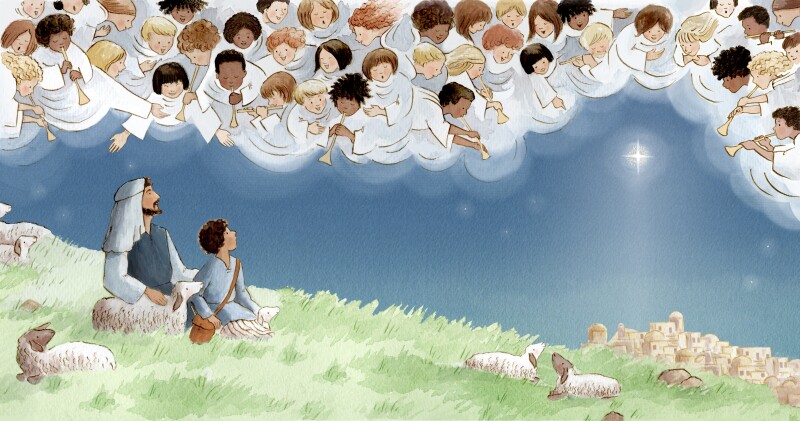 As she looks forward to future projects, Sarah says she'll keep prioritizing family and faith ahead of her work. This may seem like a shortsighted career move to some, but she feels it's just the opposite.
"While maybe other people in my field will take on any job or work endless hours, I'm not willing to," she says. "I'm only willing to work on the things that mean the most and will make the most difference. … I think I'm a better artist and a better entrepreneur because I have to be more discerning and more selective."
So whether she's painting Lola Dutch's pink tutu or a jewel-blue Christmas sky, Sarah will keep focusing on art that matters most to her. "I've had a really deep inner sense of what I wanted to do with my life from a very young age," she says.
"I consider that a divine gift. It's helped me in my decisions, to always remember that Heavenly Father has given me a talent and a gift. And I get to choose how I use that."
---
Learn about the Savior along with a shepherd boy in this illustrated Christmas children's book by David Butler and Emily Belle Freeman, illustrated by Sarah Jane Wright. Available at Deseret Book.