When my husband became a bishop over four years ago, it was one of the greatest blessings for our family. We built wonderful friendships, had countless opportunities for service, and truly felt our burdens and responsibilities made lighter by the Lord.
And yet while my husband's calling has been a wonderful thing for us, I've also found that I've needed support from others going through the same experience. I've been grateful for the opportunity to connect on social media with a large network of bishops' wives (and bishopric counselors' wives) from around the world where I've heard many beautiful stories of service and sacrifice, as well the challenges these families face throughout bishopric service. I've also been encouraged by the many people who have offered their support to my family as we've navigated this calling together.
With these experiences in mind, here are some insights on the responsibilities bishops have and how to support him and his family in them. My hope is that these ideas will bring greater unity to your ward.
New bishops have to learn how to balance their calling with other responsibilities in their life, which may include being a husband or father or pursuing an education or career. As Elder Bednar has helpfully shared, "Sometimes we reflect on all of our responsibilities at home, school, work, and church and wonder how we can achieve a balance among the many competing demands on our time. Instead of driving ourselves crazy trying to do everything at the same time, we should identify the few fundamental things that are our highest priorities. We then can strive to give each of them the attention they need—one at a time."
Identifying the fundamentals has helped keep a healthy balance in our life, but it's often difficult to do. Ward members can help support these priorities by:
Searching the scriptures to find their own answers to spiritual questions or inspiration for other areas of their life.
Showing up for scheduled appointments and keeping them brief if circumstances allow.
Volunteering to serve when you can instead of going straight to the bishop to ask for help.
Be willing to counsel with your Relief Society or elders quorum president in cases where meeting with the bishop may not be necessary.
Avoid calling the bishop with issues that should be delegated to other members. Sometimes a question about Primary may best be handled by the Primary president or teacher. Bringing a meal or helping with childcare may best be coordinated by a ministering brother or sister.
When you become a bishop, your relationship with members of the ward can change as your stewardship changes. This can sometimes feel isolating for the bishop and his family. Many bishops' wives I have spoken to mention that loneliness can be one of the most difficult parts of this service. Continue to build your friendship with the bishop and his family so they feel your love and support.
Pray for Him and Give Him Grace
Bishops will usually be the first to tell you that they are not perfect and that they sometimes make mistakes. Please be quick to forgive them if they overlook or offend you. Pray for them to have the strength and inspiration they need to lead and support the ward. The Lord has called them to serve, but He doesn't remove their weaknesses. Instead, He asks us to support and sustain bishops as they work to the best of their ability.
The responsibility of watching over a ward can be overwhelming, but this burden is made lighter by the watchful care of ministering brothers and sisters. When we each help minister over members of the ward, we create an incredible support network and build friendships through which we can counsel together and strengthen each other spiritually. Doing our best to fulfill our church callings helps strengthen the bishop and all our ward leaders.
Additionally, building your own spiritual and temporal self-reliance can help lighten the load of the bishop. When we are better prepared to take care of ourselves, we are better prepared to help those around us.
Understand a Bishop's Role with the Youth
In the past several years, Church leaders have explained that a bishop's primary responsibility is to the youth of the ward. According to the General Handbook: Serving in the Church of Jesus Christ of Latter Day Saints, "The bishop's foremost responsibility is to the rising generation in the ward, including young single adults. To enable him to concentrate on this responsibility, he delegates many assignments."
You may wonder why the bishop needs to focus so much of his time on the youth. In October 2019 general conference, it was announced that Young Men presidencies at the ward level would be discontinued so bishoprics can give greater emphasis and focus on the young men and their priesthood responsibilities. And in April 2021 Elder Quentin L. Cook beautifully described, "The young men who are priests and the young women of the same age are at a very important stage in their lives and development. During a short period of time, they make decisions that have significant lifelong implications. They determine whether they will qualify for the temple, serve a mission, strive to be married in the temple, and prepare for their life's work. These decisions, once made, have profound spiritual and practical implications for the remainder of their lives."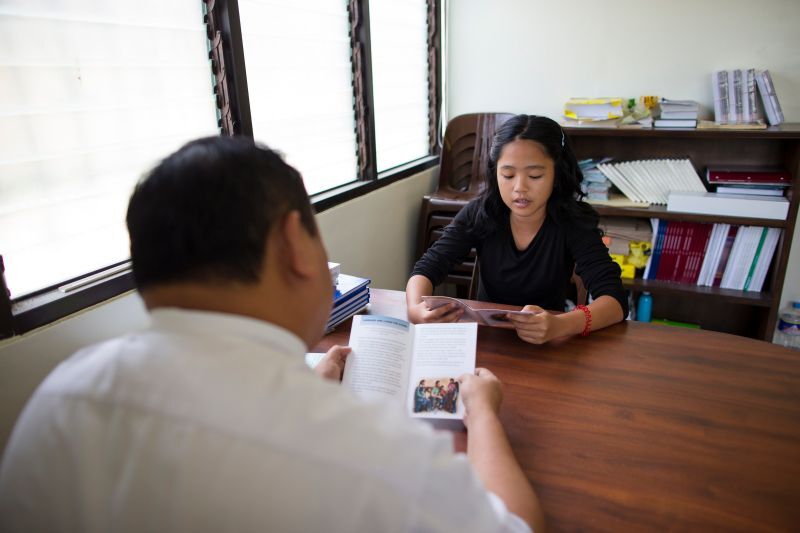 Understand a Bishop's Role with Adults
The bishop plays an important role in supporting the adults of the ward. According to the Church handbook, bishops have five principle responsibilities:
He is the presiding high priest in the ward.
He is president of the Aaronic Priesthood.
He is a common judge.
He coordinates the work of salvation and exaltation, including caring for those in need.
He oversees records, finances, and the use of the meetinghouse.
Although the bishop oversees much of the work of a ward, the elders quorum and Relief Society presidencies can be delegated the responsibilities of carrying out temple and family history work, missionary work, caring for those in need, and ministering.
President Bingham offers this helpful counsel: "Elders quorum and Relief Society presidencies can also take a greater role in counseling with the adults in their ward. Employment, budgeting, or challenges with family relationships are a few examples. "Rather than starting with the bishop, members need to learn to start with the Relief Society and elders quorum presidency."
These suggestions are not meant to discourage anyone from seeking out the bishop when they feel the need to do so. The bishop loves all the members of his ward and wants to serve them in the best way possible. But it is helpful to remember the work of building and sustaining the ward rests with all of us and not just on ward leaders. By sharing the bishop's load, we can ease his and his family's burdens and build greater unity and love among us.