Only the best music artists reach the national Billboard charts. Check out the members of The Church of Jesus Christ of Latter-day Saints who have made it there!
Photo from the Deseret News
Hilary Weeks made Billboard history in 2011 when she became the first Latter-day Saint to ever reach Billboard's Christian Albums Top 10 chart with her album Every Step. Two years later, her album Say Love debuted at #9 on the Contemporary Christian Billboard Charts.
Of these accomplishments Weeks said, "Breaking the top 10 on the Christian Billboard charts for a second time is an exciting surprise! For me, the most important word in the prior sentence is 'Christian.' It has only been in the last two years that I've been able to say that I charted on Billboard, but I've always been able to declare I am a Christian."
Watch this touching video of her song "Beautiful Heartbreak" off her Every Step album, which landed on five Billboard charts, including the #1 spot on the "Top New Artists Indie" chart and #6 on the "Top Current Contemporary Christian" chart:
Photo from Shadow Mountain Records
This "gentlemen trio" from Utah—tenors Casey Elliott, Brad Robins, and Bradley Quinn Lever—met while performing in a production of Les Miserables. Their self-titled debut EP, GENTRI, spent 10 consecutive weeks in the top 10 on two different charts, including three weeks at #2 on both the "Classical" and "Classical Crossover" charts.
Their Christmas album, Merry Christmas,also made a splash when their unique and stunning mashup of "What Child Is This?" with "I Wonder As I Wander" earned GENTRI the #1 spot on Billboard's "Hot Single" chart. Check out their performance of the mashup here:
Bonus: GENTRI's new full-length album, Rise, has just been released. It features their trademark soaring vocals and "cinematic pop" orchestral backing of eight original songs and two cover songs. Their charismatic approach to music comes through in their careful crafting of songs that truly take the listener on a journey, from exciting tracks like "Outbreak" and "In a Blaze" to tender love songs like "More" and "Nothing But You." Their cover of Billy Joel's "And So It Goes" is a moving moment of introspection, and their unforgettable arrangement of "The Rose" revisits a timeless song with a universal message of love and hope.
Photo by Josh Rossi, courtesy of The Piano Guys
Who can get millions of views each day YouTube by performing classical music with a piano and a cello? Steven Sharp Nelson, John Schmidt, Al Van der Beek, and Paul Anderson—four Latter-day Saint dads otherwise known as The Piano Guys. Famous for their mashups of classical and pop music, their videos also features breathtaking cinematography. Their first four major-label albums The Piano Guys, The Piano Guys 2, A Family Christmas, and Wonders each reached #1 on the "New Age Albums" and "Classical Albums" charts.
The Piano Guys, who call themselves "brothers in the gospel," have traveled the world to share their gifts, and recently performed at the prestigious Carnegie Hall, an experience they describe as "intimidating, humbling, inspiring, unbelievable—unforgettable."
"It's an incredible feeling to dream of doing something so 'out there,' then working hard towards it, and relying on Heavenly Father to make up the difference," Paul Anderson says. "He has answered so many prayers. We owe everything to Him. We consider ourselves lucky and blessed to be along for the ride!"
► You'll also like: 9 Mormons with Millions of YouTube Followers
Check out their amazing mashup of "Amazing Grace" and "This Is My Fight Song" below!
Photo from MTV
The Osmonds got their start in entertainment in the late 1950s when Alan, Merrill, Jay, and Wayne began singing locally as a barbershop quartet. A few years later, they were invited to perform at Disneyland.
After Andy Williams's father saw them on a televised Disney special, he told his son, the host of the popular variety program called The Andy Williams Show, to book them. The Osmond Brothers appeared regularly on the program throughout the '60s, with younger brother Donny joining the group at age 6. By the time Donny Osmond was a teenager, he had become a worldwide heartthrob and one of the most popular and successful stars in the history of pop music.
During the '70s, the Osmonds shifted to pop music and later to rock-and-roll, playing to throngs of screaming fans. In 1971, the Osmond Brothers earned their first #1 hit with "One Bad Apple." Donny's first solo single, "Sweet and Innocent," also released in 1971 and rose to #7 on the Billboard pop charts. The follow-up, "Go Away, Little Girl," went all the way to #1. Between his own and the Osmond Brothers recordings, he was awarded six gold records that year. The following year, he took home eight, and another four in 1973. Marie also began to build a successful solo career. At just 13 years old, she hit the top of the country music chart with "Paper Roses" in 1973 and continued to have several Billboard hits throughout the '70s and '80s.
Donny's musical career experienced a resurgence when "Soldier of Love," from his album by the same name, reached #2 on the Billboard Hot 100 in 1989. In total, he has had 18 albums and 32 songs reach the Billboard charts.
More recently, Donny and Marie released Donny & Marie. Donny also released The Entertainer in 2010 and The Soundtrack of My Life in 2015—his 60th album, which serves as a summary of his extraordinary life so far. Each track on the album tells a story, tracing the high and low points of both his professional and personal life from becoming a child star to achieving multiple #1 hits and selling over 100 million records.
► You'll also like: The Ultimate Donny Osmond Quiz
► You'll also like: Three Degrees of Donny Osmond
► You'll also like: The Woman Who Gave Elvis Presley & the Queen a Book of Mormon
Photo from We Got This Covered
Most people are surprised to learn that one of today's most successful and sought-after DJs is a a member of the Church.
Ryan Raddon, aka Kaskade, is probably the hottest music phenom you've never heard of. In 2011, the New York Times declared the Grammy-nominated DJ/music producer the "new face of electronic dance music." This faithful Church member and father of three married his wife, Naomi, after serving his mission in Japan. Kaskade fills stadiums all over the world and commands a salary of more than $200,000 per night. (Yes, you read that right.)
He's had five songs reach the Billboard "Hot Dance Airplay" chart, including his #1 hits "Move for Me" and "I Remember."
The Tabernacle Choir at Temple Square
Photo from Mormon Newsroom
We're used to hearing them sing at general conference, but did you know the Tabernacle Choir makes regular appearances on the Billboard charts?
The choir, which started recording in 1910, first hit the Billboard charts in 1959 with their rendition of "Battle Hymn of the Republic," which climbed all the way to #13 on "The Hot 100." Since then, they have had 13 albums hit #1 on one or more of Billboard's "Classical," "Classical Crossover," and "Christian" charts, including This Is the Christ, Glory! Music of Rejoicing, Heavensong: Music of Contemplation and Light, and He Is Risen.
BONUS FACT:
Did you know? The Tabernacle Choir has also recorded several #1 hits made popular by other artists, including Josh Groban's "You Raise Me Up" and "Lullabye (Goodnight, My Angel)" by Billy Joel (both found on Men of the Mormon Tabernacle Choir), as well as "Happy" by Pharrell Williams and "What a Wonderful World" by Louie Armstrong.
Photo from Shadow Mountain Records
The daughter of apostle Dallin H. Oaks, Jenny Oaks Baker is one of the world's most successful violinists. She's released albums covering everything from Disney tunes to rock classics, and many of them have ended up on Billboard charts, including her 2010 album Then Sings My Soul, her 2012 album, Noël: Carols of Christmas Past, and her 2014 album Classic: The Rock Album.
Her 10th album, Wish Upon a Star: A Tribute to the Music of Walt Disney, was nominated for the 54th Grammy Awards' Best Pop Instrumental Album. The album is a compilation of Disney classics such as "God Help the Outcasts" and "Beauty and the Beast," arranged by Emmy-winning composer Kurt Bestor.
Classic: The Rock Album features classic rock favorites like "Stairway to Heaven" (Led Zeppelin), "Sweet Child of Mine" (Guns and Roses), and "Yesterday" (The Beatles). Her upcoming album, Awakening, will be released at the end of April.
Speaking with LDS Living about her music she said, "When I perform music that is uplifting and edifying, I feel the Spirit very powerfully. I hope that people who hear my music can feel this Spirit and it brings them peace, comfort and joy. I hope my music can touch hearts and help people feel the love of The Lord. My favorite thing to hear from the audience as a performer is not the applause—it is the tears."
► You'll also like: Just Asking: Jenny Oaks Baker
Baker performed as a first violinist in the National Symphony Orchestra for seven years before resigning in 2007 to devote more time to her family. Jenny and her husband have four children and reside in Utah.
Photo from TODAY
After coming in a close 2nd place on the seventh season of American Idol, David Archuleta's first single, "Crush," debuted at #2 on the "Hot 100" chart and sold nearly 2 million copies. His self-titled debut album also debuted at #2 on the "Billboard 200" chart. His 2010 album, The Other Side of Down, reached #13 on the "Billboard 200" chart, and his 2012 album, BEGIN, reached #28.
In 2012, Archuleta put his music career on a two-year hiatus to serve a mission in Chile. (In the DVD David Archuleta: Called to Serve, you can see the pop star proselyting on the streets of Chile, as well as hear why he decided to serve and how his faith directs every decision in his life.)
► You'll also like: Behind the Scenes with David Archuleta
► You'll also like: 4 Famous LDSAmerican IdolStars and Where They Are Now
After he returned from his mission, Archuleta recorded "Glorious" for the 2014 documentary Meet the Mormons. Watch him perform it below:
Photo courtesy of Gladys Knight
Gladys Knight's epic musical career spans more than six decades. In fact, over the years, she's had 28 albums and 35 songs reach the Billboard charts.
Knight began singing at age 4, and at just 7 years old had her first taste of fame when she won Ted Mack's Original Amateur Hour TV show contest in 1952. The next year, she, her sister Brenda, her brother Merald, and cousins Eleanor and William Guest formed a musical group called the Pips—named after her cousin, James "Pip" Woods.
After some changes in band members, Gladys Knight & the Pips eventually enjoyed several hit singles, including "I Heard It Through the Grapevine," "Friendship Train," "I Don't Want to Do Wrong," R&B chart-topper and Grammy-winning "Midnight Train to Georgia," as well as "I've Got to Use My Imagination," and "You're the Best Thing That Ever Happened to Me." The group amicably disbanded in 1989, with the Pips retiring and Knight embarking on a successful solo career. (They were inducted into the Rock & Roll Hall of Fame in 1996.)
In 1991, Knight released a successful solo LP, Good Woman, which hit #1 on the "R&B Album" chart and featured the #2 R&B hit "Men." She has also won four Grammy Awards.
Knight joined the Church in 1997. Her desire to add "a little something" to Church music eventually inspired her to create an all-volunteer, multicultural latter-day Saint choir that would bring a new level of energy and cultural awareness to traditional hymns. The choir, called the Saints Unified Voices, is comprised of more than 100 people and has a two-fold purpose. First, they aim to spread the message of the restored gospel of Jesus Christ by providing an opportunity for people who wouldn't otherwise enter an Latter-day Saint meetinghouse to feel the Spirit. Second, they desire to help members of the Church embrace the cultural diversity of people worldwide coming into the Lord's kingdom. "Never in a million years did I ever dream that I would be the director of a choir like this—one that showcases the energy, the fire, and the heart of the music of our culture," she told LDS Living. Gladys Knight & the Saints Unified Voices won a Grammy Award in 2005 for their album One Voice.
► You'll also like: How Gladys Knight Became a Mormon
► You'll also like:See Gladys Knight's One-of-a-Kind CTR Ring (+6 Other Things You Never Knew About Her)
In 2014, Knight completed a new solo album titled Where My Heart Belongs—a heartfelt mix of gospel and inspirational songs. "This is my testimony," she says of the album. "I wanted to remind people of Christ and what He's done for us. We need to be reminded all the time of His grace, His mercy, His love, and the way back home."
Photo from the Salt Lake Tribune
When Paul Cardall was born in 1973, doctors only gave him days to live.
"When I was born, the doctors said I had half a heart," he told LDS Living. "And essentially, that was right."
Cardall, who was born with congenital heart defect (CHD), says doctors didn't know if he had long to live. His tiny heart was missing the tricuspid valve (a condition called tricuspid atresia), a vital passageway that carries blood from the right atrium to the right ventricle. Without it, the heart cannot properly oxygenate blood for the rest of the body. Cardall pulled through—when he was 22 hours old, doctors performed an open heart surgery that allowed him to live.
"I knew my heart had problems, and that was always in the back of my mind," he says. "But my parents used it as a teaching tool. I'd always get priesthood blessings before treatments, and we came to see it as a blessing God gave us."
Cardall received a heart transplant in September 2009. Now almost 43 years old, Cardall is a highly successful composer and pianist who's had seven albums hit Billboard's "Top New Age Albums" chart, with Sacred Piano reaching #5 and New Life and 40 Hymns for Forty Days hitting #1. His albums have also appeared on the "Top Christian Albums," "Top Independent Albums," and "Top Heatseekers" charts.
Brandon Flowers (of The Killers)
Photo from Pigeons and Planes
Since they were formed in the early 2000s, The Killers have reached the Billboard charts dozens of times.
Their 2004 debut album, Hot Fuss, reached #7 on the "Billboard 200" chart and produced several successful singles, including "Mr. Brightside" and "Somebody Told Me," both of which hit #3 on the "Alternative Songs" chart. The album and its first three singles went on to receive five Grammy Award nominations. The band's three subsequent albums have all debuted within the top 10 of the "Billboard 200" chart, with Sawdust, Day & Age, and Battleborn topping the "Alternative Albums" chart.
Frontman and Latter-day Saint Brandon Flowers also enjoys a successful solo career. His debut album, Flamingo, reached #3 on the "Alternative Albums" chart, and his single, "Crossfire," peaked at #6 on the "Alternative Songs" chart. His second solo album, The Desired Effect, also hit at #3 on the "Alternative Albums" chart.
► You'll also like: Mormons Who Rock the Music Industry
► You'll also like: How to Conquer Your Favorite Sins for Good (written by Robert Reynolds, Church member and band manager of the Killers)
Photo from Mormon Music
The judges on America's Got Talent didn't believe in her, but Lindsey Stirling has proved them wrong by reinventing the music world with her violin rock music and eclectic style. By combining her two passions—dance and violin—into one bold performance, Stirling has garnered fans of all ages, amassing more than 10 million social media fans, recording two full-length albums, releasing multiple hits with billions of YouTube views, and touring sold-out venues across the world.
Both her self-titled debut album and her 2014 album, Shatter Me, reached #1 on the "Classical Albums" and "Top Dance/Electronic Albums" charts. And her autobiography, The Only Pirate at the Party, was released last month, hitting #10 on the New York Times Best Seller list for hardcover nonfiction.
► You'll also like: The Ultimate List of Mormons on the NYT Best Sellers List
Throughout her journey to fame, Stirling has done her best to stay close to the gospel.
"I've had to say no to several collaboration opportunities with 'big name' artists because their songs or their videos were too vulgar," she told LDS Living. But Stirling doesn't regret any of those tough decisions because she knows that they have kept her closer to the Lord when it would have been easier to stray.
"I try to keep the commandments," she says. "I strive to go to church even when I am on the road or on tour. I'm not perfect, but I really try. I live worthy of a temple recommend, and I strive to keep the gospel as a foundation for my life."
Dan Truman (of Diamond Rio)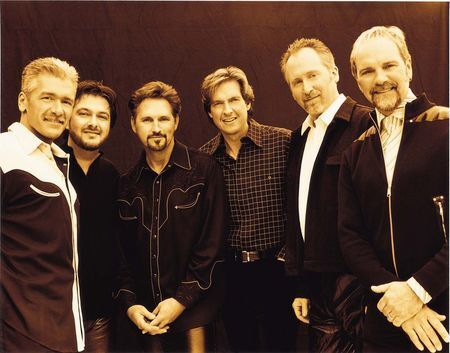 Photo from CMT
Founded in 1982, Diamond Rio is a legendary country music band that has found itself on the Billboard charts many times. Dan Truman (third from right), the band's keyboardist, is a faithful Latter-day Saint.
Over the years, Diamond Rio has had 12 albums hit the "Top Country Albums" chart. Their albums have ranked on several additional Billboard charts, including "Top Christian Albums," "Adult Contemporary," and "Holiday Albums." The band has also enjoyed several #1 songs, including "I Believe," "Beautiful Mess," "One More Day," "How Your Love Makes Me Feel," and their debut single, "Meet in the Middle."
Diamond Rio received the Academy of Country Music's award for Top Vocal Group in 1991 and 1992. In 1992, 1993, 1994, and 1997, they also received the Country Music Association's award for Vocal Group of the Year (an award for which they received 15 total nominations—more than any other country music group). In addition, they have received 13 Grammy Award nominations, winning their first Grammy Award in 2011 for Best Southern, Country or Bluegrass Gospel Album for The Reason.
Of his experience as the only Mormon in the band, Truman told LDS Living, "I've been blessed to play with this band for 20 years. Every one of the guys in Diamond Rio is a really good family guy. The biggest plus for me is that they all have lifestyles similar to mine."
Photo from Nashville Tribute Band
Though he was offered the opportunity to become a recording star himself, Jason Deere has chosen to remain behind the scenes writing and producing hit songs and developing artists.
Deere's work has appeared on several Billboard charts through artists like Lady Antebellum, SHeDaisy, LeAnn Rimes, and Tammy Cochran. He enjoyed a new level of success in 1999 when the first act that he had extensively worked with, SHeDAISY, was signed to Disney's Lyric Street Records. He co-wrote five songs on their double-platinum debut album The Whole SHeBANG, including three top 10 hits.
In the past few years, Deere has produced recordings with Marie Osmond, Olivia Newton-John, Diamond Rio, Alex Boyé, John Cowan, SHeDAISY, Nathan Pacheco, David Archuleta, Katherine Nelson, and American Idol winner Taylor Hicks. He has also collaborated on writing and recording projects with Katy Perry, Due West, Ryan Shupe & the Rubberband, and Little Big Town.
Photo from Nashville Tribute Band
The Nashville Tribute Band is a group of Latter-day Saint musicians founded by Nashville songwriter and record producer Jason Deere and Dan Truman, keyboardist of the iconic country music group Diamond Rio. Backed by a rotating supporting cast of Latter-day Saint songwriters and recording artists, the Nashville Tribute Band blends their unique country sound with uplifting music to create a powerful and spiritual listening experience for those who might not otherwise listen.
"Mormon redneck music is not supposed to work," Deere laughs. "It's not for everybody, but it touches some people that nobody else can seem to get to."
The Nashville Tribute Band has released four albums:
The band earned their first spot on the Billboard charts with Redeemer: A Nashville Tribute to Jesus Christ, which hit # 10, in the first week of its release. It also reached #22 on the "Independent Albums" chart.
The album is different than previous projects because it is aimed at a broader, Christian audience and serves as a platform for Latter-day Saints and other Christian artists to unite and testify of the divinity of the Savior. "In addition to Latter-day Saint guest artists like David Archuleta, SHeDAISY, and Alex Boyé, there are lots of guest artists on this record who aren't LDS," Deere told LDS Living. "For example, I called up John Cowan, who is revered as one of the greatest singers ever, and told him, 'Hey, we're working on a record about Christ, but it's being done by a bunch of Latter-day Saints.' He said, 'I don't care. I'll do it.'"
Each song was written from the varying perspectives of those that walked and talked alongside Christ throughout his mortal ministry. Some of these perspectives include those of John the Baptist, the Apostle Peter, a blind man on the road, a women who washed Jesus' feet with her tears, as well as other individuals Christ encountered in his life.
Since its inception, the Nashville Tribute Band has performed more than 1,000 shows in the United States, Canada, Australia, and China. "This is what we do to give back," says Deere. "We all love to serve as members of the Church."
► You'll also like: Mormons Who Rock the Country Music Scene
Dan Reynolds and Wayne Sermon (of Imagine Dragons)
Photo by Jeff Gale, from vegasmagazine.com
Rock band Imagine Dragons features lead vocalist Dan Reynolds (second from left) and guitarist Wayne Sermon (second from right).
The Las Vegas band gained exposure following the release of their first single, "It's Time," and their debut studio album, Night Visions (2012), reached #1 on the "Alternative Albums" chart. The band's second studio album, Smoke + Mirrors, also topped the chart. Billboard named them the Breakthrough Band of 2013, and Rolling Stone named their single "Radioactive" the biggest rock hit of the year. The song also broke Billboard records by spending an astounding 87 weeks on the Billboard Hot 100.
Imagine Dragons has won two American Music Awards for Favorite Alternative Artist, a Grammy Award for Best Rock Performance, five Billboard Music Awards, and a World Music Award. In May 2014, the band was nominated for a total of 14 different Billboard Music Awards, including Top Artist of the Year and a Milestone Award.
Photo from Mormon Wiki
Church member Tony Martin was a reporter at a Chicago newspaper when his songwriting career took off in the late '80s. Country music star George Strait recorded a #1 hit written by Martin, "Baby's Gotten Good at Goodbye," and soon Martin packed up and moved to Nashville.
"My hobby was paying better than my job," he told LDS Living. "But when you show up in Nashville with your sack of songs, it's like opening a store in town—nobody knows the business is open, and you don't have a lot of product."
Martin hasn't had many problems selling his "sack of songs," however. In fact, he is one of the most successful songwriters in Nashville. His tunes have been recorded by stars like Rascal Flats, Keith Urban, and Tim McGraw, and he has 15 #1 hits under his belt. Among his chart-topping compositions are "Just to See You Smile" by Tim McGraw—voted Billboard's Most Played Country Song Of 1997—and "You Look Good in My Shirt" by Keith Urban.
Through all his success, Martin remains devoted to the gospel, and it is reflected in his songs.
"Country music subject matter can be about some of those things we don't believe in doing, and it can be glorified," he says. "Drinking songs, for example, can be catchy sing-along kinds of songs. Even if that's popular, I'm not going to write those songs."
Photo from Josh Wright Piano
In 2014, concert pianist Josh Wright captivated the nation on America's Got Talent, but that wasn't his only claim to fame. The concert pianist's self-titled 2011 albumclimbed the Billboard charts, landing in the top spot of the "Classical Traditional" chart.
Wright has since released My Favorite Things, which reached #13 on the "Classical Albums" chart, and Meditation, a collaboration with his wife, in 2015.
Wright earned a Doctor of Musical Arts degree from the University of Michigan and a Master of Music degree and a Bachelor of Music degree from the University of Utah. He is married to Dr. Lindsey Wright, who earned her Doctor of Musical Arts degree from the University of Utah.
Watch below to see Josh Wright perform a song from My Favorite Things on an "exploding" piano!
Photo courtesy of SHeDAISY
SHeDaisy, comprised of three Latter-day Saint sisters—Kristyn, Kelsi, and Kassidy Osborn, who moved from Utah to Nashville to pursue their dreams of stardom—took the country music scene by storm in the 1990s. They've had five albums crack the top 10 on the "Top Country Albums" chart and 15 singles reach the "Hot Country Songs" chart. Their hits include "Little Good-Byes," "This Woman Needs," "I Will… But," and "Don't Worry 'bout a Thing."
Their debut album, The Whole SHeBANG, became a double-platinum album. The band has toured with artists like Alabama, Dolly Parton, and Brad Paisley and has also performed for three U.S. presidents. They have won or been nominated for several awards, winning the CMT Video Rising Star Award and the Billboard Music Video Award for Best New Artist Clip (for "Little Good-Byes") in 1999. That year, they also earned a Grammy Award nomination in for Country Vocal Group. They were also nominated for Best Country Duo or Group at the American Music Awards in 2004.
"We've met some people who have joined the Church through our music," Kelsi (Osborn) Simpson told LDS Living. "That is the greatest reward for what we do. It's a form of missionary work—it always has been for me."
Photo courtesy of Due West
All three members—Matt Lopez, Tim Gates, and Brad Hull—of the popular country music trio Due West are Latter-day Saints. They reached the "Country Airplay" and "Hot Country Songs" chart with their hit single, "Things You Can't Do in a Car." Their 2013 album, Move Like That, also reached #38 on the "Country Albums" chart.
Achieving success as a country music band isn't always easy, but the members of Due West do their best to stay in tune with what really matters. "Being away from family has been the biggest challenge," Tim Gates told LDS Living. "We still try to maintain the important things: family prayer, family home evening, and just being a family unit. I've had to be creative, using the internet and FaceTime to stay connected and making sure I'm calling every night for family prayer."
Gates says the members of Due West also bring their temple clothes while on tour so they can attend the temple whenever they get a chance, and their common faith helps strengthen one another.
Dallon Weeks ( of Panic! at the Disco)
Image from Wikipedia
Dallon Weeks is the bass guitarist, keyboardist, and backup vocalist for the rock band Panic! at the Disco. He served a mission in Oklahoma.
Their 2005 debut album, A Fever You Can't Sweat Out, reached #13 on the "Billboard 200" chart and has sold more than 2.2 million copies. The band's four subsequent albums all skyrocketed on the "Alternative Albums" chart. Their second album, Pretty. Odd., was released in 2008 and reached #1. Their third album, Vices & Virtues, hit #2, and their fourth album, 2013's Too Weird to Live, Too Rare to Die!, reached #1. The band's new album, Death of a Bachelor, was released in January and has already hit #1.
The band has had several songs hit the top 10 on the "Rock" and "Alternative" charts, including "Victorious" from their latest album.
Ryan Shupe and the Rubberband
Photo from shupe.net
This bluegrass band is made up of five Latter-day Saint men from Utah. Its members include Ryan Shupe (fiddle, guitar, ukulele, mandolin, lead vocals), Roger Archibald (guitar, vocals), Ryan Tilby (bass guitar, string bass, banjo, vocals), Craig Miner (banjo, bouzouki, mandolin, guitar, vocals), and Nate Smeding (drums).
After becoming regional favorites, they signed a deal with Capitol Records and cut an album in 2005 called Dream Big, hitting #13 on the "Country Music" chart. Their single by the same name hit #27 on both the "Hot Country Songs" chart and "Country Airplay" chart.
They have since released Last Man Standing, Brand New Shoes, and Ryan Shupe and the Rubberband: Live. They are planning to release their new album, We Rode On, in 2016.
Scot Alexander (of Dishwalla)
Photo from mtv.com
Bassist Scot Alexander (second from right) joined the Church when he was 19 years old. Soon after, in 1991, he met John Robert Richards while browsing in a record store. The two discovered they had similar taste in music, and together they formed the alternative band Dishwalla.
Five of their songs have hit the Billboard charts. In 1996, "Counting Blue Cars" peaked at #5 on both the "Adult Top 40" and "Hot 100 Airplay" charts, #4 on the Top 40 Mainstream charts, #2 on the Mainstream Rock charts, and #1 on the Modern Rock charts. That year, the song also earned the band the Billboard Award for "Best Rock Song." Their other Billboard singles include "Charlie Brown's Parents," "Give," "Once in a While," and "Somewhere in the Middle."
Dishwalla's music has also been featured in several movies, such as Blast from the Past and Empire Records, as well as TV shows like Charmed, Smallville, The OC, and NCIS.
Christian Jacobs and Chad Larson (of The Aquabats)
Photo from ticketmaster.com
Two founding members of the California rock band The Aquabats are members of the Church—Christian Jacobs and Chad Larson.
Originally formed in 1994, this unique band is easily identified by their masks, matching costumes, and comedic persona in which they claim to be crime-fighting superheroes. The band has released six albums, two of which have charted on the "Billboard 200." Their latest album, Hi-Five Soup!, also reached #5 on the "Top Heatseekers" chart.
From March 2012 to January 2014, the band also created and starred in The Aquabats! Super Show!, a live-action, musical comedy television series, which aired on The Hub cable channel. The show earned six Daytime Emmy Award nominations and one Daytime Emmy Award.
Photo from iheart.com
All eight members of The Jets and their nine other siblings were raised as Latter-day Saints by their parents Mike and Vaké Wolfgramm.
Of Tongan decent, the band grew up in Minneapolis, Minnesota. From a young age, the members of the Wolfgramm family were performing at various functions until they officially formed a band in 1985, specializing in freestyle Latin, R&B, and pop.
In 1986, The Jets landed #3 on the Billboard's Hot 100 with "Crush on You." They continued to make the Billboard Hot 100 chart with nine more songs, including "Make It Real," which topped the Adult Contemporary chart and "Sendin' All My Love," which topped the Billboard Dance chart.
Photo from hollywoodreporter.com
Daughters of music professor and voice coach William "King" Driggs, it's no wonder The King Sisters were musically inclined at a young age.
Maxine, Luise, and Alyce began performing while still in middle school when the family moved from Pleasant Grove, Utah, to Oakland, California. As their fame grew, the sisters moved back to Utah where they performed on KSL radio and later began their own ABC TV series The Family King Show.
The group was very popular during their day, and several of their songs topped the U.S. Billboard charts, including "Hot Lips" at #3 in 1937 and "I Said No!" at #2 in 1942. Their ground-breaking album Imagination was also nominated for a Grammy Award.
Photo from the5browns.com
At just three years old, each of the members of the Brown family—Desirae, Deondra, Gregory, Melody, and Ryan Brown—began playing the piano.
The group made history as the first five siblings to be simultaneously accepted in Julliard—a prestigious school for drama, dance, and music students with a 6.7 percent acceptance rate.
Their first album The 5 Browns reached #3 on the Classical Albums Billboard chart in 2005 and was #1 on the Heatseekers Albums chart. Their 2006 album No Boundaries landed #6 on the Classical Albums chart and #15 on the Heatseekers Albums chart.
Photo from kpbs.org
Nathan Pacheco is a classically trained tenor vocalist who's mother taught him at an early age to appreciate music through piano and violin lessons.
After serving a mission and graduating from BYU in vocal performance, Pacheco was invited to tour with Yanni in his 2009 "Voices" tour. He also was invited to tour with Latin singing sensation Olga Tañon and also did a tour with Katherine Jenkins in Scotland, England, and Wales. He even performed for Prince Charles with the British Forces Foundation and the USO.
His self-titled album reached #3 on the Classical Albums chart and #7 on the Heatseekers Album chart. His EP, Introducing Nathan Pacheco, reached #18 on the Heatseekers Albums charts.